And your hunt for the best bottle cap crafts is over…! Bottle caps are onPerformancee of my favorite craft materials and for good reason. These cool things to make with bottle caps will have you set for years worth of drinks! Disclosure: this post contains affiliate ads.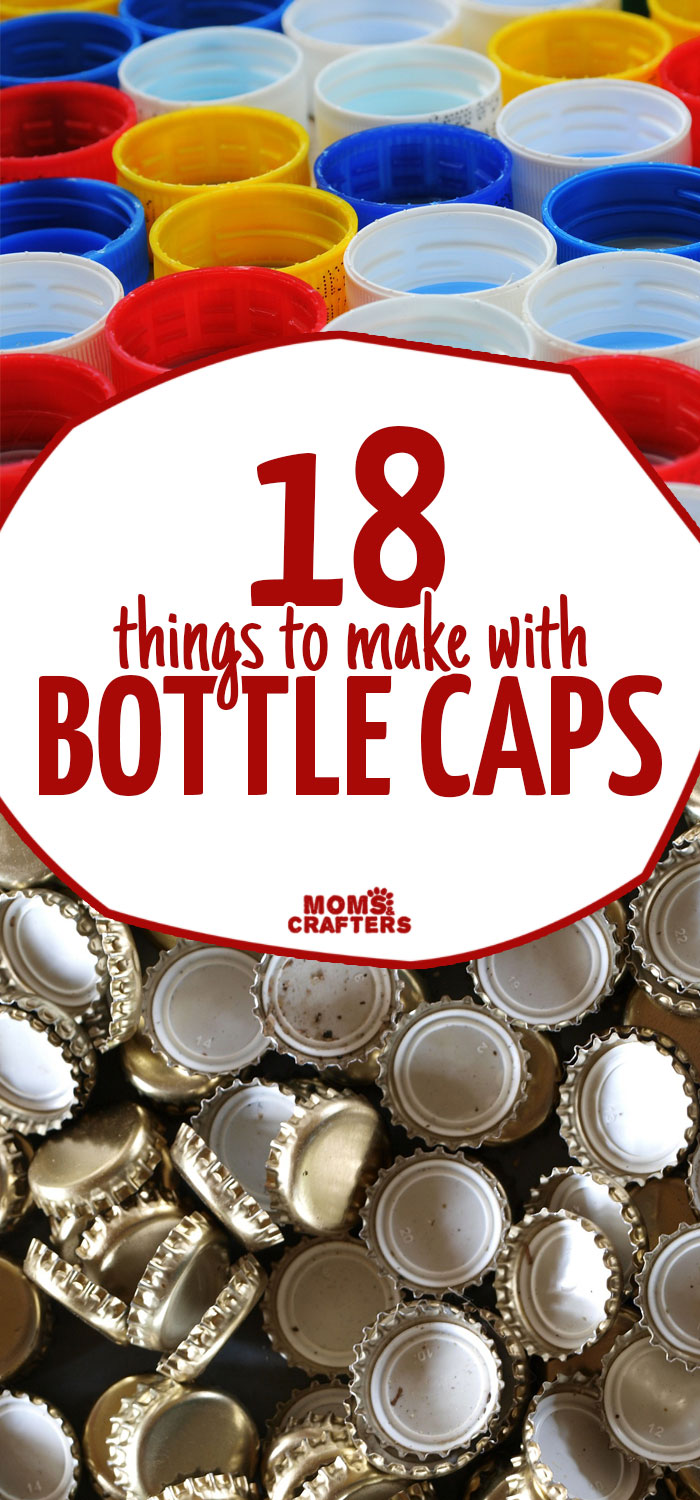 Bottle cap crafts are so insanely awesome because the main component is:
Versatile
Small to store
Usually free!
I've collected some of the best bottle cap crafts for all ages and purposes from around the web and put together this list of awesome bottle cap crafts for you!
I have included in this list ideas that use both plastic bottle caps and metal soda or beer bottle caps. While plastic ones are easy to collect on your own (if you don't drink soda or seltzer, you can ask a friend to collect them for you – which is what I did for the most part), metal ones might be harder to come by. You can actually purchase metal bottle caps, as well as plastic ones, in case you're having a hard time collecting them.
Otherwise, these bottle cap crafts are a great way to get them out of the landfill!
Copyright: All of the images for these bottle cap crafts below were used with the permissions of the respective bloggers for the purpose of this post. Click on the title link or image for the full tutorial.
I have created a square and vertical image for your convenience for sharing these amazing bottle cap crafts. Please use the first or last image in this post when sharing and not one of the individual photos below, out of respect for the creators' copyrights.
DIY Toy Bottle Cap Crafts:
1. Make a totally-not-scary rattlesnake that really rattles! This bottle cap snake makes for a fun fidget toy, or is great for pretend play.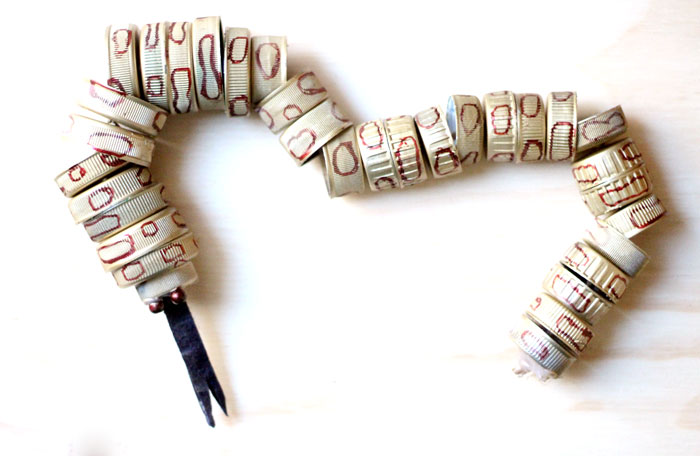 2. A Dump Truck Softie by Swoodson Says is definitely going to delight your little one! And the bottle cap wheels actually turn…
3. Bring pretend play to a new level with these Miniature Pies by Adventure In A Box. Don't those metal caps make a perfect pie crust?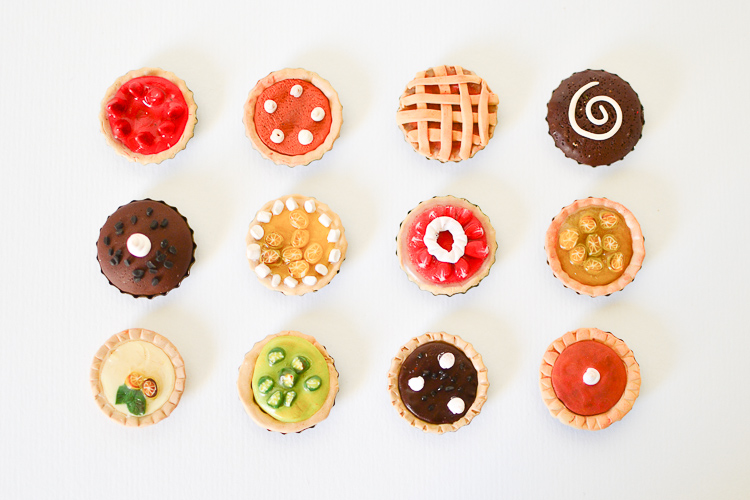 4. Teach your child how to count with this Toy Piggy Bank and Money by Sunny Day Family. It also helps practice fine motor skills.
P.S. If you love these ideas and make crafts like these, come join the Sisterhood of Crazy Crafters – for free! You can share the crafts YOU make! It's the go-to place for out-of-the-box crafting!
Bottle Cap Crafts for Kids
5. This brilliant Bird Puppet by Messy Little Monster is actually a great DIY toy, but made by the child as well! It's a wonderful tool for pretend play.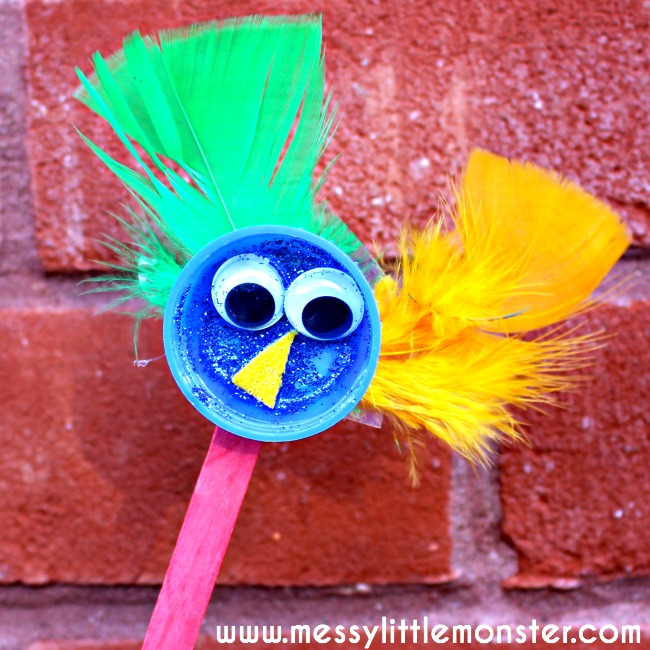 6. These Treasure Magnets by Hattifant make beautiful kid-made gifts! I love how they came out and would definitely tack notes on my fridge with them.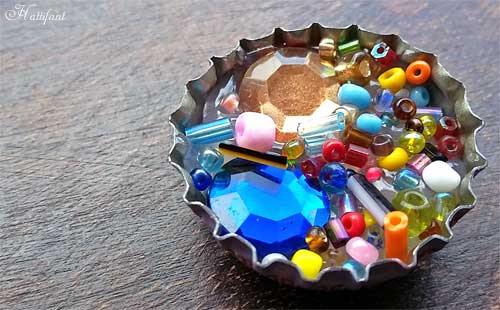 7. Make friendly Plastic Lid Monsters by Crafts by Amanda – an open-ended and slightly wacky craft idea.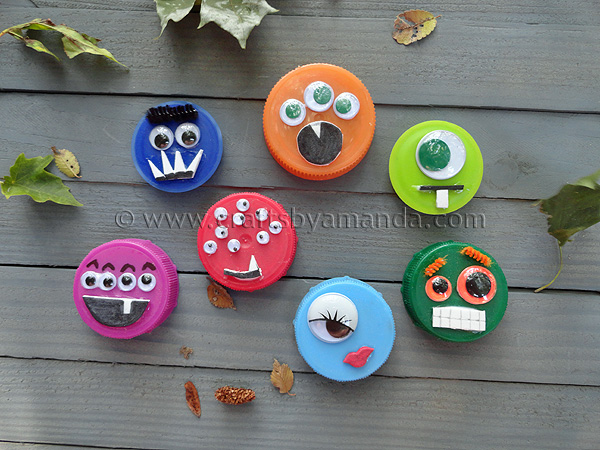 8. I love the different ideas for Bottle Cap Art that I Heart Crafty Things shares! It's another great, open-ended crafty art prompt.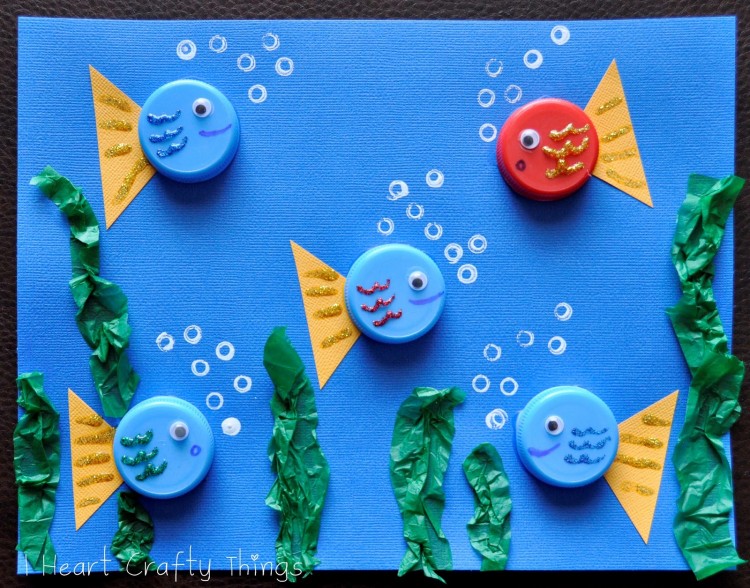 Bottle Cap Crafts and DIY for Grown-ups:
9. In an incredible transformation, this bottle cap turns into a faux druzy necklace! Isn't it incredible? Learn how to make a bottle cap necklace.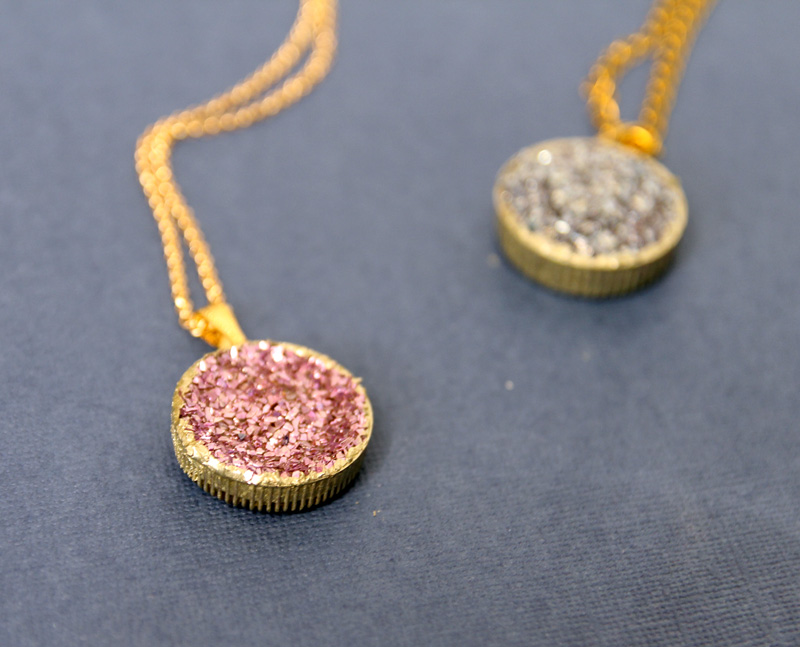 9.Go totally giftable with Mason jar lid coasters (source unknown via Pinterest). You can use a ring lid, though you'll have to work out how to seal it, since there's no tutorial.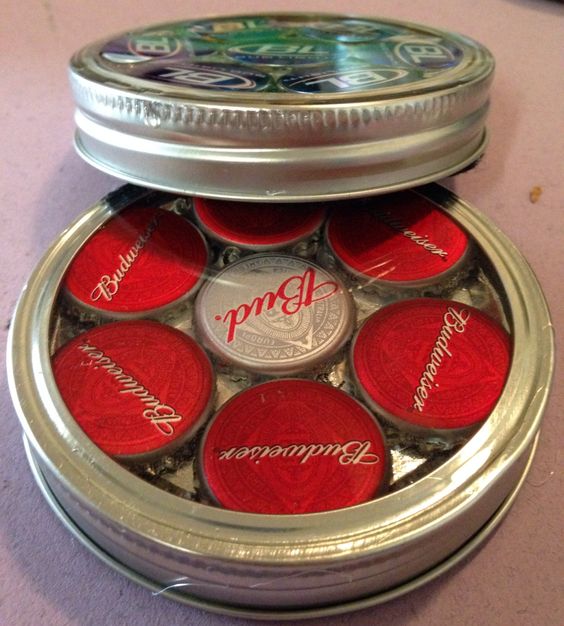 10. These French Macarons by I Am A Homemaker were originally made as ornaments, though I think they'd make lovely magnets, jewelry, or anything really!
Update: the website seems to be dead – if anyone knows where they've migrated to, please update me so that I can link back!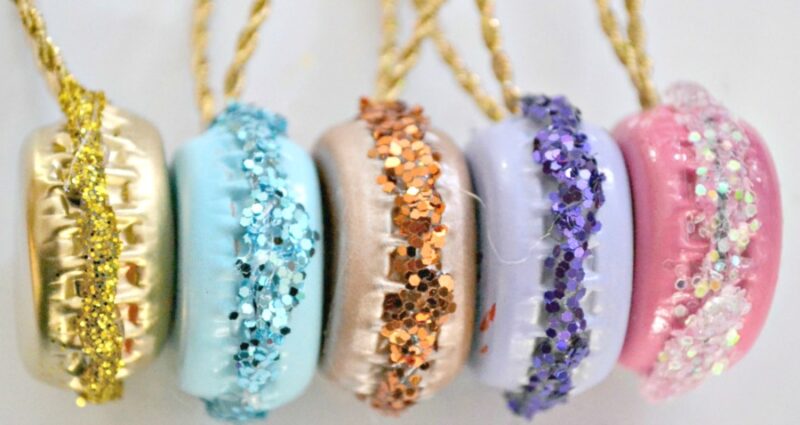 11. Give your outdoors a splash of character with this Bottle Cap Chime by Kelli Nina Perkins. It's quite the project, but will definitely satisfy you!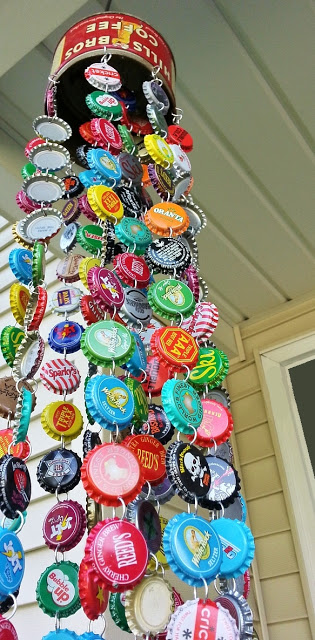 12. This Bottle Cap Table by My So Called Crafty Life is one of my favorite projects in this list (and also one of the most ambitious…) You can do it with soda bottle caps if you want to use it in the kids' room.
Update: the website seems to be dead – if anyone knows where they've migrated to, please update me so that I can link back!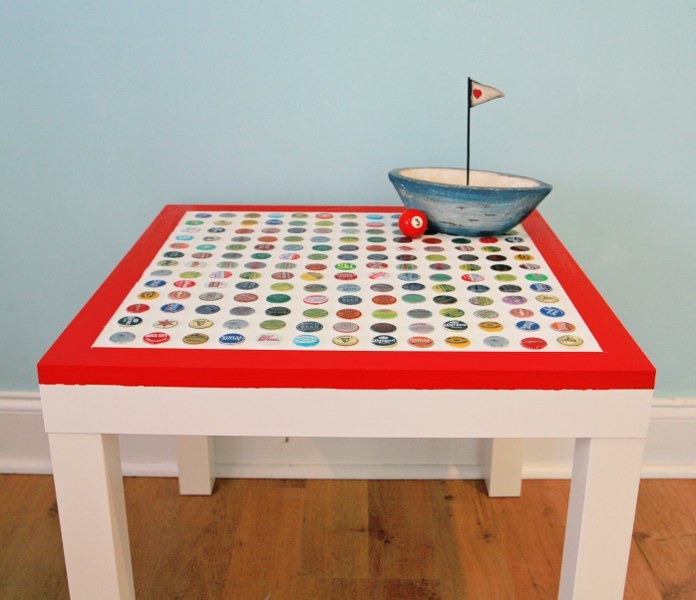 Seasonal Bottle Cap Crafts:
13. I love the frosty beauty of these Snowflake decorations by Blue Bear Wood!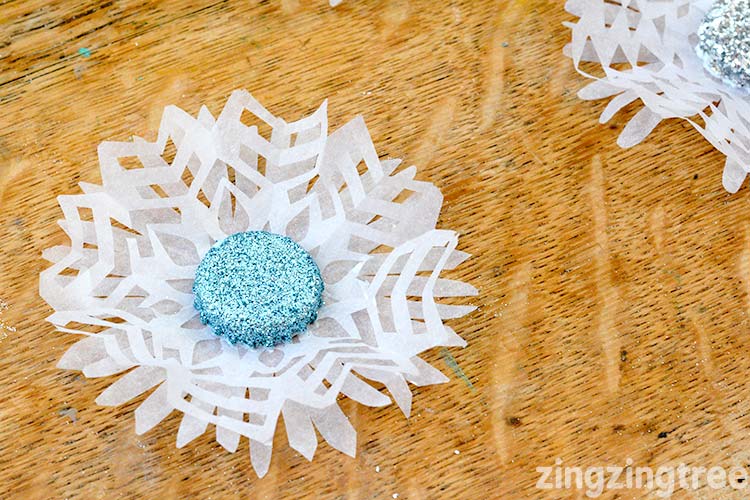 14. Bottle caps are the perfect material for this Rudolph Ornament by Red Ted Art.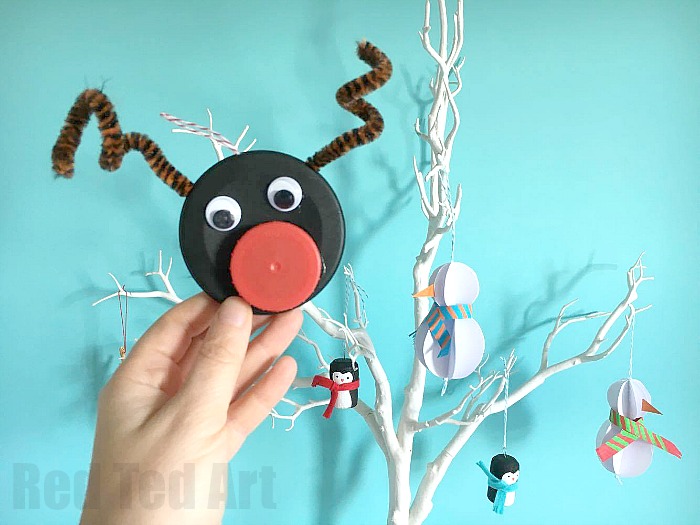 15. You can do many things with this Holly Craft by The OT Toolbox – check out her ideas for it!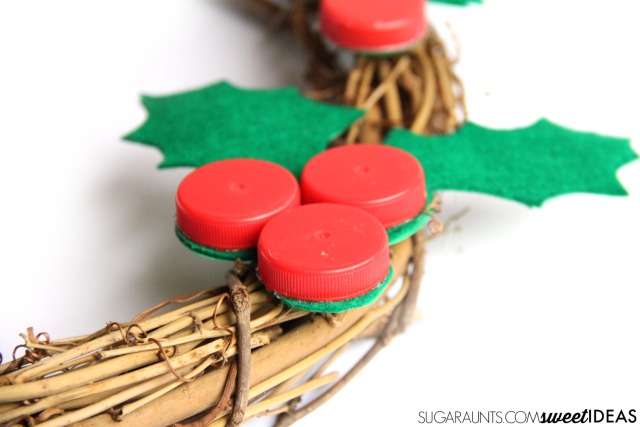 16. Mini Bottle Cap Ornaments by Life Over C's are perfect for a mini tree!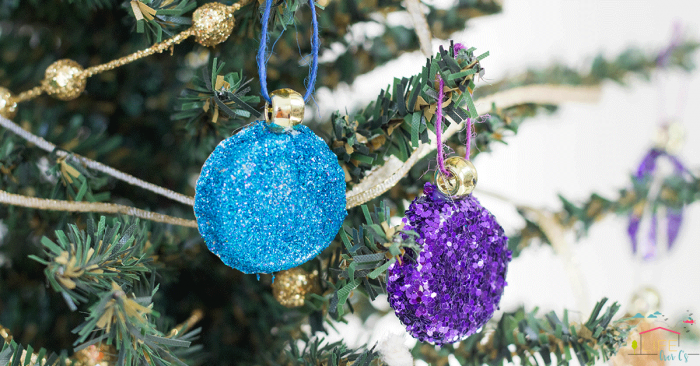 17. Involve your kids in a spring-time craft with these Bottle Cap Flowers by My Mundane and Miraculous Life.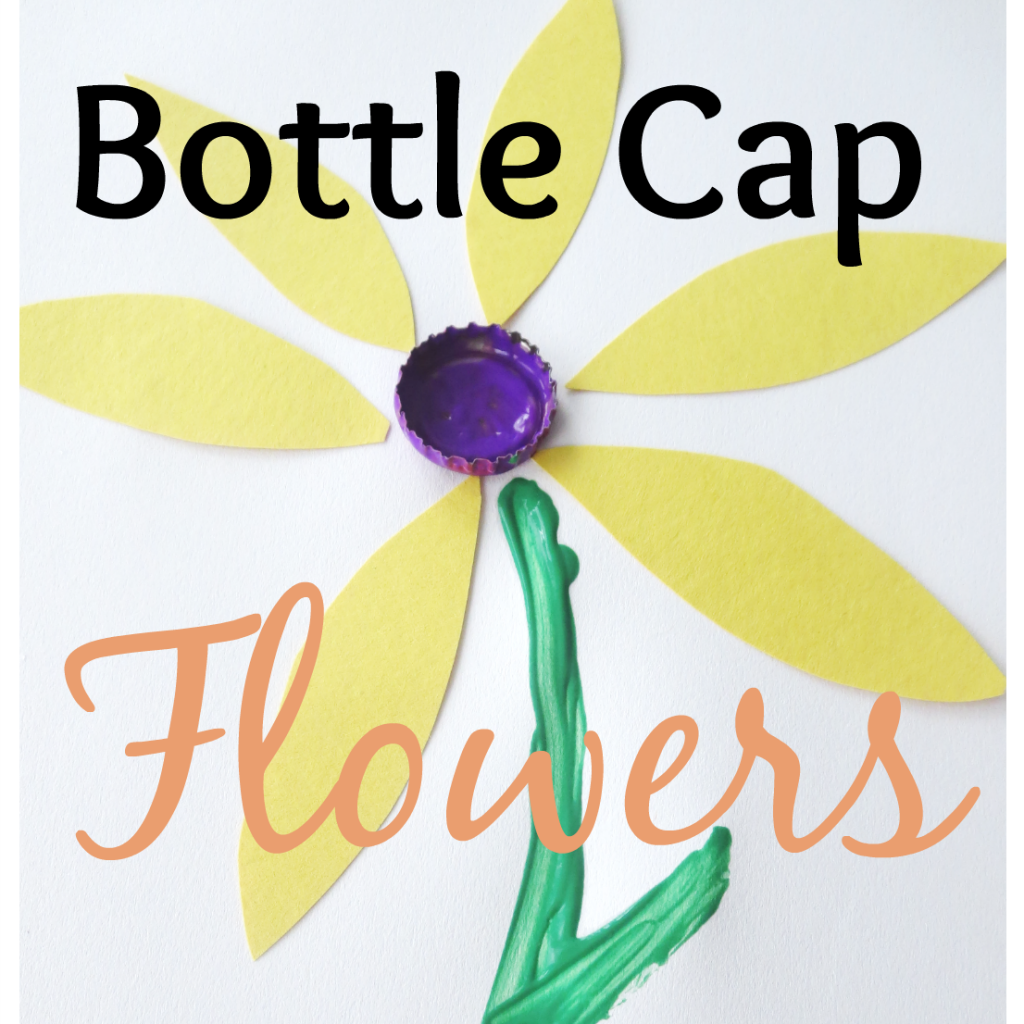 18. And give thanks with a cute and friendly Bottle Cap Turkey by Crafty Morning.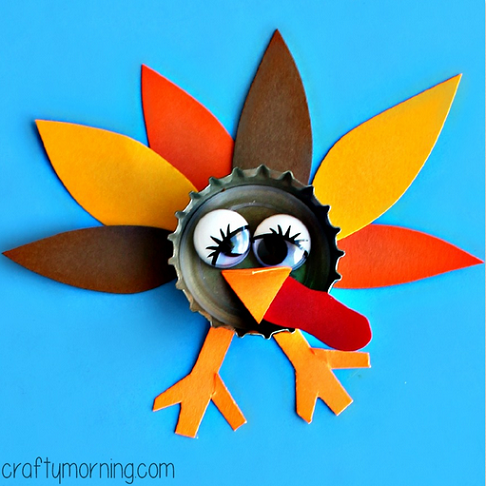 That's all for now – but I'm sure I'm going to be crafting more with bottle caps in the future.

---
Want to learn how to make jewelry out of anything – including bottle caps? Get the book!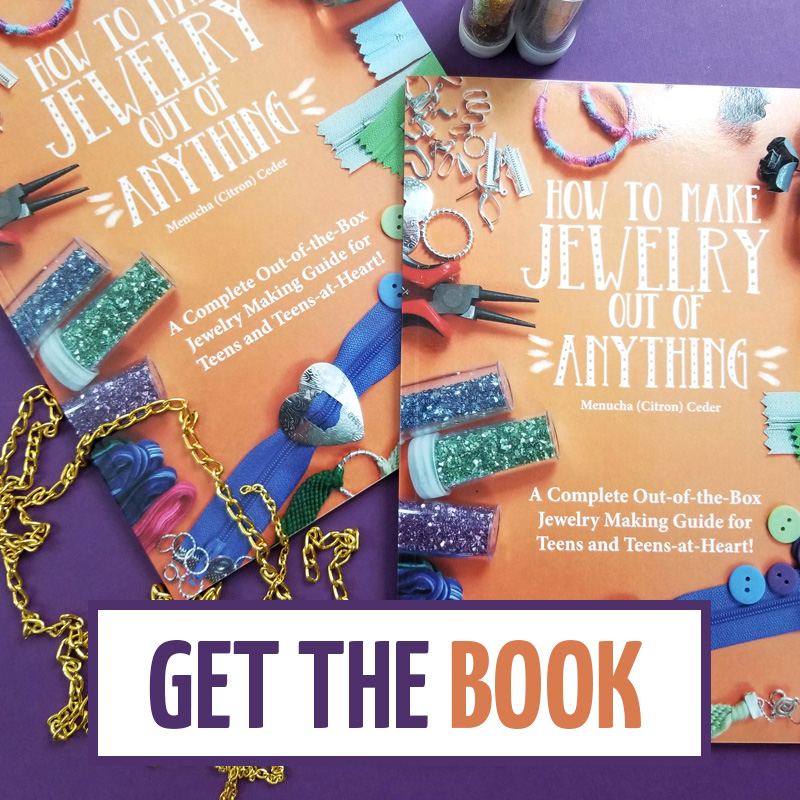 ---
What have you made with bottle caps lately? Comment below!