Make these DIY earrings using leather and a sweet little dangle bead to add a touch of character! I love making my own DIY dangle earrings. and these were such a hit – I wear them all the time! Disclosure: this post contains commissioned images and links.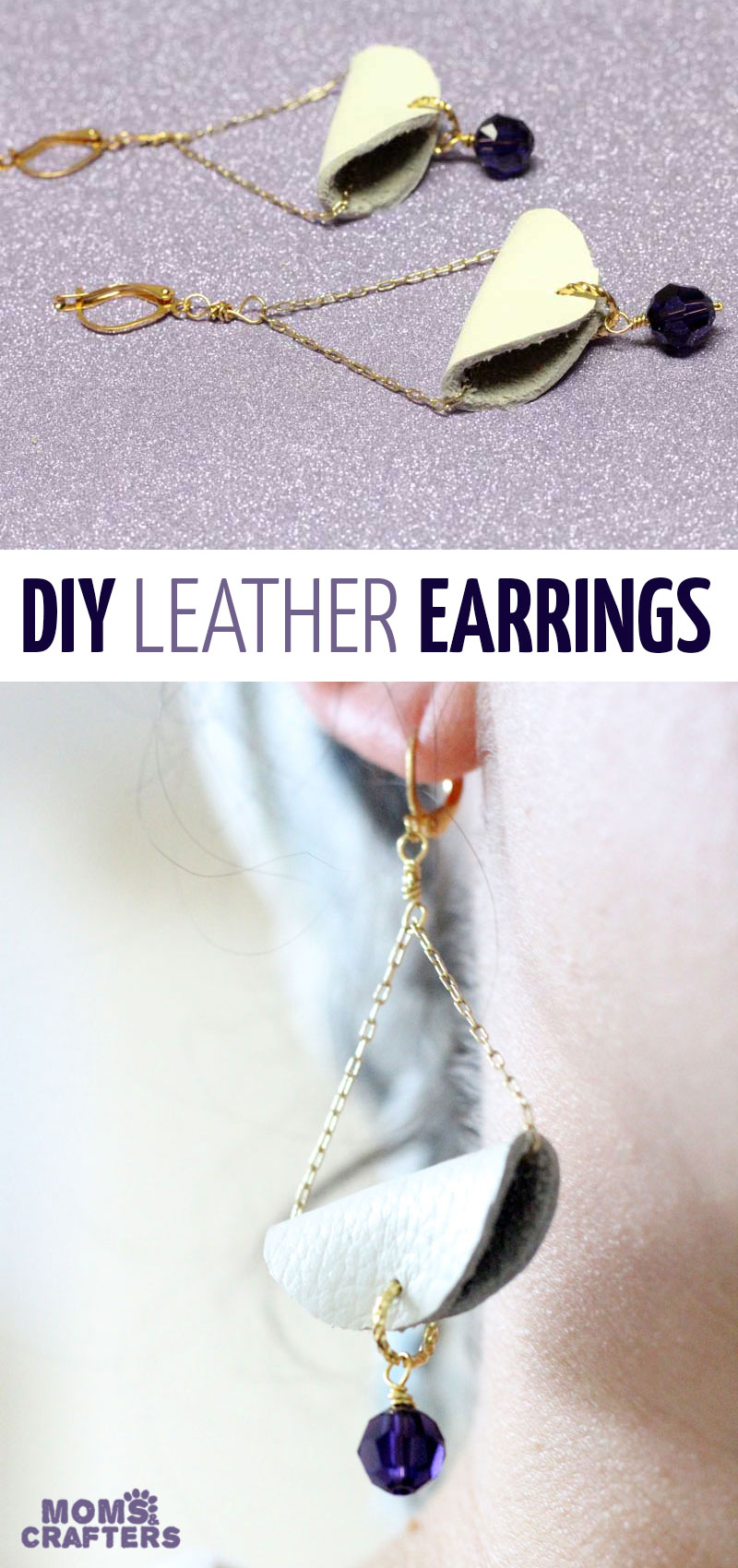 If you're also a crazy Fixer Upper fan, you may have been obsessing over Joanna Gaines's leather leaf-shaped earrings. I have been for a while, and when I picked up a bag of leather scraps a while ago, I had in mind to maybe give those a go.
As I was playing around, I came up with these instead.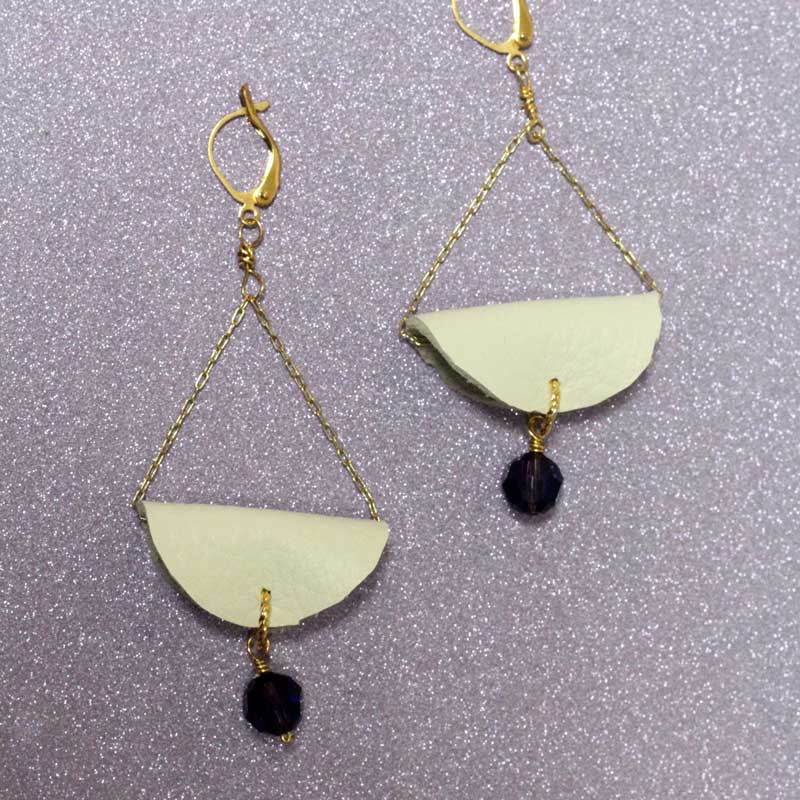 Okay, I KNOW they don't have the same simplified-boho look that Joanna radiates, but they're sooo cool.
They have that dangly-sparkly aspect that the girly side of me loves so much.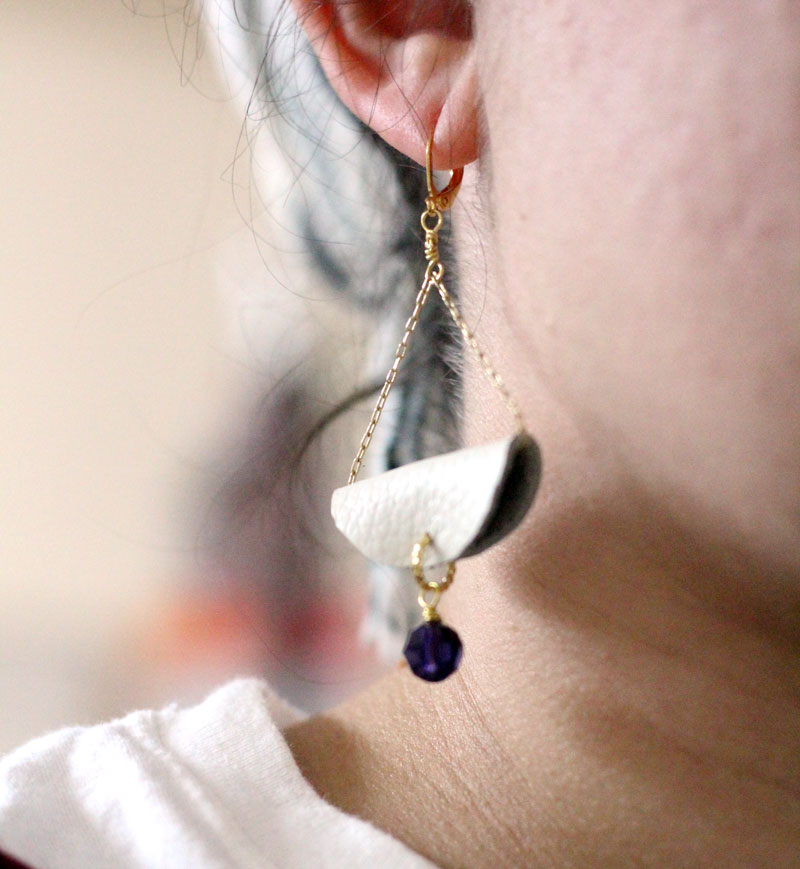 I have in mind to try similar variations of these leather DIY earrings in different colors and when I do I'll be sure to share them on Instagram and in my favorite Facebook group for crafting tutorials.
If you want to REALLY learn the ropes with making wire jewelry, check out my post on how to make wire earrings from scratch.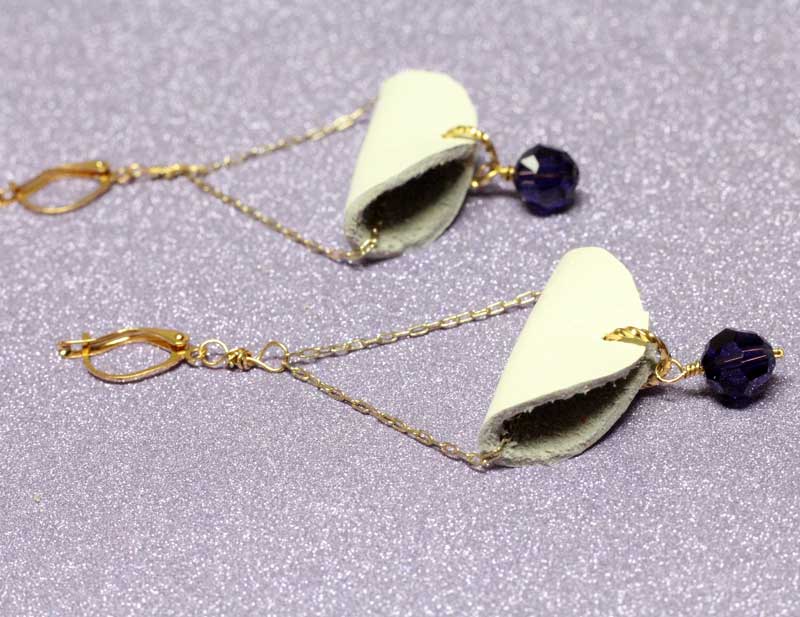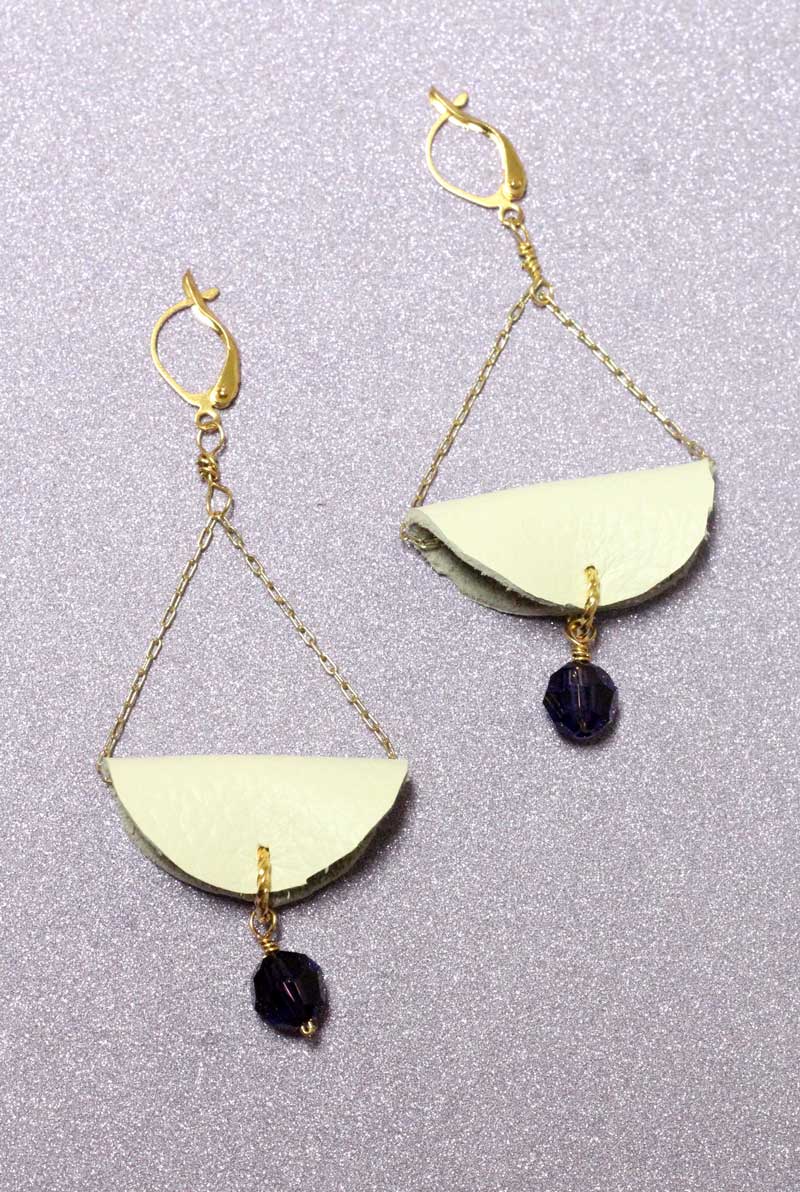 When I first made these DIY earrings, I let the leather half-circle hang from the chain freely. But it did not stay in place, resulting in a very tangled earring.
Securing the chain in the fold of the circle did the job, keeping things in place but not taking away from the dangle factor.
Okay, so I cheated. Still cool, no?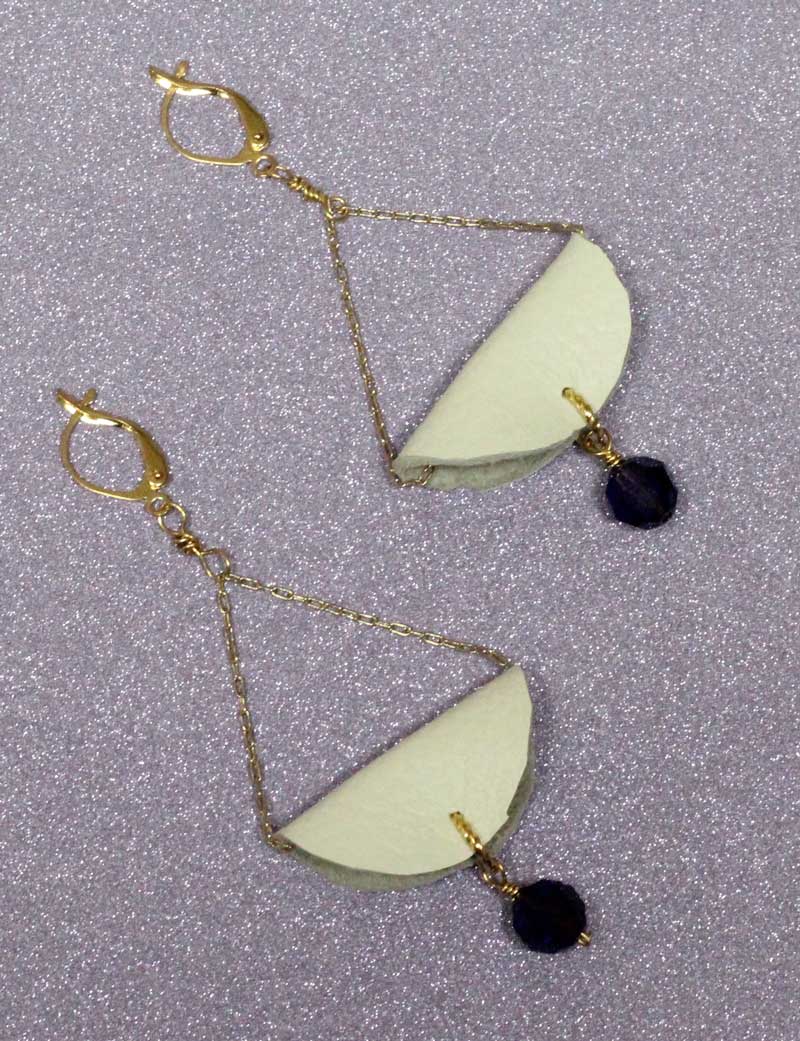 What you need to make leather DIY earrings:

How to make leather DIY earrings:
Jewelry making skills required: twisted loop. See how to make jewelry here for beginner jewelry-making resources.

1. Cut a circle from leather, about an inch in diameter, and use the awl or leather punch to make a hole on each end.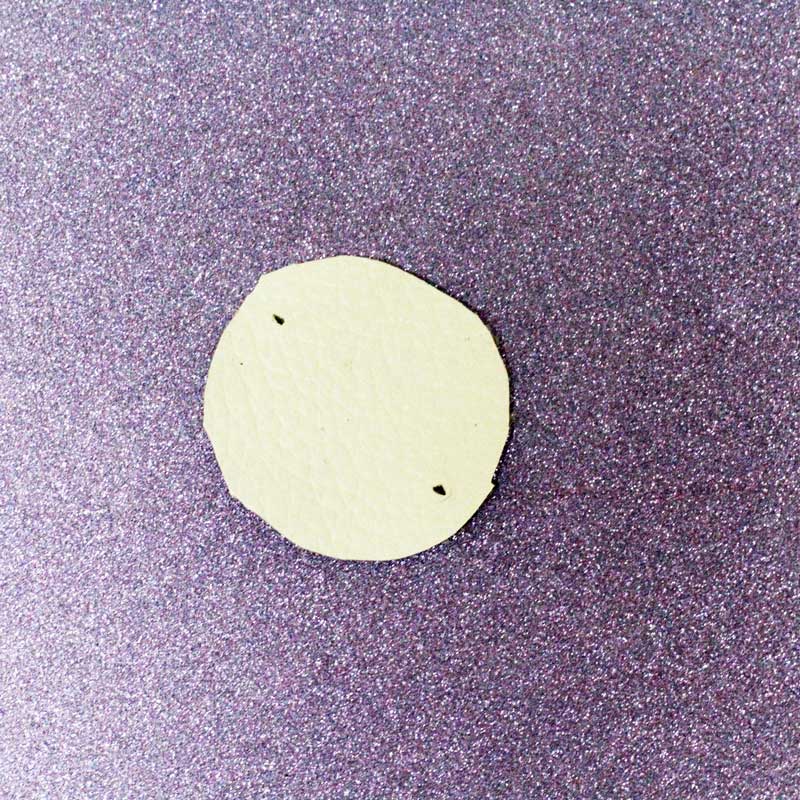 2. Add a jumpring and leave it open. You may need to wrestle a bit with your hole and expand it to fit your jump ring.
3. prepare your bead dangle! You can use a head pin, but I stuck with a scrap of wire. I simply folded over the tip a few times to turn it into a DIY headpin.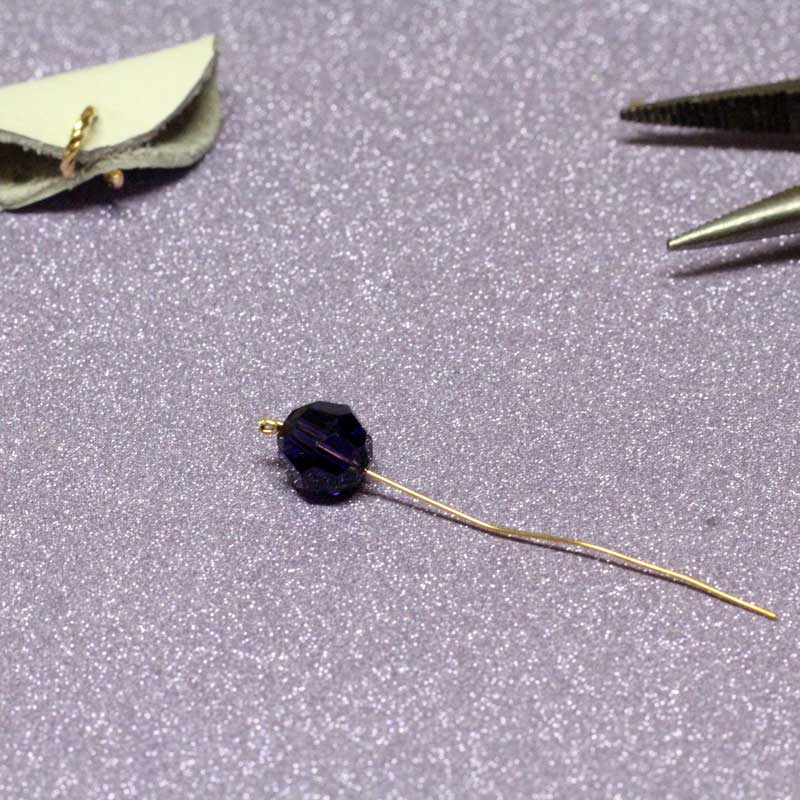 If you're using a thin wire headpin like me, you'll want to form a twisted loop to close it. Do this by looping the wire over with round nose pliers, and then using the chain nose pliers to twist it around at the top of the bead a few times.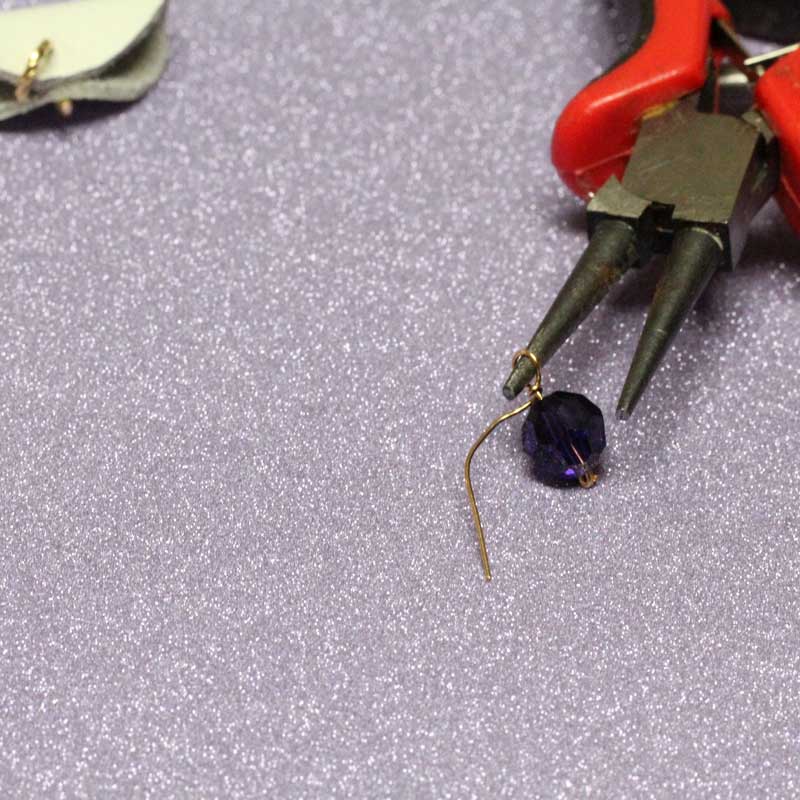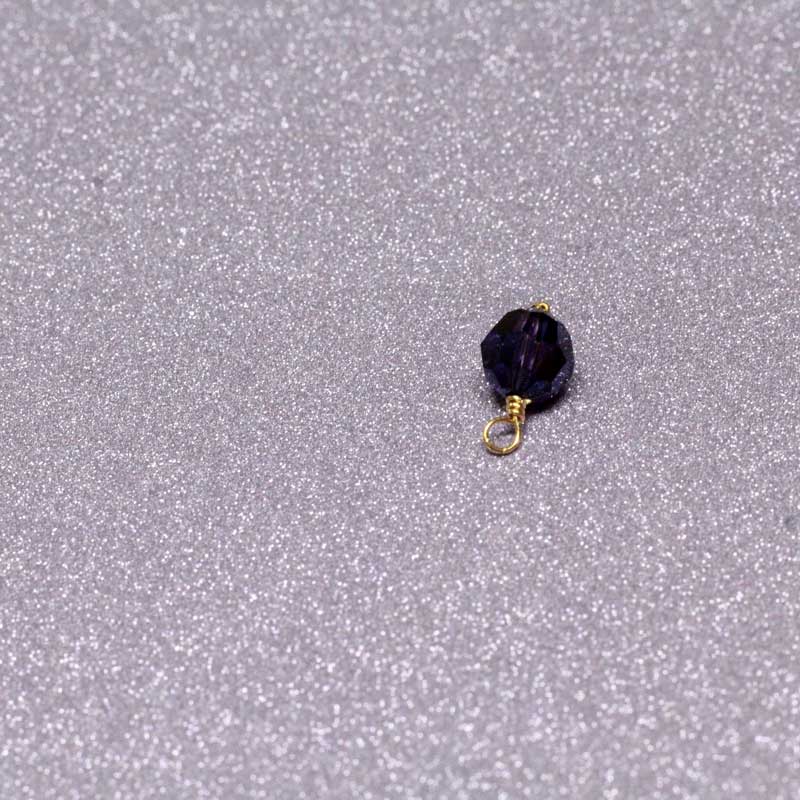 4. When your dangle is complete, attach it to the jump ring and close it.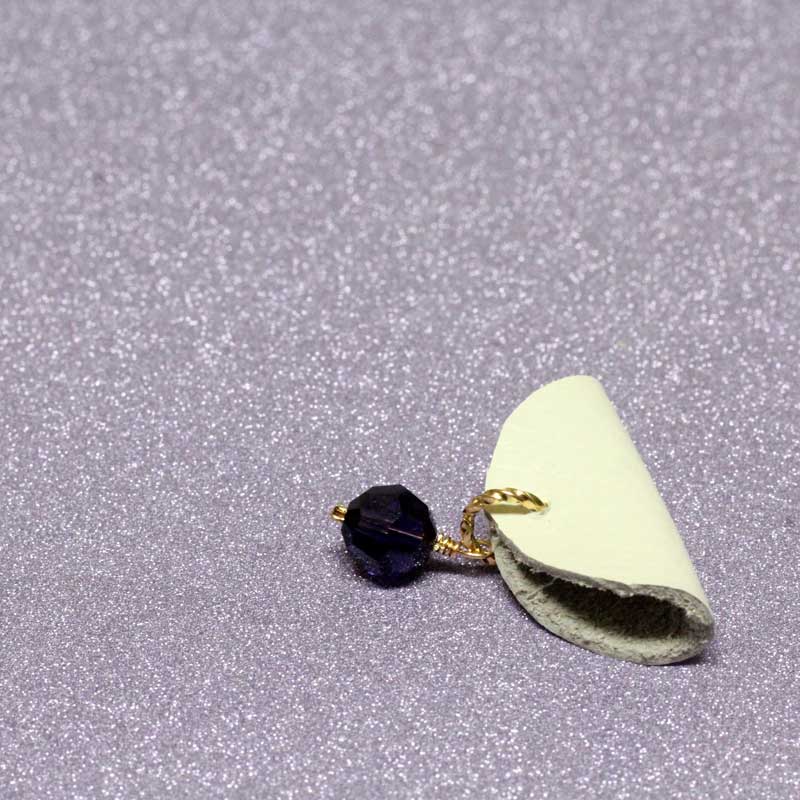 5. Cut a piece of chain – the length is your choice! Gauge how long you want it to dangle and cut accordingly. Mine is about 3 inches long. Dab some glue on the center and place it inside the leather circle, making sure it lies in the dead center. Allow it to dry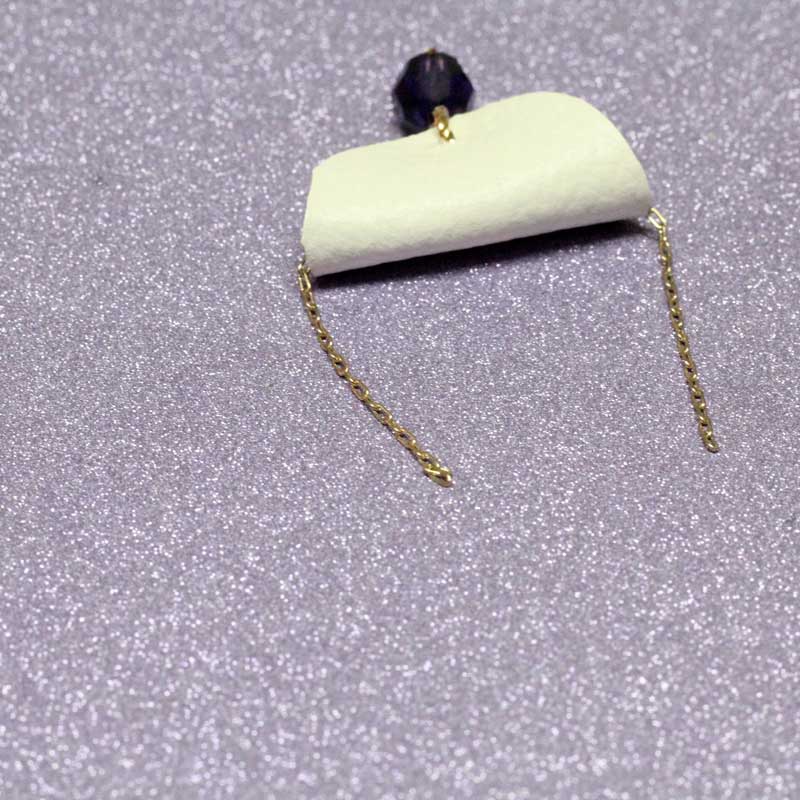 6. You'll now be making a double twisted loop. Create a loop about 1/2 inch into a small piece of wire and string on your chain.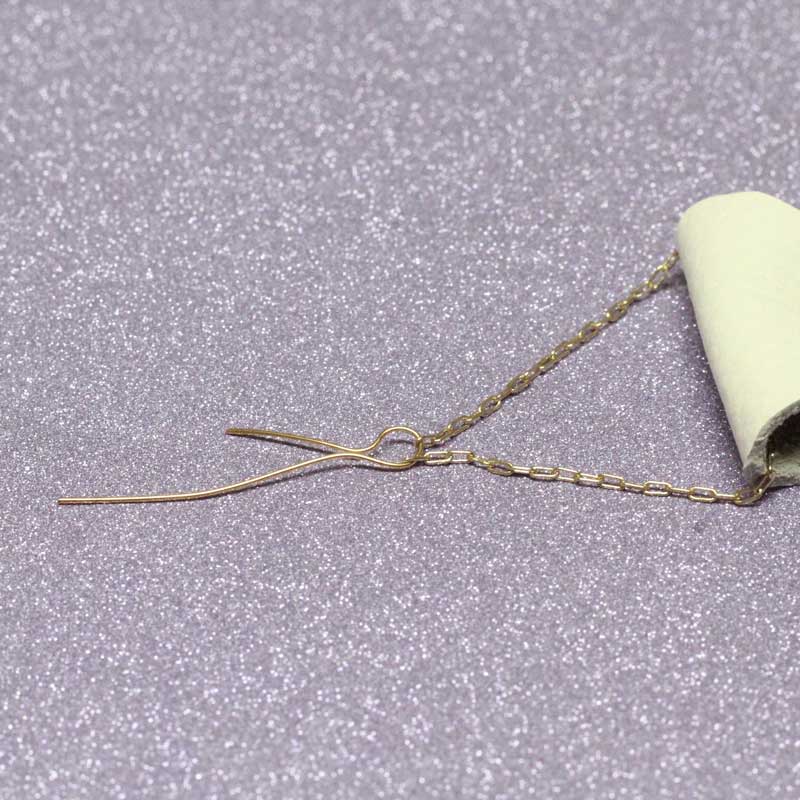 Complete your twisted loop, twisting the short side around the long as pictured.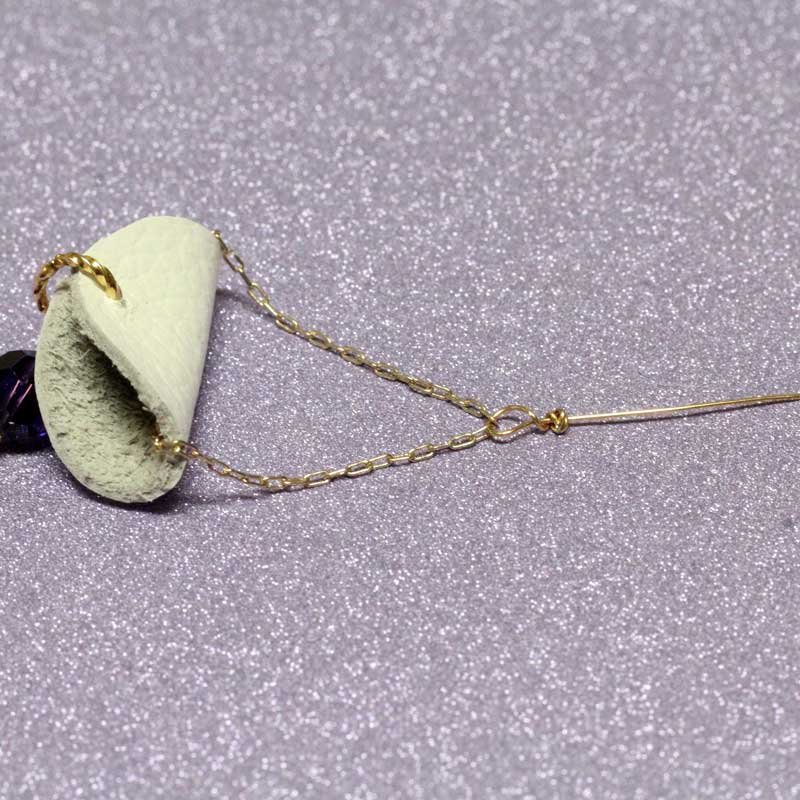 If your earwire has a loop that opens to attach beads, you can complete your second twisted loop without the ear wire in place (I find it easier to do this way). If it doesn't open, you'll need to attach your earwire as you complete this second loop.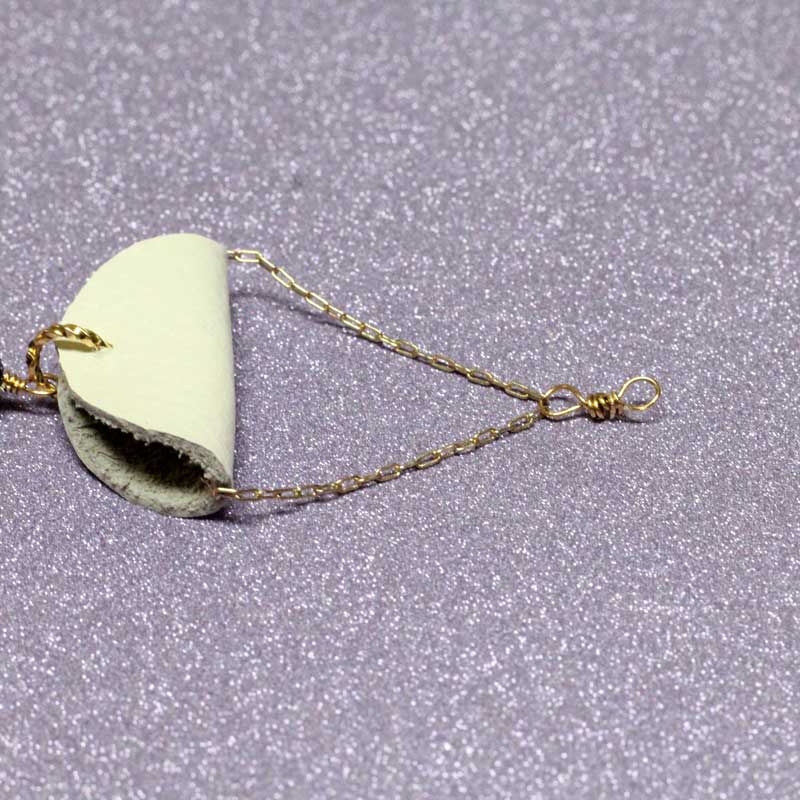 7. Add your earwires. Your leather dangle DIY earrings are complete!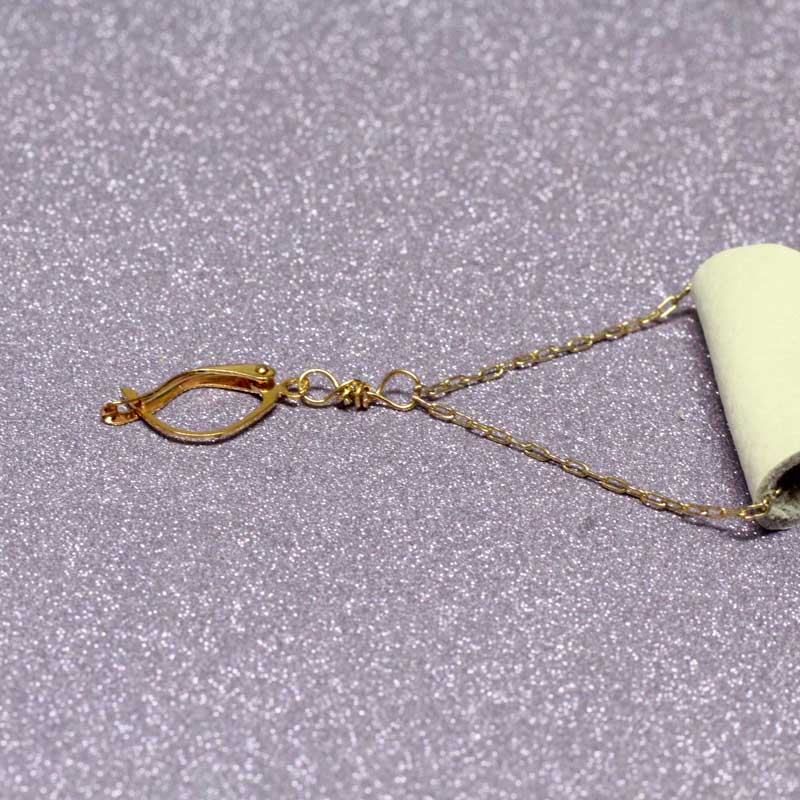 If you struggled to glue it while you were creating it, you can also glue it when you've completed the project.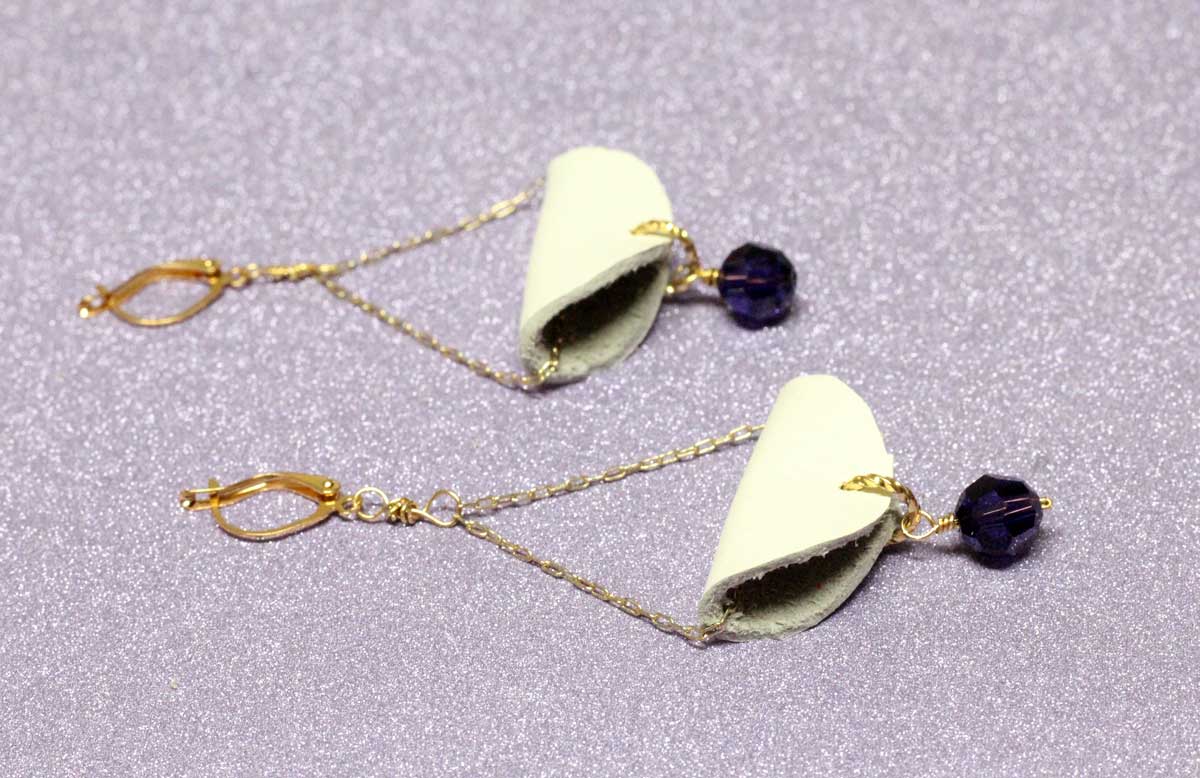 Wear your DIY earrings with pride and joy! I love wearing these – they are one of my absolute favorites – totally unique, without being over the top!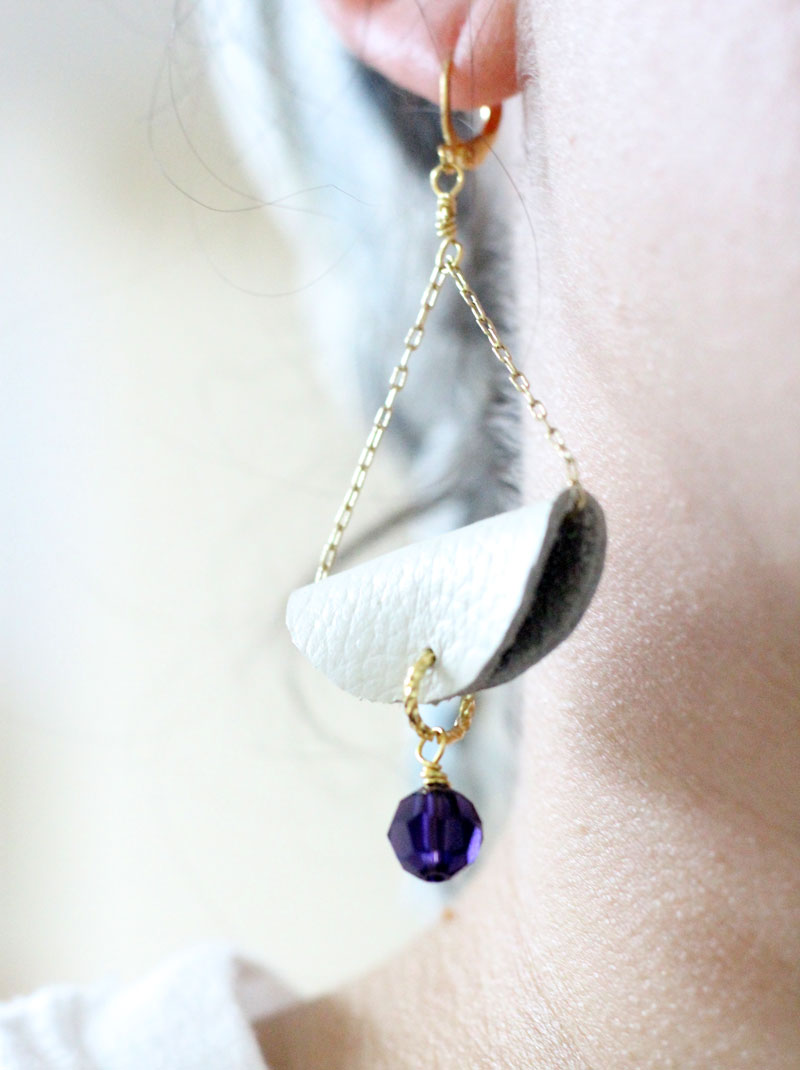 What are your favorite DIY earrings to make? Comment below! Come on and join our community of jewelry-makers like you for more jewelry making ideas!
Loved these DIY Earrings? Make more like it!