I made this DIY crayon initial art after I challenged myself to make some things with crayons. Yes, it is one massive initial made out of crayon!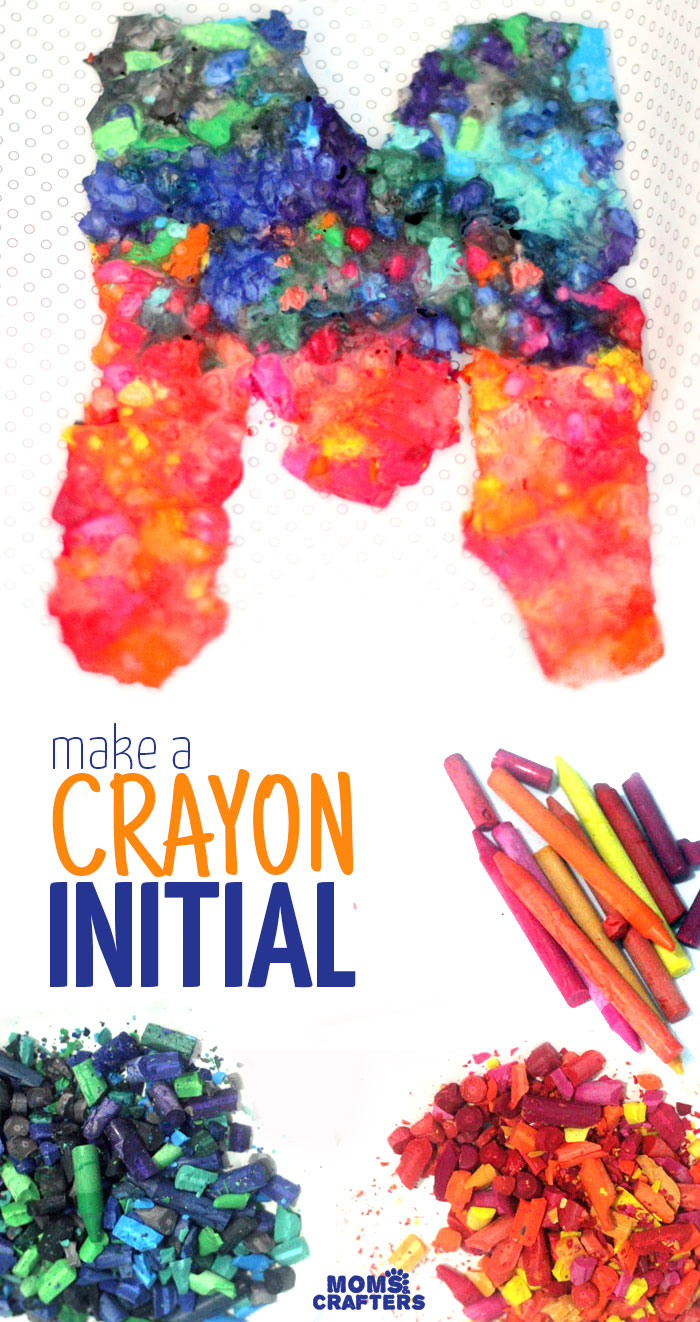 I like to create craft challenges for myself that are focused on using unconventional supplies, or using supplies in unusual ways. I have tackled CDs, skipped out on pool noodles (no space), and use nail polish all the time.
My latest is crayons. I have two fun uses in store – this being the first, and then I'll share with you a list of ideas from various bloggers. So, stay tuned…
Everyone has little bits and pieces of crayon lying around. While we are new to the art game, I already had some to upcycle. I cheated and grabbed lots of fresh crayons too, but the results were worth it! The big fat jumbo M I made for my son (whose name is M, obviously…) came out magnificent!
I'll admit, there was some trial and error, and I may have given up, were I not motivated by the deadline for this blog post coming up (yup, I set myself deadlines!)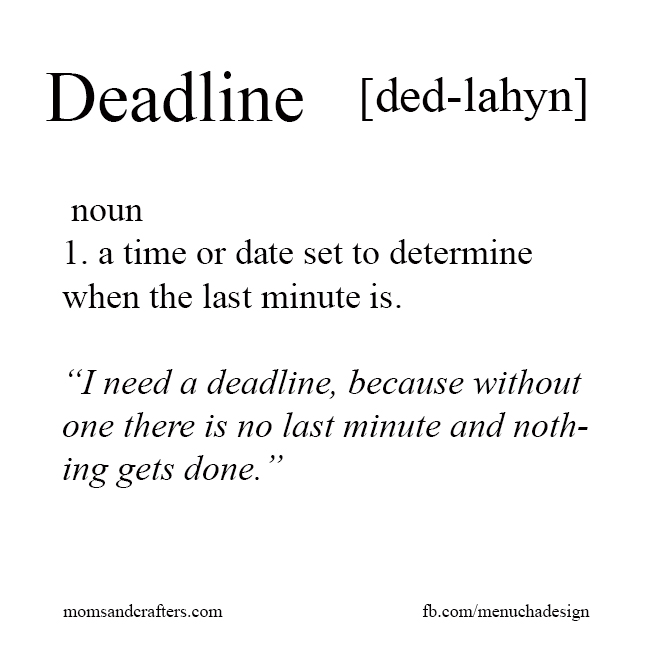 As you'll see in some of the photos, it did crack a little, but I was able to do some patchwork. I have modified the instructions for you so that it will not crack (hopefully). I also had issues because I cut the top piece of parchment paper too small. Now my iron has a little crayon on it. Oh, well!
Regardless, I love the final result, and just need to figure out exactly how to display it.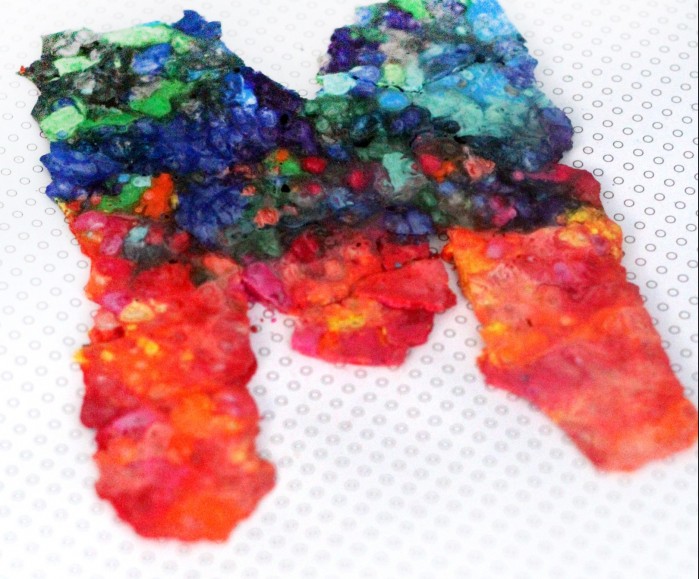 While some parts of this craft clearly require adult supervision, children can help with a big part of it. It's a wonderful craft to do while your child is learning the alphabet, especially when you reach the first letter in his or her name. He can draw the letter, and you can outline it for him. Even if you don't, he'll have lots of fun filling in the letter with all the bits and pieces.
It's also a lesson in color families. Your child can help sort the crayon bits, if you're using that. If you're working with a fresh pack, teach your child about color families (I worked with warm and cool colors) and sort the pack accordingly. You can also use pinks, purples, etc. in various shades, and teach your child about that – depending on her level.
What you need to make a crayon initial:
(Note: Amazon affiliate links are provided for your convenience.)
Crayons, of course! You'll probably want a 64 pack, so that you can have a good selection among the color families you choose to use. I lost track of exactly how many I used, but I think it was twenty five or so total.
Paper plates for sorting
Zipper bags (one for each color family)
A hammer (yup, I used my jewelry hammer. Why not?)
An iron and surface to iron on.
Tape that is easy to remove, such as masking tape
A sheet of regular copy paper and pen.
A sheet of scrapbook paper in a coordinating or complementary color. Go for a solid or a very simple, repetitive pattern. If you want a white background, you can just flip the paper to the back, but I definitely recommend the 12 x 12 inch size.
Optional: a 12 x 12 inch scrapbook shadow box for displaying it. I have yet to get mine, and I wanted to publish this tutorial already, so I'll leave this as a suggestions.
How to make a crayon initial:
1. Draw or outline the shape of your initial. Don't go too fancy, as your crayon initial won't be that accurate.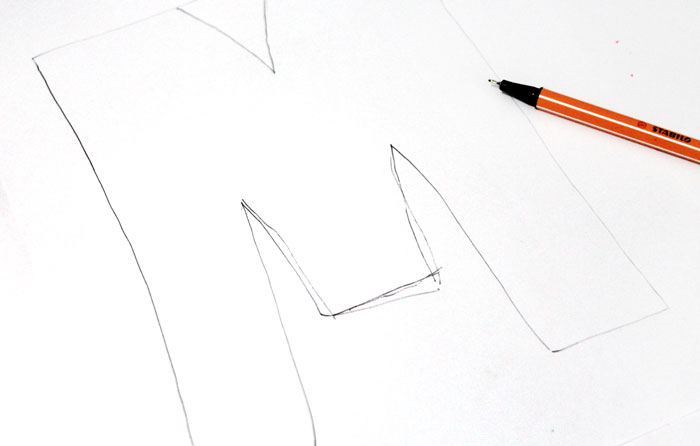 2. Peel a bunch of crayons. Get your kid to help, of course.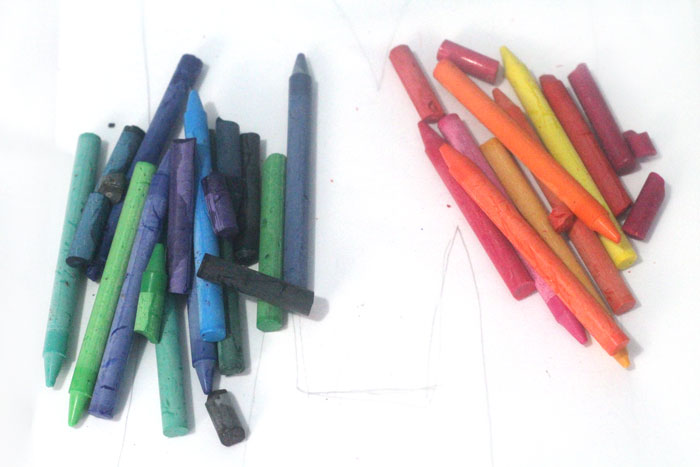 3. Organize them into zipper bags by color family.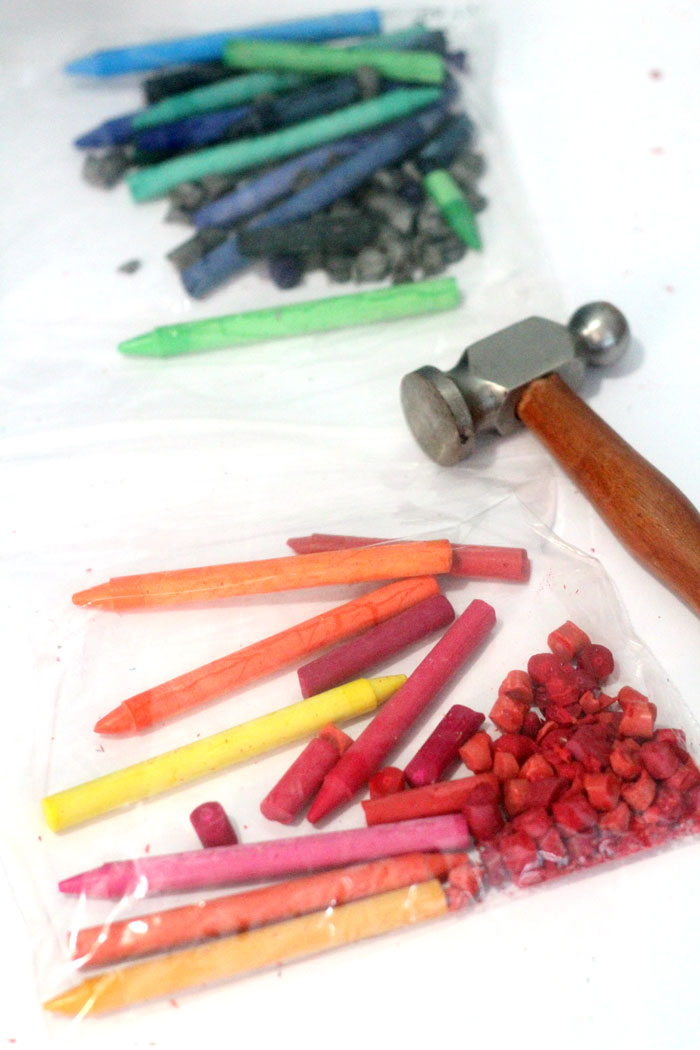 4. Smash away, until they are reduced to chunks. Okay, tap lightly, don't smash. If you use a hammer like mine, use the flat edge. Empty them on paper plates to make it easier to arrange.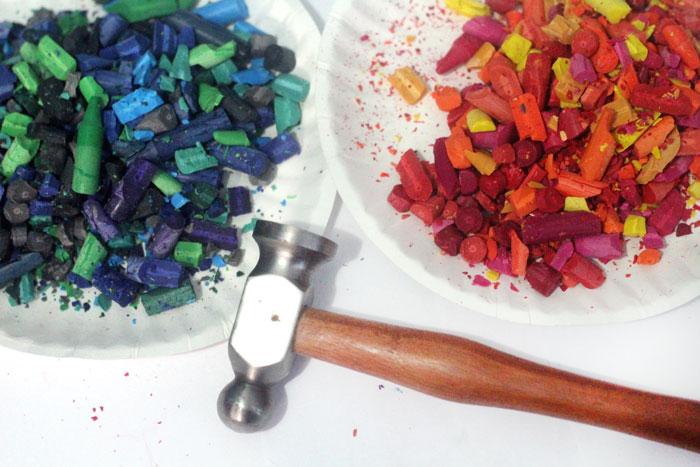 5. Cover your drawn initial with parchment paper. You might want to tape it on using masking tape (or painter's tape, or washi tape) so that it's easy to remove later. Start filling in one color family. Your child will have lots of fun with this part.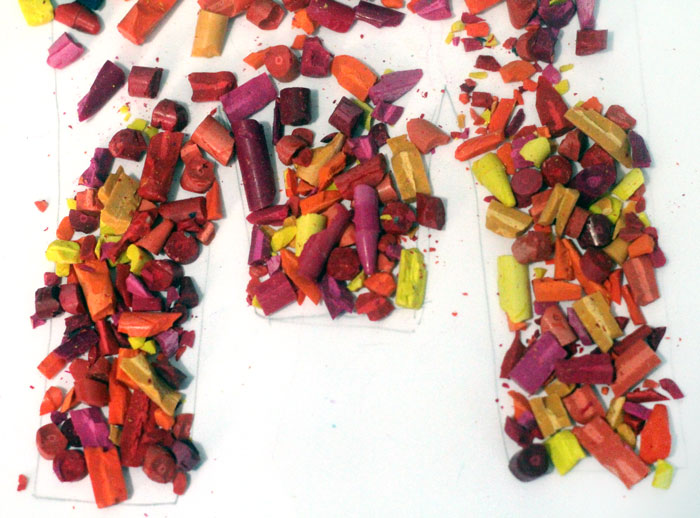 6. continue filling it in. I made it blend in the middle, but wished I hadn't. I think it would have come out nicer blocked. Make sure it's covered in an even layer, with few gaps.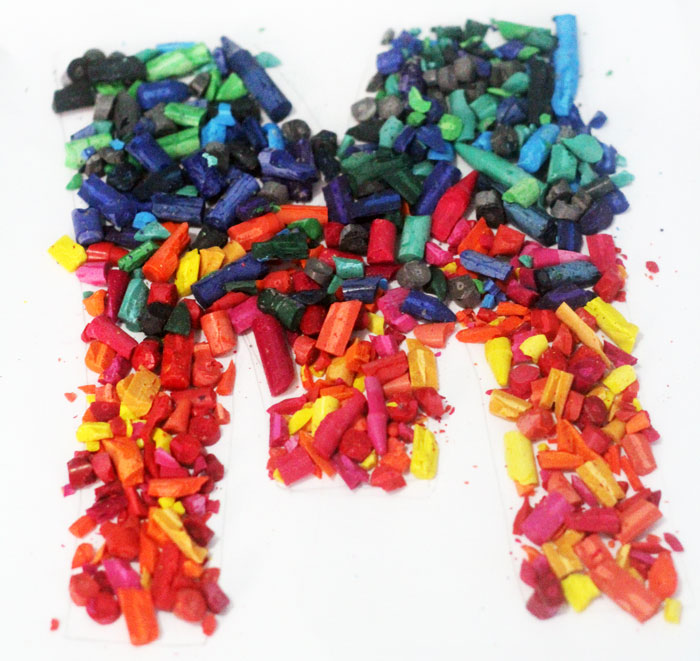 7. If you need to transfer your crayon initial to another surface for ironing, do so by slipping it onto a large board or book. A few crayons might shift, but other than that, you should be fine.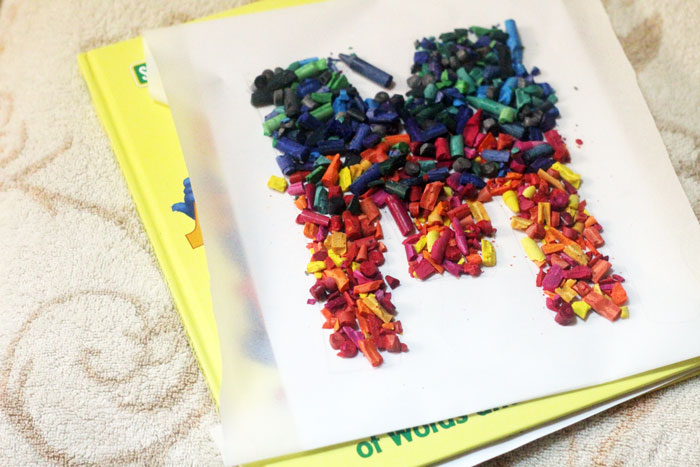 8. Cover your initial with a GENEROUS piece of parchment paper (mine is too small – you can see it leaked). Iron it on a medium setting. Pat it with the iron – don't move back and forth – and aim to give even coverage throughout. Don't worry if it shoots out of the lines – you'll trim it later. Make sure all your pieces are connected properly before finishing.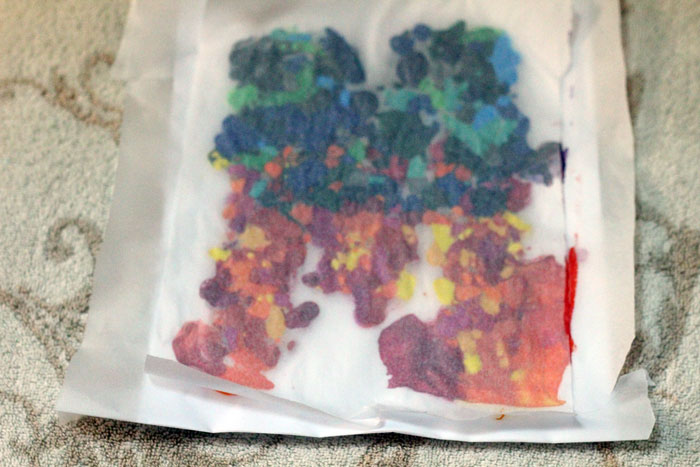 9. When your crayon is totally cool to the touch, remove the parchment.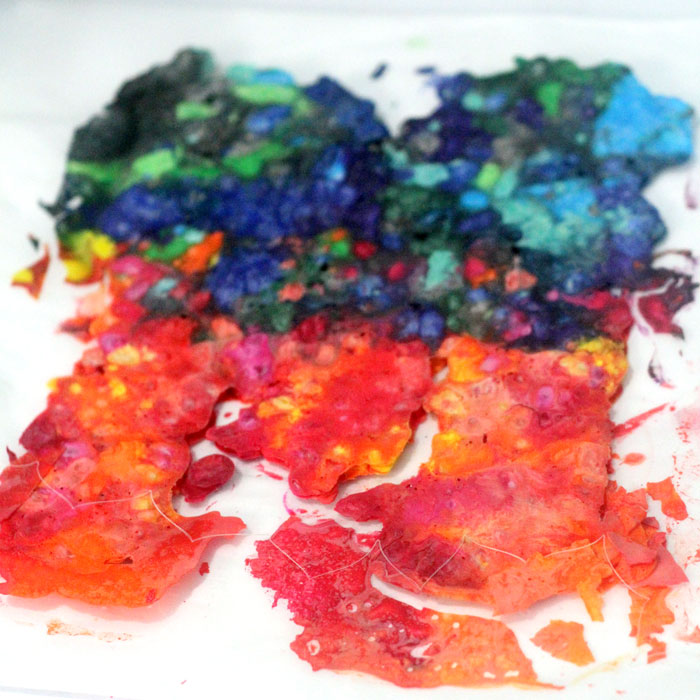 10. Please, do me a favor and do NOT attempt to trim it until you have glued it onto a surface and the glue is completely dry! That was one of my mistakes. Also, I wouldn't recommend trimming it with a knife. I started off doing that, and realized it looked cuter, and went smoother, if I just broke off little bits.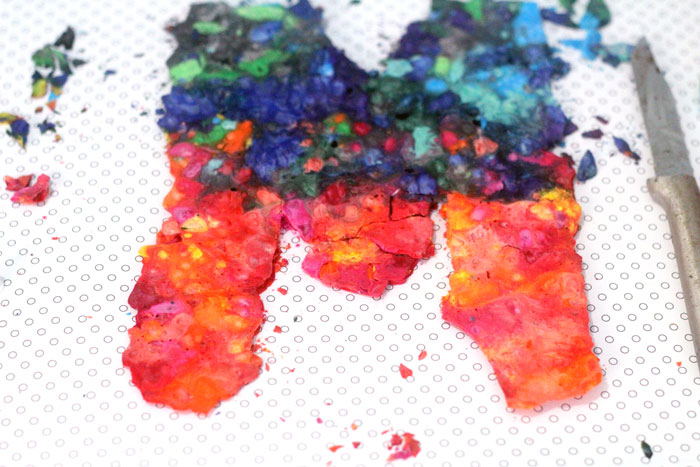 Don't you love how it came out? I embraced the imperfections, did a little patchwork, but overall, I'm proud of my crayon initial. It's an amazing parent-child teamwork craft, and a fun crayon craft that's out of the box (no pun intended.)
Next step: display. I'm most likely going to just glue it to the back of a shadow box. But I'd love to hear your suggestions, too!
How would you display this crayon initial? I'd love to hear your suggestions in the comments below!