I'm a huge advocate of middle of the road parenting. Yet, I rarely see parents claiming to belong to that "sect." Parents tend to define themselves by all sorts of labels. I'd like to define myself as a "middle of the road parent" – as a parenting philosophy.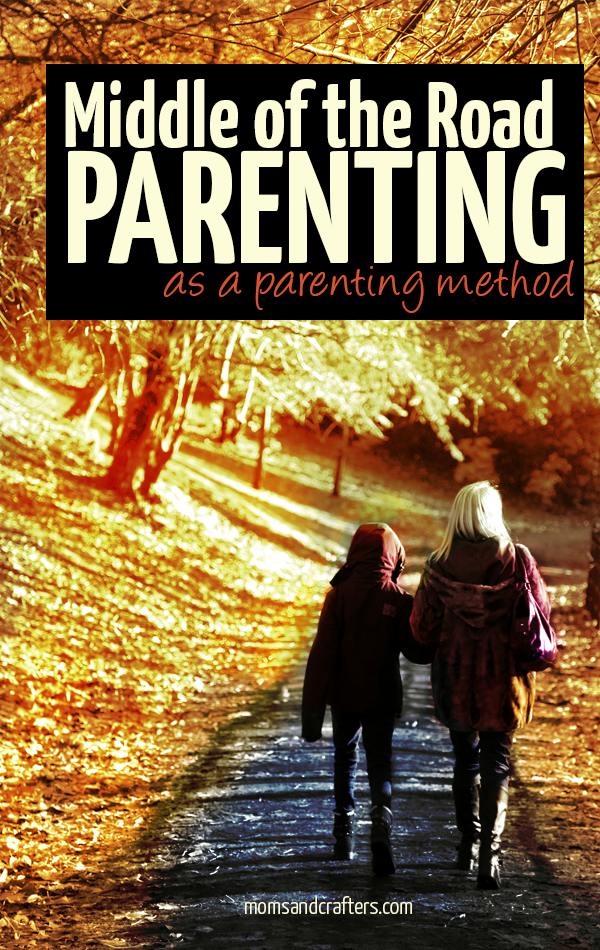 Parenting and labels:
There are all sorts of parenting labels, and many of them have a positive connotation to me. Between natural, attachment, positive parenting, authoritarian parenting, and all the other categories you'll find out there, you'll find someone who claims to belong to one.
Yet, I never (rarely?) hear a parent saying "I'm a middle of the road parent". They'll say "I'm kind of crunchy, I do some attachment parenting, and sometimes I actually allow my child some screen time…"
Not here, not there.
The thing is, people like to belong to a group. Having a classification for your way of thinking, your method of making decisions helps to clarify things. It helps you feel like you belong to something. It gives you a perspective to promote.
But what about the "sometimes I use cloth diaper" parents?
What about the "I breastfeed but don't co-sleep" parents?
What about the "I wore my baby until three months old" parents?
Do they not belong to a group?
Why middle of the road parenting?
I consider myself a middle of the road parent. Each decision is a decision on its own. Each child is unique and each family situation is unique.
I'll give an example that falls both under the natural and attachment parenting methods: breastfeeding. It's a long-battled subject. Both natural and attachment parents will say it's the only way. But then there are those that it simply does not work out for.
Sometimes it's the child that couldn't breastfeed.
Sometimes it's the parent that couldn't handle it, or couldn't produce milk.
Sometimes it's simply a personal decision that each parent is entitled to make.
And sometimes, creating a sense of balance helps allow some of the good in, without eliminating it for the sake of a movement.
What I mean is, a parent who simply can't handle the round-the-clock breastfeeding need not give it up, because she can never handle the attachment parenting it requires. She can breastfeed once a day. She can not breastfeed, but choose to wear her baby. She can then go on to feed the "never tasted breastmilk" baby only organic foods and it is in no way a contradiction.
Because each family is unique. Each child is unique. Each child is paired with the set of parents he or she will need to go through life. And each parent is entitled to make every parenting choice a separate, personal decision.
Practical examples of Middle of the Road Parenting:
I truly believe that screen time should not be allowed until age two. After that point, it should be very much limited. Yet there are circumstances that demand otherwise. This month, we will be taking our very restless toddler on a very very long trip. He will be allowed as much screen time as he wishes.
I use cloth diapers occasionally, when my baby just pooped and I hope he won't again in the next few hours.
There is a place in parenting for "trying to eat as healthy as possible" without going totally gluten-free, organic, and/or Paleo.
There's also a very strong place in parenting for some measure of tough discipline, with a dose of "your choice, you deal with the consequences".
Positive parenting is highly recommended, and I'm a big advocate, but… sometimes my toddler just needs to hear "no!" He grabbed a knife the other day. It was a few inches deep on the counter. He's TALL. The sharp panic was all he understood, and he put it down right away. There simply was not time for "Sweetie, would you like to play with the stacking rings or the Mickey Mouse piano? Knives can hurt us."
Sometimes it even means that you'll do things one way with one child… and differently for the next.
It's not wishy-washy. It's not undecided or weak. It is a conscious decision in parenting, to meet various methods somewhere in the middle, so that you can tailor your parenting style directly toward your family.
It's about understanding each circumstance as a unique one, each child as an individual, and applying it accordingly.
Leaving your mind open to change will allow you to be a much more relaxed, accepting parent. It will help you eliminate the judgement that comes along with peer-pressure based parenting.
And while we're on the topic of being a relaxed parent, what have you done for yourself today?
If you liked this, you'll love:
Dislaimer: I am not a parenting expert; I am simply a fellow mom sharing her thoughts and ideas on parenting. Please do not take this as expert advice, rather as "food for thought" as intended. This is not meant to disqualify the other parenting methods mentioned. Each family must choose what's best for them.