This PJ masks family costume was one of our favorites of all our family costume ideas in the past – because it includes a unique character! You can check out our Sesame Street family costume, our Winnie the Pooh DIY costumes, or our Paw Patrol family costumes from previous years. This post contains affiliate links.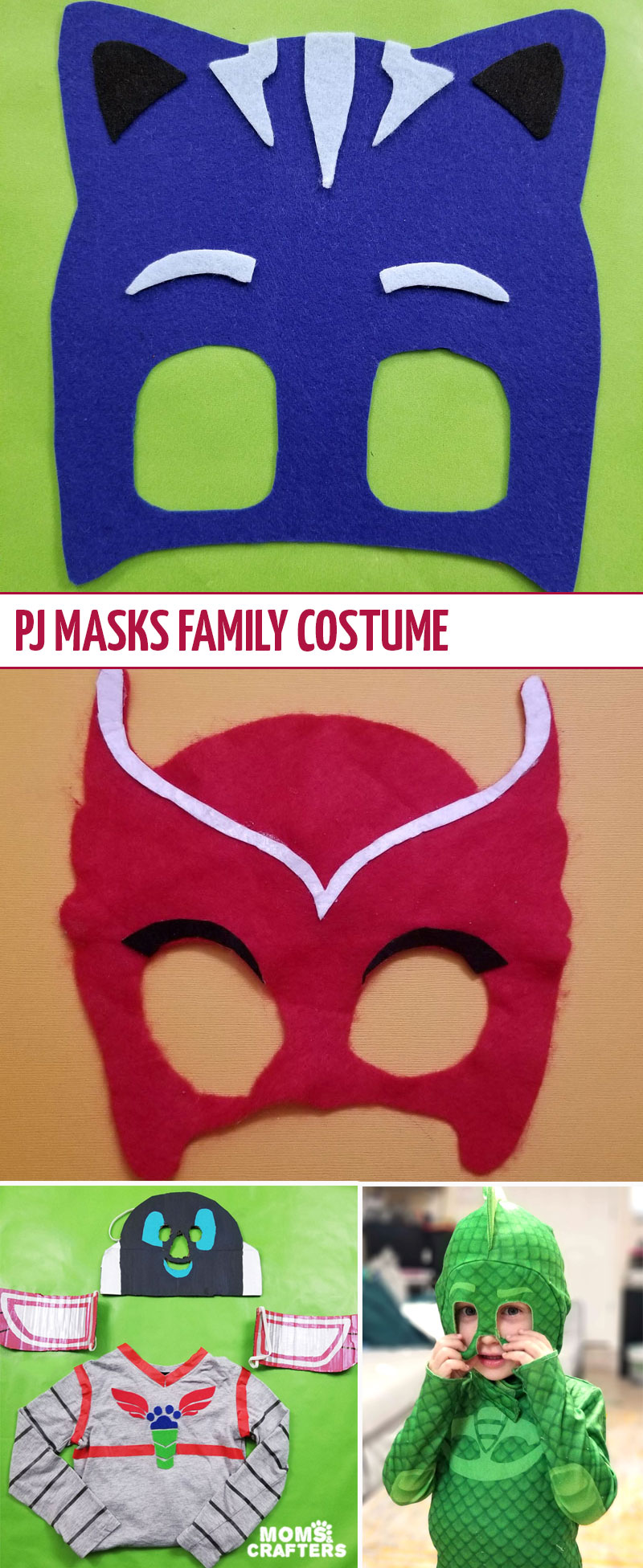 We absolutely love doing family costumes, and while it doesn't work out every year, this past year, we really nailed it with this DIY PJ masks family costume. Okay, most of it was DIY. But whatever wasn't in this post, you can adapt my tutorials from the other masks to make.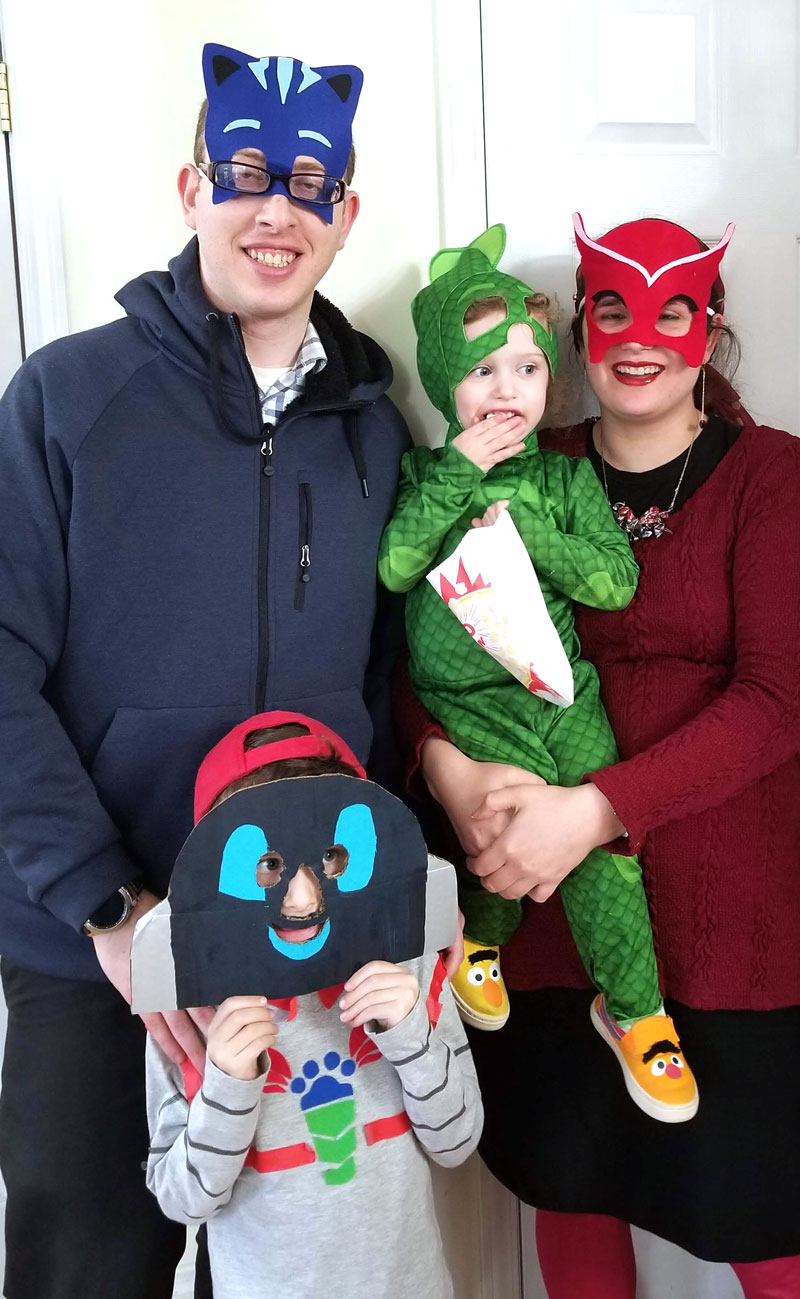 I used to decide the family costume that we all wear on Purim, a Jewish holiday in the month of March, where the tradition is to wear a disguise.
Lately, I've been allowing M to decide. Last year, he chose a UPS costume, and while I considered going the whole family costume route, I decided to take a break.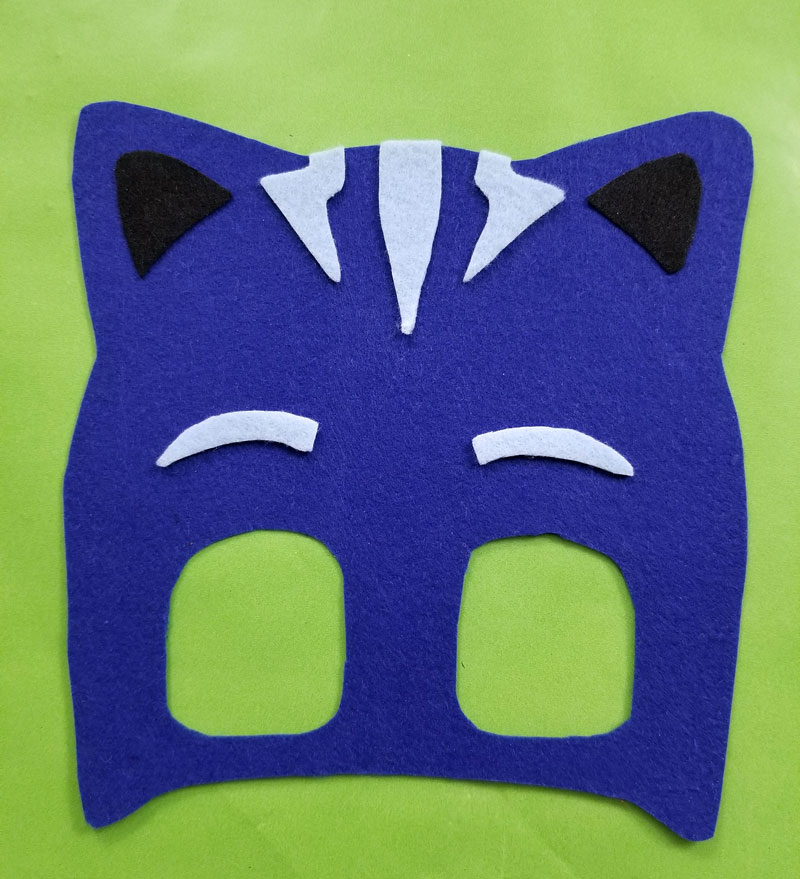 This year, M told me "I want to be PJ Robot!" I had to Google that one, but we figured it out. Then I remembered that my nephew was Gecko one year!
So I hit up my sister and she still had the costume! That made my job easier, considering that for the grown-ups all I had to worry about was masks.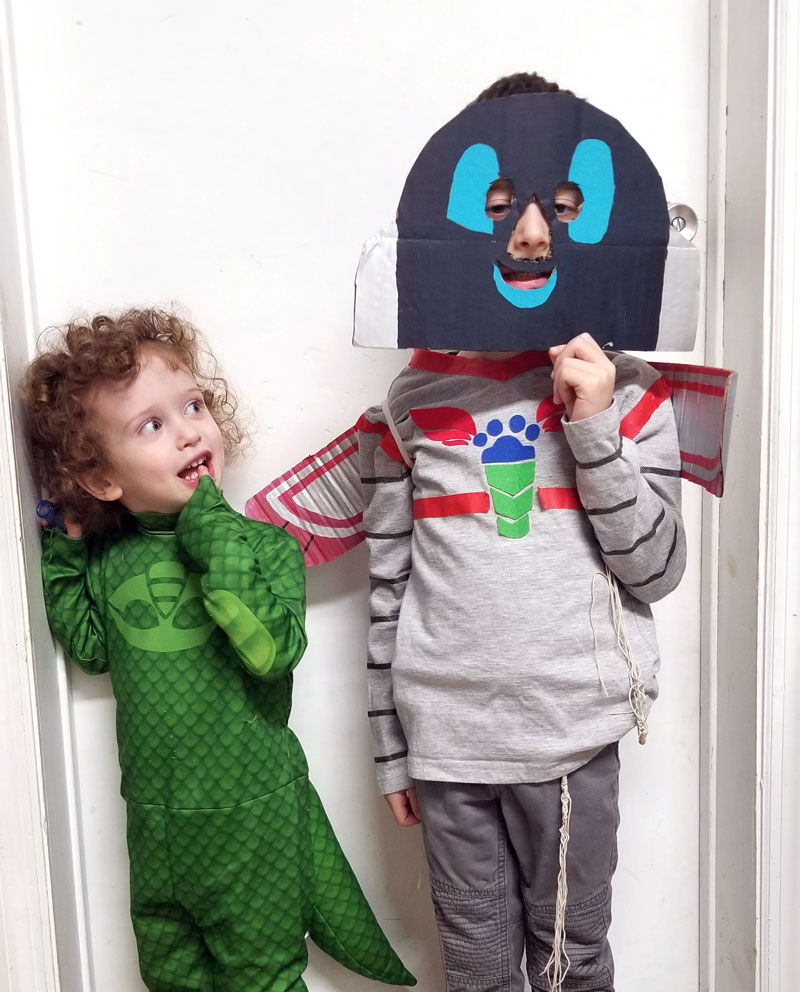 What I used for our PJ Masks family costume:
My husband just pulled out his work hoodie, which was blue (yep, I photoshopped out the logo. Don't tell anyone). I happened to have a deep red tunic sweater similar to this. I paired it with the trapeze diy beaded earrings and wire wrapped necklace I made for my sister's wedding,this red long-lasting lipstick, and red leggings, as well as a matching headscarf. I didn't do anything for wings.
I used Simple Everyday Mom's template to make mine and my husband's masks, adapting it to use with felt. The Catboy mask was a bit small for my husband, so if you're making it for an adult, print it out a little bigger.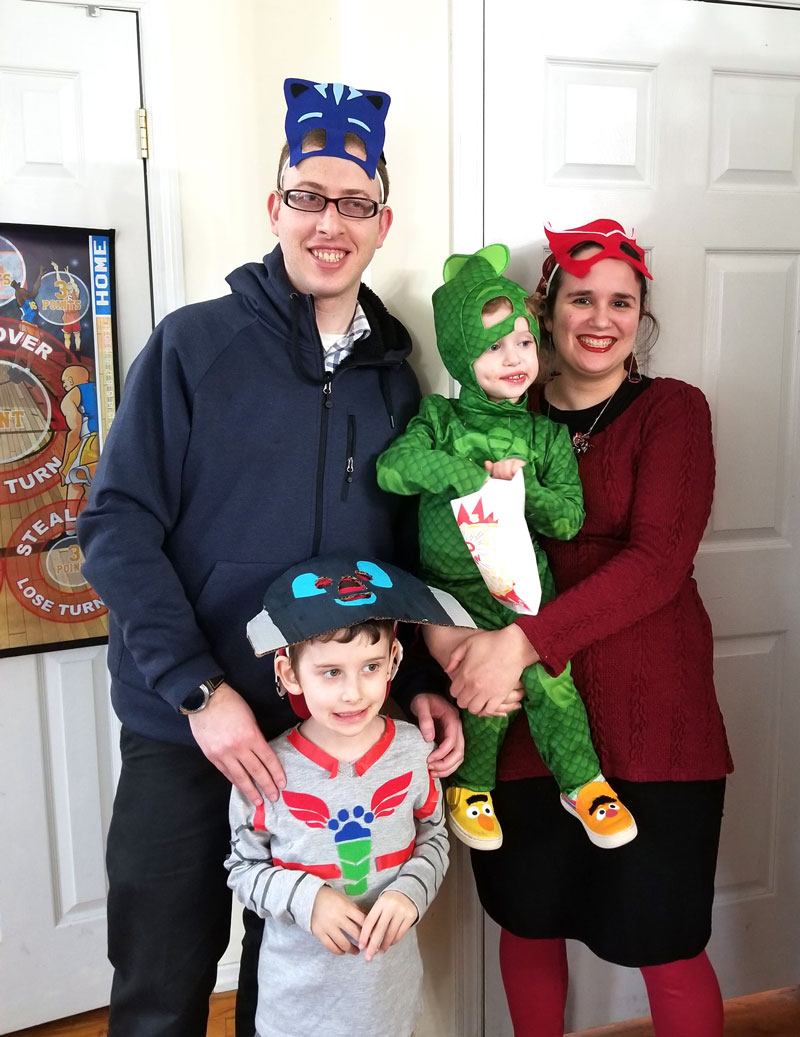 M's costume was mainly a plain shirt and cardboard boxes – I blogged the tutorial separately, and explained that my tips for making the shirt reusable after made it less durable. You can see that in the photo above, but it lasted through the school dress-up day, as well as the holiday itself.
How to make an Owlette Mask inspired by PJ Masks:
You need:
Non-DIY components that can complete your costume
Make your costume:
1. Cut out the template and cut the main mask base from red felt.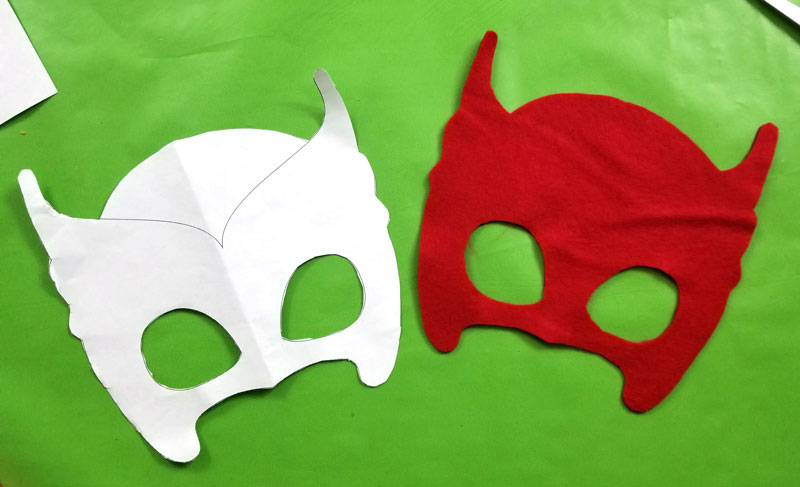 2. On the Owlette template, there was no extra markings for the pink or black areas. So I drew it. Cut out the top semicircle so that you have the dipping V. Draw an outline as pictured.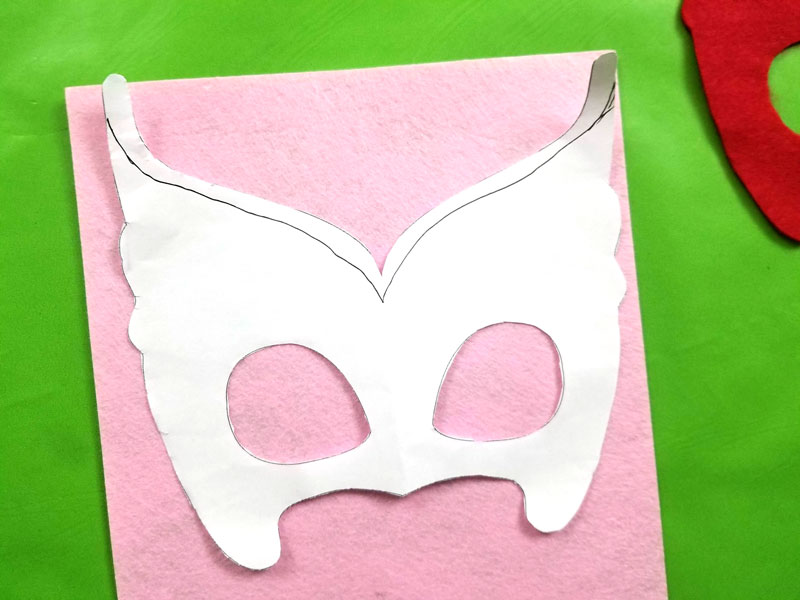 3. Layer it on pink felt and cut it out. Glue it in place on your mask base.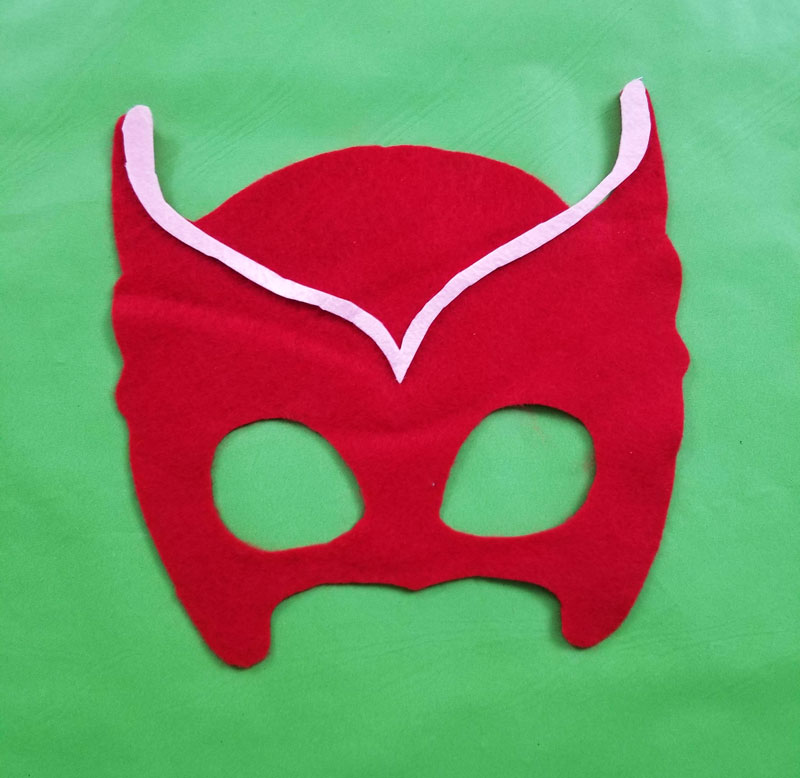 4. Draw in the top eyelid/eyeliner.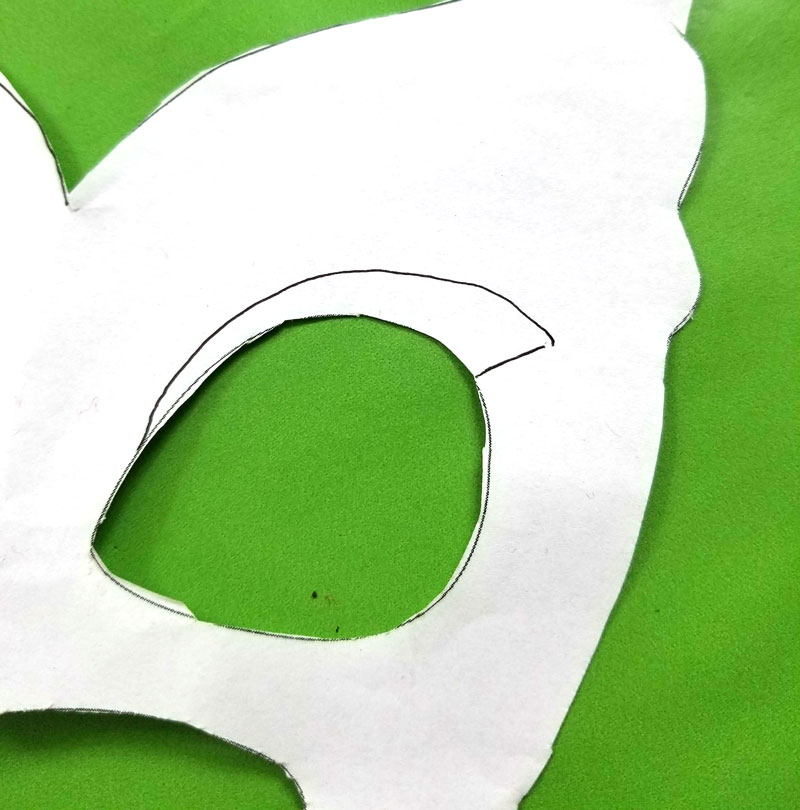 5. Cut it out two times, in mirrored directions.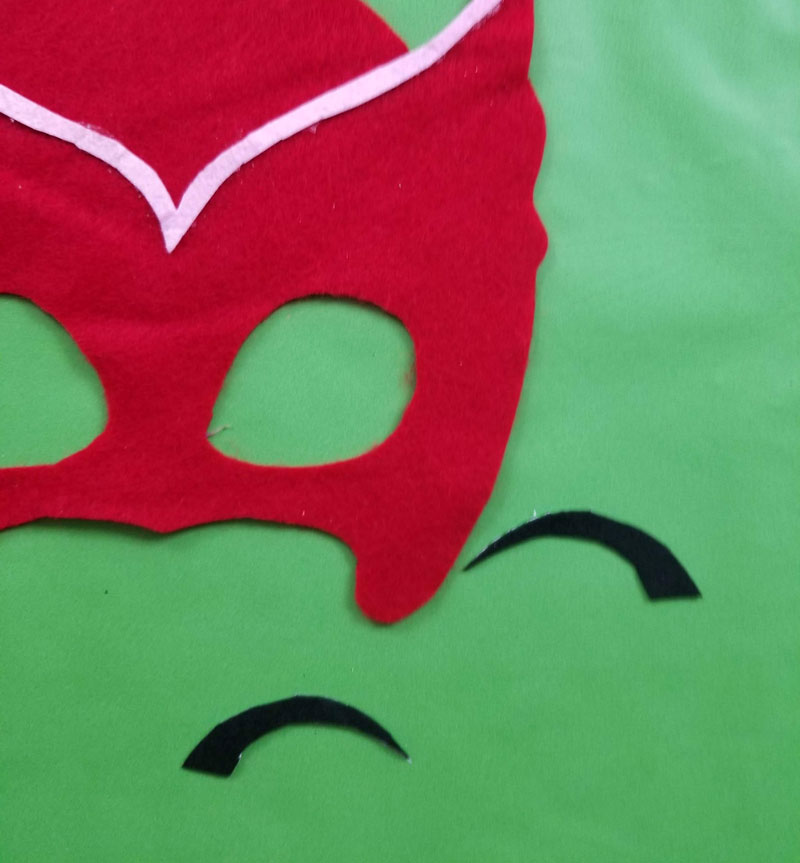 6. Glue it on. FYI, I had sticky-backed felt in this color and it was quite convenient!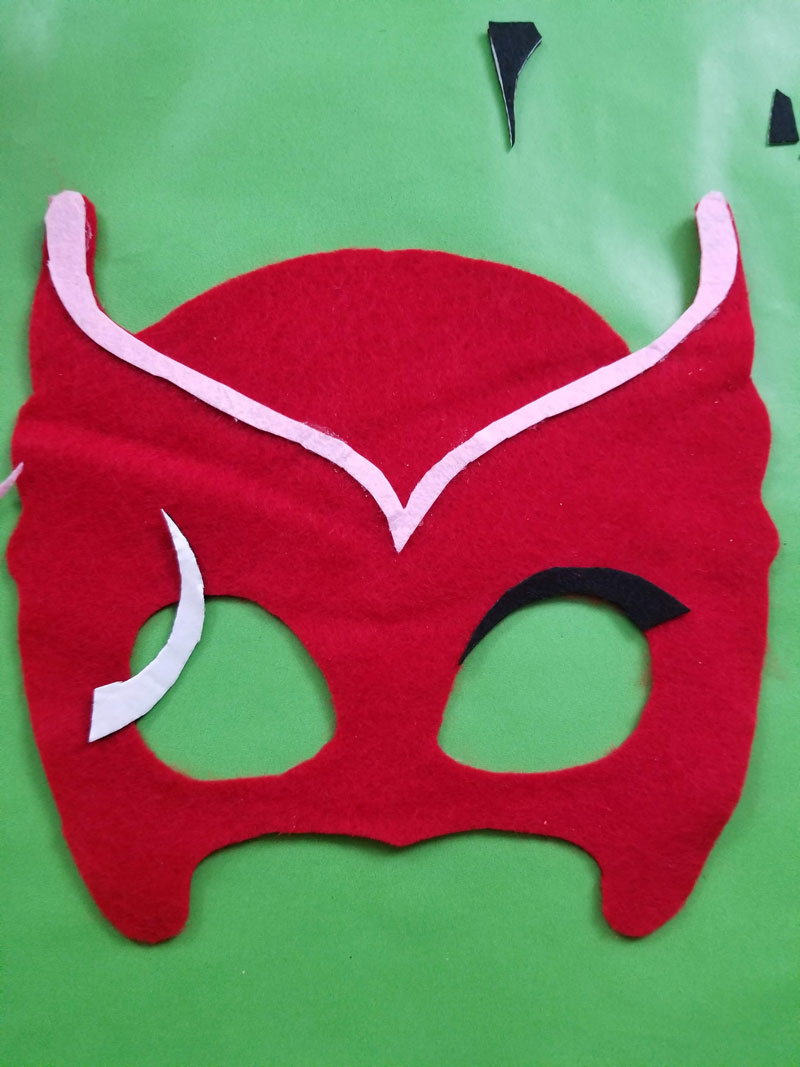 7. Measure your elastic and glue it on either side of the eyes.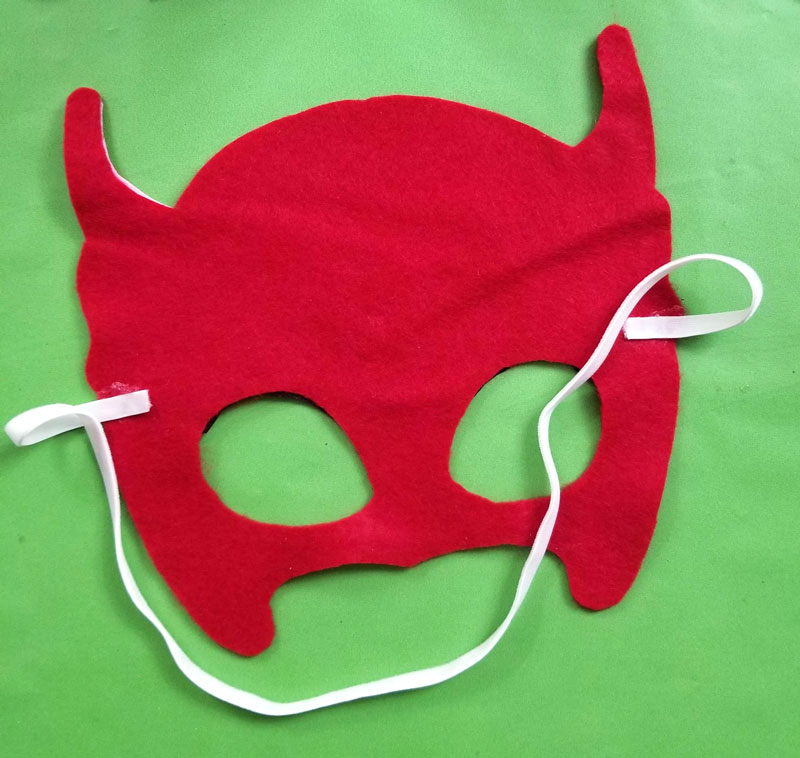 Allow it to dry completely before wearing. This is what it looks like months after we used it, after my kids played with it a lot: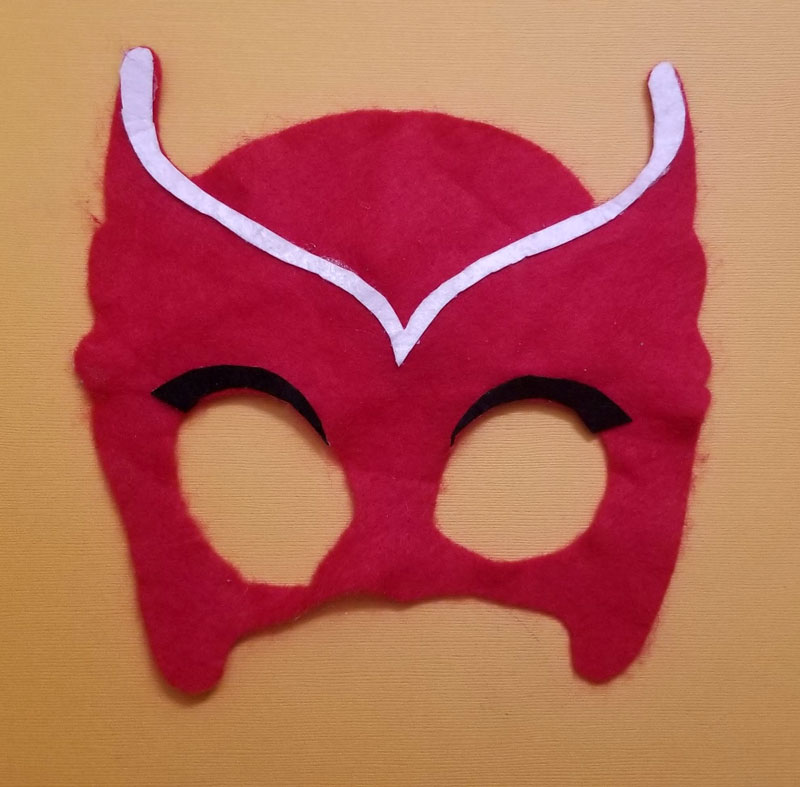 How to make a Catboy Mask inspired by PJ Masks:
You need:
Make your costume:
1. Cut the base of your mask – the outer edge of the template from stiff bright blue felt.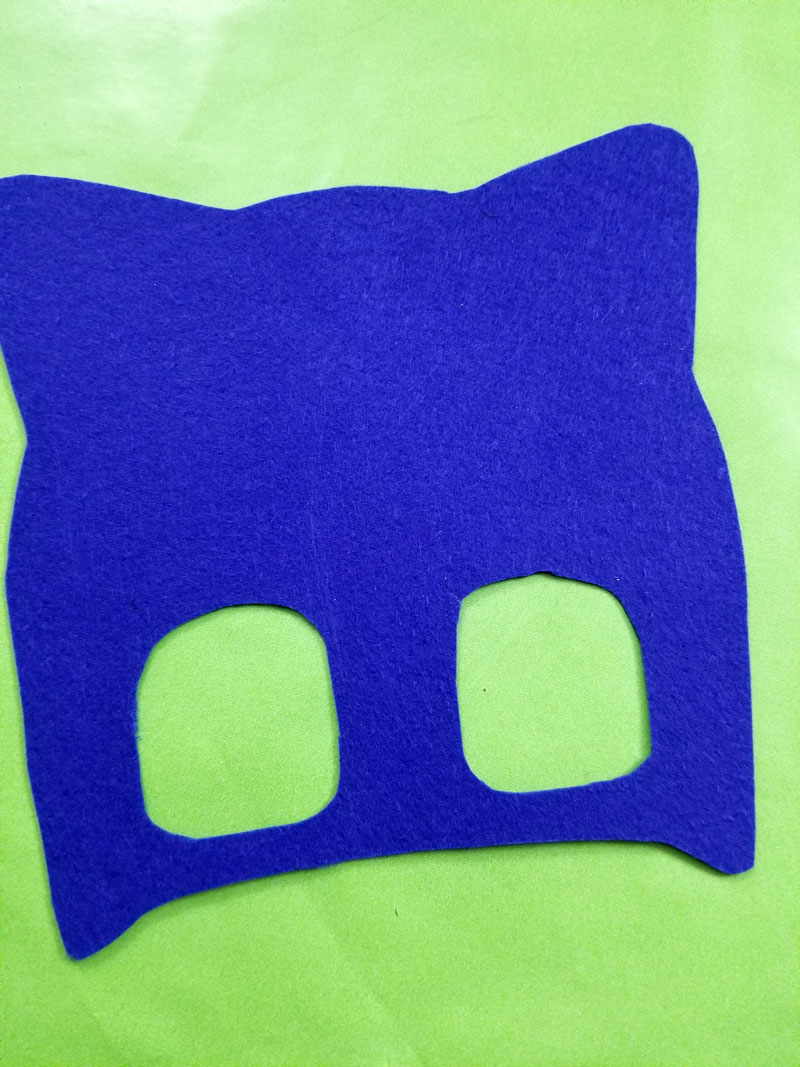 2. Cut your ears out of your main template and cut them from black felt. Glue in place.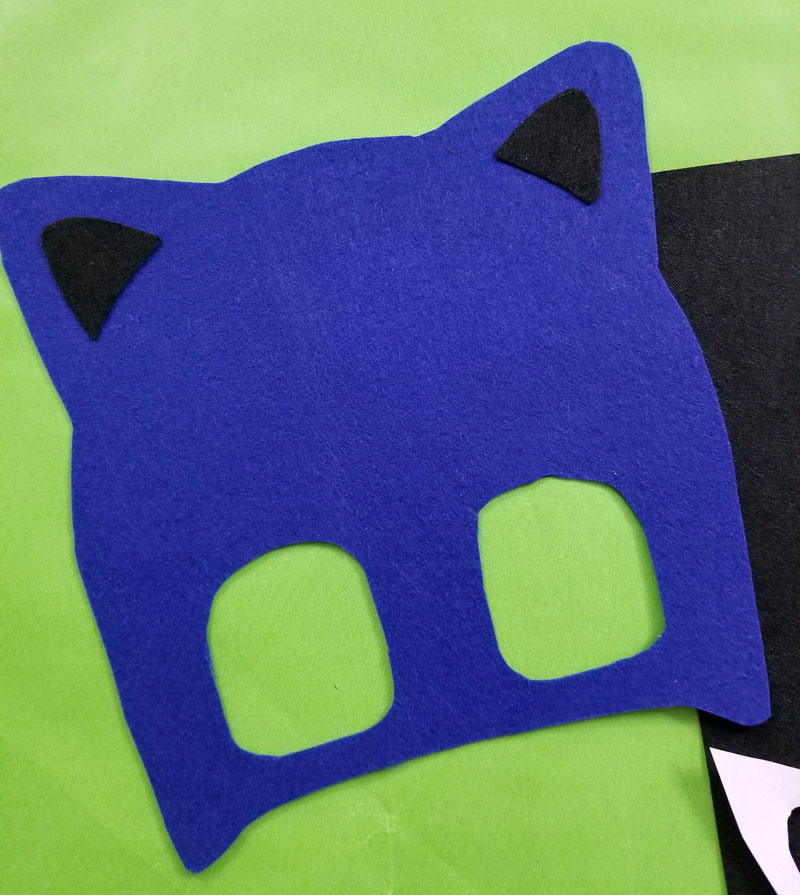 3. Cut the light blue portions – the stripes and brows – out of the main template and cut from light blue felt. Glue in place. Cut a piece of elastic to fit, plus about an inch, and glue in place.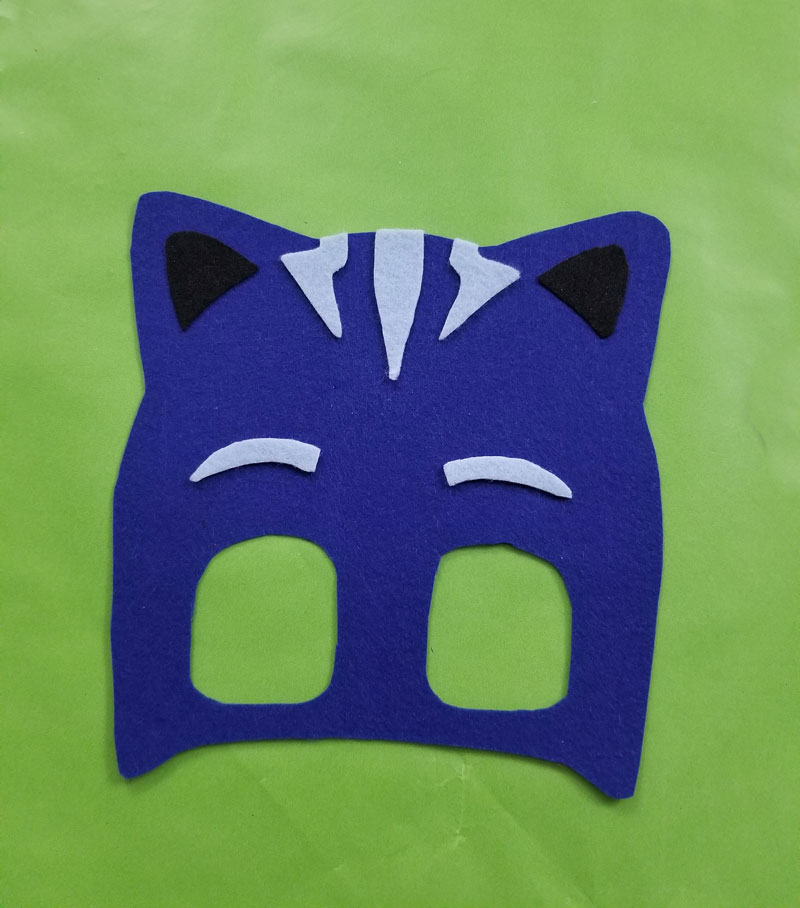 Y's Gecko costume for our PJ Masks family costume:
You can use Simple Everyday Mom's template for making a DIY Gecko mask in the same way that I did the ones above, however, if you are like us and have an adorable toddler who loves the whole getup,this costume was adorable!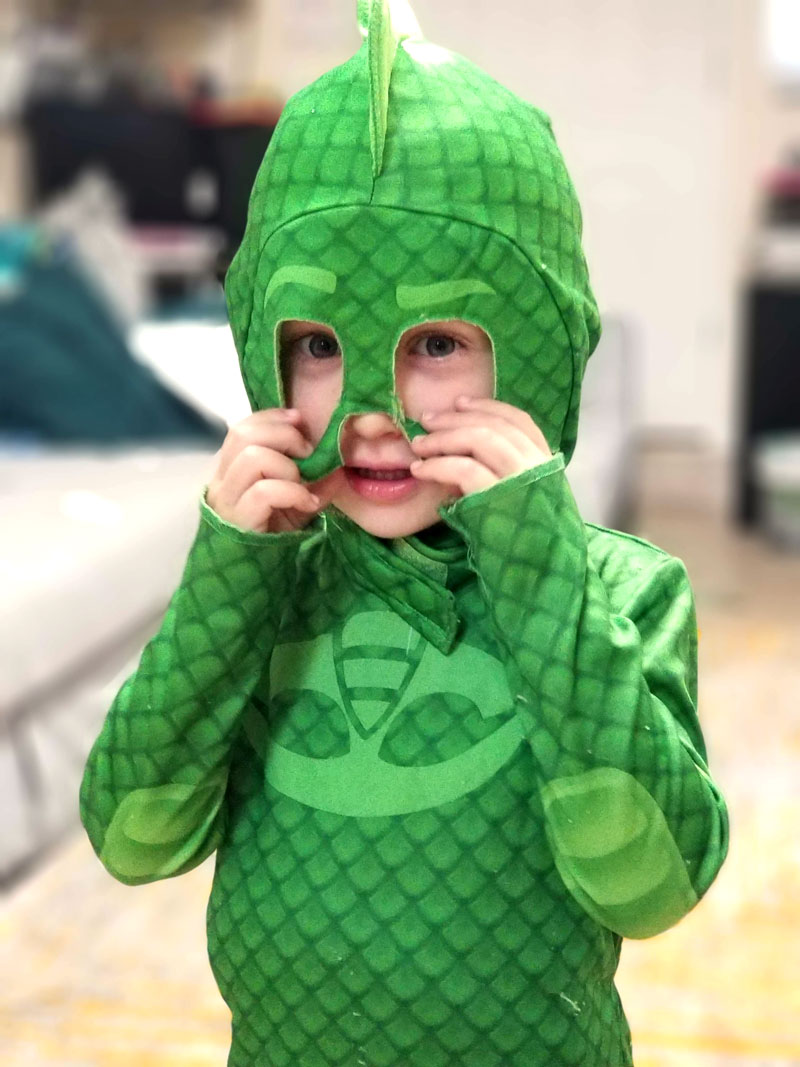 It has a stick-on tail that can be removed (it attaches with hook and loop) as well as a separate hood/mask that's loose enough to raise above the eyes. It's also a very comfortable costume for little ones.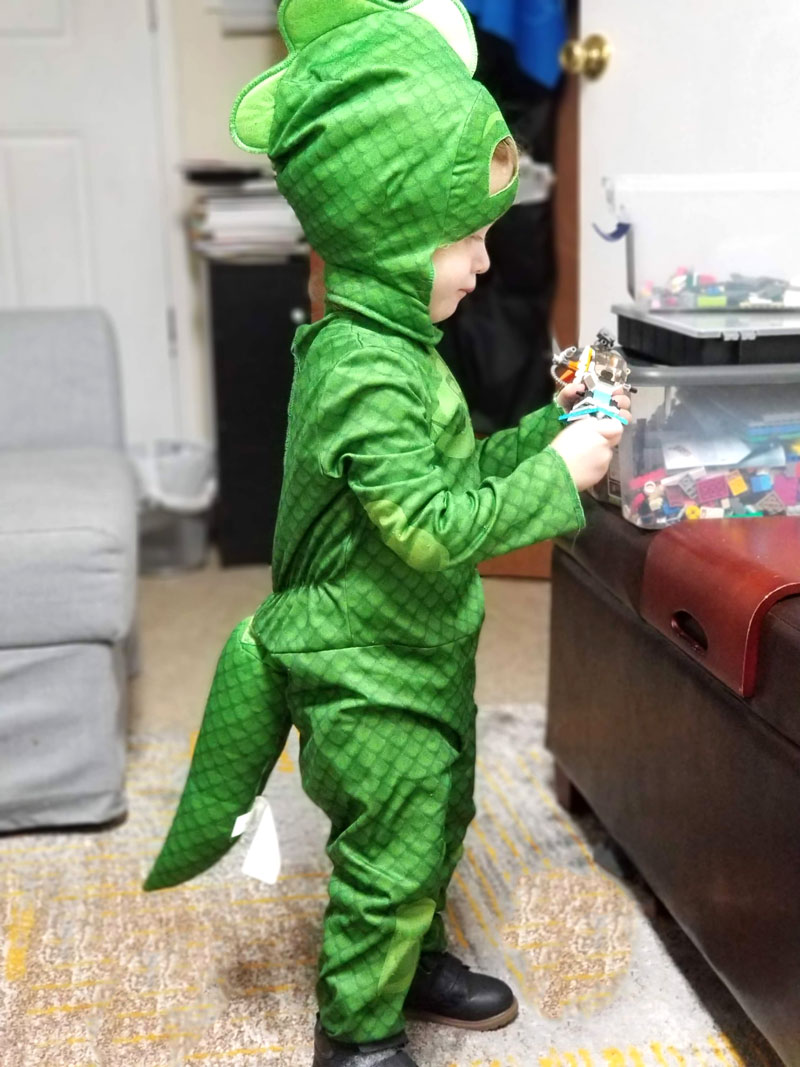 Y absolutely loves it – and yes, I say loves, not loved. He still wears it all the time while playing. At this age, it's often worth getting actual costumes because they love dress-up and tend to tear your DIYs apart.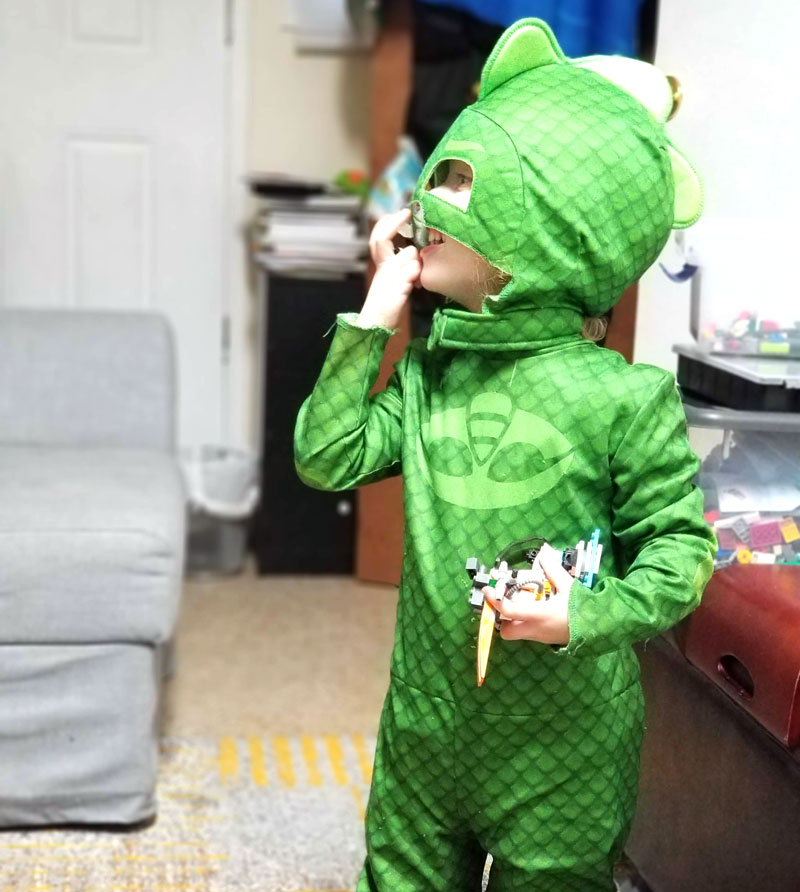 Our DIY PJ Robot inspired costume:
A couple of weeks ago, I shared how to make a PJ Robot costume. Here's a photo: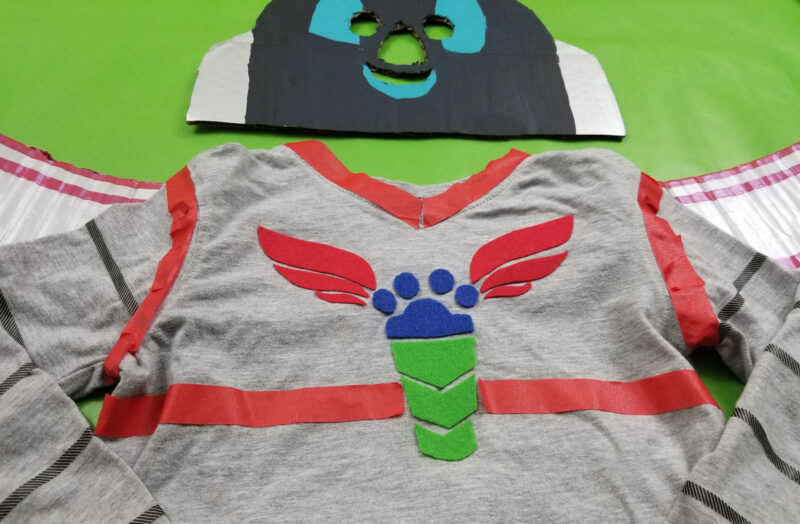 As you could see, M loved wearing it, and he was able to function well by raising the mask over his head, and lowering it when he wanted to go all-in.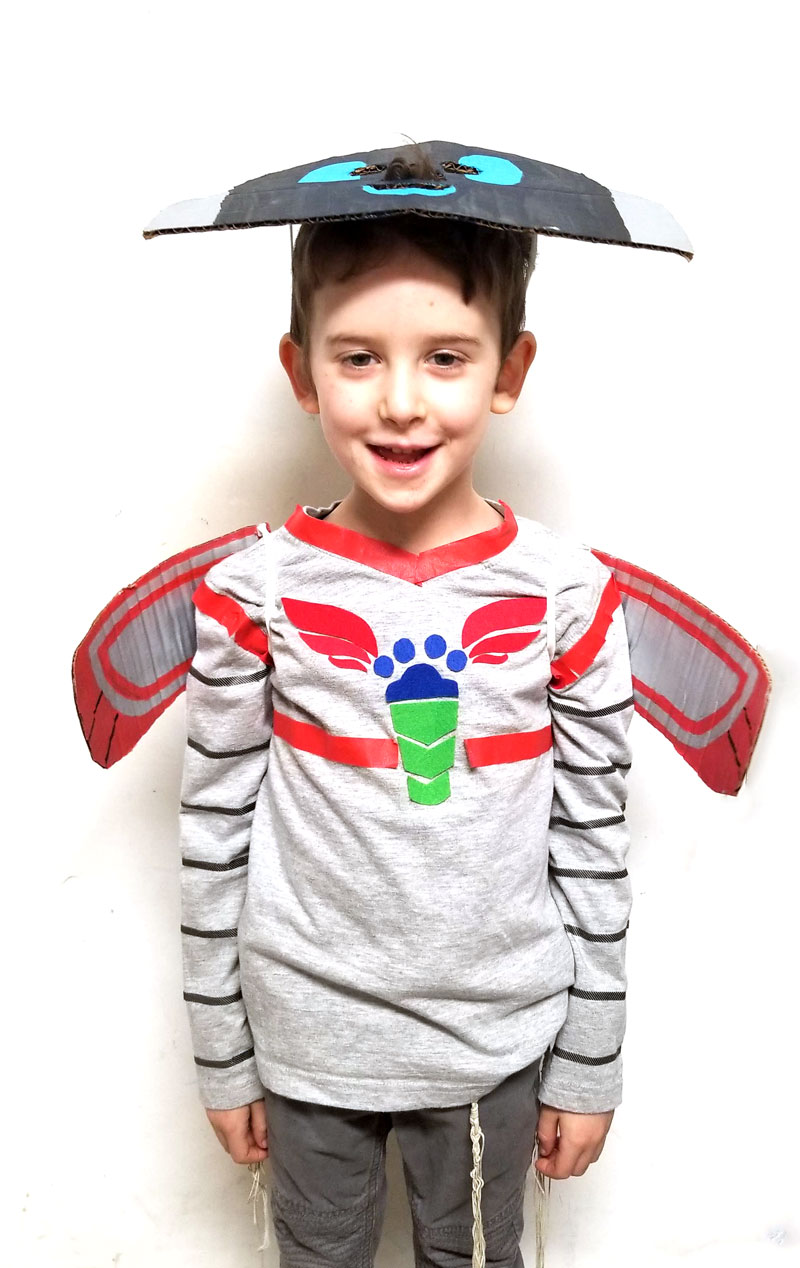 Since there's nothing like it available now for sale (at the time this is being written) it was a very unique costume, and his friends agreed that it was epic!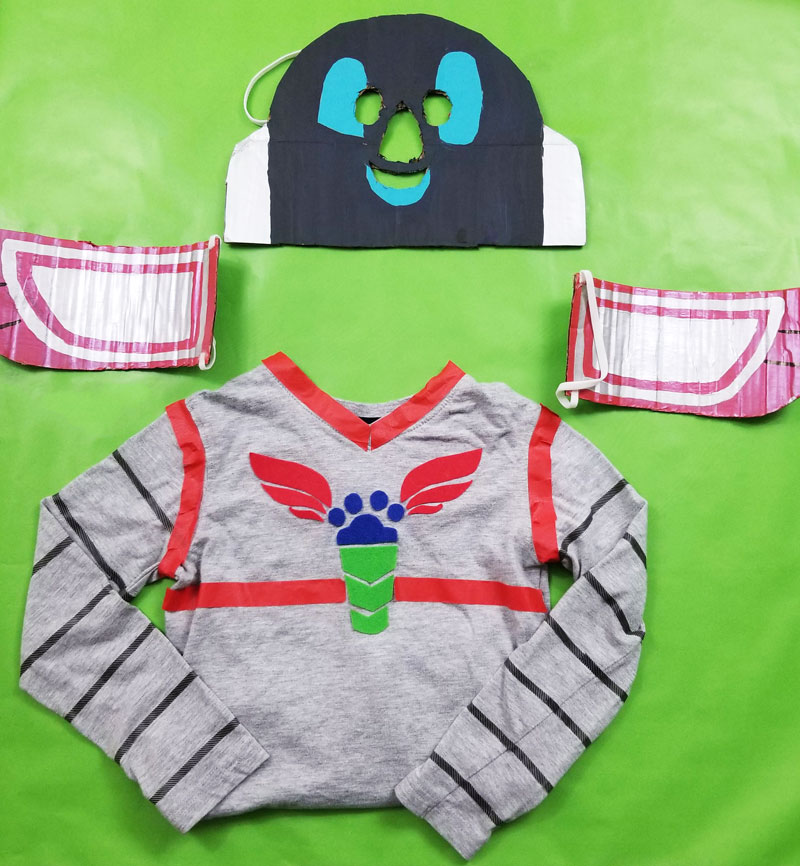 What are your favorite costumes for kids? Did you ever do a PJ masks family costume? Did you DIY or did you buy?
Some of my favorite costume posts from past years include these easy costumes with normal clothes, this slightly haphazard Elmer Fudd hunting hat, as well as these easy no sew toddler costume ideas.