Whether you have a kid who is sensitive, you're trying to save a few bucks, or you're just trying not to be wasteful, these easy costumes with normal clothes are so much fun! While some years, I go all out and create cool costumes like our Marshall Paw Patrol costume, most years I stick to real clothing. Disclosure: this post contains commissioned links.
---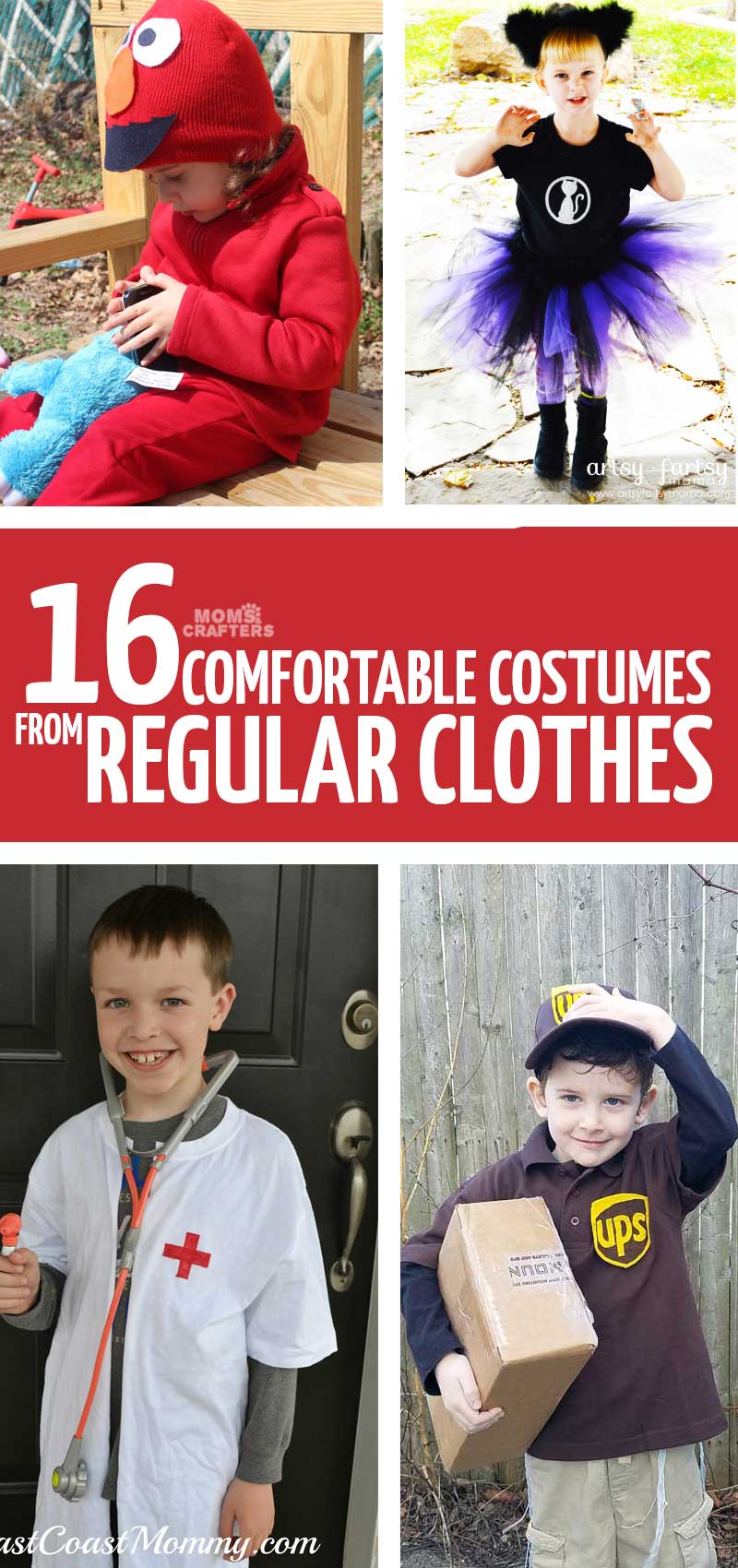 You can make some really cool costumes without buying expensive polyester pieces that your kid doesn't even like to wear!
These easy costumes with normal clothes prove that your kid can look real cool and dress up as something that really interests him or her, while using upcycled clothing, or specially-purchased clothing that you can reuse afterward.
Table of Contents:
Copyright:
All of the images for these easy costumes with normal clothes were used with the permissions of the respective bloggers for the purpose of this post. Click on the title link or image for the full tutorial.
I have created hero images for your convenience for sharing these easy costumes with normal clothes. Please use the first or last image in this post when sharing and not one of the individual photos below, out of respect for the creators' copyrights.
7 Easy DIY costumes made from everyday clothes
Assemble easy costumes with normal clothes and then reuse the clothing when you're done! If you need to add things to complete your costume, you can do it temporarily. Either glue the components to flat back pins (if it's something small like a badge). Or, use removable double sided fabric tape if there's more to it (like letters, patterns).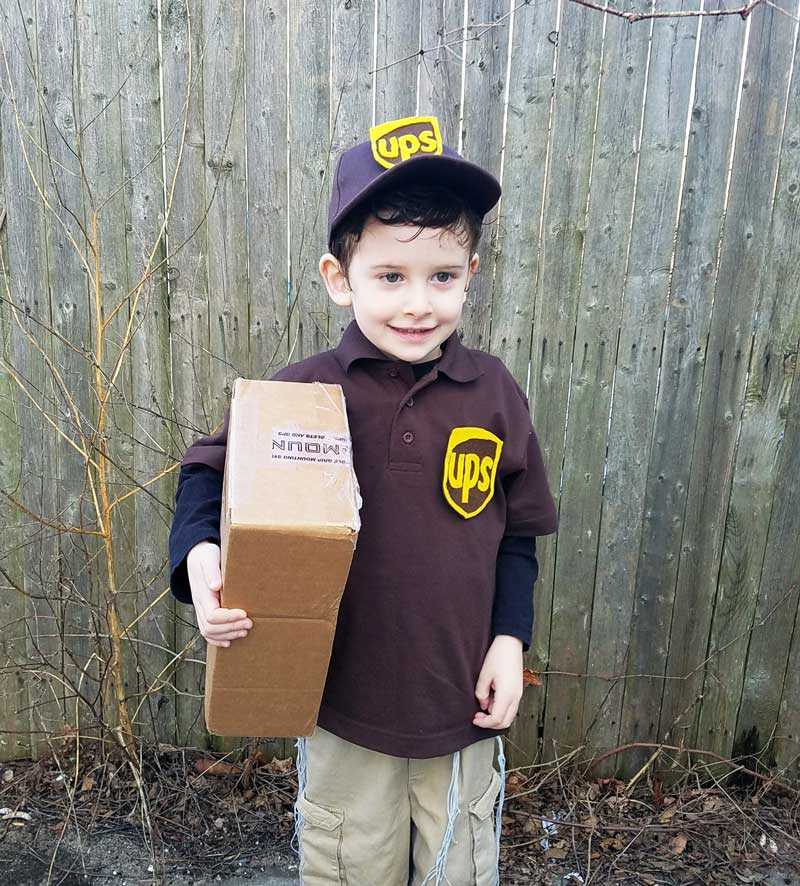 Last year, I paired a brown collared shirt (that doubles as a school shirt when we're done with the costume) and a brown cap to make a UPS delivery costume! The badges were pinned on so that they come off easily and the clothes can be reused.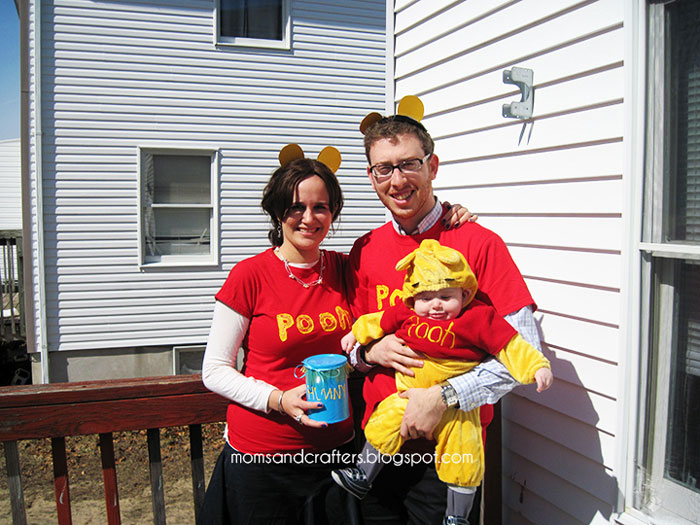 Turn red t-shirts into a Pooh-inspired costume! If you want to go all-out, you can add yellow pants or leggings and a yellow long-sleeve tee underneath. Take it a step further by slipping yellow socks over your shoes and adding yellow gloves.
While I personally used fabric paint to add letters to the shirt, if you want to reuse them after, just cut the letters from felt and attach with fabric tape.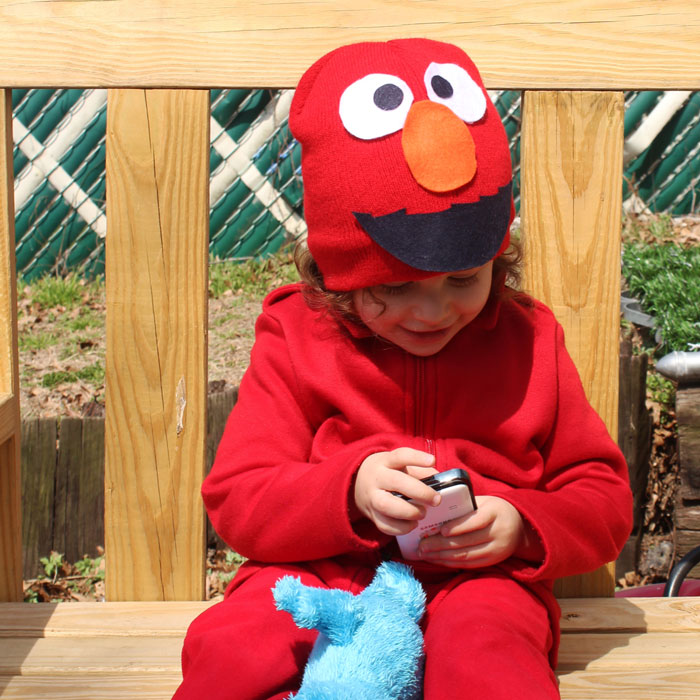 This fun Elmo costume for toddlers is best done using a red sleeper, but you can also pair a red t-shirt with red leggings. The hat is a simple beanie hat from the dollar store and added felt to turn it into Elmo. If you want to go all out, add red socks over your shoes and red gloves (bonus points if they're fuzzy!)
You can do the same for Cookie Monster or Grover in blue, for Oscar in green… or try this for Big Bird's hat.
4. Garden Gnome by Adventure-in-a-Box:
This adorable garden gnome costume is one of my favorite easy costumes with normal clothes because it's so unique! It can work for boys or for girls and is really simple to put together.
5. Astronaut Costume by Swoodson Says:
If your DIY skills are in order, try this astronaut costume by Swoodson Says. It's comfortable enough for your sensitive kiddo because it uses normal clothes, and it's inexpensively made using upcycled clothing.
6. The Sneeches by Organized 31
If you have a Dr. Seuss fan at home, this costume is one of the easiest DIY easy costumes from normal clothes in this list! It's made from a solid colored tee, with some basic additions.
7. Mermaid Costume by Mama Papa Bubba
While this mermaid costume may use slightly more specific clothes, and the process is pretty involved, the final result is so unbelievable, it'll rival any mermaid costume you can purchase! You don't need to know how to sew to make it, and the final result will make your child proud.
5 Upcycled DIY Costumes from clothes you already have
You can upcycle old clothes to make a costume, turning trash into treasure!
8. Carrot Costume for Toddlers: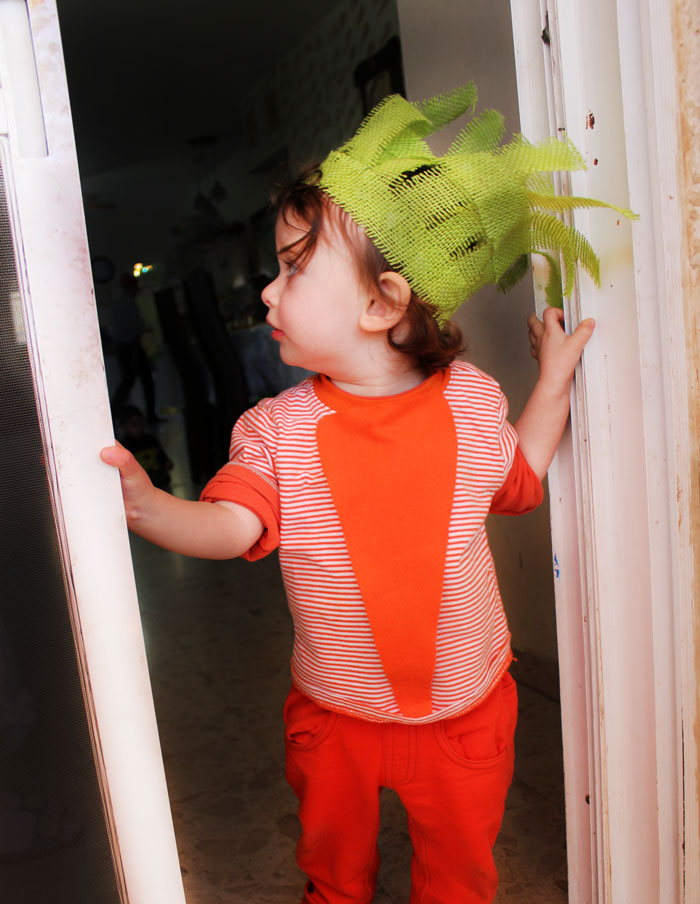 I took an old t-shirt of M's when he was a toddler and turned it into a carrot costume for him. Combined with some felt, and burlap ribbon, this costume was super easy to assemble – and cost me very little!
9. Upcycled T-shirt Capes by Teach Me Mommy
This brilliant 10-minute costume accessory uses any old shirt you have handy.
10. DIY Doctor Costume by East Coast Mommy
If your child has aspirations to be a doctor one day (or is just a fan of his or her doctor) combine this super easy DIY doctor costume (using an upcycled shirt) with a toy doctor kit and you're good to go!
11. Cat Costume by Artsy Fartsy Mama
Here's another costume made from an old tee, in a color that's super easy to find! this simple, classic costume can be made with a tutu for girls, or without for boys.
12. Stick Figure Costume by Moneywise Moms
I love the sense of humor in this stick figure costume! It was done in black and white, but you can really do it in any color combination.
4 No-DIY Halloween costumes from regular clothes
Don't like to DIY but want to assemble easy costumes with normal clothes? Or maybe you don't want to touch the clothing at all, leaving it totally fresh? Assemble different pieces of real clothing, adding only accessories to convert them into a costume. This works best with career-type costumes because you can easily get grown-up clothing in kid sizes.
13-14. Lawyer and Architect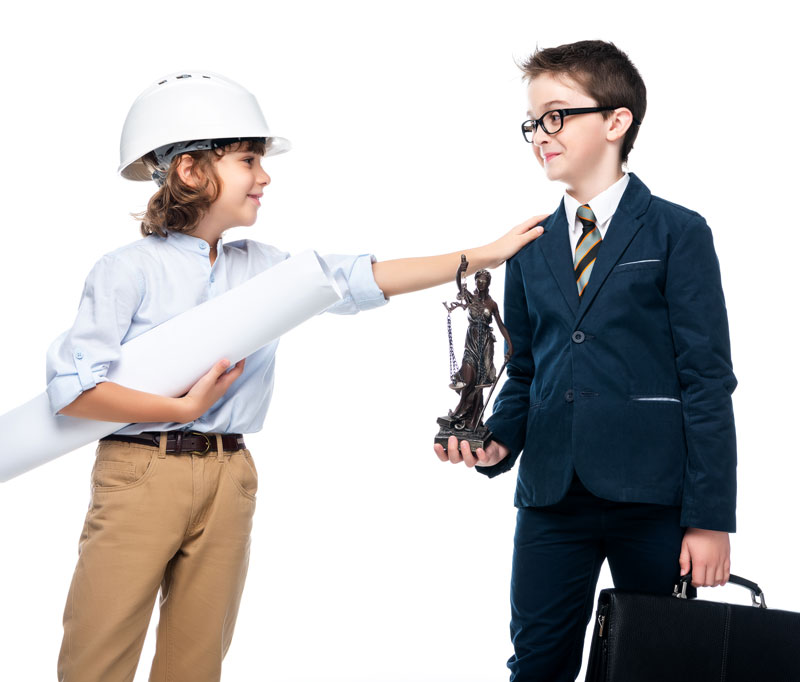 If you've recently had a special event, you may just have a lawyer costume – blazer, shirt, tie – handy! Combine it with an old briefcase (or a flea market one) and some pretend glasses. I remove the lenses from my old glasses and give them to my children to play with, so that can be a great option for these easy costumes with normal clothes.
For the architect costume, some simple khakis with a button down shirt do the trick. A cheap plastic hard hat is enough, but if you want it to look better, you can look for a better toy hard hat. A rolled up poster board can look like a blueprint.
Even if you don't have the outfits handy, they remain untampered in these easy costumes with normal clothes, so that your child can wear them as real clothing when you're done.
15-16. Cowgirl and Cowboy Costume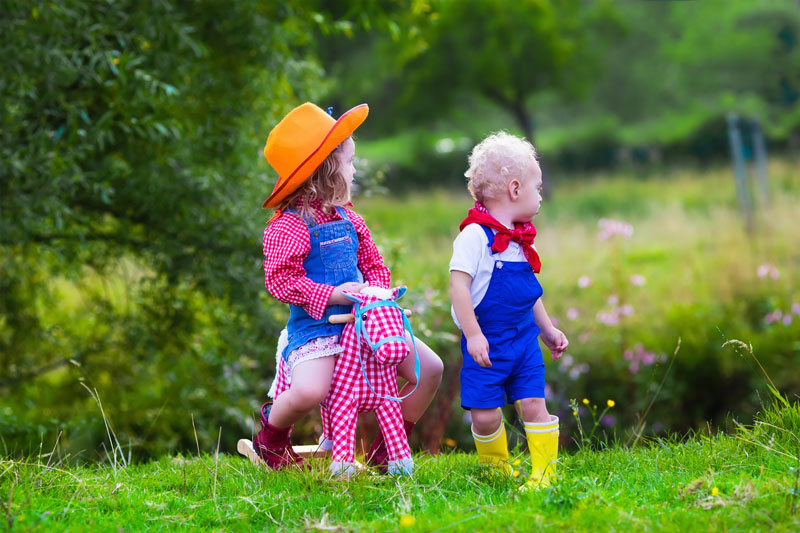 One of the most classic examples of easy costumes with normal clothes, cowboy and cowgirl costumes are so easy to assemble! Just mix denims and overalls with plaids and bandanas (hats and boots optional) and you're good to go!
17- 22. Character Costumes
Many popular kids' TV characters come with all sorts of licensed clothing and accessories that you can wear as a costume and then reuse throughout the year.
Some examples:
23. Carmen Sandiego costume by Jinxy Beauty
I love this throwback to the 90's video games – made using real clothing you assemble online!
More easy costumes with normal clothes
Want more ideas? Here are some more cool costumes with normal clothes that can be pulled off at the last minute:
Professions
Teacher: A skirt or chino pants, a sweater, and a briefcase.
Professor: Anything with a blazer and bow tie!
Construction worker: Plaid shirt, pants, and a vehicle safety vest. A hard hat too, of course.
Artist: Your kids' junk clothes and art apron, plus a beret.
Rocket scientist: An oversized white shirt can be used as a lab coat over any outfit. Throw in some goggles (the kind you might have with a science experiment kit.) Print out a NASA badge and put it in a conference lanyard.
Animals & Creatures
Many animal costumes can be accomplished using hoodies or sleeper rompers. They can be used afterward and are available in so many sizes.
Got any more ideas for easy costumes with normal clothes to share with us? Comment below!