Let me guess: you're wondering why you should do shoe tying practice on a toy and not a real shoe… scroll down for my answer and a fun and free DIY tutorial and template! But first, if you love DIY felt toys, check out my toy first aid kit template and then check out this project! Disclosure: this post contains affiliate links.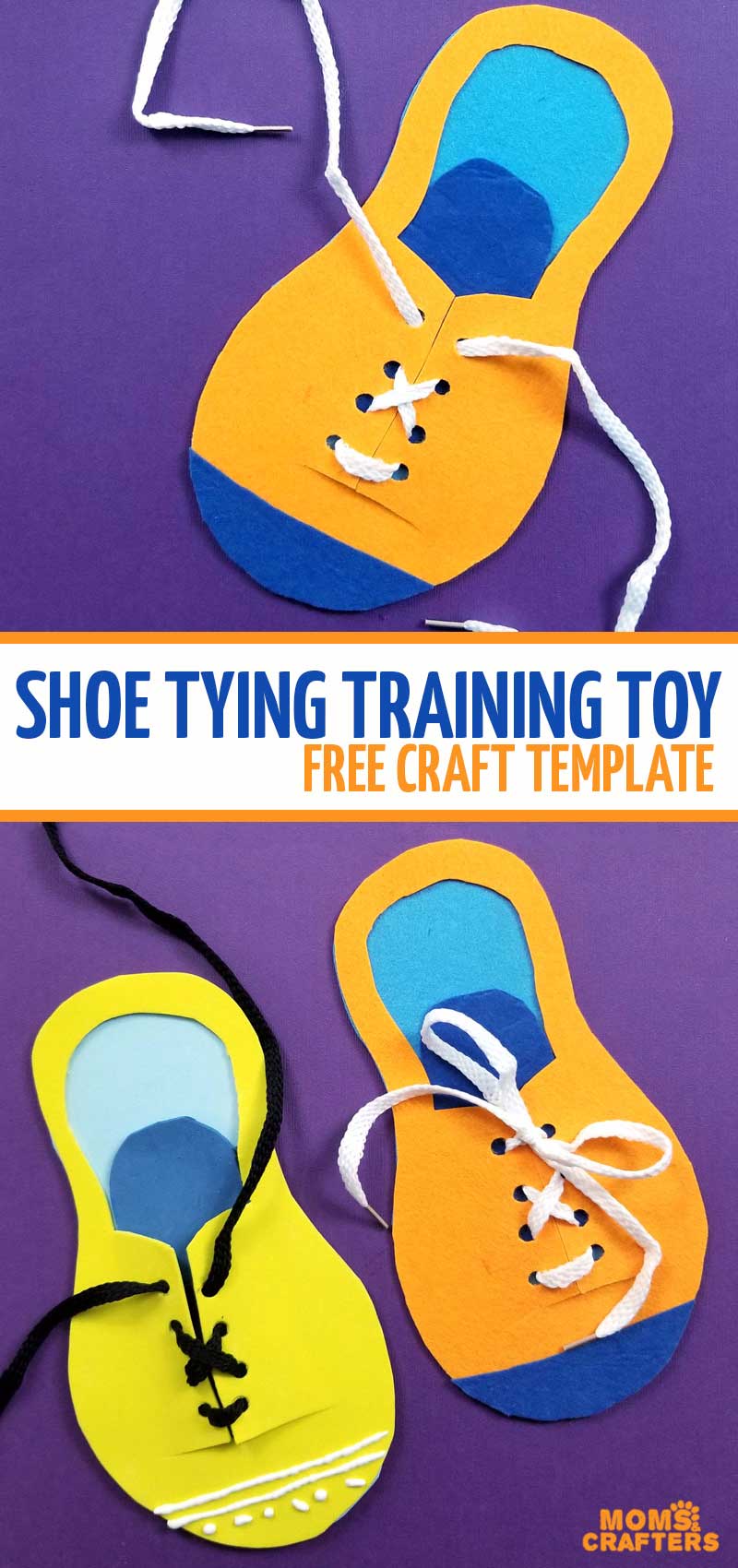 So, here's why I made a shoe tying practice toy for M.
It's not necessarily because it's a better method of learning. I can't say that for sure because I don't have that experience yet.
It's because it's a great method of getting a reliant child to get excited about learning. That I can vouch for.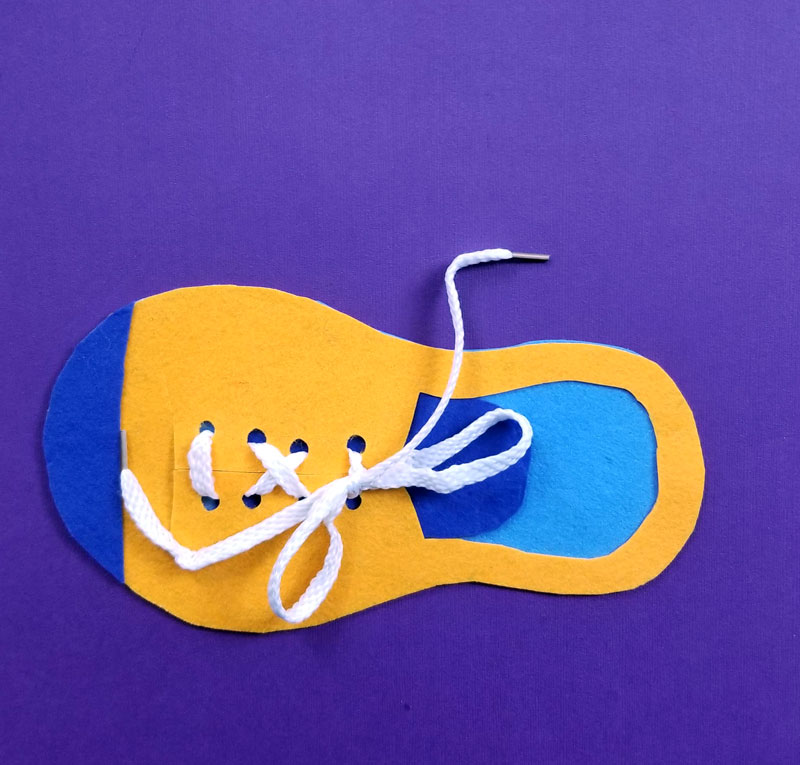 M is the kind of kid who likes to have helps. He's not exactly Mr. Independent. So when it comes to teaching him basic self-care life skills we sometimes need to encourage him.
I knew he'd love a new toy (which kid doesn't) and I knew he appreciates the "Mommy made it for me" factor – he's sensitive and wise enough (ahem ahem) to get it. So I created this shoe tying practice toy for him.
This shoe tying practice toy is also an excellent tool for teaching a child who doesn't own a pair of lace-up shoes, so that you can purchase them in the future.
The truth is, I was planning on making this for him as a Hanukkah gift (it's a great DIY gift for preschoolers!!) but ran out of time. Then, I made in on a "me-crafting spree" in my craft room out of foam sheets. I wasn't necessarily planning on posting it.
Then, as I was sitting down to create a "planned post", I decided to ditch that and go with this because it came out so cute. Only this time, I made a template from my original shoe prototype, and crafted it from felt.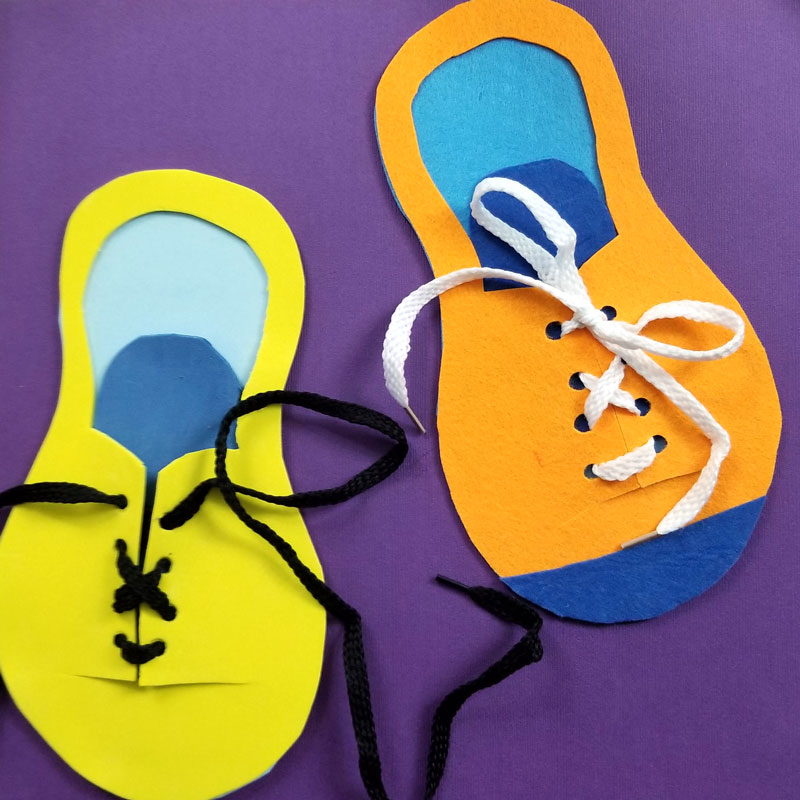 You can make this either from crafting foam sheets, or from stiff non-sticky felt. I prefer felt for this project based on the final results.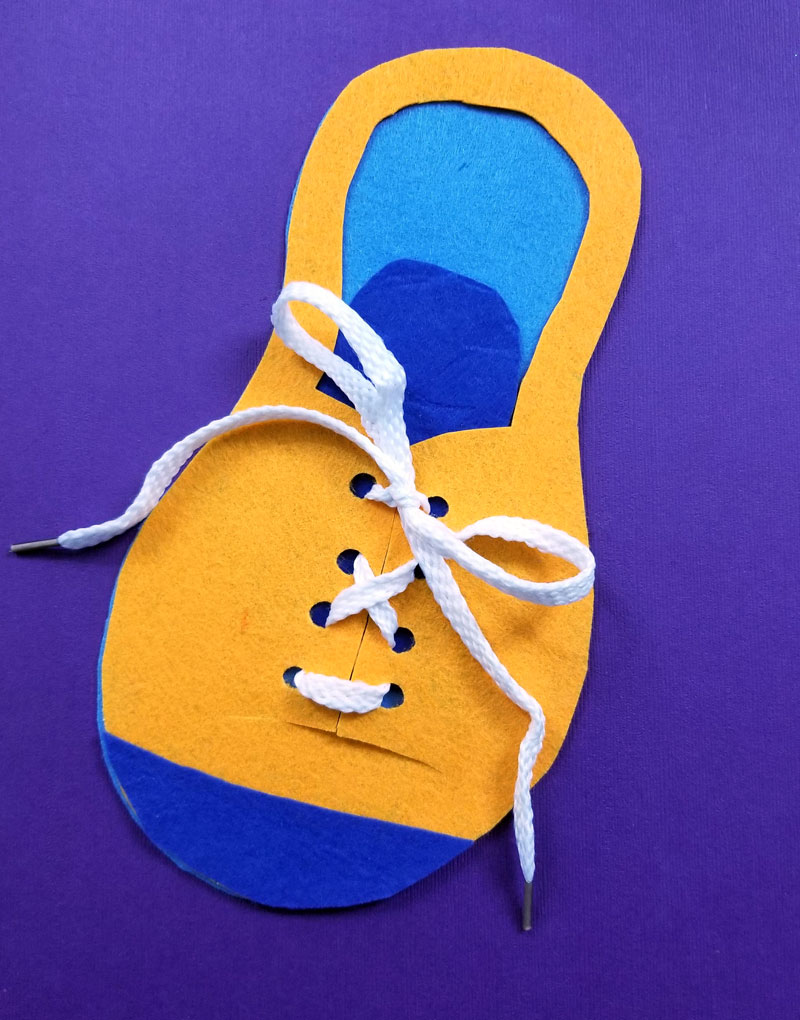 For the laces, you can use ribbon or any string, however, judging by M's reaction when he saw this "Mommy, it has REAL shoe ties!" I'd recommend picking up a cheap pair of laces that'll double as a spare for actual shoes.
Love making DIY toys? Check out this list of DIY sensory toys for all ages – you'll find some great ideas there too! Or check out my list of paper toy templates that are free for you to download!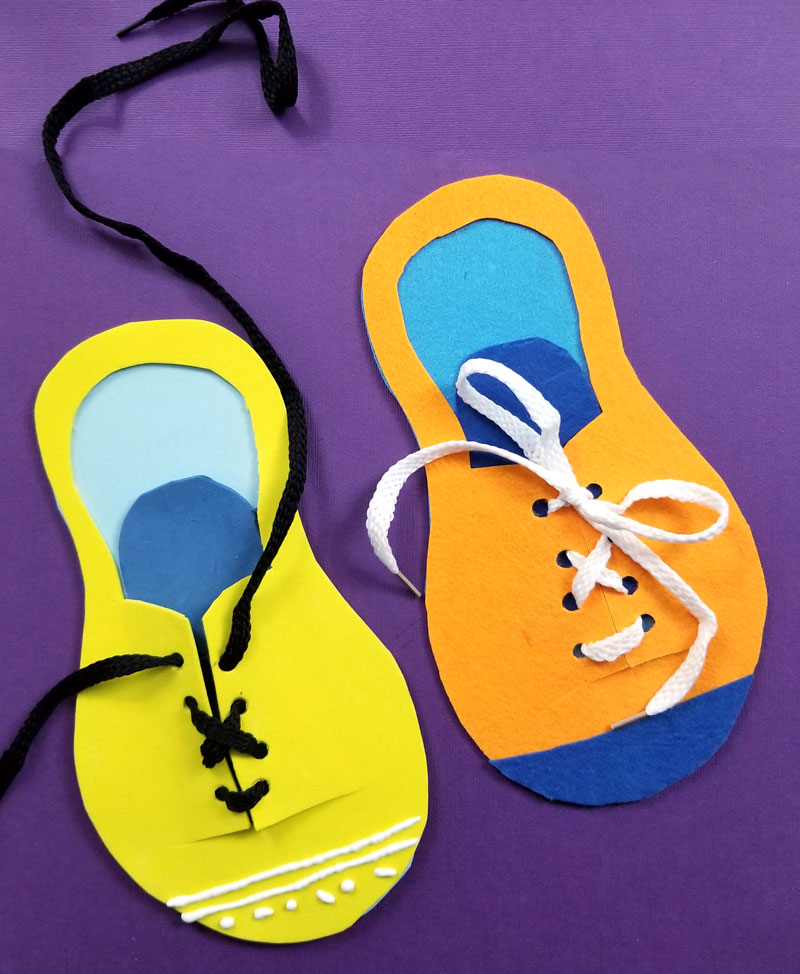 Download the shoe tying practice toy template:
Click on the image below and fill out the quick download form. It'll come in your inbox in a separate email. You'll also be subscribed for relevant tutorials from the blog and can unsubscribe at any time.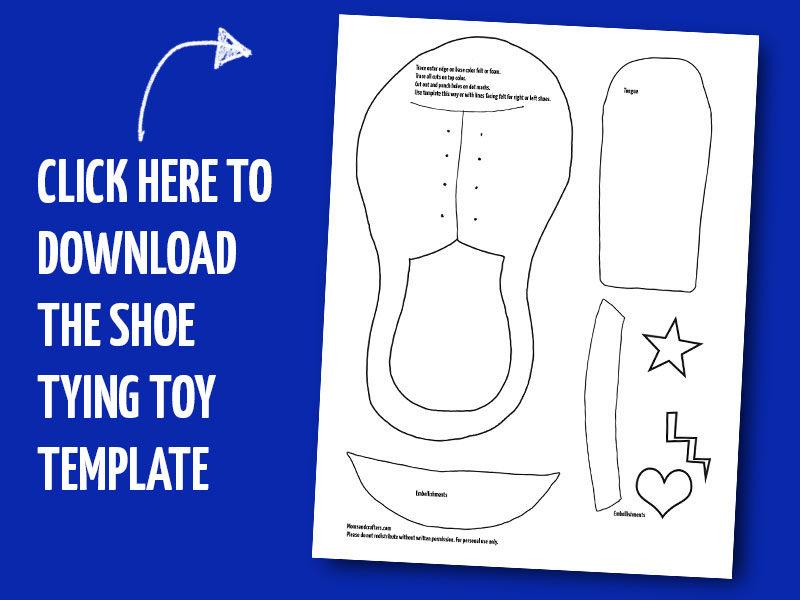 What you need to assemble this shoe tying practice template:
How to make a shoe tying practice toy from felt:
Note: the tutorial was photographed using the template prototype, not the actual template that you download. See the preview above for the free template as there may be slight variations.
1. Trace the outer shape of your template on your base color of felt. Tip: pin the template to the felt using straight pins to avoid having to trace it with a pencil.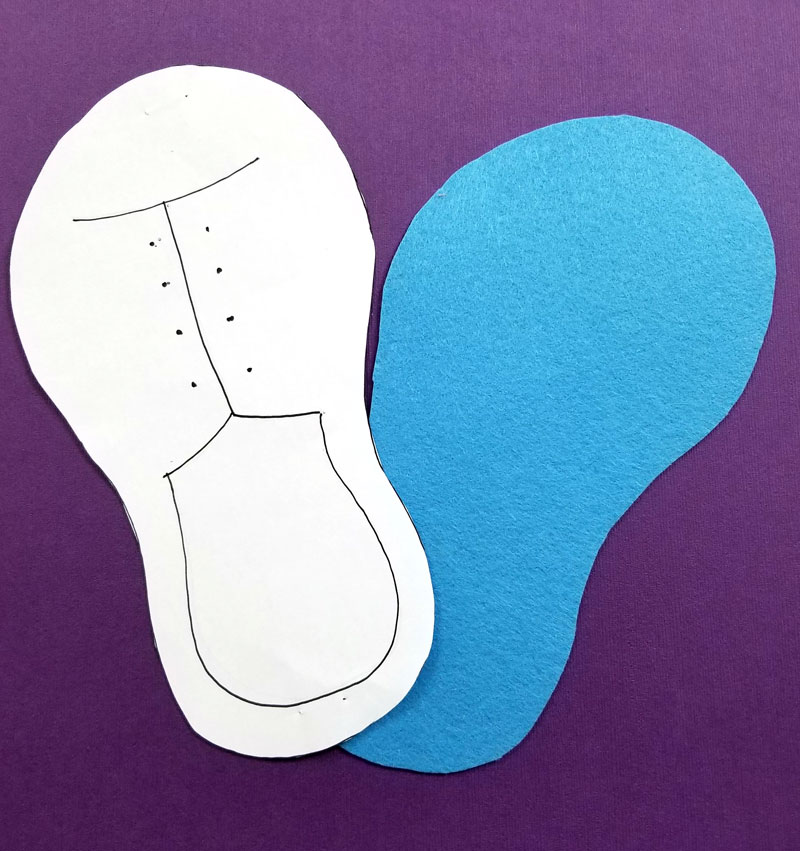 2. Cut out the inner details of your template, and pin it to your second layer of felt.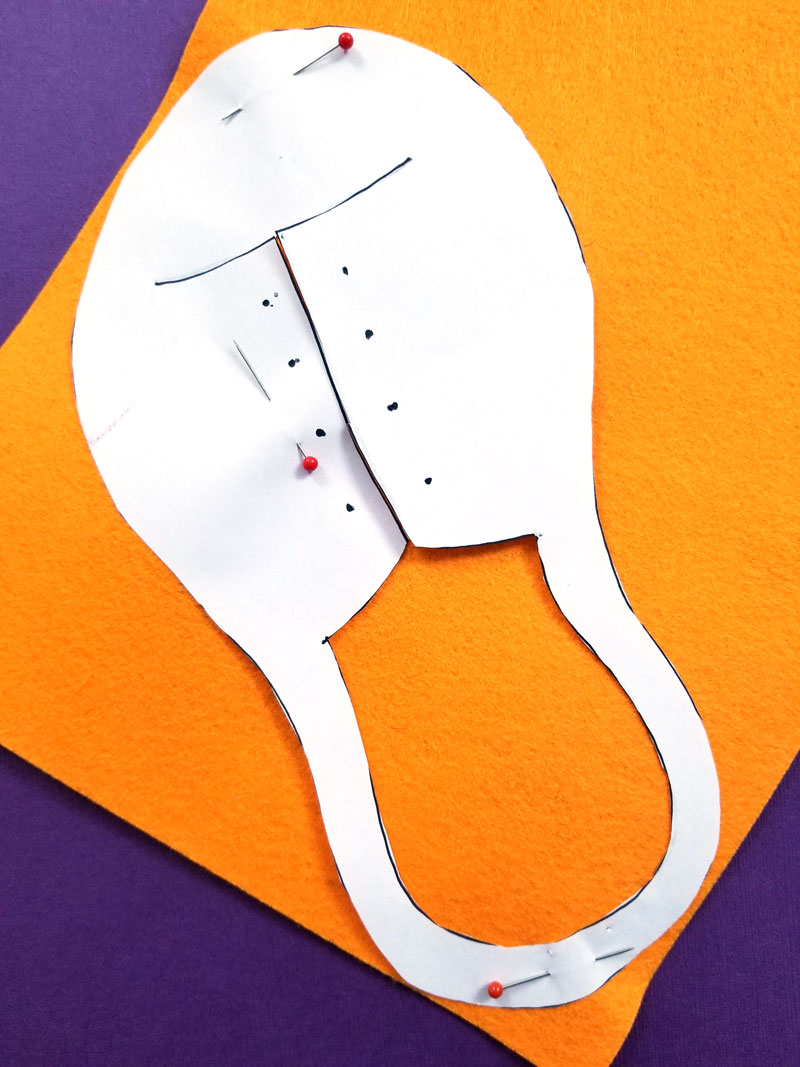 Cut out your outer color of felt along the outer shape and all the inner lines. Stick your pin through the holes to make a mark where those should be (this will show on stiff felt only).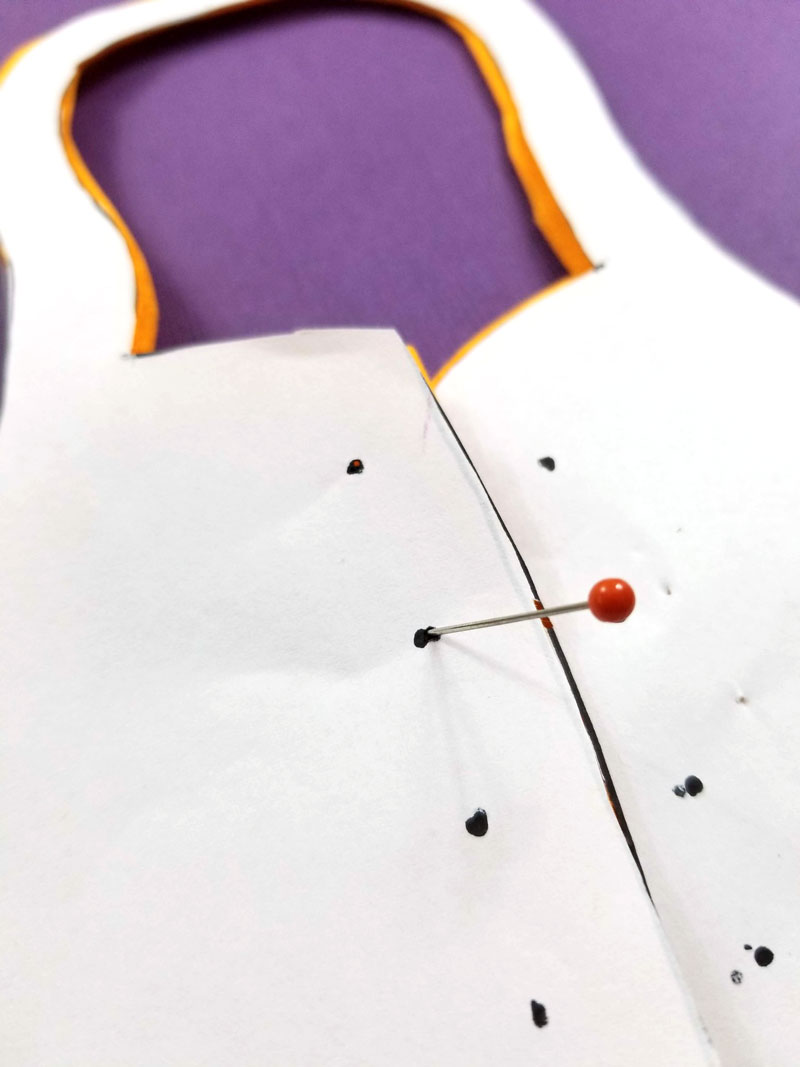 3. If you have a hole punch that'll punch through felt, use it – don't worry if it's not perfectly even, or if it doesn't punch all the way through. Otherwise, use detail scissors to make holes around the pin markings.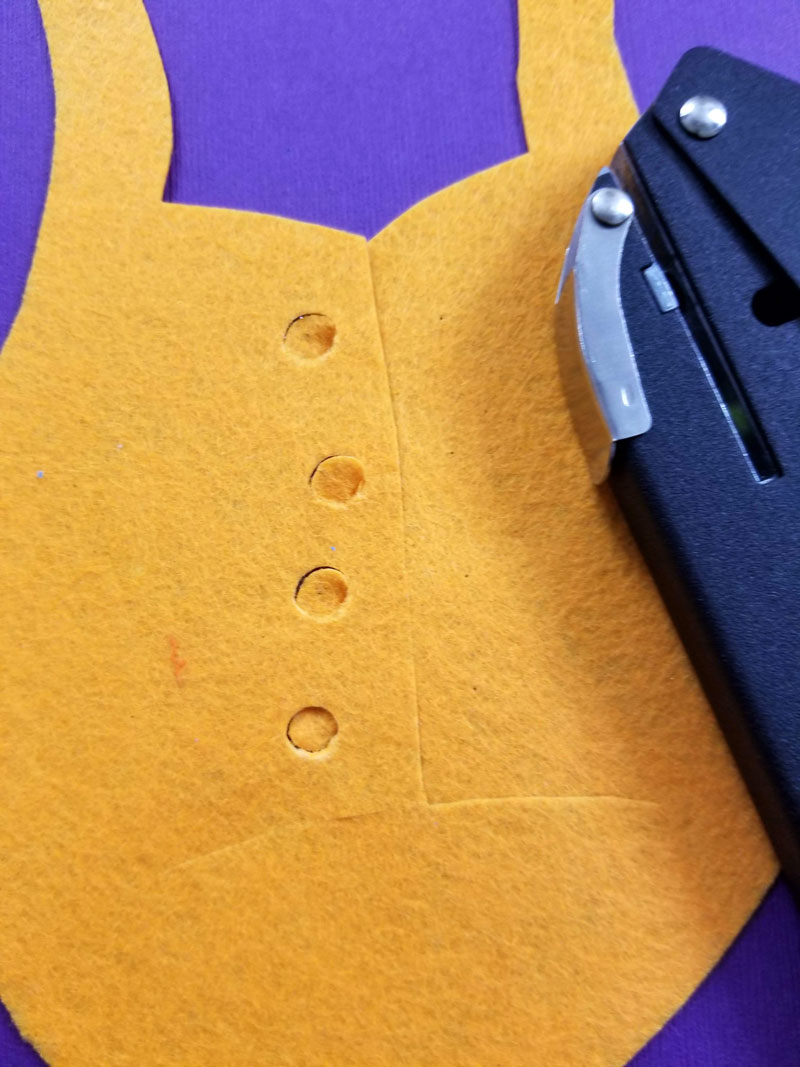 4. Use detail scissors to cut out the hole punches the rest of the way if you used a hole puncher like I did.
5. Cut out a tongue and any embellishments you'd like from the felt.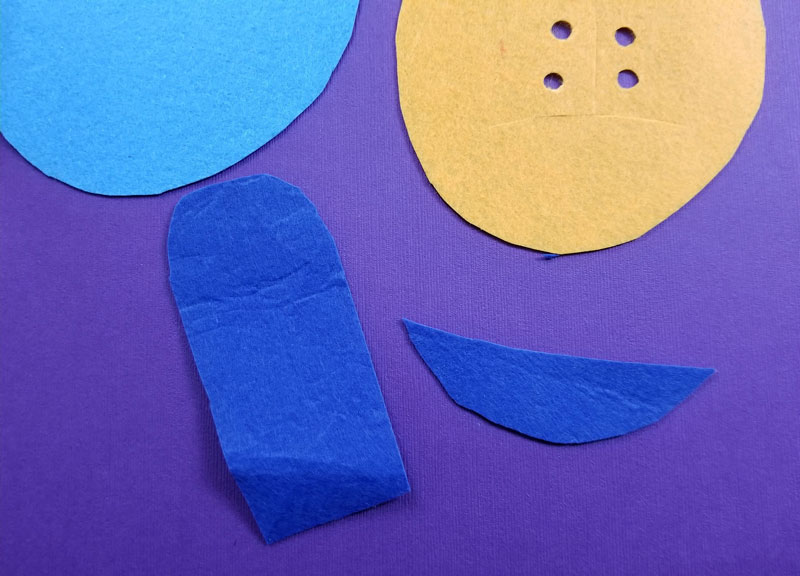 6. Glue tongue in place on the base as pictured. You may want to measure against the top shoe to make sure you're putting it where you want it. Glue embellishments to the top of the shoe.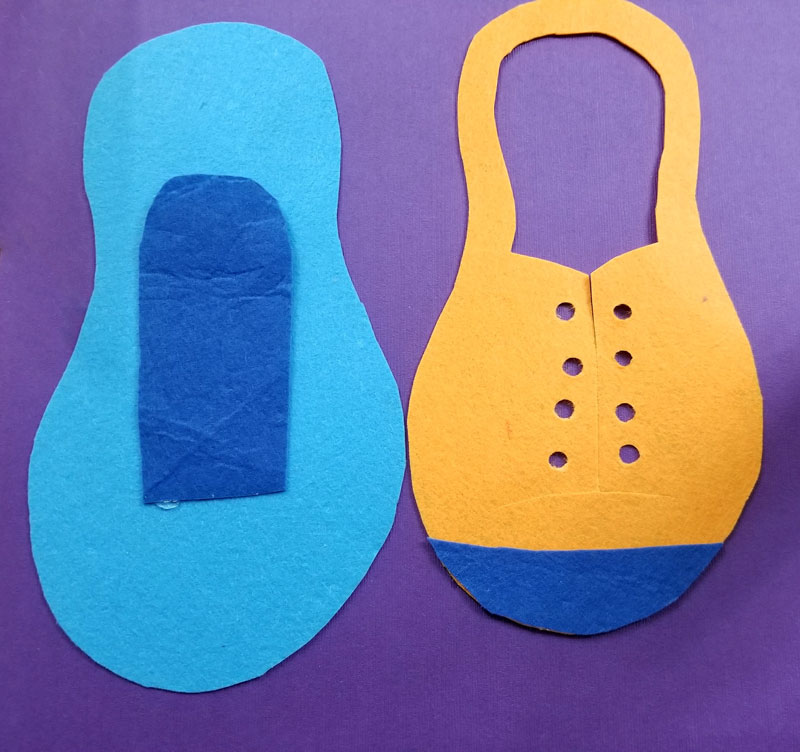 7. Apply fabric glue around the edges of the top of the shoe and on the toe up to the slit, as pictured.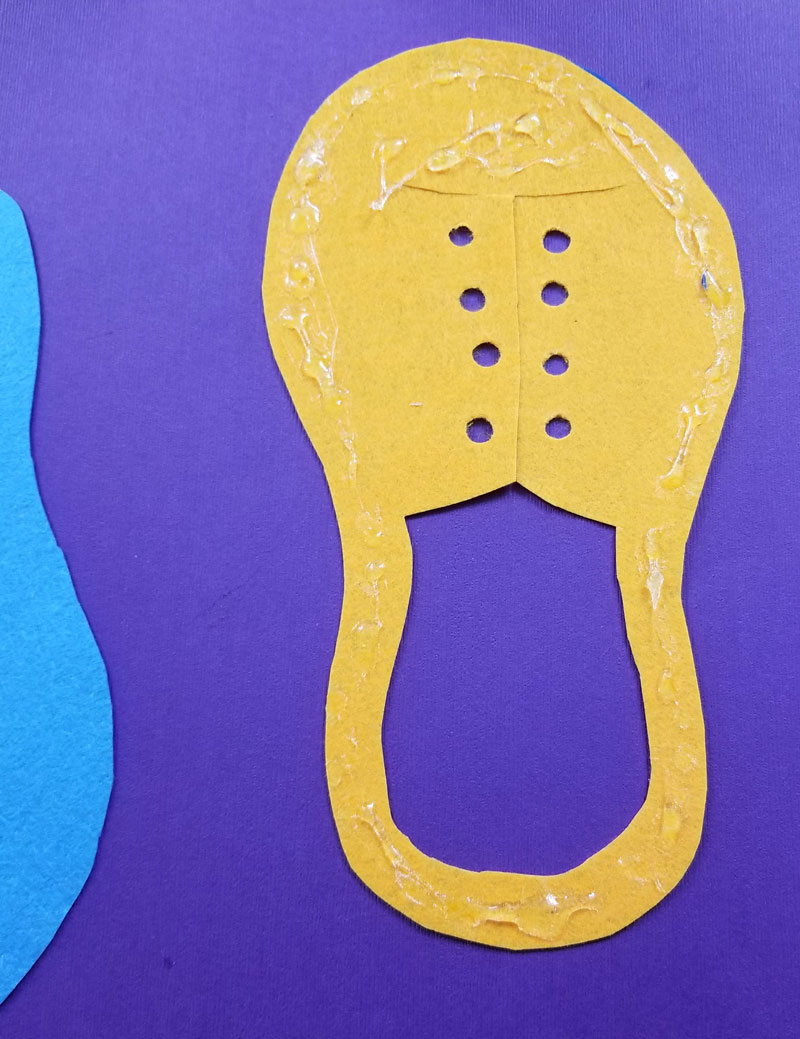 8. Glue it to the base as pictured.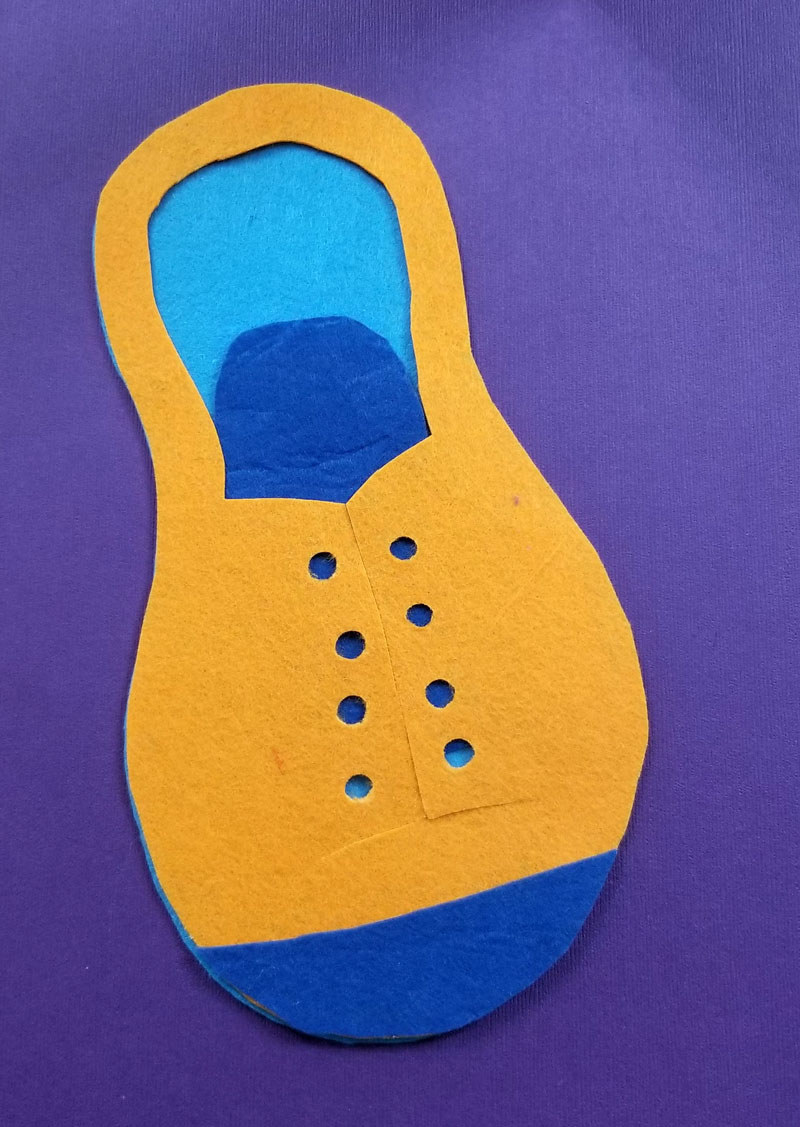 9. Thread through a shoelace or ribbon.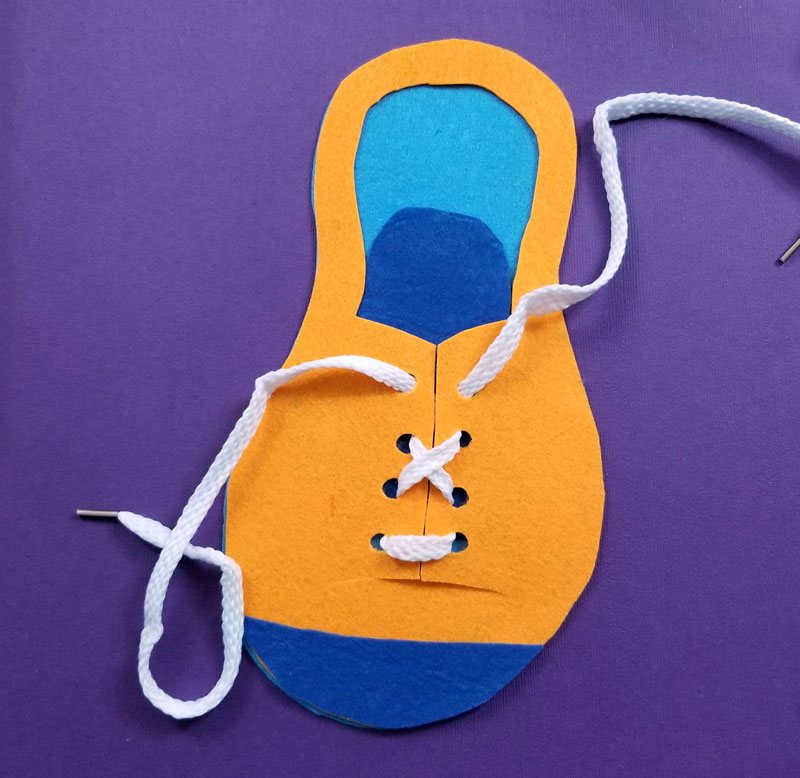 10. Now let your child get some shoe tying practice with this fun DIY felt toy!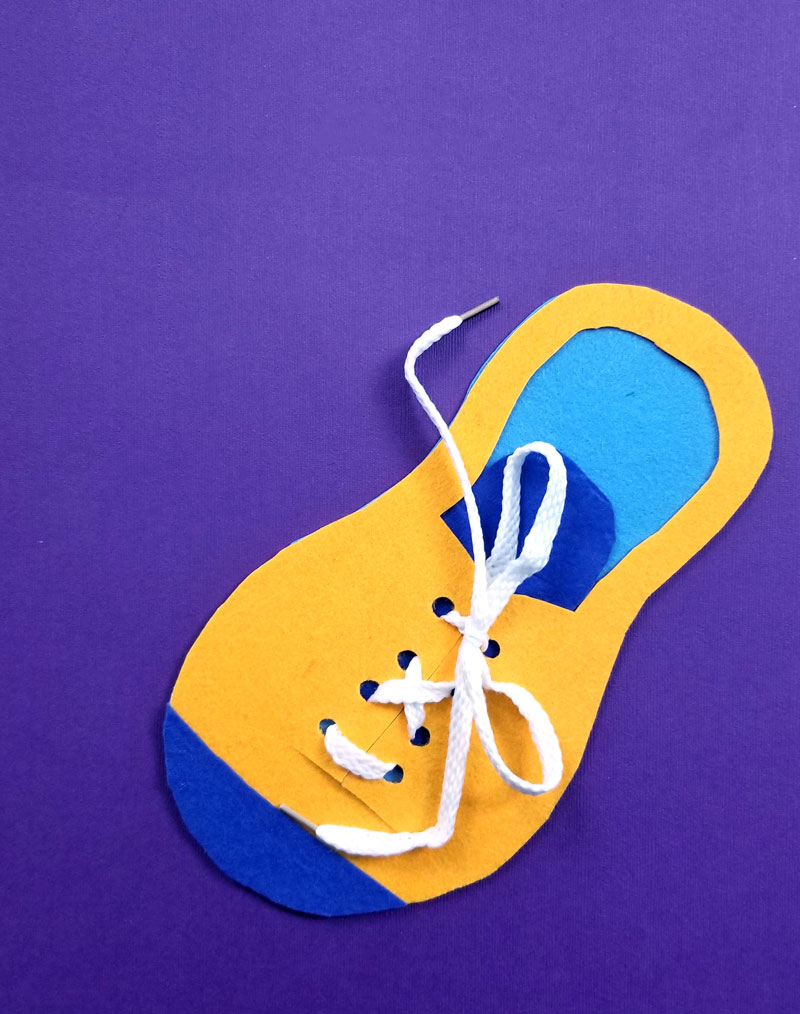 Your shoe tying practice toy was complete! Comment below: what are your favorite tricks for teaching kids how to tie their shoes?
---
Want loads and loads of kids' activities and craft ideas? Get the book!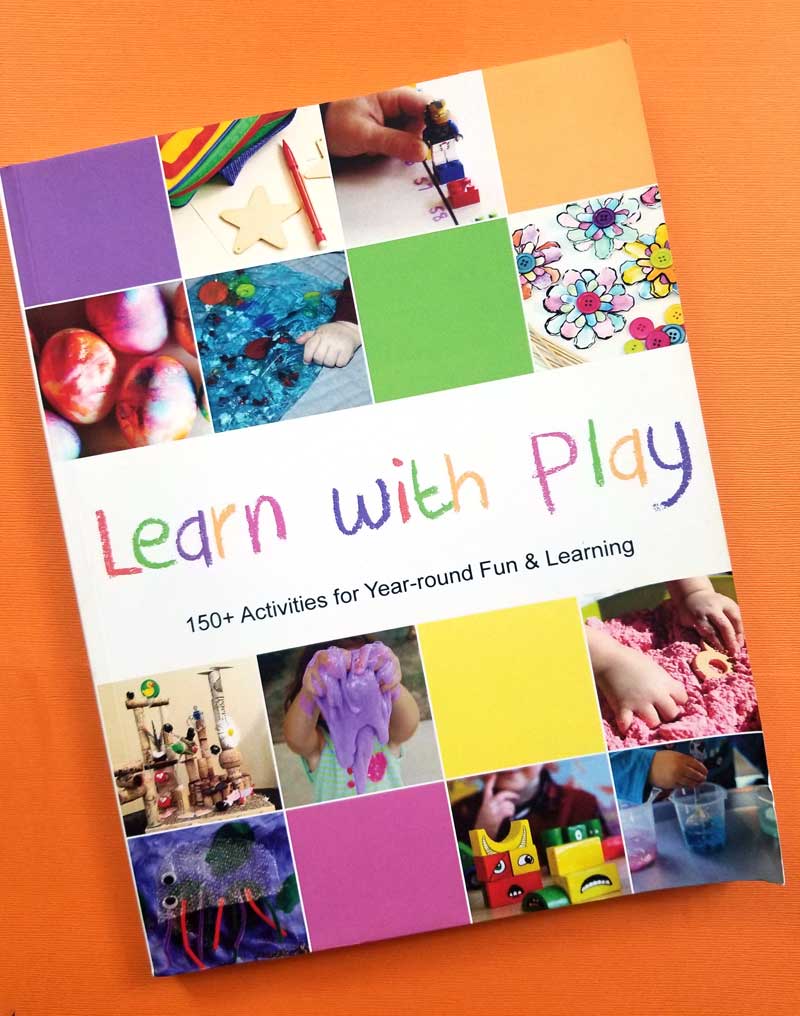 ---