These easy crafts for toddlers for Halloween help the littlest ones celebrate in a not-too-scary way! This post contains affiliate links.
---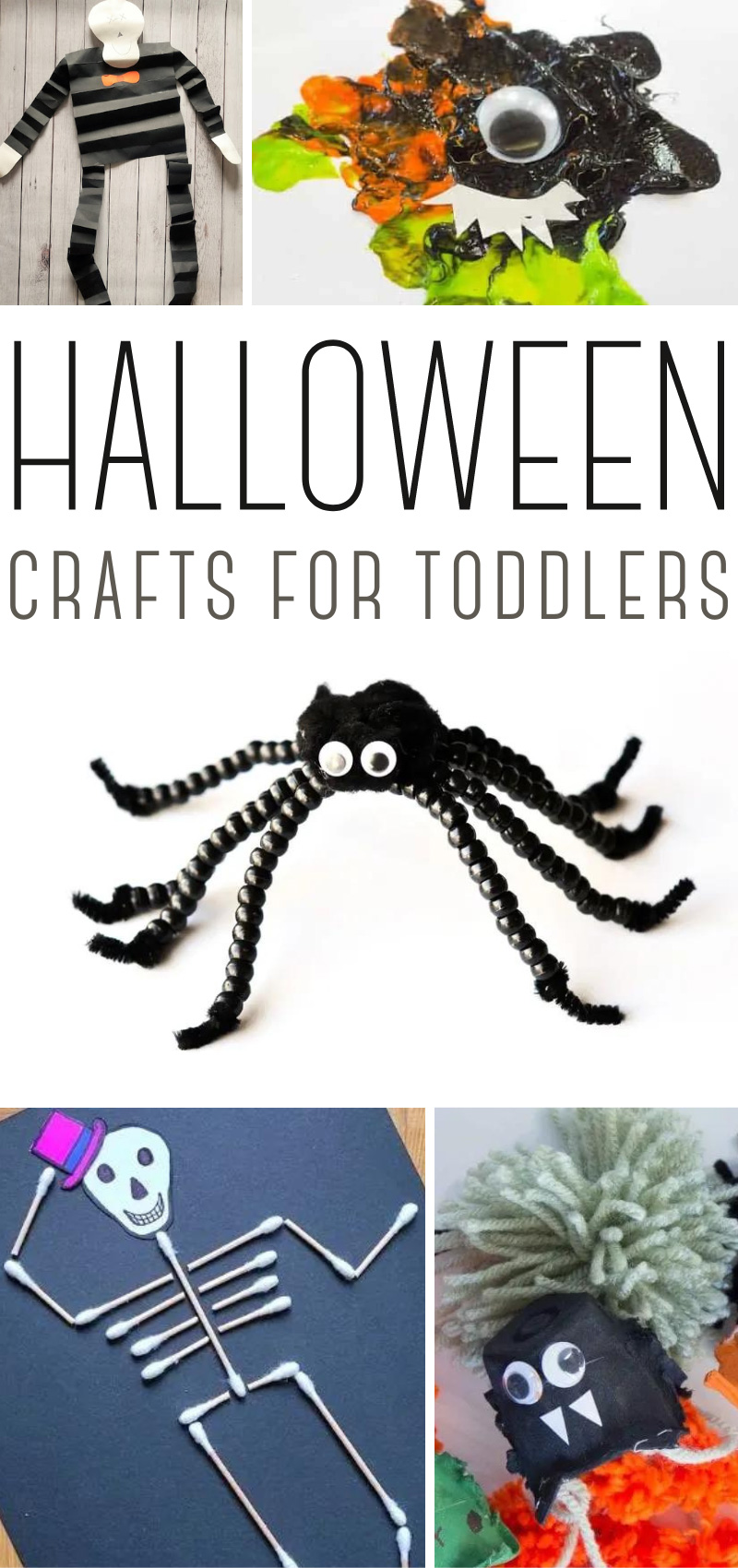 Get ready for Halloween with your little ones with the help of these awesome not-too-spooky Halloween crafts for toddlers. Decorate your home for the upcoming Halloween season or just keep busy indoors while celebrating this fun holiday.
These crafts will help promote creative thinking with your kids; you only need a few simple supplies to make most of them. While your older kids can certainly do these crafts, they were made with toddlers and small children in mind. From bats to pumpkins and everything in between, here are the best crafts for toddlers on Halloween.
Keep in mind that these crafts for toddlers for Halloween – as well as all toddler crafts – should be very closely supervised. Toddlers still very much explore things with their mouths and most craft components have – or are – choking hazards. That can include paint brushes, googly eyes, beads, pom poms, and more!
When crafting with toddlers, I personally look for multiple textures, fine motor elements, and lots and lots of paint! Crafting at the toddler stage not only encourages creativity but also offers so many opportunities for sensory exploration. So don't stress about their capabilities and outcome. Just let them explore within the theme!
Want to skip around? Click below:
Pumpkin Crafts for Toddlers for Halloween
Scary faces are optional with these super fun pumpkin crafts for toddlers for Halloween! You make quite a mess carving those Jack O Lanterns, so why not make a much smaller mess crafting your own from scratch using recyclables and things you have handy!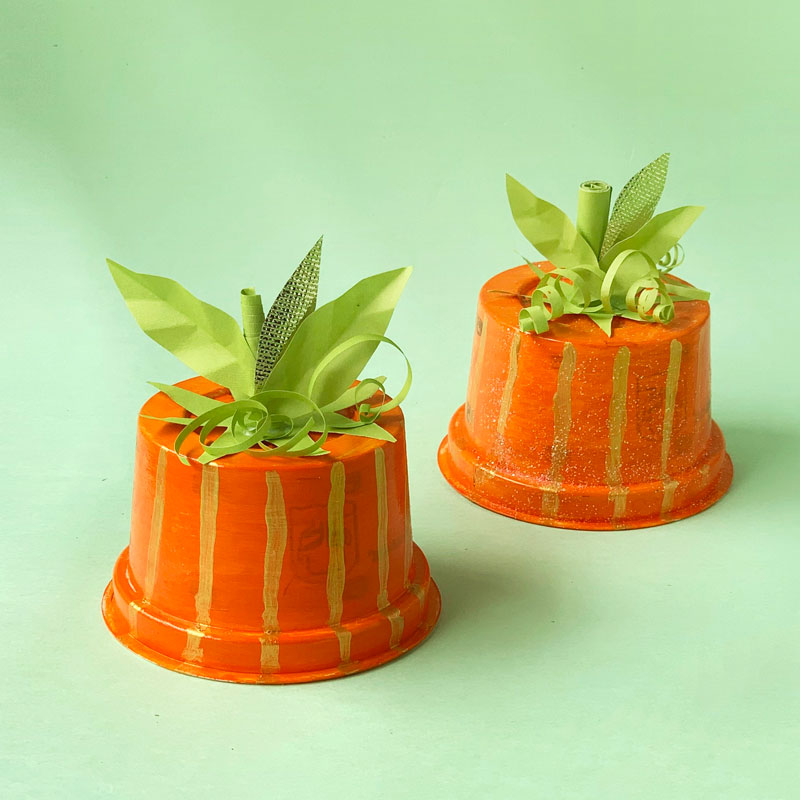 While some states recycle plastic yogurt cups, not everyone can, making them the perfect choice for green crafting! Turn them into pumpkins by painting them orange and adding some leaves and vines to the top. While this tutorial keeps it decorative, you can cut out shapes from black paper and allow your toddler to design a face. While the tutorial was designed with older kids and adults in mind, the concept is so simple that even toddlers can do it if you pre-cut shapes and give them washable paint.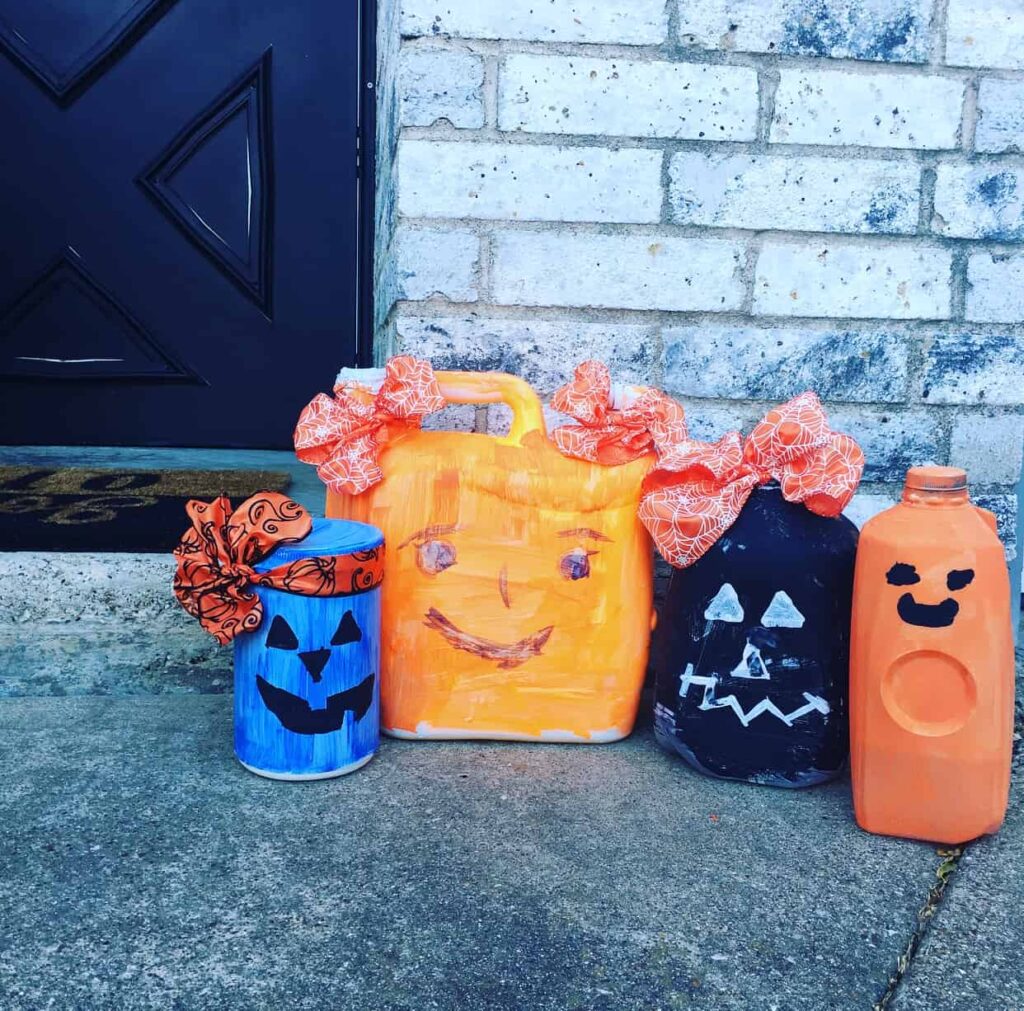 Want more ideas for Halloween crafts for toddlers from the recycling bin? This idea encourages parents or teachers to simply prep them (read the tutorial to learn how) and then toddlers can go to town creating Jack O Lanterns.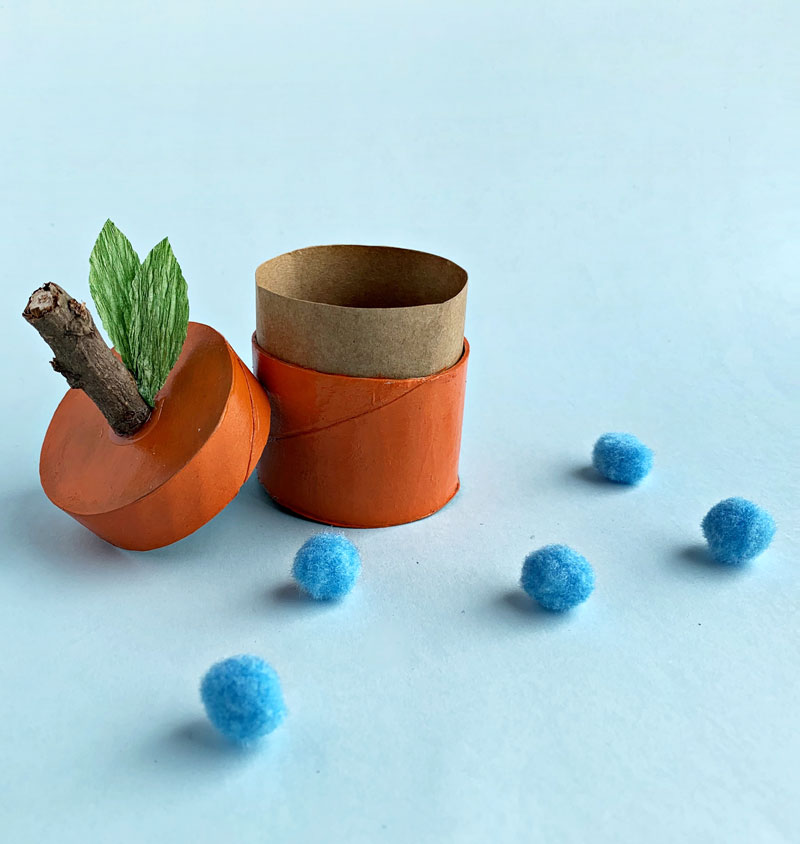 Time to go right back to that recycling bin! Turn cardboard tubes (used or purchased) into pumpkins – or Jack O Lanterns – using orange paint. This tutorial shows you how to turn them into boxes. You don't have to do that, but it does add a fun twist!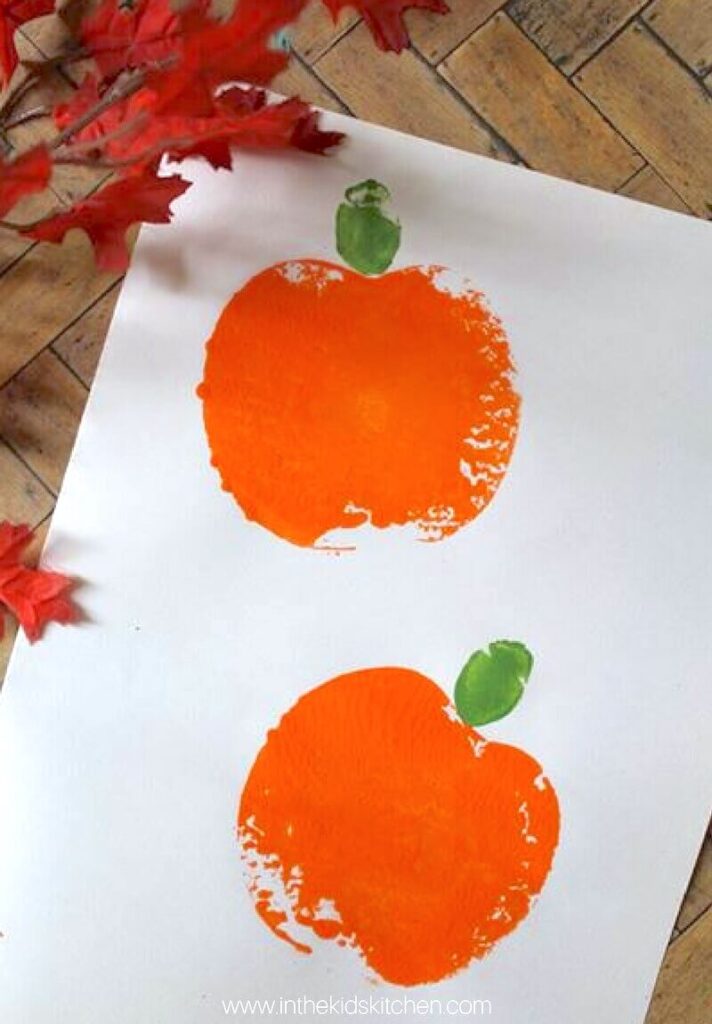 Using apples to stamp pumpkins? Why not? Again, toddlers can use washable markers to add faces if they'd like, or stick to pumpkins. Stamping is so age appropriate for toddlers, and at that age, open-ended art with a sensory experience is a win!
Halloween Animal Crafts for Toddlers for Halloween
Ready for some creepy crawlies? Okay, they're not THAT creepy. You don't want to give your toddlers nightmares with your Halloween Crafts!
Even more so, make a friendly version of these "creepy" animals so that you can make them more approachable before the holiday where they'll see them presented in such a creepy way. Let them know that spiders and bats aren't all that bad.
Keeping crafts simple with paint and glue-on elements is the way to go with toddlers! However, prepping other components in advance, such as felt, can add more sensory experiences for them. These spiders are fun and cozy!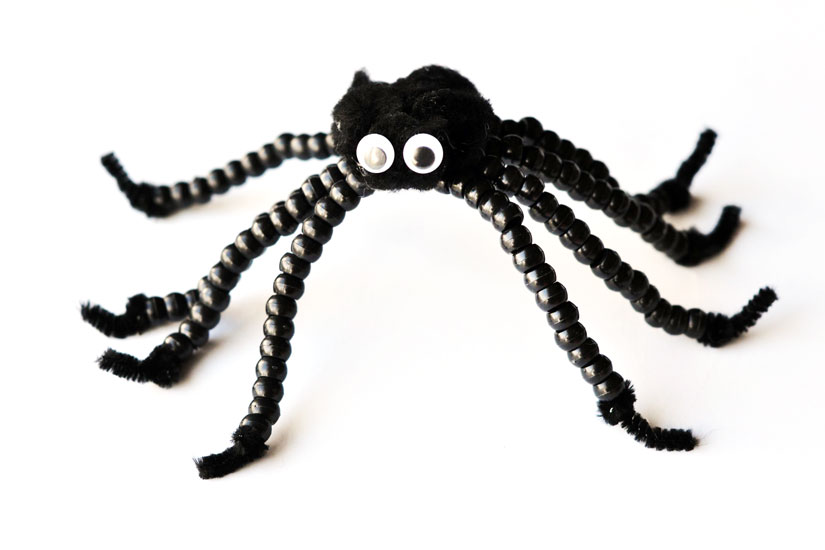 Another multi-sensory option, these beaded spiders use large-hole pony beads on chenille stems for a fabulous fine motor craft. I always start my kids out beading on stiff materials – it's much easier – allowing them to start that fabulous pincer grasp practice early on. Of course it's full of hazards and best done one-on-one whether at home or in a classroom setting. But it's also full of sensory input and valuable skills for your toddler – and the result is the cutest little spider ever!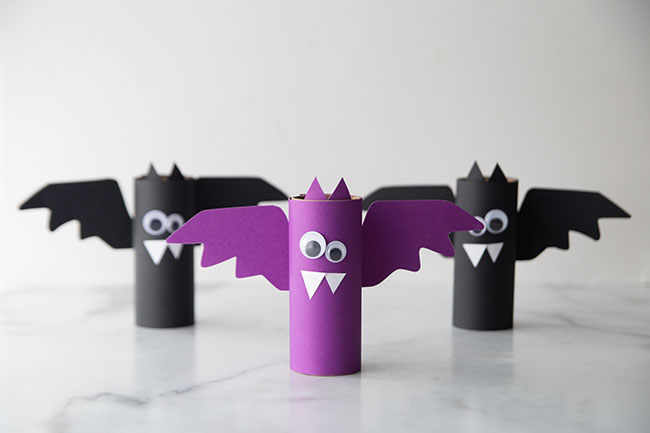 These adorable bats are made from paper, but you can cut them too! Prepare the elements and let the kids play!
Ghost Crafts for Toddlers for Halloween
Boo! Every toddler knows "peekaboo" so why not make ghosts a more approachable feature of Halloween with some easy ghost crafts for toddlers? These ideas are super fun and easy and playable when you're done.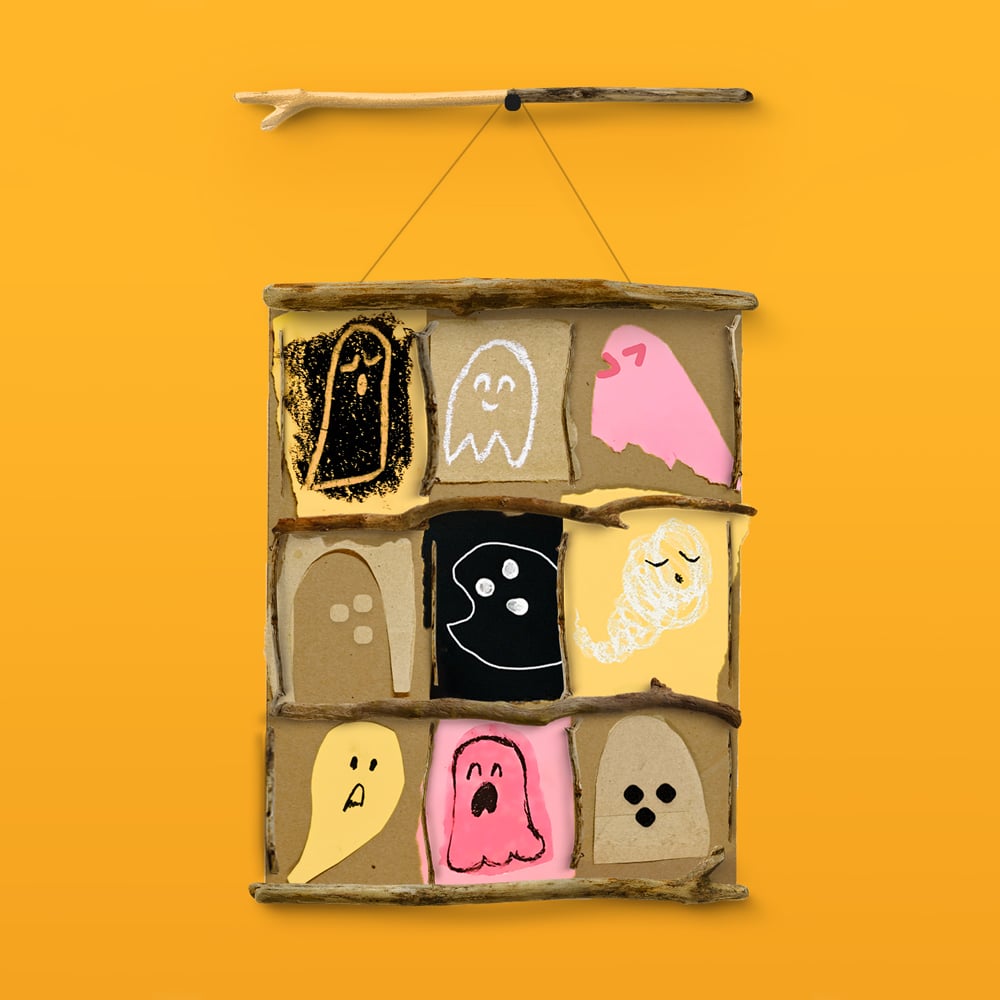 Again, there's nothing wrong with an open-ended art project for toddlers! They'll be so proud! And while your version might look all cool and scrappy, don't worry if theirs looks like blobs, as long as they're proud. Allow them to work their little fingers, tearing the scraps into the shapes they need.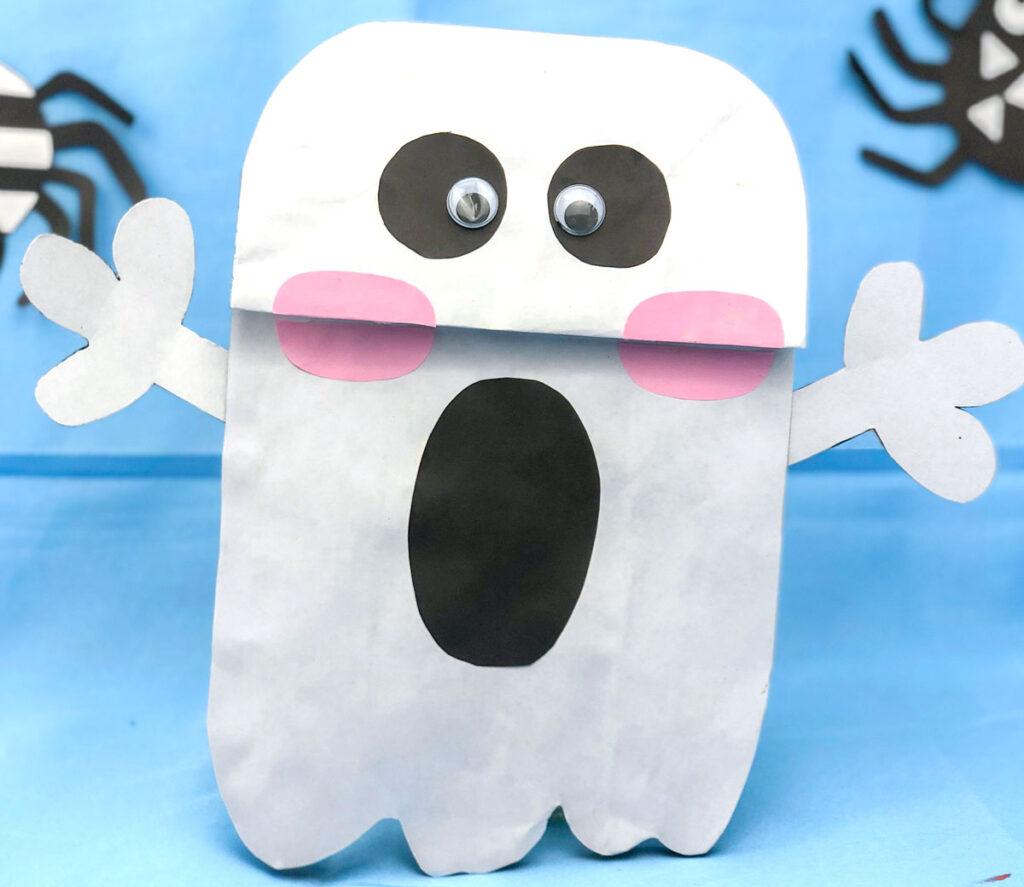 Precut parts and allow your toddler to get creative with assembling a ghost hand puppet! No, it won't look perfect, but there are so many benefits to puppet crafts for toddlers! They can play with it for hours after and be so proud of their creations. To make it easier and neater, you can start with a white bag, or allow them to paint a brown paper bag white.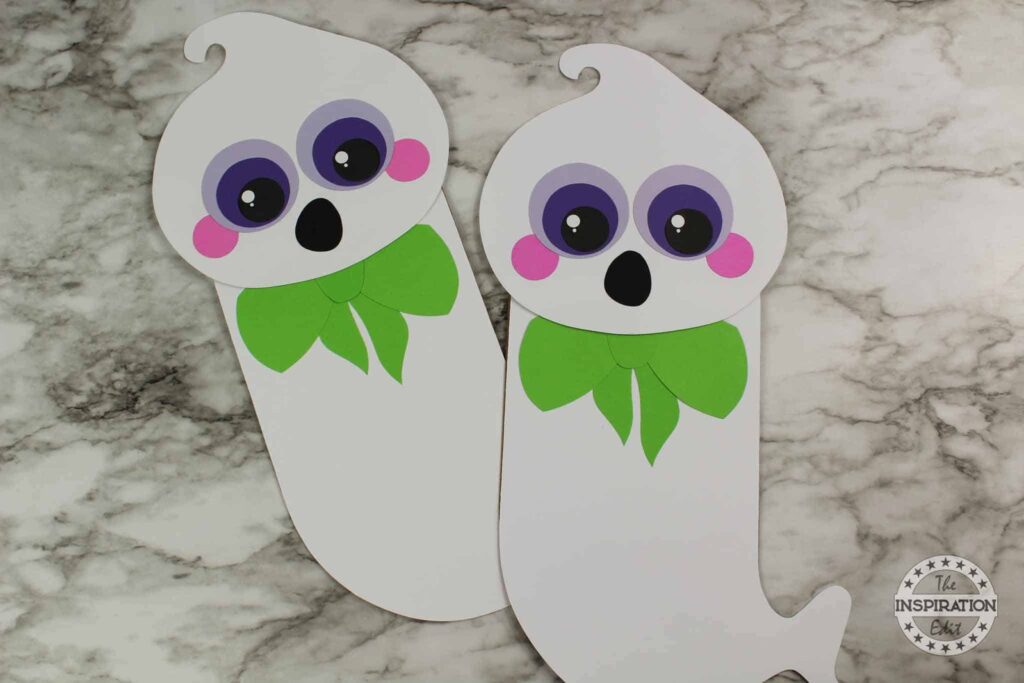 Casper is the ultimate friendly ghost, so why not craft him for your tot? This is more of an at-home craft to create together with your toddler as the outcome is pretty specific. Use it to encourage pretend play – and possibly de–scarifying ghosts in anticipation of Halloween.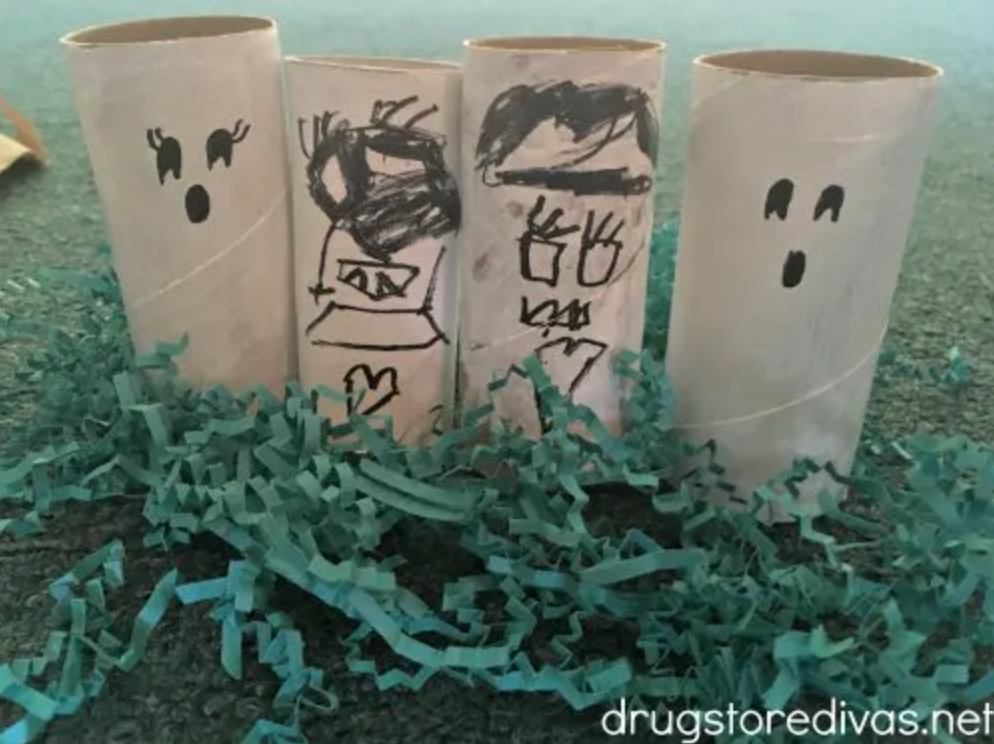 And then, of course, there's the good old TP roll! Use cardboard tubes to make a fun ghost that's simple enough for the littlest hands to craft.
Monster Crafts for Toddlers for Halloween
I don't know about yours, but my toddler just LOVES monsters. A sleeps with one in her crib every night because if it's cozy, it's definitely not scary! So craft a cozy monster – or three – with your tot this Halloween to show them it's TOTALLY not scary!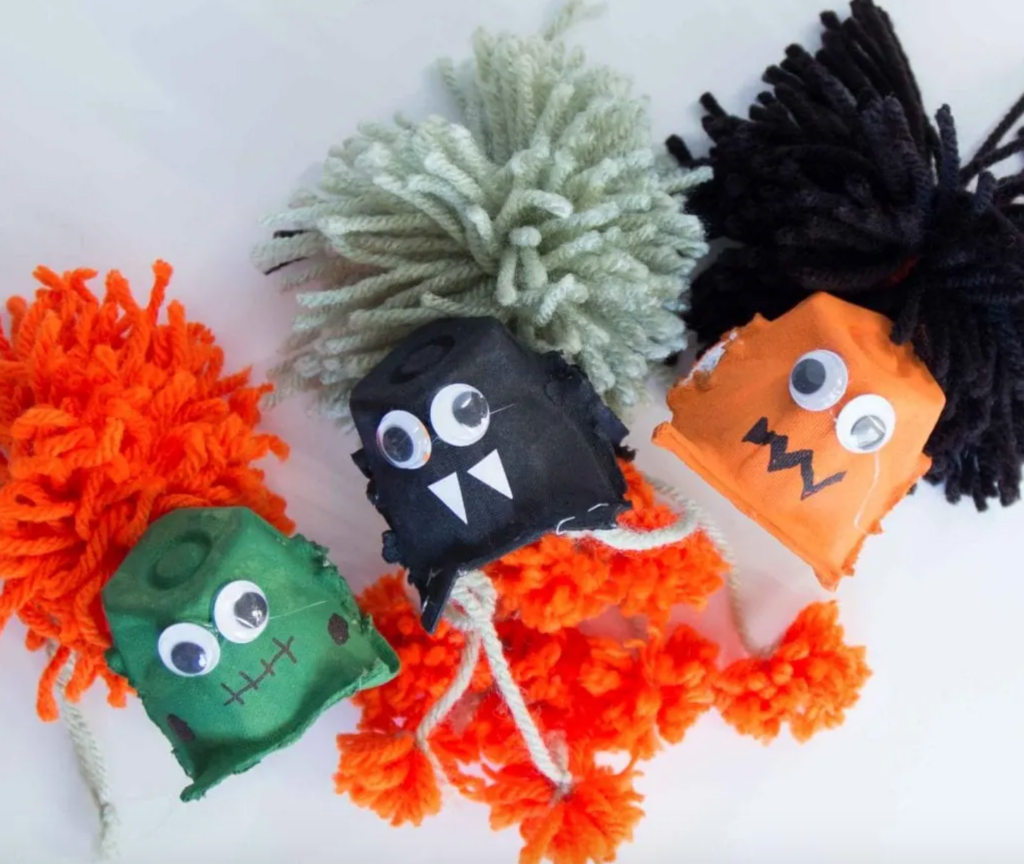 Create a classroom or home decoration by making a collaborative monster garland! I'd recommend prepping the "hair" in advance but your toddler can be involved with the rest of the process.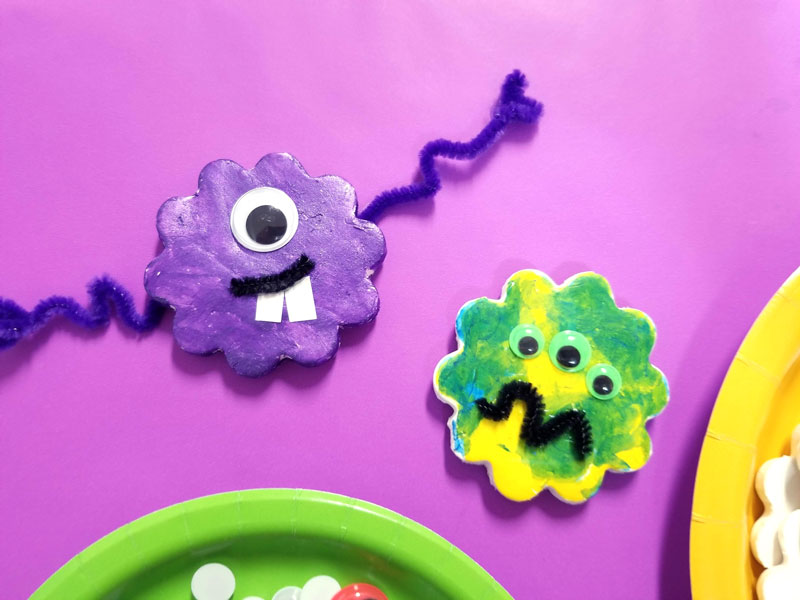 To make this monster craft, I prepped the bases in advance using air dry clay and a flower shaped cookie cutter. Using tempera paint sticks instead of paint makes for a fast drying craft with easier cleanup. My favorite brands are Ooly Chunkies and Kwik Stix.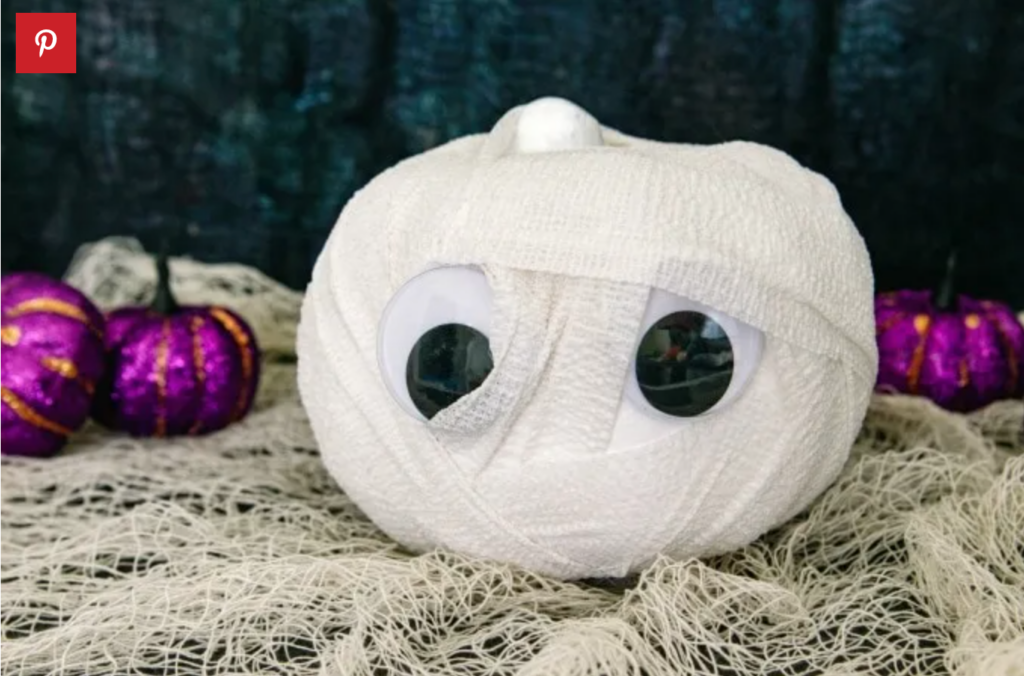 Kids can participate in decorating with this adorable, friendly mummy pumpkin! Those little hands just love to wrap.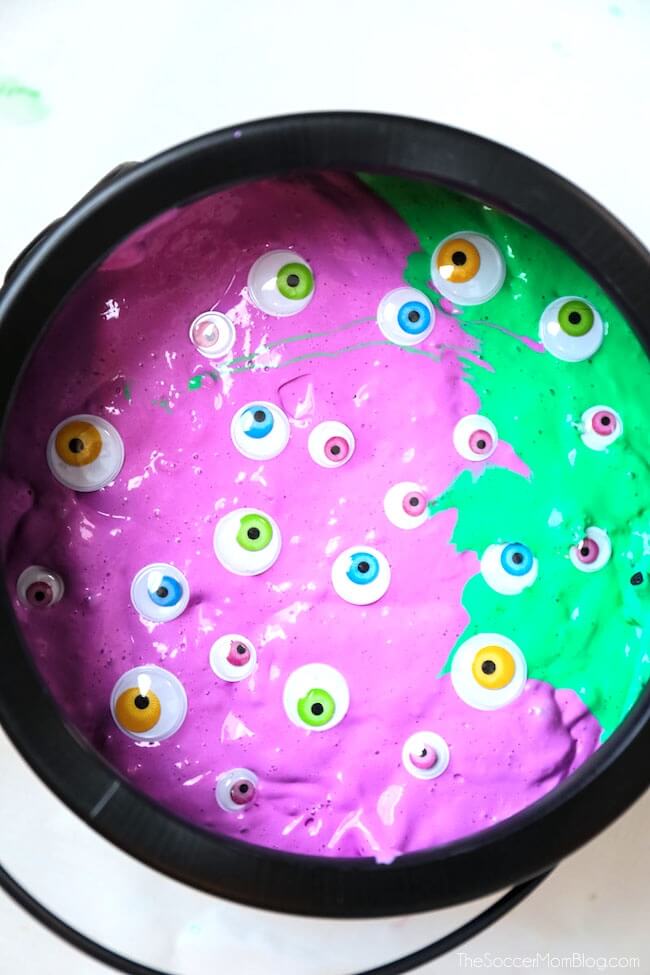 Feeling brave? Engage kids with the ultimate sensory activity: slime! This witches brew themed slime also has a monster vibe to it.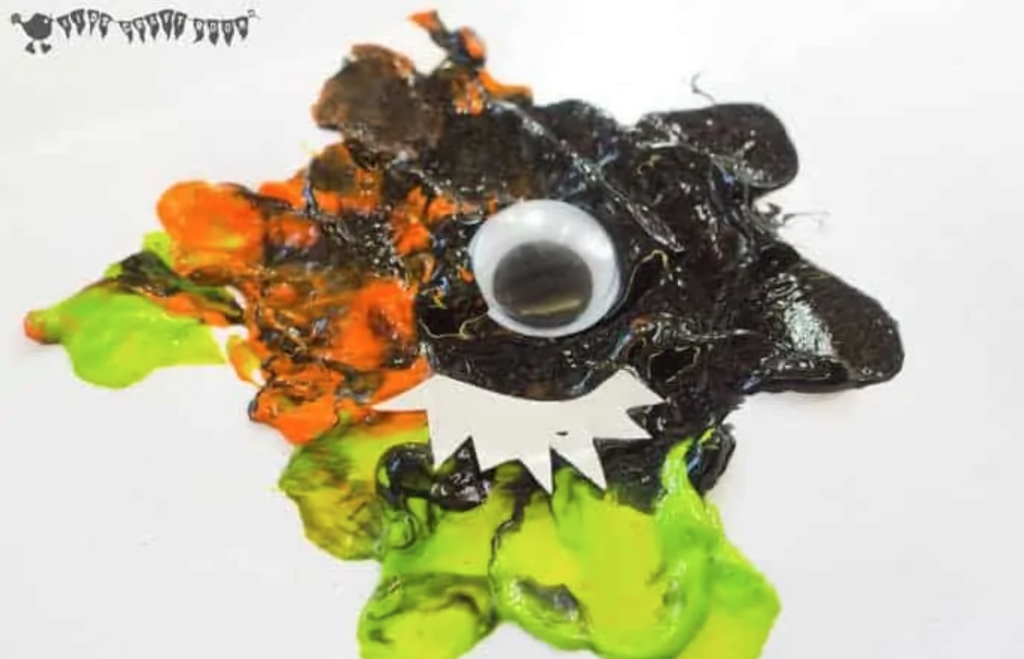 Your tots will go crazy over this blow painting art project! This one should definitely be closely supervised so they don't try to drink anything non-edible…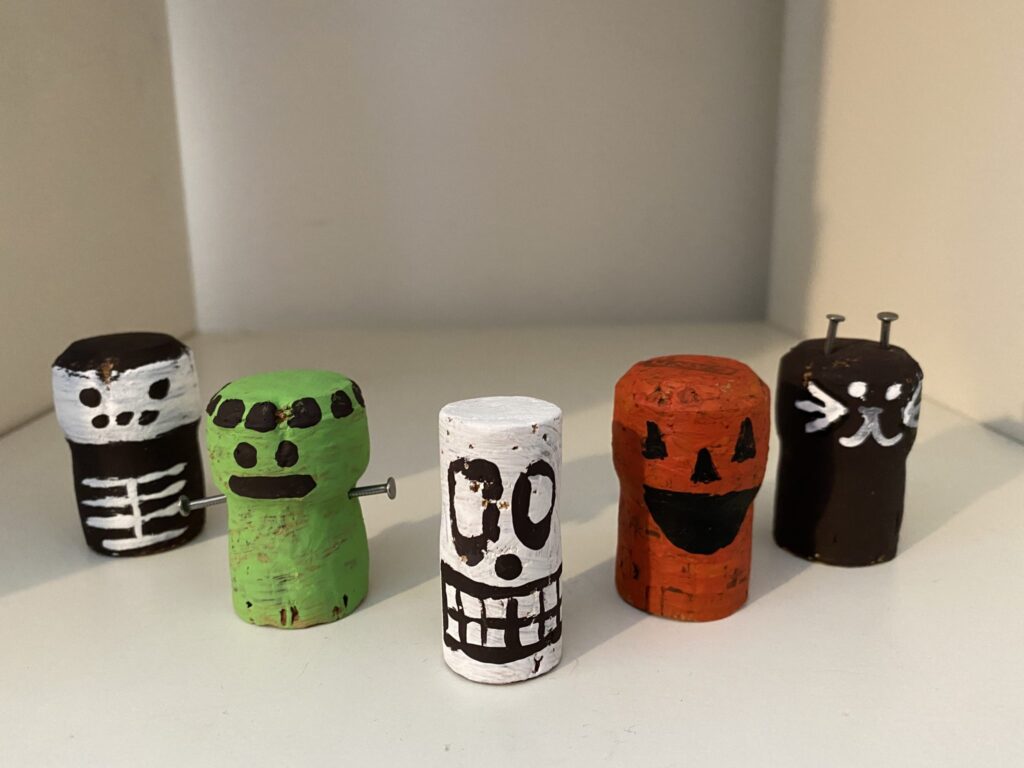 This fun craft is another open-ended painted recyclable! The size of the cork may pose a challenge for toddlers – but that can be a good thing!
More Crafts for Toddlers for Halloween
From witches to skeletons, and general fall themes too, there is just so much to do with toddlers for Halloween!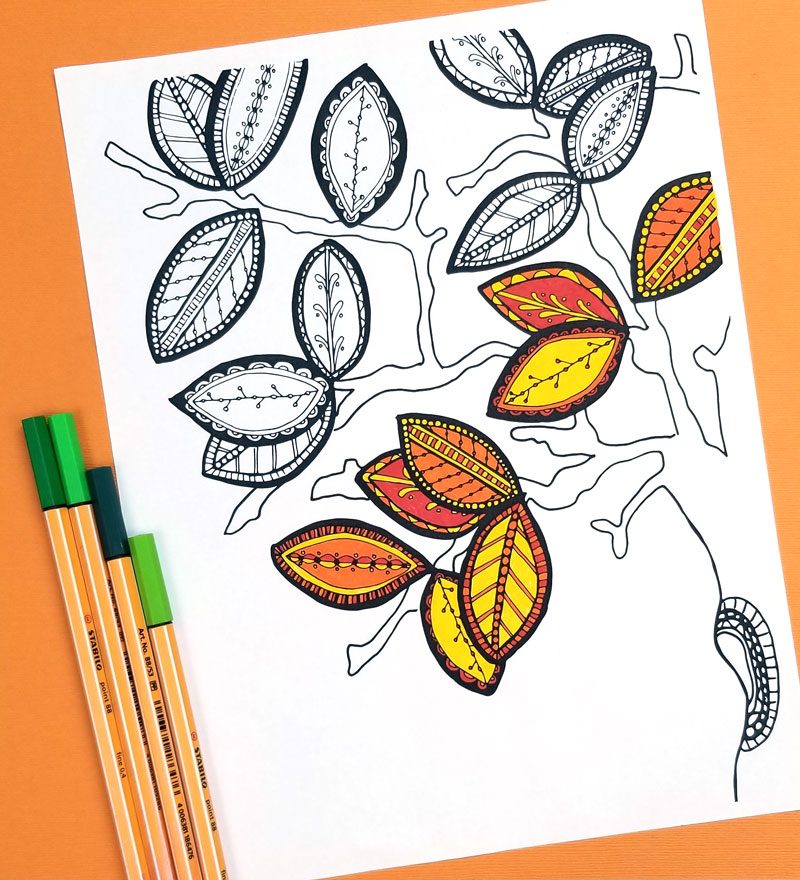 While a bit more of a grown-up vibe, even toddlers can color pages like this one! While they'll likely only scribble over the design, the whole page will look pretty as the artwork shows through.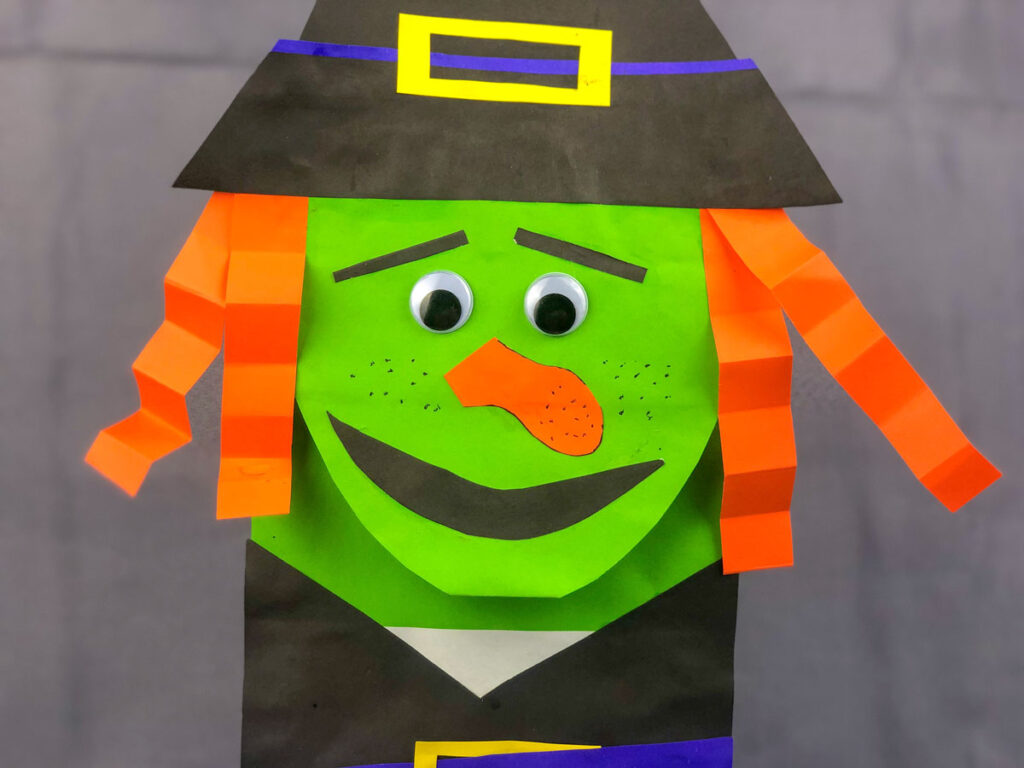 Cut out the parts and allow your toddler to assemble their own witch puppet! Granted, theirs might have a nose where the hat should be, but who cares? As long as they have fun pretending! You can make these with regular brown paper lunch bags.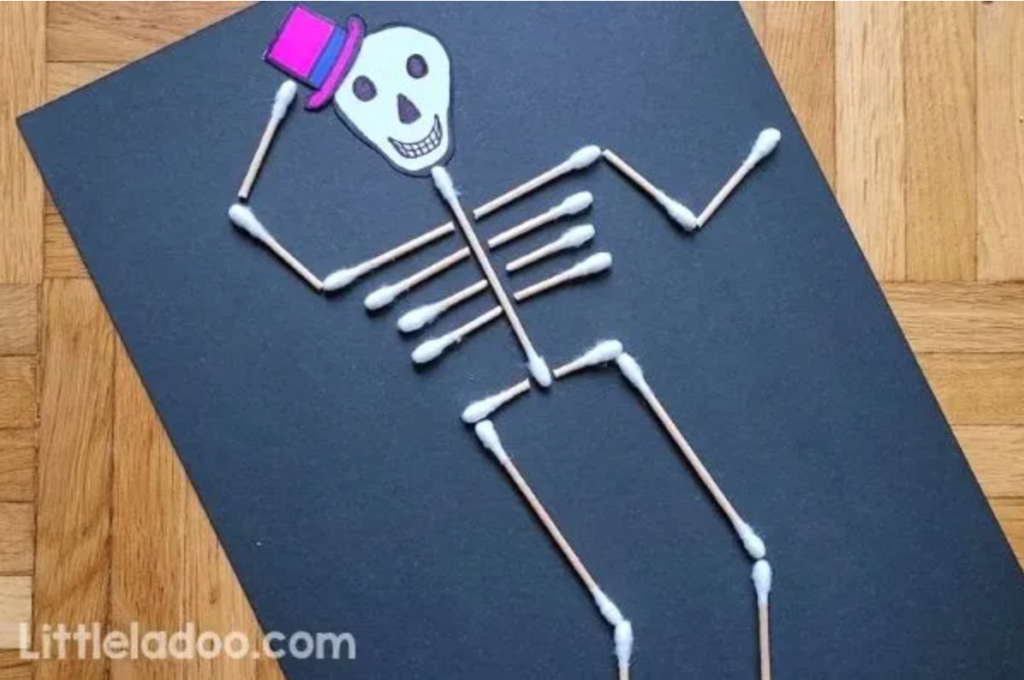 A dollar store pack of Q-tips can be used to make a not-too-scary skeleton for a tiny bit of Halloween science!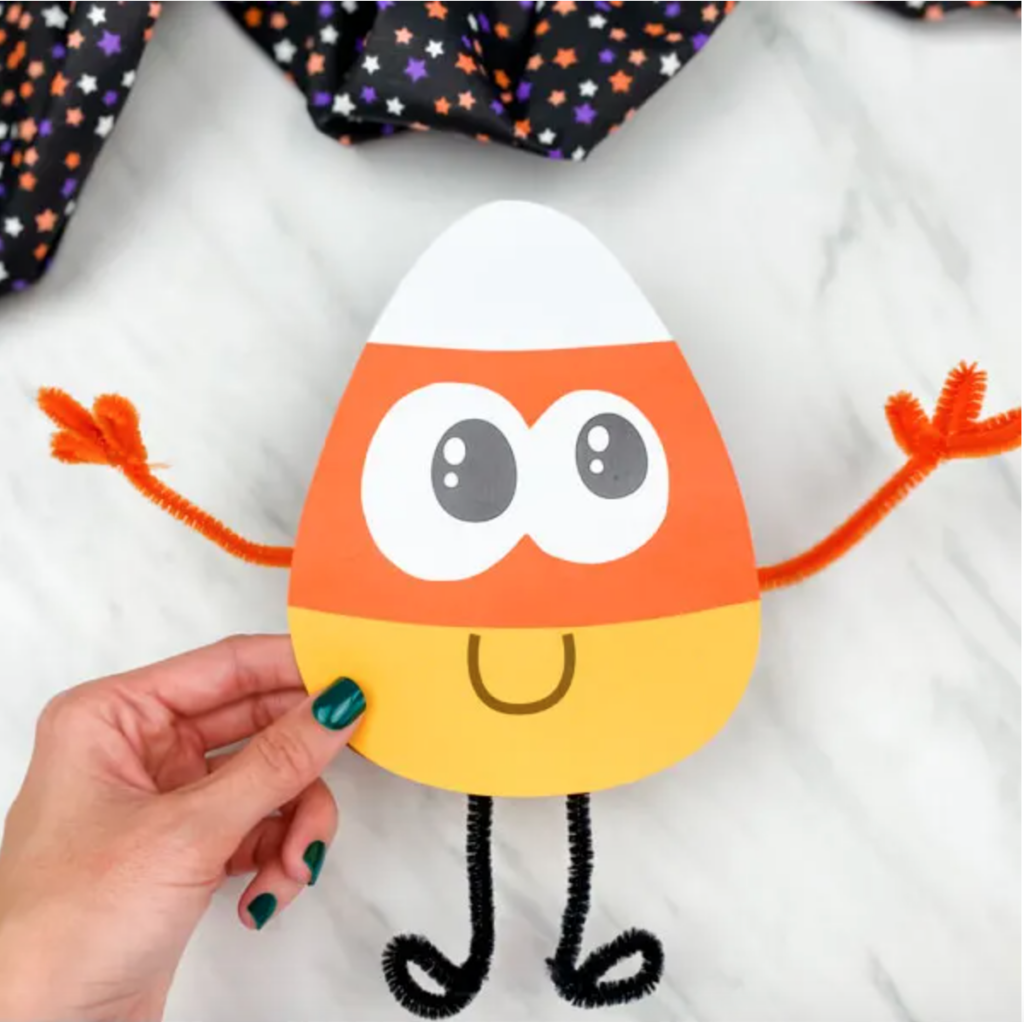 A super friendly candy corn will cheer up your littles with this adorable craft. You can teach your little ones the colors white, yellow, and orange once you're at it.
Paper folding is another fun way to work little fingers in a friendly Halloween craft!
What are your favorite crafts for toddlers for Halloween?
Comment below!