Paper glasses make a fabulous and fun preschool Christmas craft! If you loved my paper glasses, you'll love this glasses paper craft for Christmas. This post contains affiliate links.
---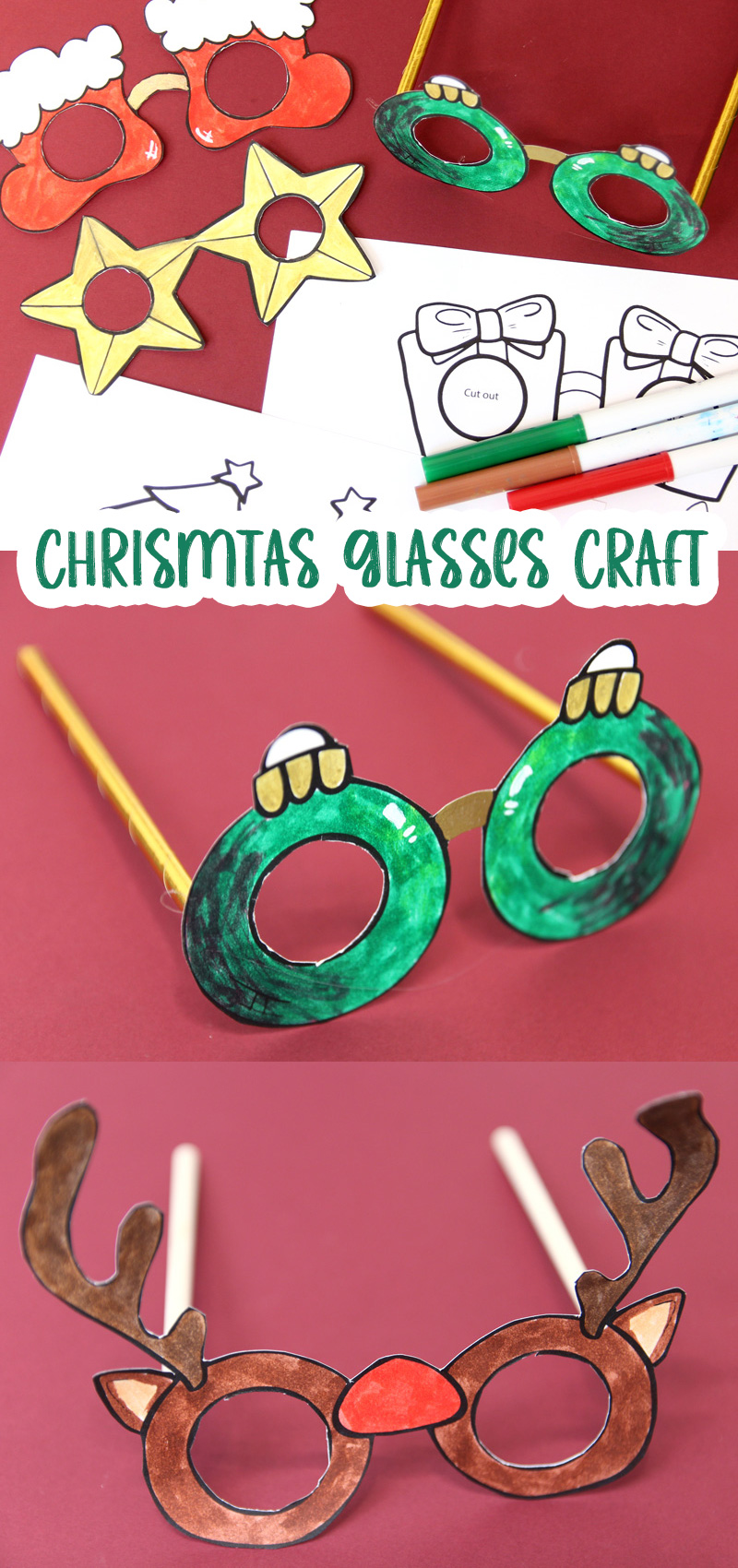 I love simple color and craft activities for toddlers and preschoolers, as you'll have seen with the paper ornaments for kids I've shared in the past. Kids have a meaningful part the creation process through coloring. Even if they're too young to do much of the assembly, they still love crafting it.
Table of Contents:
In addition, toddlers and preschoolers love playing with glasses. This makes this glasses paper craft for Christmas a fabulous idea for kids ages two through six!
An adult or big sibling will likely need to help them with cutting out and assembling.
Older kids can craft these as well – they just may need to make it a bit bigger.
I designed these also to be able to serve as a photo prop, making it a really cool party or family get-together activity. Color, assemble and then snap some photos! If you're doing that, you'll want to assemble them as photo props, with a single dowel handle rather than two arms.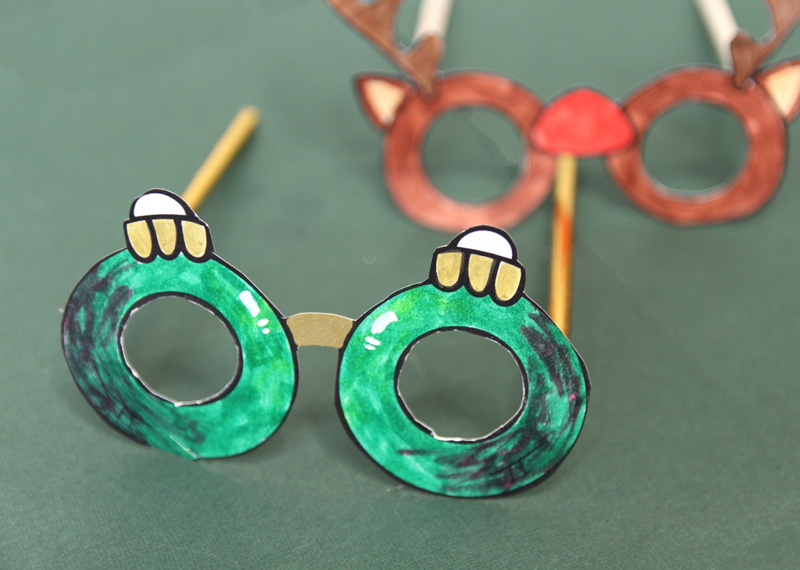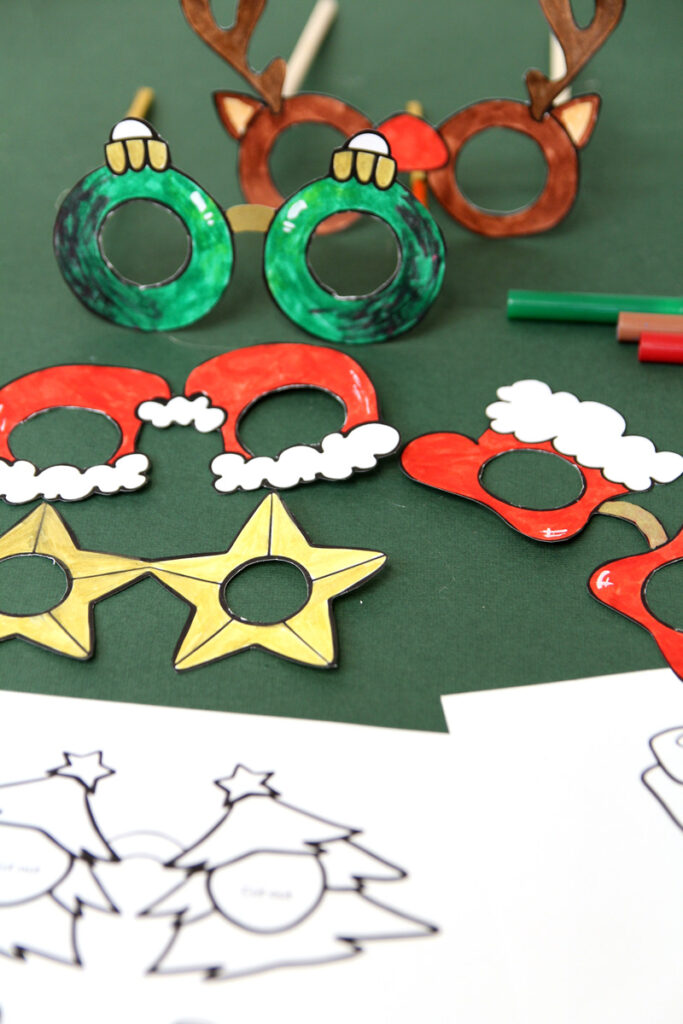 You can also finish them off as masks.
I share more assembly tips below.
This glasses paper craft for Christmas includes
You get nine unique illustrations in a Christmas theme.
List of illustrations
Reindeer – my favorite
Gift
Tree topper star
Tree
Ornament
Christmas lights
Santa hat
Stocking
Bells
You can make one or make them all. You can use them as a countdown towards Christmas or as a boredom buster as you prepare dinner. The main thing is to have fun!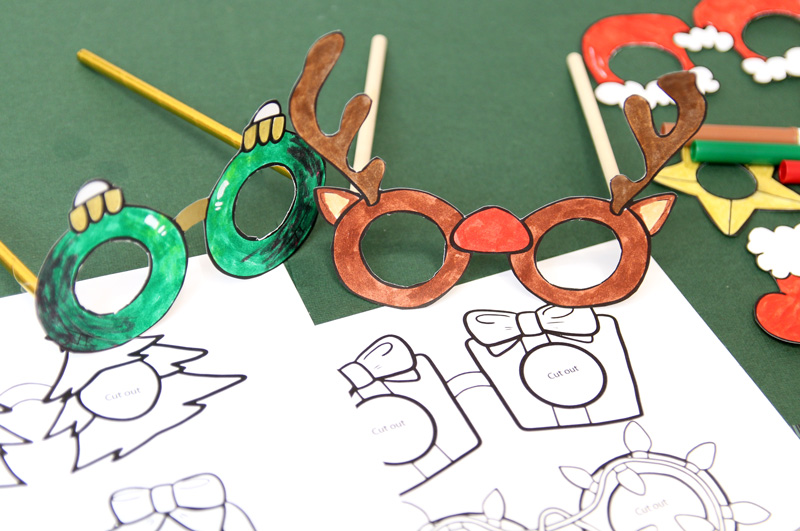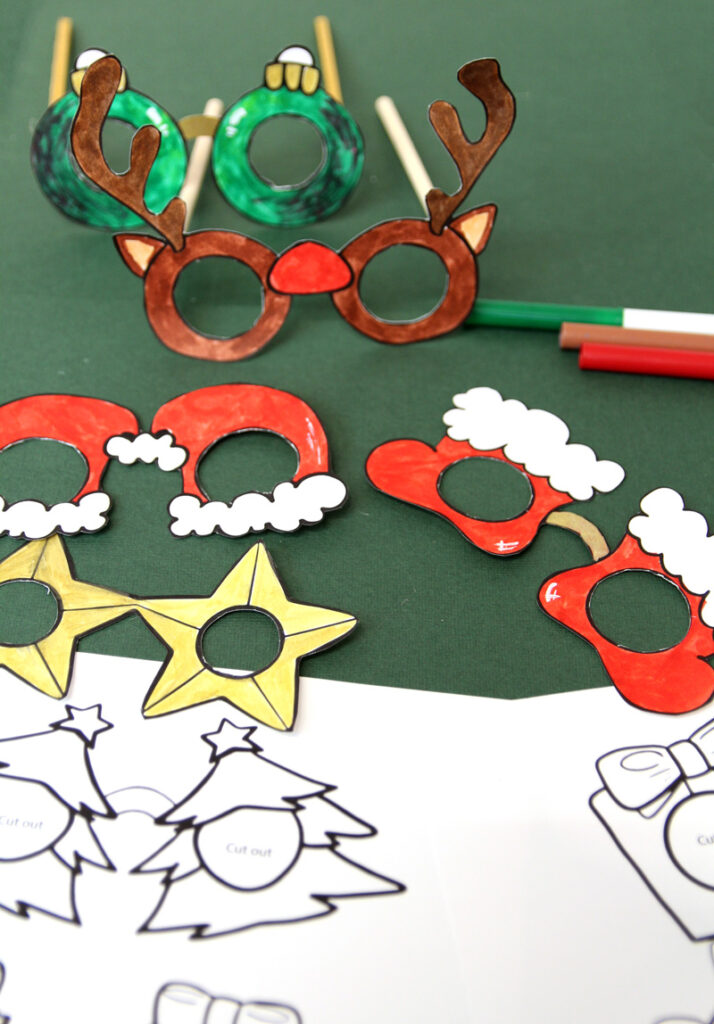 How to assemble the glasses paper craft for Christmas
There are a few ways to assemble this and finish it off, but first, I need to share some important information.
Tips for making them stay on
This was designed as a "craft & play" toy for preschoolers and toddlers and so they don't stay on well. They're not meant to stay on like actual glasses. A few tips if you'd like kids to be able to wear them and keep them on:
Sizing is important. If you choose "fit to page" when you print, it'll be a tad too small. Choose "actual size" and it'll be sized for toddlers and preschoolers. If you want it bigger, you can either scale up the printing, or add a little additional square on each side of the glasses to attach the arms to. The eye placement should still be good as it's pretty forgiving.
Use as a mask or photo prop. While I did intend these as a glasses craft because the little ones just love glasses, if you're finding that it doesn't hold up well this way, you can finish it off in other ways. Glue a stick to one side to use it as a photo prop. Or attach an elastic as you would with a mask. You can even glue the paper glasses arms to the sides of the elastic so that it's still "glasses" but stay-on ones!
Stabilize it. Standard printer cardstock is strong enough for some purposes, but in this case it does fall in the lower end of things. You can double up your cardstock if you'd like.
Ultimately, paper glasses are really just a "just for fun" craft, that's fun for the youngest members in your family, and adorable for older kids too.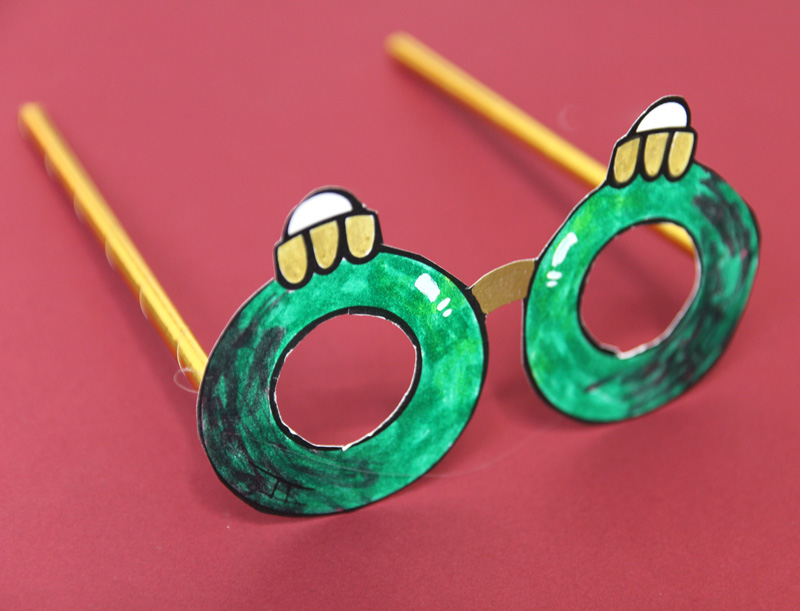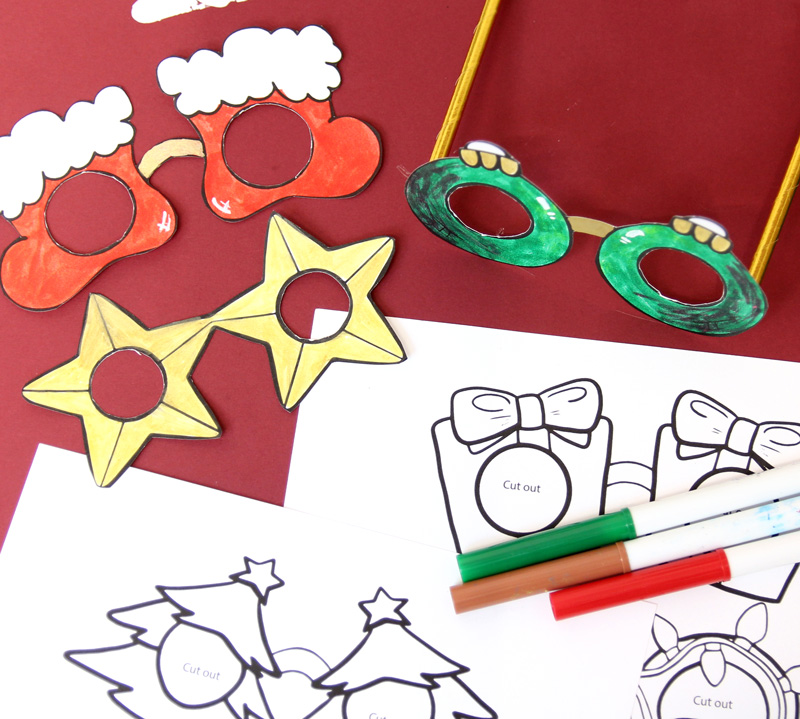 Different ways to make the arms
Here are a few ways to finish off this Christmas paper glasses craft for preschoolers, and add arms (instructions are included when you purchase the full set):
6 inch dowels – for a sturdier arm
Paper Straws – trim these to size. This is my favorite method.
Paper arms – I included some paper arms to print out. It's not my favorite method but I felt I should include it.
Craft sticks – you can "score" a bit before the edge to fold back a tab so that you can glue it. Again, the process isn't as smooth as some others so you may not want to do it this way.
Elastic – This is one of the most wearable methods: just treat it like a mask!
A wood holding dowel – this is another straightforward finishing option. Just glue a dowel angled away from the design on the back and hold it as a prop.
However you choose to craft these, just have fun!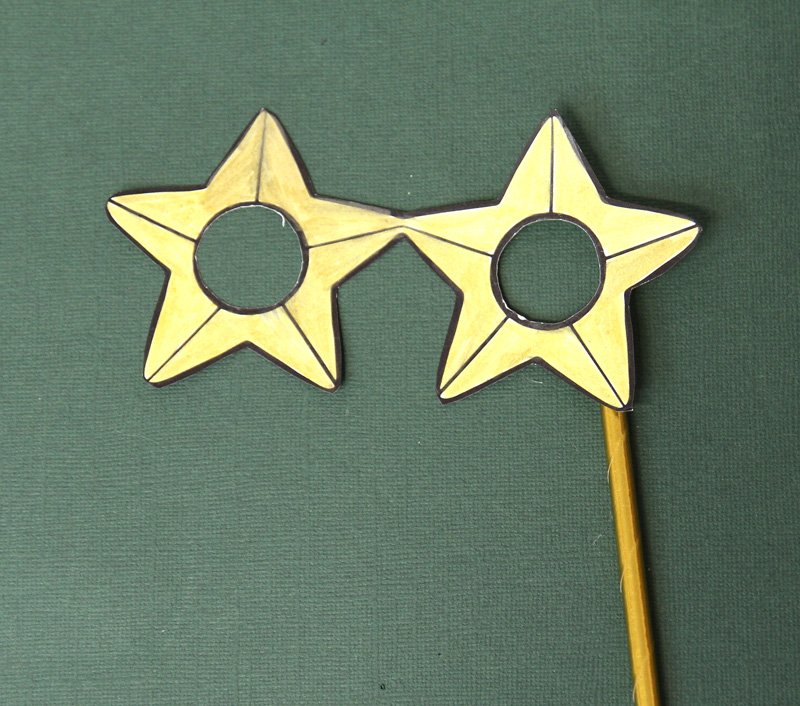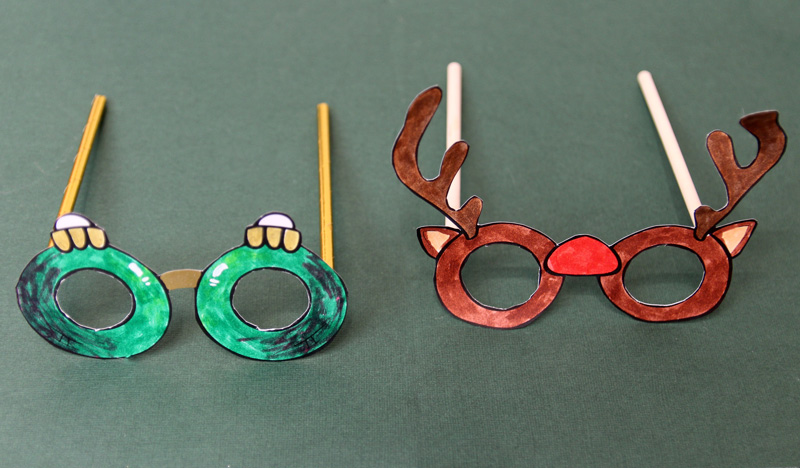 Download your glasses paper craft for Christmas
This is a premium download, available for a few bucks in my Etsy shop. Your purchase grants you a single classroom license, home use, or public library use.
You'll get all the designs listed above spread across three pages. You'll also get a page with eight pairs of arms if you'd like to use it (print multiple times if you need more – that was all I could fit to a page). The final page contains assembly instructions.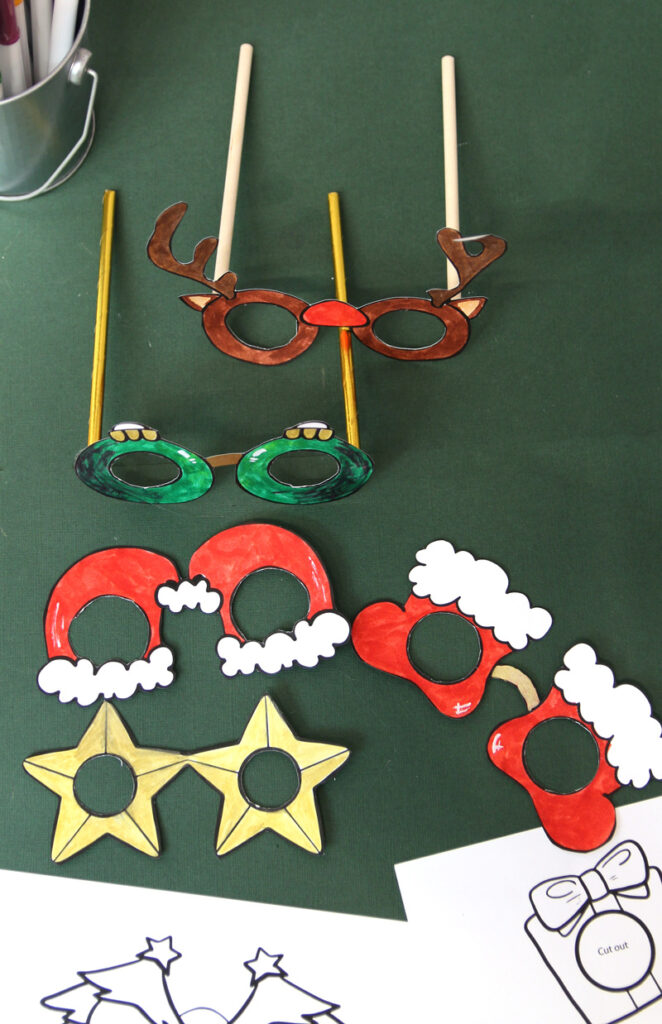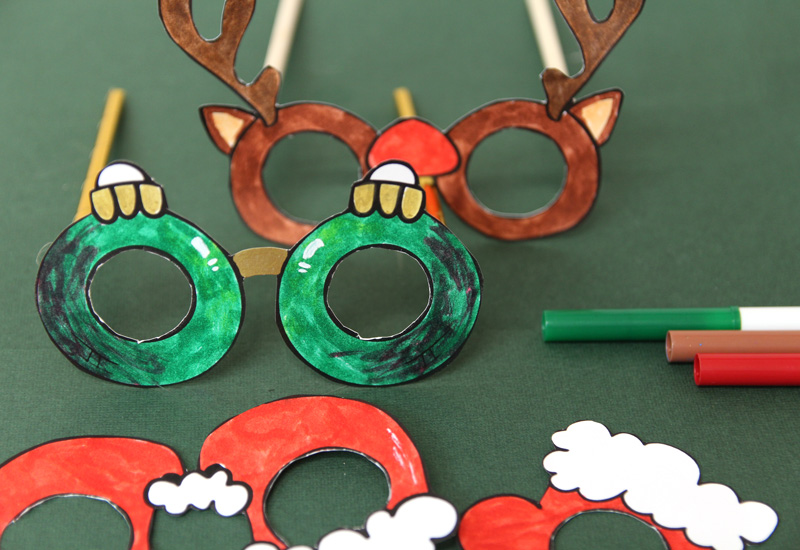 Creating the glasses paper craft for Christmas
What you need
Putting it together
1. Print out your chosen pages on cardstock. Make sure to print "actual size" so that it's not too small.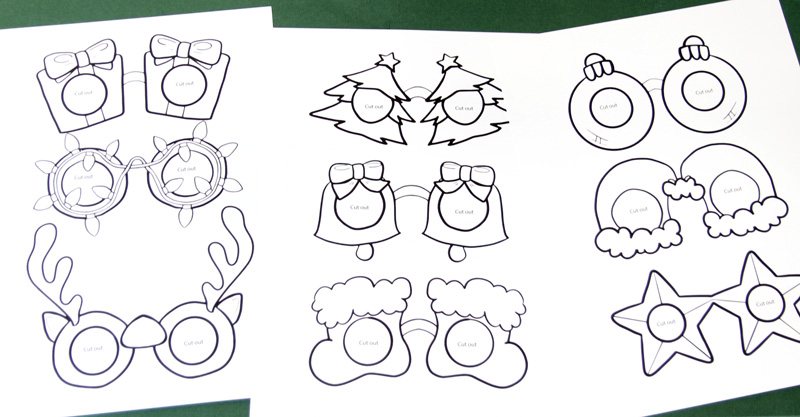 2. Color it in.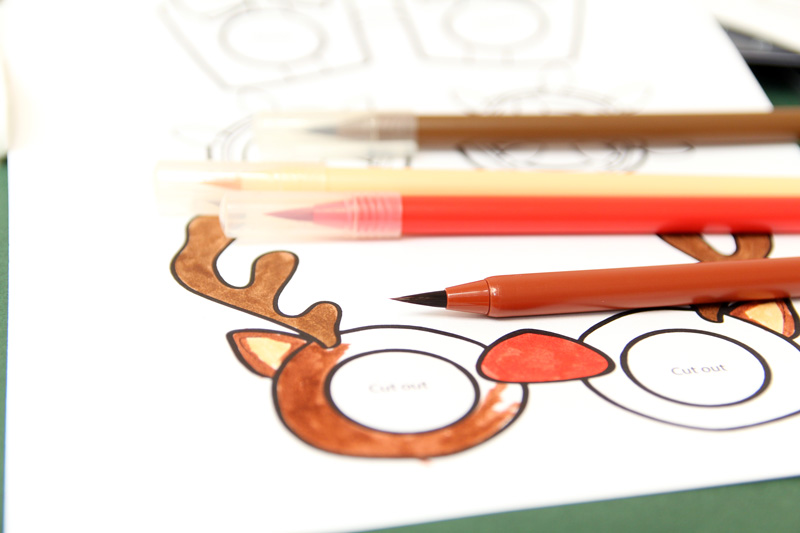 3. Cut out the marked centers. You can do this with scissors but a craft knife may help.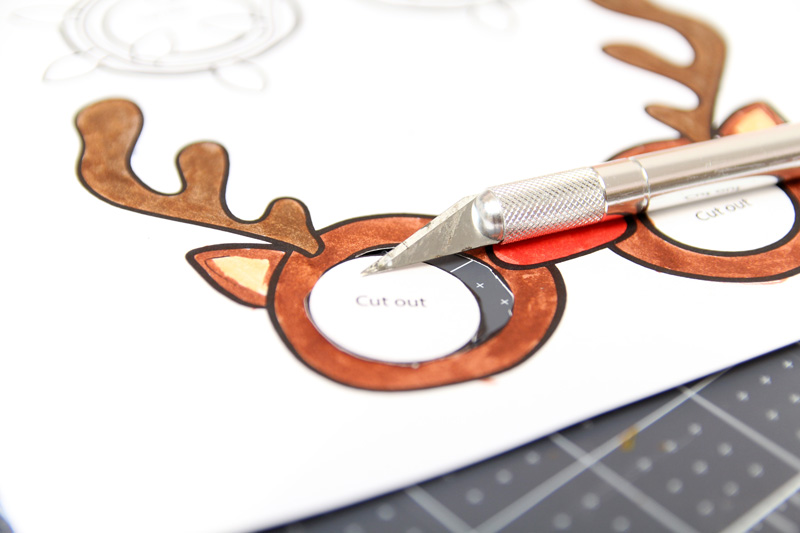 4. Cut out the glasses around the perimeter.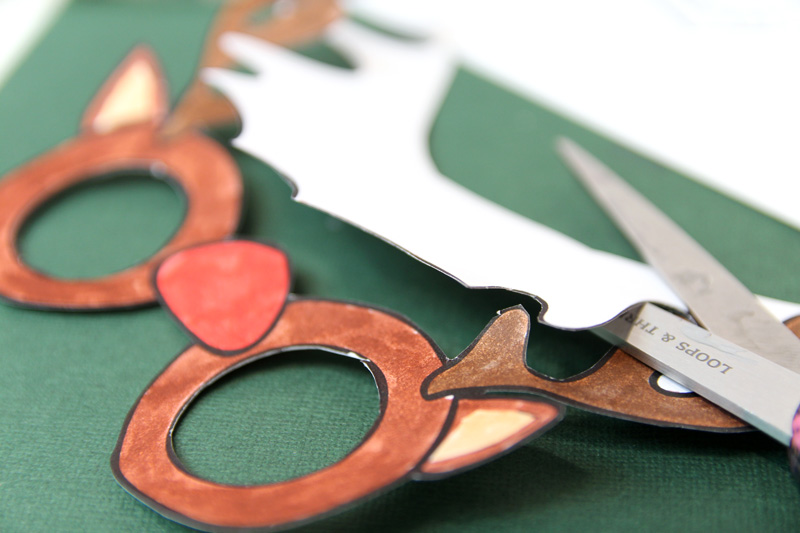 5. Glue an arm to each side. If using a straw or dowel, hold it in place until it sets.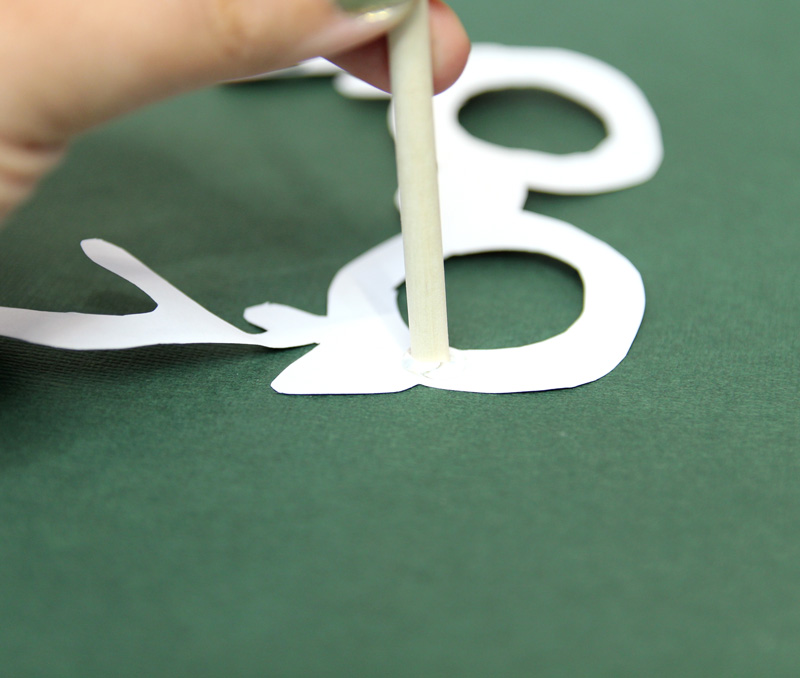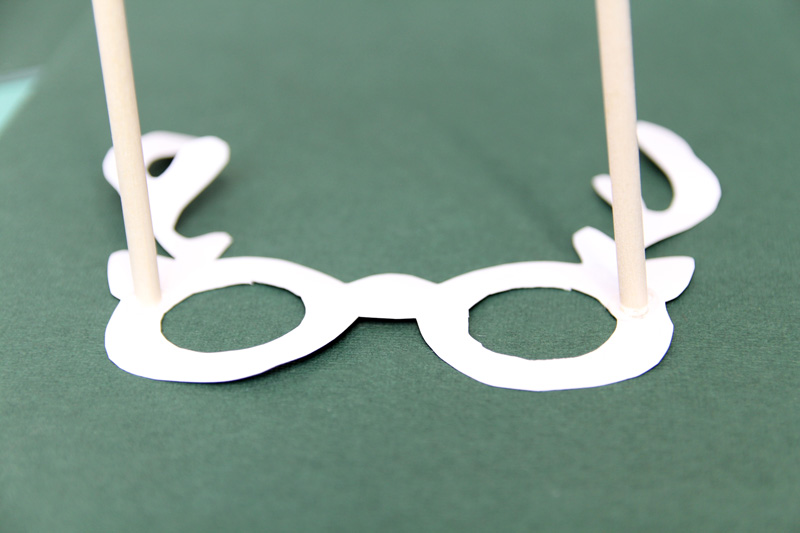 Your glasses paper craft for Christmas is complete! Which designs do you look forward to making? Comment below!