Learn how to make a friendship bracelet from scratch! In this post, you'll find all of the tutorials I've shared in the past on friendship bracelet making, organized in order so that you can navigate it and teach yourself through my blog posts. You'll also learn the basic knots and skills needed. This post contains affiliate links.
---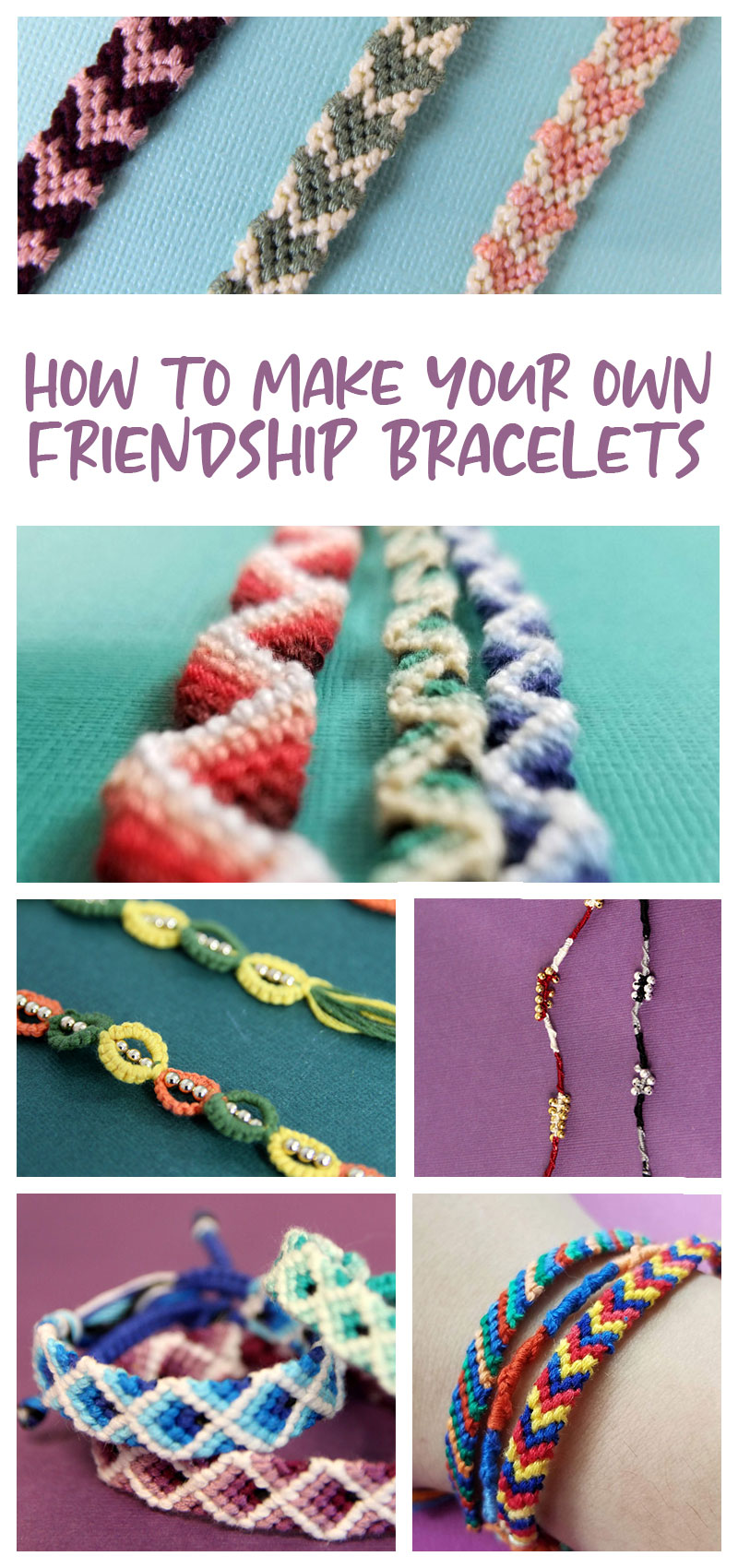 I first taught myself how to make a friendship bracelet when I was a tween, and it was a game-changer for me.
Today, kids have all sorts of fidget tools. As a child of the 90's (I was born in '89), we had palm glue bracelets, silly putty, and doodling. We had lanyard, and we had friendship bracelets. Can you guess which was my favorite?
Friendship bracelet making was a focus tool that also gave me a productive and beautiful outcome and I just couldn't get enough of it. My favorite outing was the aisles of A.C. Moore (now it would be Michaels, as Moore is no more…)
There, they had open stock DMC embroidery floss, where I could choose the perfect colors, the perfect shades. In my neighborhoods, in my class, and in summer camp, I got a reputation as the friendship bracelet maker.
I became quite proficient at coming up with my own designs and even sold my bracelets at one point (it's a great money-making scheme if you enjoy earning 50 cents for two hours of labor.)
I'm passionate about helping the next generation of fidgeters learn how to make a friendship bracelet, and when you're done reading this post, you should have all the skills you need to complete your first designs. You'll also have handy the designs to move onward from there. And finally, at the end, I share some book recommendations for further exploring – and for those of you who want something physical to hold onto beyond a series of blog posts (unfortunately, I haven't yet written my own.)
This is a long, thorough post. In case you need to jump to a specific point in the post, here are some shortcuts:
Which String is Best for Friendship Bracelet Making?
As a tween, I purchased open stock DMC embroidery floss in my choice of colors.
Now, I purchase big cheap packs.
So does quality matter?
The short answer: yes, get the good stuff. It's not even more expensive if you buy as needed….
The long answer:
Cheap vs. Expensive floss: Which one you'll want to use will depend on why you're making friendship bracelets. At this point I mainly make them to teach others through blog posts. So I purchase them as cheaply as I can. My boys do wear them after, but they don't wear them much, and they don't care how they look, as long as they're blue.
However, you can note the difference between cheap and expensive floss: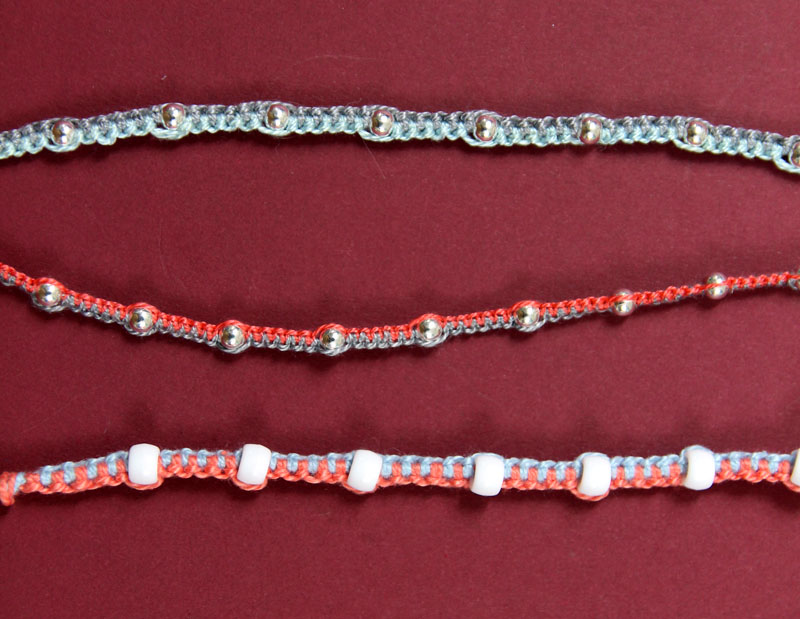 In this very simple bracelet, I used a medium quality floss for the bottom one, a kid-oriented one. And I used a better (and thinner – pearl 8- but that's another point) floss for the other adult-focused bracelets.
While I don't have a sample of the standard patterned bracelets with full-thickness quality thread, you can already see the difference in sheen.
Another major perk of learning how to make a friendship bracelet with better thread is simple: it's easier to use. The cheap threads are often not woven well and unravel easily. They knot more easily too.
So if you can swing it, I recommend choosing colors as needed from open stock DMC. You'll only be buying what you need and build up your collection slowly instead of stocking up on all colors at once.
If you don't care about quality and are good enough at making bracelets that an easy-to-unravel floss won't bother you, you can definitely stock up quite cheap on large rainbow packages of floss.
And on a final note: I don't love variegated flosses for anything other than the most simple bracelets as it interferes with your designing. It's not predictable. Keep this in mind when choosing an ombre thread for your bracelets. I'm not saying never to do it, I'm just saying to strongly consider if it'll suit the design.
I do create ombre friendship bracelets (see the advanced bracelets below) however, I accomplish this using separate skeins of the same color in various hues. That way I have much more control over the desired final effect.
Basic Skills to Learn How to Make a Friendship Bracelet
There are a few basics to know before you make bracelets. The first million dollar question is how do you get it on and off your wrist once you're done your masterpiece?
Starting and Finishing
I explored this in depth in my post on how to start and finish a friendship bracelet, so you'll want to use that to learn from the ground up. The tutorials for the below images are shared in that post.
My favorite method for bracelets that I'll wear is the ribbon crimp + clasp method: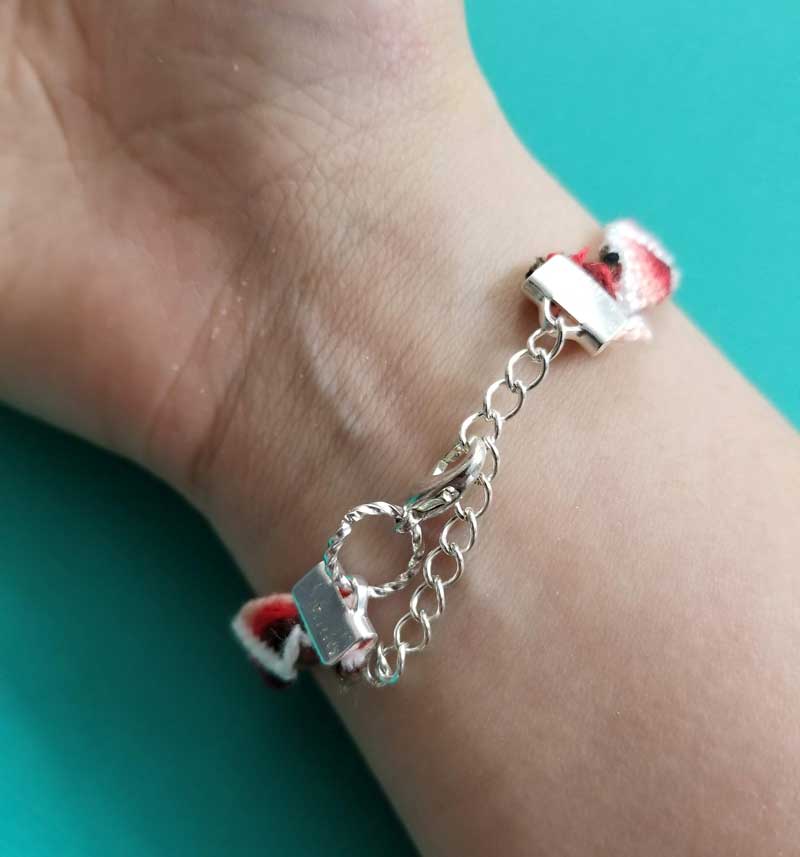 For the kids, I usually use end ties (braided or repeated forward/backward knotted) with a starter loop. The knot at the end of the teal one was made by simply tying together the two ends that you see in the blue and purple bracelets.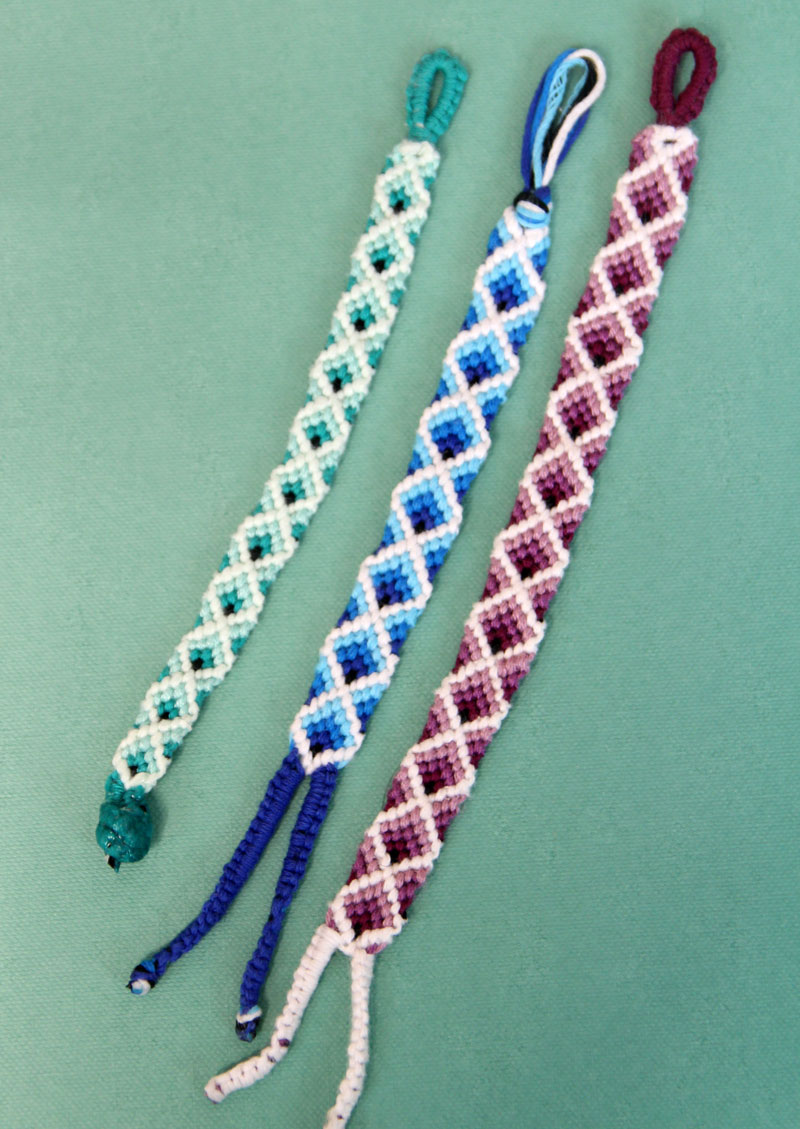 Tip: secure those end knots with fabric glue!
The Basic Knots
Most bracelets, with a few exceptions of course, use the same repeating knots in different directions. That means that all you need to do is learn these and you can follow the basic sequence to learn how to make any friendship bracelet!
I share these knots below, however you do not need to read this part to know how to make a friendship bracelet. It's simply for the sake of making this tutorial complete. You can skip to the part where I teach you which bracelets to make in order – that'll each teach a knot from these that'll help you with future bracelets. Those are your beginner bracelets.
I'm a big fan of learning how to make a friendship bracelet by making actual bracelets. Rather than practicing the knots on a useless scrap, why not work in order of how you can build up to make an actual friendship bracelet? Each beginner bracelet helps you practice and learn that knot well until you are proficient enough to move on.
Reading these next few paragraphs will, however, help you when you're following a less descriptive tutorial, as it teaches you the terminology.
Hitch
A hitch is one knot around. Bring your working string over and around your base string(s) and back in front of the working string. Pull up to tighten. A forward hitch is where you knot the left string around a base to the right. A backward hitch is the opposite: take the right string and knot around the left.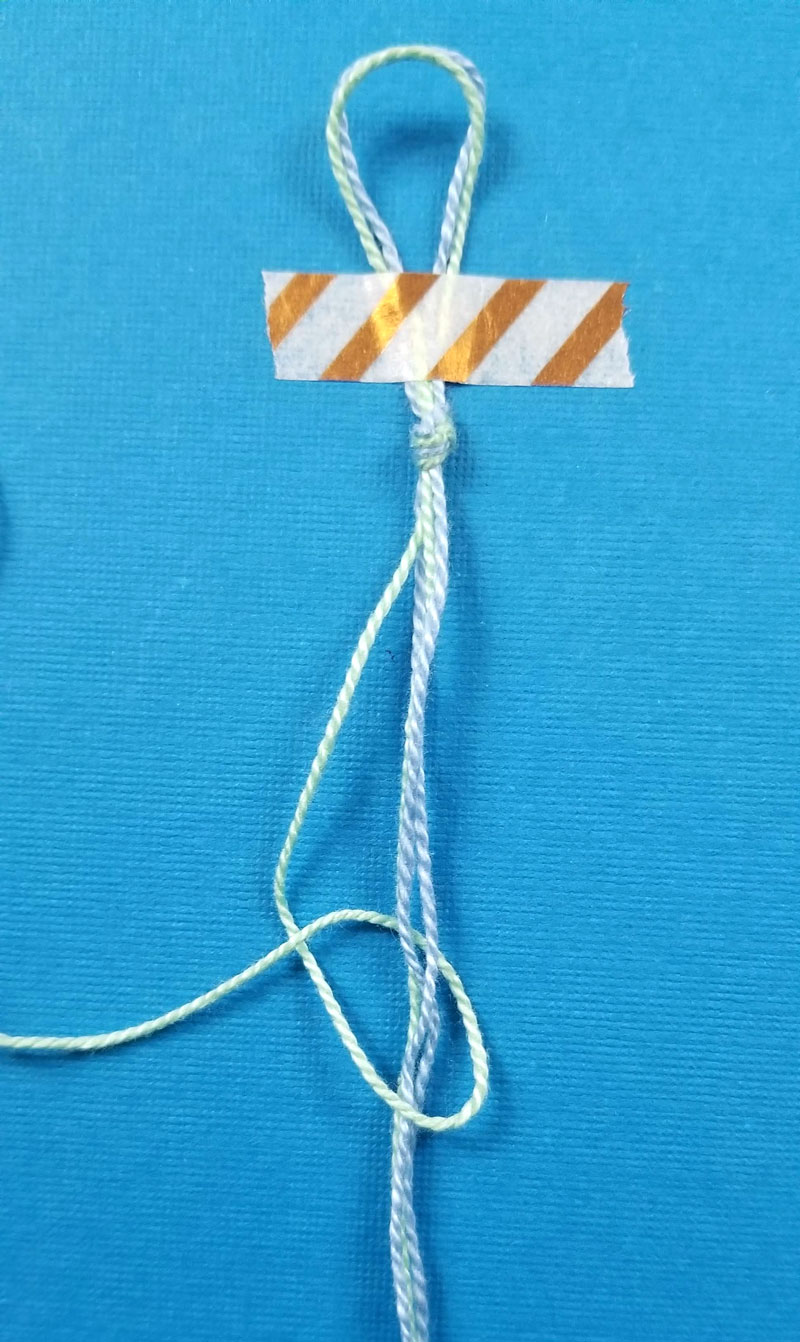 Knots
Each knot is made of two hitches. This forms a "stitch". After you create your first few bracelets, you begin to understand how the stitches form. This will help you learn how to make a friendship bracelet more easily and will even help you adapt your own designs.
Some bracelets only work with hitches, however, your standard stitched-looking patterned bracelet is made up of a sequence of knots to form the pattern.
Forward Knot
A forward knot is a forward hitch and then another forward hitch.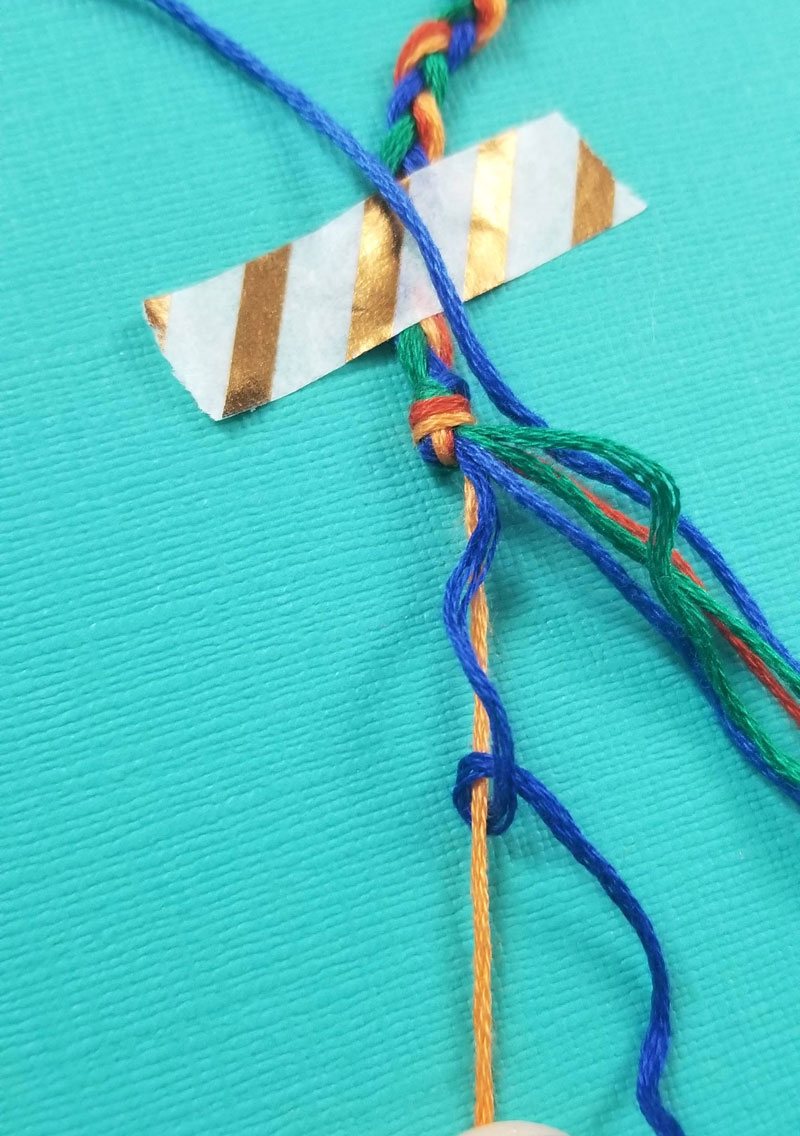 Backward Knot
A backward knot is a backward hitch followed by a backward hitch.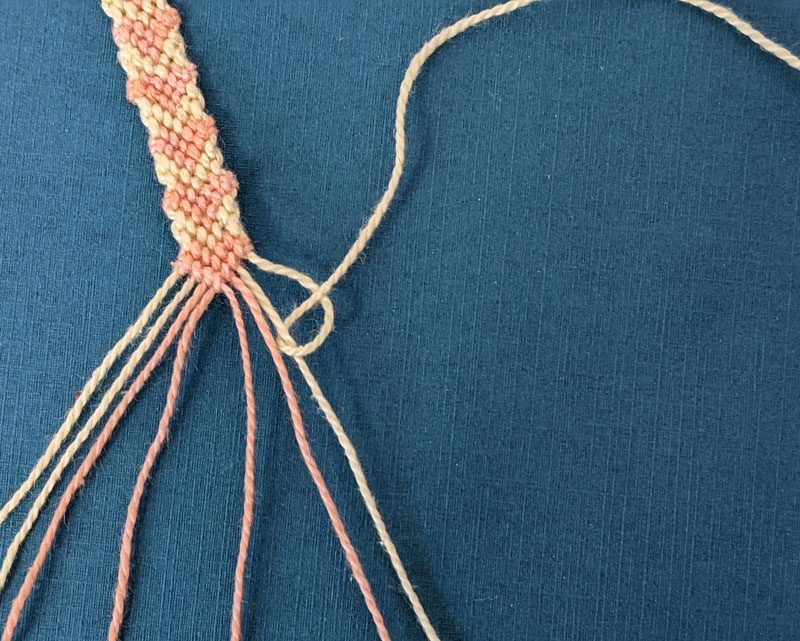 Forward Backward Knot
A forward backward knot is a forward hitch followed by a backward hitch. You do this when you need your string to end up in the same place that it started. It creates the same "stitch" as the forward or backward knots would.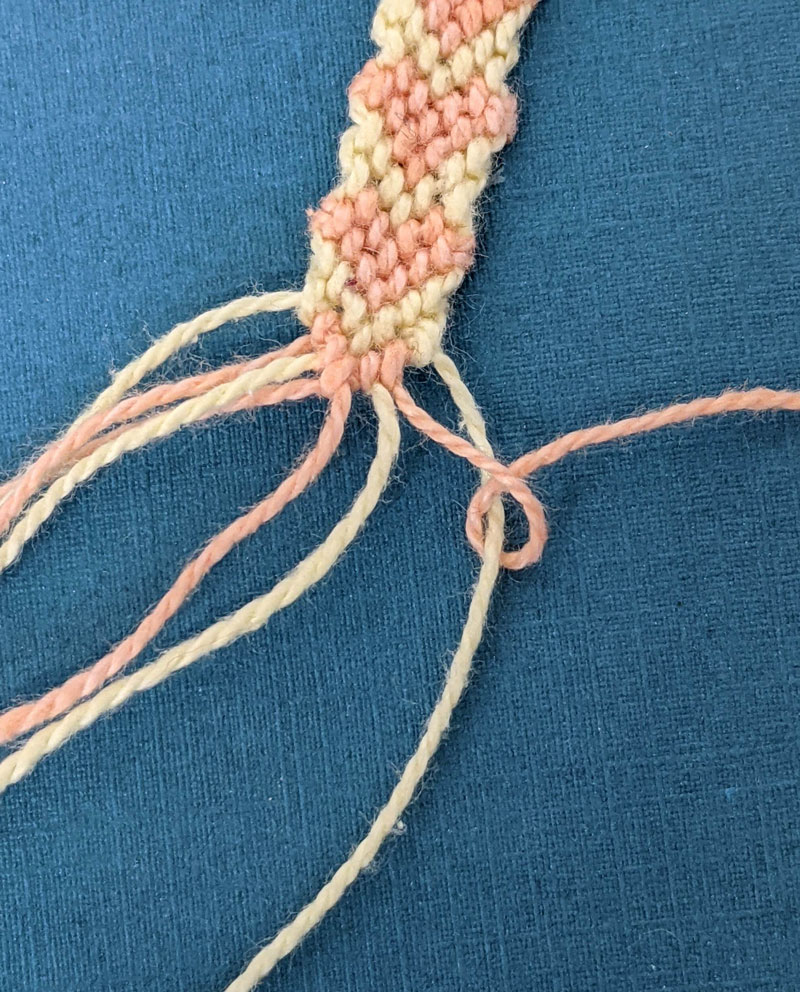 Backward Forward Knot
A backward forward knot is a backward hitch followed by a forward hitch. You do it for the same reason: to end up where you started.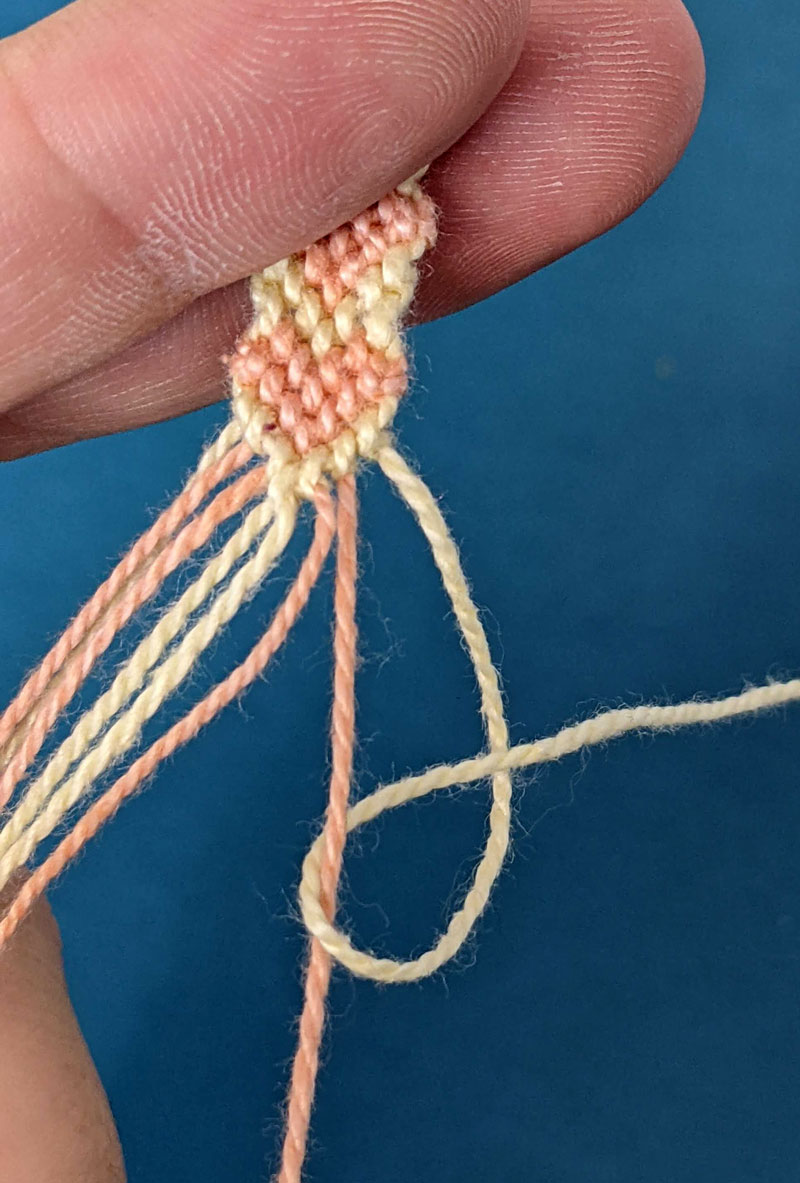 Take it to the next level
I'm not one to skip "the talk" and by that I mean the one about colors.
The colors you choose for your bracelet are as important as the pattern! Yes, that is a controversial statement, but you CAN quote me on it, and you'll see it with some of the "next level bracelets" below.
Of course, color theory is its own slippery slope, but once you learn how to choose colors to gain a certain effect, you'll have reached level EXPERT!
Things to consider with color while learning how to make a friendship bracelet:
Placement on the color wheel – the relationship of the colors you're mixing on the color wheel can influence how pleasing it is to the eye
Hue/gradation – using darker and lighter shades of the same color can accomplish certain effects
Contrast – how dark and light your colors are compared to each other will determine how much the design will stand out
Tip: you can use a color wheel to help you choose colors.
How to make a friendship bracelet: patterns to try in order
Ready to dive into learning? Here's a fabulous sequence of patterns to try! They're in order of how I'd teach and how you can practice the main knots.
The 3 basic bracelet patterns to learn on
All three foundational bracelets are featured in this beginner post to make your own friendship bracelets. They are featured in the post in order – so you can simply click through to that to get started with your first three patterns.
Chinese Ladder – To learn a forward hitch. This is also a really fun bracelet to make to layer – it finishes quickly. You can repeat it with a backward hitch if you want to practice that separately.
Candy Stripe – to learn a forward knot, and to see how the knots form as you double forward hitch.
Chevron – To add a backward knot to the mix and to see how bracelets form when you're learning both.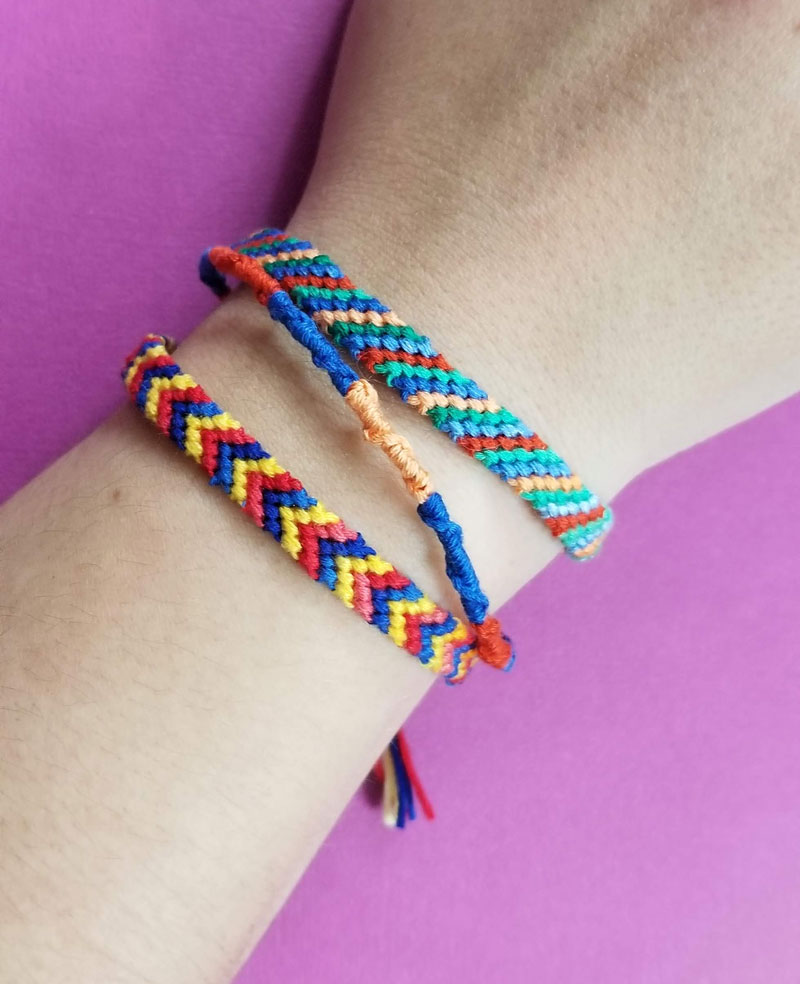 Super Simple beginner bracelets that are incredibly cool
If you think you can't accomplish much at the beginner level, think again! And then go and try these cool bracelets.
This easy friendship bracelet is another cool way to get going with backward and forward knots in the same bracelet.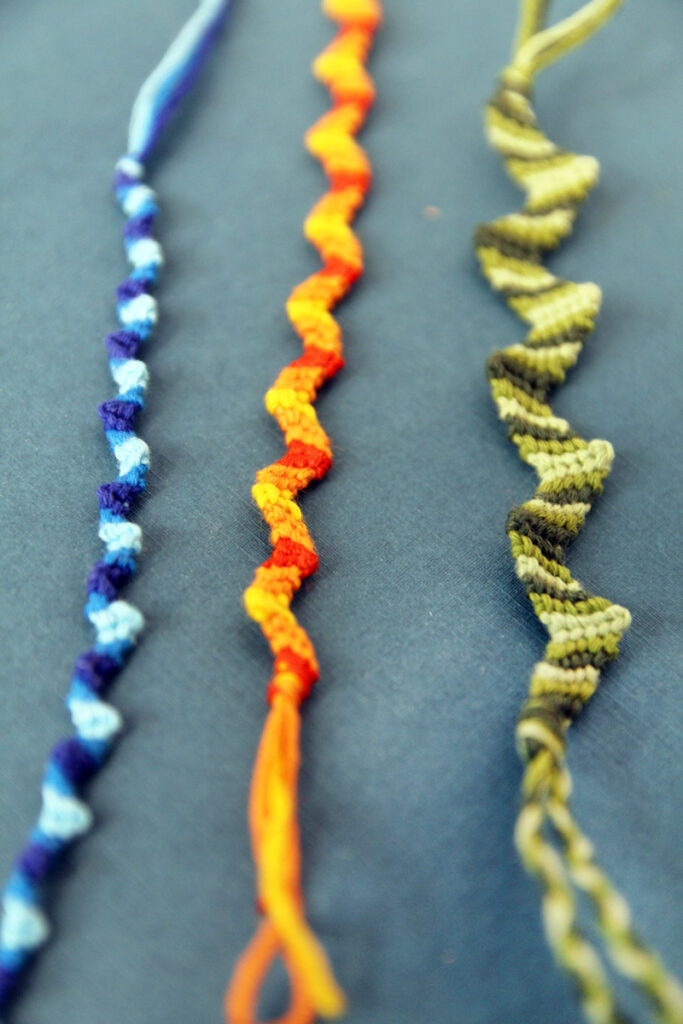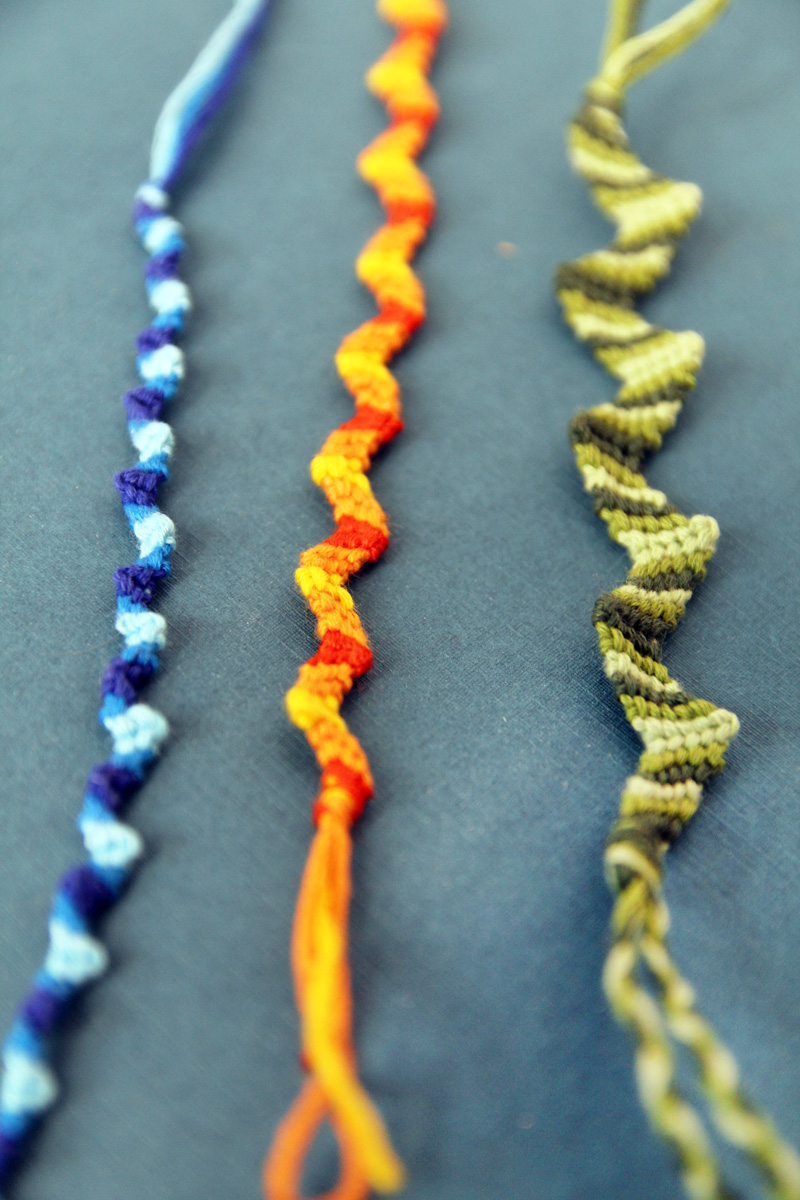 And this easy friendship bracelet pattern is actually also a fabulous one for practicing backward forward and forward backward knots in a simple design. It's repetitive in the same way as the Chinese Ladder, allowing you to really get the muscle memory of the knots in place.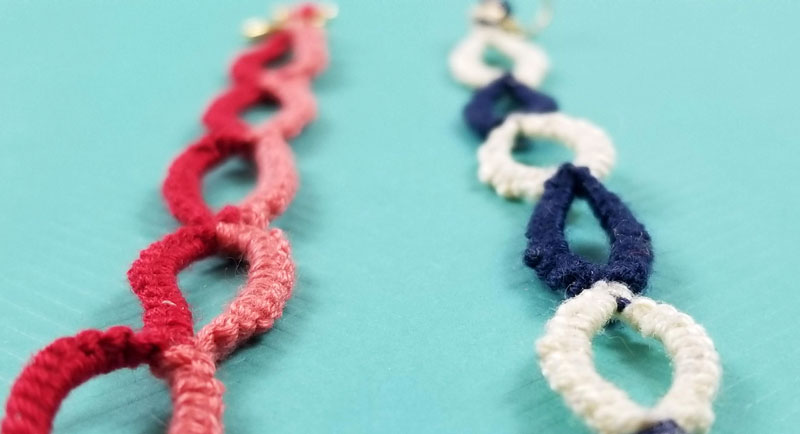 Adapting that also gives us a simple leaf friendship bracelet pattern – with the addition of beads. I share more beaded friendship bracelet ideas below as well.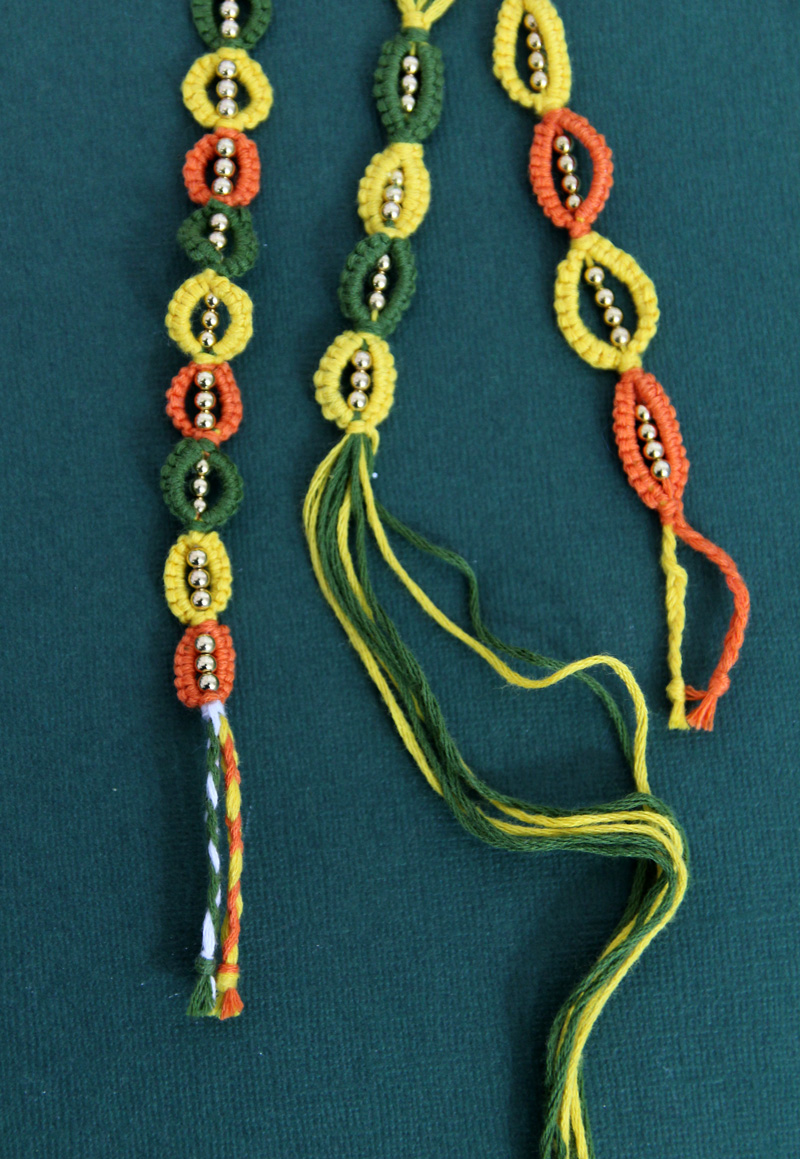 Next Level Bracelets
Ready to get started with some incredibly cool patterns and designs? None of these require "pro" skills, but they're all gorgeous. And you don't need to know how to read a friendship bracelet pattern for any of them.
Heart Patterned Friendship Bracelets are actually still quite simple, but it will show you how using backward forward and forward backward knots will help you accomplish a design. It does this by bringing a color back to where you need it for the next row. Note how the contrast in the colors you choose is so important here to maintain the appearance of that heart!
This Zig Zag Friendship Bracelet with a 3D effect went absolutely viral and just comes to show how much you can accomplish with color! It almost looks raised because of the use of shading simply with the choice of thread. This bracelet also is a great candidate for open-stock DMC floss – color choice is everything.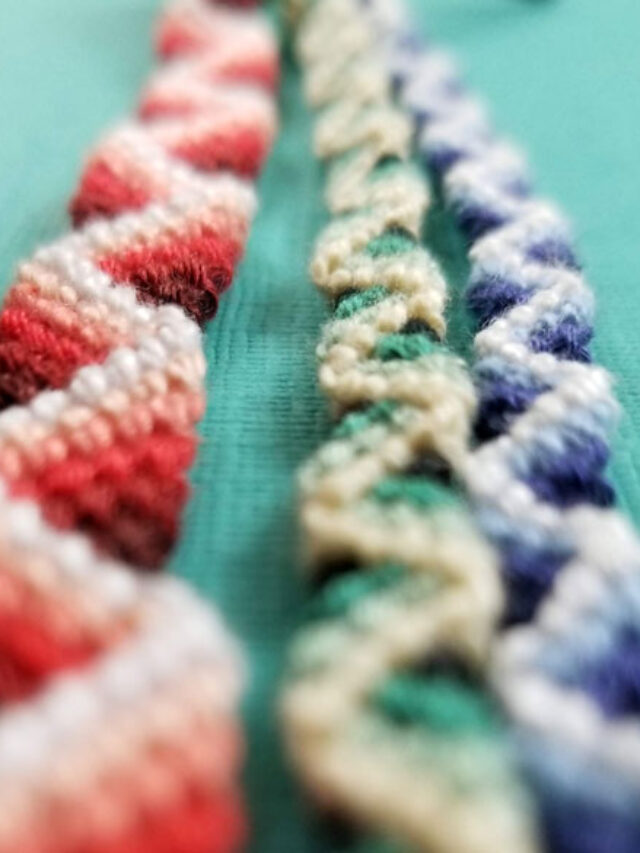 And finally, this Diamond Friendship Bracelet Pattern expands on that with more 3D effects for a real conversation starter!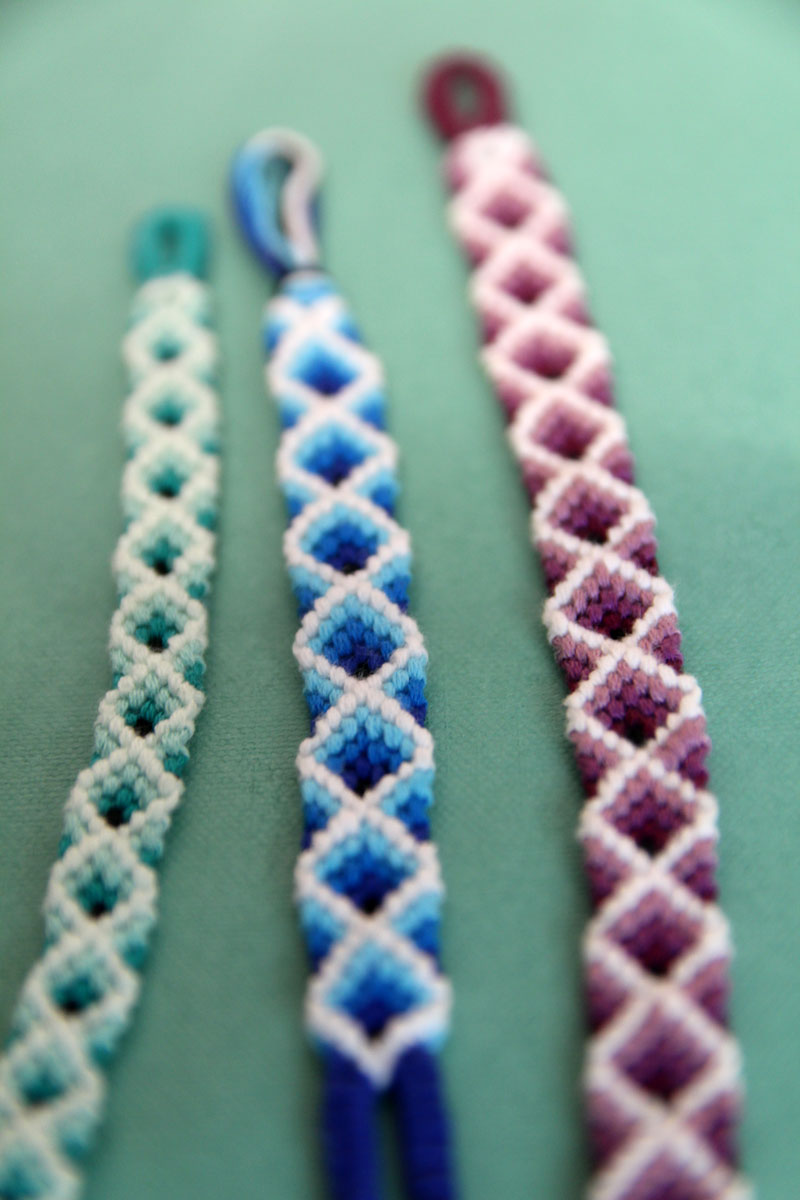 Learn how to make a friendship Bracelet with beads!
Beads update any bracelet to add a little blink. Learn how to make a friendship bracelet with beads by starting with a very simple design and then adding your own.
How to make a beaded friendship bracelet and easy beaded friendship bracelets are both tutorials that also help you to practice very basic knots and will be fun stacking jewelry to try. My favorite beads to add are 3-4 mm metal beads, preferably with large holes to make threading easier.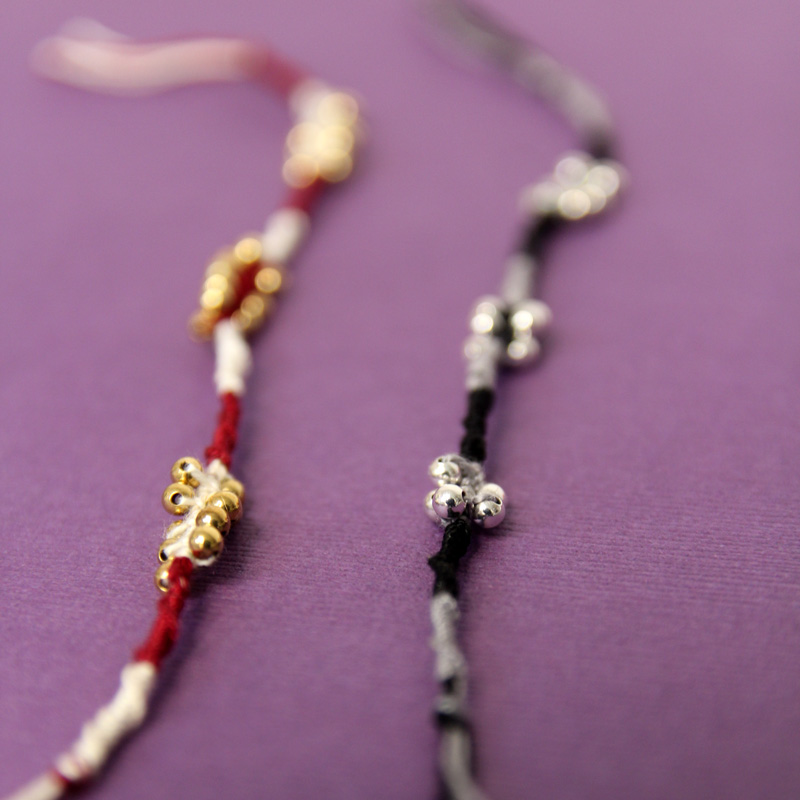 Books to explore more about how to make a friendship bracelet
Ready to expand on how to make a friendship bracelet? These books will help you take things further and have tutorials at your fingertips. Enjoy!
I have more tutorials coming, so make sure you sign up for updates!
What are your favorite bracelets to make? Do you have any questions or advice you want me to add to this post? Comment below!