The newest post in my series for selling crafts online successfully features a full tutorial on how to set up an Etsy shop that's destined for success! You can check out the best crafts to sell online to help you pick your craft and then move on to this simple guide. If your shop is already set up, check out my tips for selling on Esty, including marketing and social media strategies. Disclosure: this post contains commissioned links.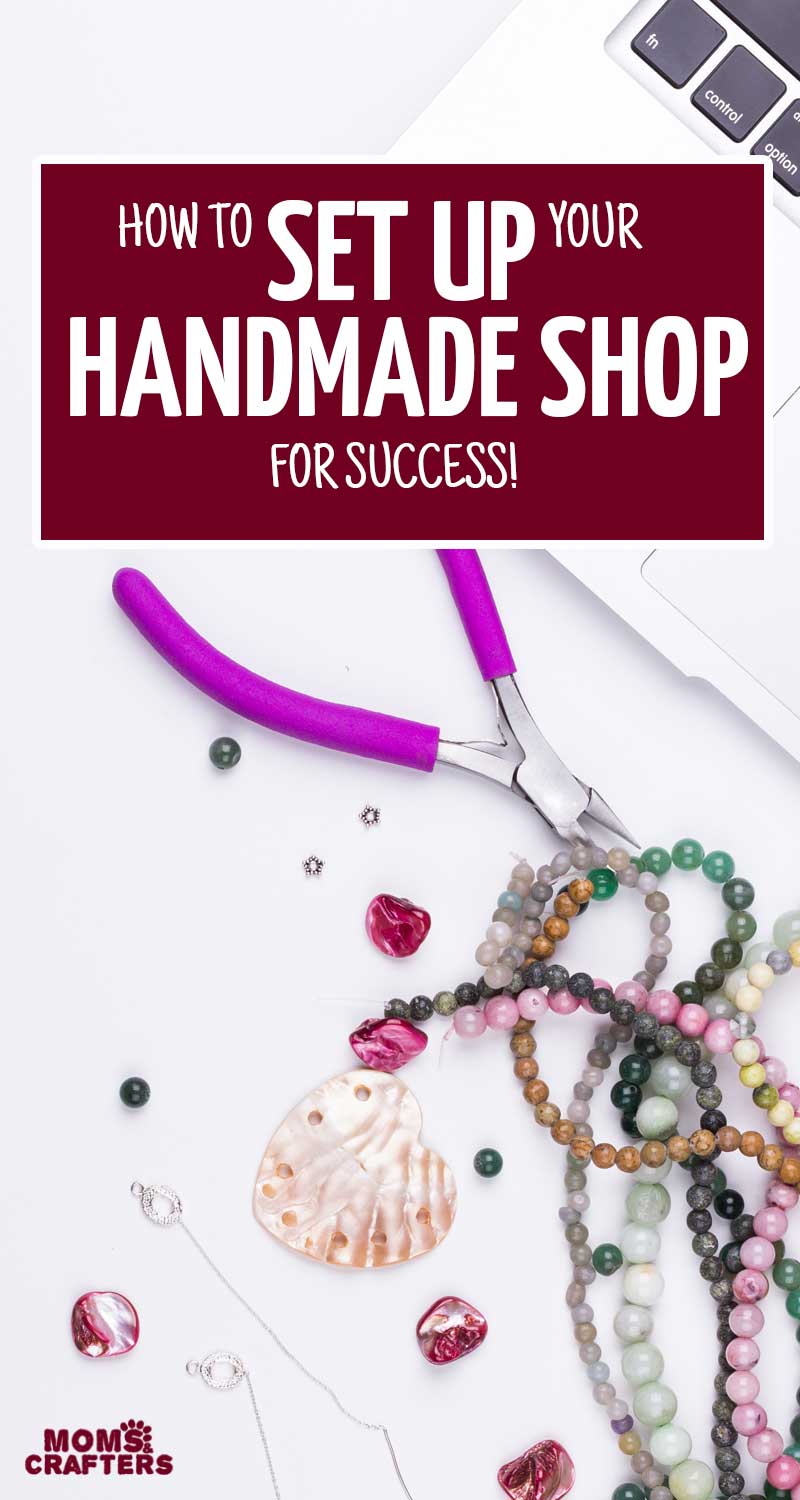 I now have a new post in this series as well on how to stop hackers from targeting your online business!
You've chosen your craft, thought it through, and know that people are interested in buying, and would pay an amount that is worthwhile for you. Time to figure out how to set up an Etsy shop. But you don't just want to set it up – you want to set it up for success!
Like any business that you launch, it can take time and money. Expect to invest a few dollars. Give yourself a budget you know you can afford – whether it's $50 or $500/month. Yes, you do need to spend some, beyond your craft supplies, to have a return on selling crafts online, but you don't need to go broke over it.
How to set up an Etsy shop: doing the groundwork:
Suppliers – You will definitely need more stock than you have had until now, and you may need to rethink where you get your stuff for cost efficiency. Research wholesale suppliers, or those with bulk discounts, reliable stock, lower costs. I always bought general craft supplies on Amazon, or at Michaels, because I don't need to make a huge order of just fabric, for example, but since you're going more niche here, find the one that works best for you! Check out my list of the best places to buy jewelry making supplies online.
Legal stuff – I am not going to even start with the legalese of selling crafts online. I don't know enough and don't want to give legal advice since I'm not qualified. If you are selling a physical product, you are likely going to need to charge sales tax. If you are selling digital products it will depend on your state. If you live in the EU you'll need to figure out how to go about VAT. You may want to (or be required to) set up an official business. You may want to research trademarks. I can't give you advice on this, I can only urge you to do research on the subject.
Branding – You need a logo. You need an image for your new brand. You need a compelling and relevant name. Decide who your target audience is. Pull out Photoshop or Illustrator and design yourself a logo. If you have more to invest, hire a designer. I am a professional graphic designer and have special rates for Etsy sellers just starting out, so if you want to chat with me about this, you can email me at menucha@momsandcrafters – dot – com.
How to set up an Etsy shop step by step:
Starting on Etsy – I know what many of you are thinking: is Etsy really the best place for selling crafts online? For years, I wondered the same, and experimented with different platforms. I can now verify that's where you want to start – even if you plan to start a website.Just a few reasons I personally choose Etsy (as does just about everyone else) and I'm teaching you how to set up an ETSY shop: People trust Etsy's payment platform with their credit card info, it's a go-to shopping site that people go to for everyday needs, and they are around for a long time, which allowed them to evolve with our needs and create infinite resources for their huge seller database.When you want to use 3rd party services (I print t-shirts via Printful for example) you'll find that Etsy integration is a standard. They also have a successful affiliate program, where bloggers like me earn a commission for selling products for other Etsy sellers – so we share about things we find on Etsy regularly! This comes at no extra expense to you! You also get 40 free listings to help you get your shop going!
Build up your shop completely. Fill out EVERYTHING. Be personal. Do your about page. Work out standard shipping costs and create those.
Take stunning photos. Consider investing in a DSLR camera – or even a better point and shoot camera. Get a lightbox for smaller products. Photograph larger products outdoors in indirect light (dawn, dusk, shade, a rainy day…)Do NOT use your camera flash. Learn how to use the macro setting on your camera. Take photography books out of the library, or read them on Kindle Unlimited. Do this on a budget by signing up for a Kindle Unlimited 30-Day Free Trial.Use Photoshop to clean up your images, brighten them, make them pop. If you're not up for paying for Photoshop, try some less expensive photo editors. PicMonkey is a top small business pick.
FILL UP that shop: When your shop is totally set up, create your listings. Here's where may people make a critical mistake: they start small. But for people to find you, you want to have lots of listings. For people to take you seriously as a seller, you want to have stock. You want it to be easy to browse by category.List 100 products. If your niche is a very difficult one, list as many as you possibly can – at least 20. Consider creating some smaller "filler" product in your niche if it's worth it.I know that pricing is a killer question for most Etsy sellers. And I wish I can give a magical formula, but at the end of the day, you'll need to experiment. Make sure to factor all time (not just time spent making your craft – the time you'll spend communicating with customers, maintaining your shop, answering emails, filing taxes, etc.) and all overhead costs – not just that of your materials. Here is a great article you can read on pricing products.
How to set up an Etsy shop and an off-Etsy platform:
You do want to set up a website if you're selling crafts online, even if it's just a way to direct people to your Etsy shop. At the very least, you want to reserve a domain name for your shop to keep all elements of your brand intact. You also may want to CHOOSE your shop name based on which domain name is available. This is because you are setting yourself up as a legitimate, branded business for selling crafts online, not just another Etsy shop. If you're going to learn how to set up an Etsy shop, do it right!

How to get a website for your Etsy shop: To set up your website, BLUEHOST is an amazing dirt cheap option for small shops just opening (especially if you plan to do most of your selling through Etsy.) You get a free domain name, super easy tools to set up your website, and inexpensive hosting. It's the host I recommend for small websites with a very tight budget.For bloggers and bigger sites I recommend TechSurgeons (I use them) or Servously. If you're all about quality from day one and can spend a bit extra, go with one of these.
How to set up a website for an Etsy shop: – Install WordPress, find a free theme and get going! You'll most likely get the instructions on how to do that once you set up with your host. Yes, you should still set up that Etsy shop – you can do both!
Now that you've learned how to set up an Etsy shop, learn tips for selling on Etsy once your shop is set up. Comment below with any questions!