Welcome to my new series on selling crafts online! Here you'll learn all the tips and tricks you'll need for selling on Etsy, starting with this guide to the best crafts to sell online – and choosing which one will work for you! When you're done with this, move on to my step-by-step guide on how to set up an Etsy shop for success and tips for selling on Etsy once your shop is all set up. Disclosure: this post contains commissioned links and images.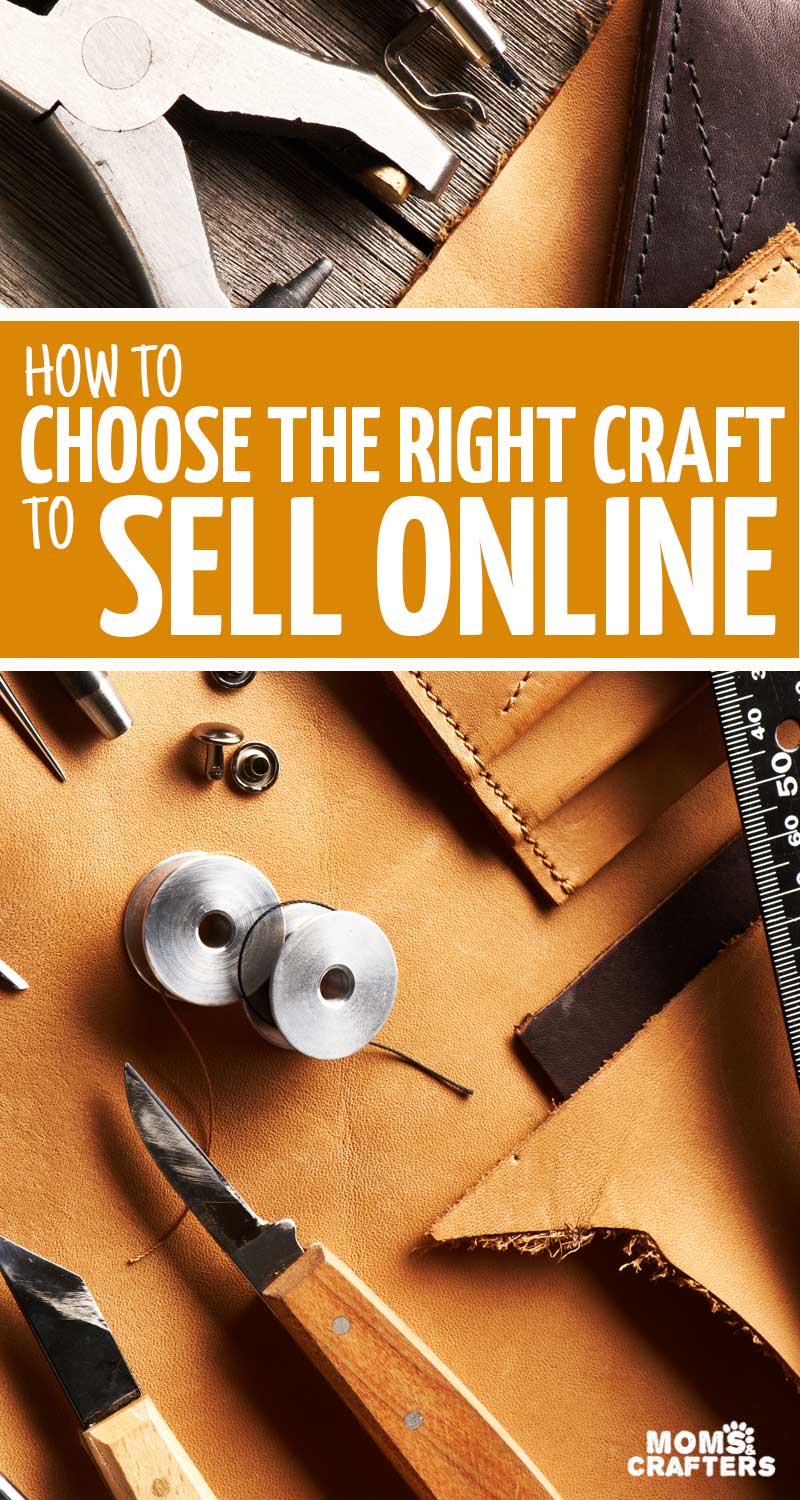 People tend to gravitate toward their comfort zone when starting with selling crafts online. You know, that thing that you've made from everyone since the day you were born. That's a great place to start, and indeed, that is the FIRST question you should ask yourself, but there are a number of questions that follow before making your decision.
8-step process for for choosing the best crafts to sell online:
Follow this step-by-step guide to nail the right craft to sell in your Etsy shop.
Pst – did you know you can get 40 free Etsy listings if you're a new seller? Sign up here for your free listings to get your shop going!
1. Find the best crafts to sell online according to your skills:
Start by making a list of your skills sets. What do you really rock at? What have you made that your friends have raved about?
2. Demand + usefulness:
People are willing to shell out cash when they feel it provides immediate value. When it solves a problem they are dealing with, they won't run from the dollar signs.
The best crafts to sell online are those that solve an immediate problem, have strong appeal, and are useful, rather than just a "gimmick".
3. The best crafts to sell online are unique:
Etsy is flooded with aspiring craft sellers, especially sellers of handmade jewelry. You need to be a cut above the rest – but not just better in the quality of your craft. No one can REALLY see that your knit is more consistent in an Etsy listing. You need to be different – offer something that others in your niche are NOT offering.
4. Look at your passion for the best crafts to sell online:
To make the above work, it needs to be something you're passionate about. Don't sell baby things if you're not a parent of a baby. And even more so: leave your industry open to change. If you make unique wooden toys, you CAN start with baby things, work with toddler toys, and sell wooden household items as well.
5. Passive + repeatability:
Make sure you can repeat what you make. It takes time to create a listing. It takes time to market it. If you need to do this for each item, you'll have to raise your rates by a lot – so only go for things that are hard to reproduce if your niche allows for very high rates. Otherwise, look for something that you can repeat and keep the same listing for follow-ups when choosing the best crafts to sell online.
6. Cost vs. market value:
You also need to calculate in how much it will cost you to make each one, the availability of wholesale materials, and the market value. The best crafts to sell online are those where the cost of materials is negligible in relation to the value of the final product (which may be why so many people sell handmade jewelry – see point #3 for my answer to that.)
Check out my crafting calculator for a full workbook you can use to determine pricing, compare with similar items in the market, and brainstorm new ideas!
7. Gauge interest can help you choose the best crafts to sell online:
Start by sharing it with friends. Post on social media, or in groups – and not necessarily for sale. Just post a photo with- "I made this, what do you think?" See how people react, if they ask about purchasing it.
8. Think outside the box:
If your skill set and passion don't add up with the above points, consider other ways to make money selling that skill. For example, if you are a whiz at knitting (which is time-consuming, doesn't fetch a high value, and not so cheap), you might be better off selling your unique designs and patterns to fellow knitters. Etsy allows you to set up instant download listings so you won't even need to take care of orders this way!
I sell digital downloads as my primary source of Etsy income and it's totally passive!
4 of the best crafts to sell online:
I'm going to throw out a few ideas to get you started, but obviously choose according to your skills set (tip #1!) I just want you to follow through with my thought process in putting together the list, to see the nuance in what makes the best crafts to sell online.
But come up with your own ideas. Because you are unique and you need to be unique to make it!
1. Small Leather goods, especially unique men's gifts:
While leather may be expensive, leather scraps are less so. People are used to paying a premium price for leather goods. Men's gifts are hard to find. Put all that together, come up with a unique concept for your shop, and you have a great item that fits int he above categories.
2. Paper craft, sewing and knitting patterns:
Especially when selling on Etsy, a place where crafty people hang out, selling unique patterns that you designed on your own is a great way to earn on a craft that would otherwise be hard to sell.
3. Interest-based gifts:
While you might have issues with selling licensed character and sports team products, there are other interest-focused products you can create. Hot themes like unicorns and sloths are trends, so don't build a whole business around it, but they can definitely go well. Monster trucks, life events (such as graduation) and religious products are all great, generic examples. Many people search for interest-based gifts when not sure what to purchase for someone, so that's a great market to target!
4. Handmade decor:
Whether you work with clay or paper mache, decor is a place where people sometimes get spendy – especially when they find that perfect piece!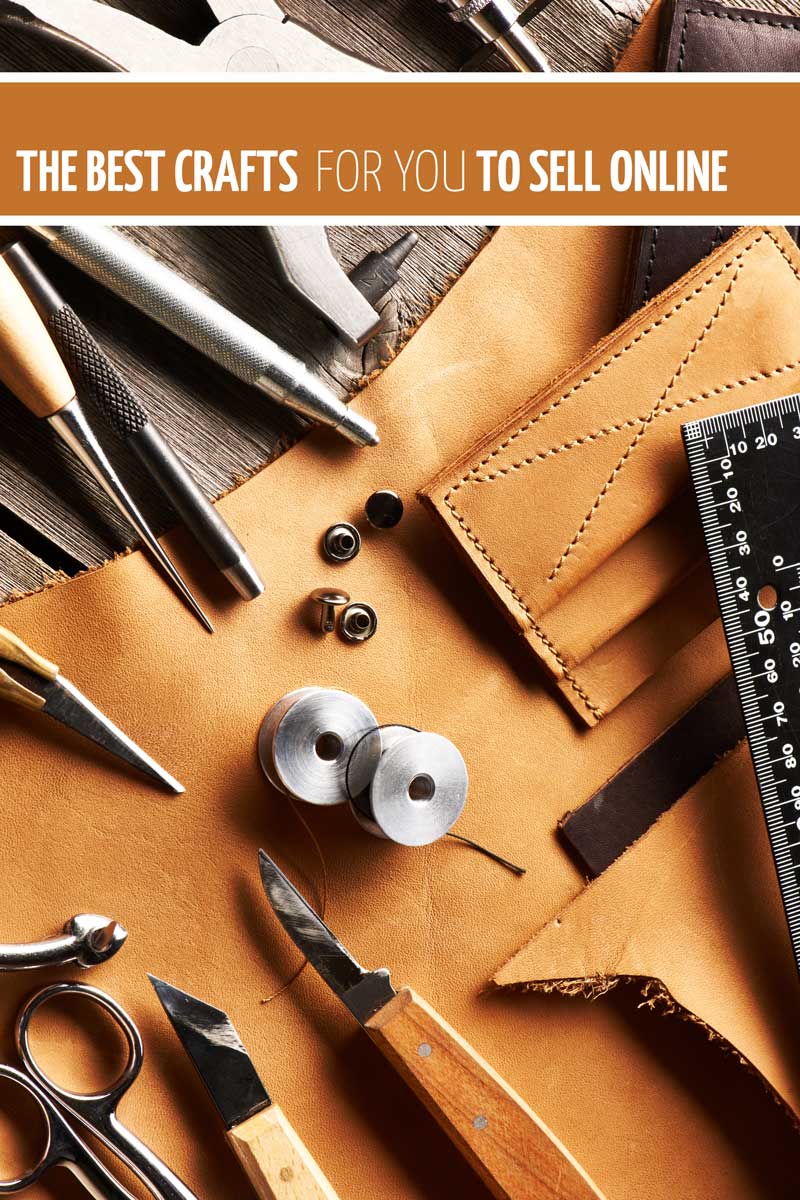 Done with this? Read next: How to Set Up an Etsy Shop and tips for selling on Etsy!
Learn how to stop hackers and digital safety tips for online entrepreneurs!
What do you find are the best crafts to sell online? Comment below!
Want some specific craft ideas? Check out the ideas below!