These cool upcycled home decor ideas get you a custom look on a dime! Check out these old house DIY ideas too! This post contains affiliate links.
---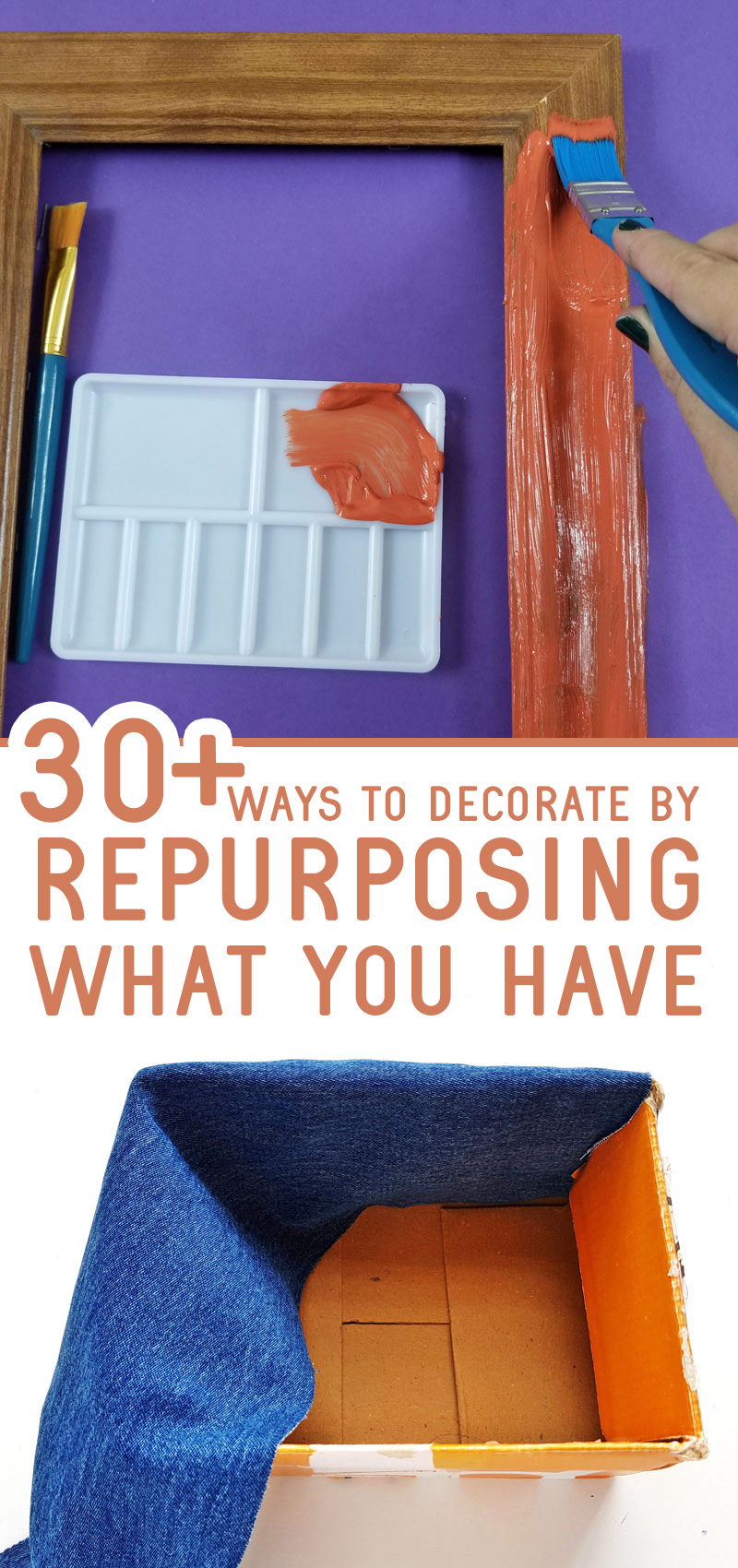 Before I throw anything away, I always try to find a way to reuse the item or give it a second life. When it comes to home decor, you can use household items to make a number of amazing DIY projects using old items that you were considering sending to the trash or donating!
These ideas are easy to make and great for new crafters. If you love a project and you don't have the main item to upcycle, you can ask neighbors, friends, or family. Or, head to thrift stores to find the basics.
On that note, if you're looking for new home owner gift ideas, some of these make fantastic options. Just make sure you know the recipient well enough to know what they like!
DIY Upcycled Wall Decor
A new home with empty walls is the perfect opportunity to start decorating! But wall decor can be surprisingly expensive. Just the BLANK canvas I purchased for my living room wall costs $100. And that doesn't include the price of lots of paint to cover that thing.
Repurposing various household items is a great place to start giving those walls a refresh with some upcycled home decor.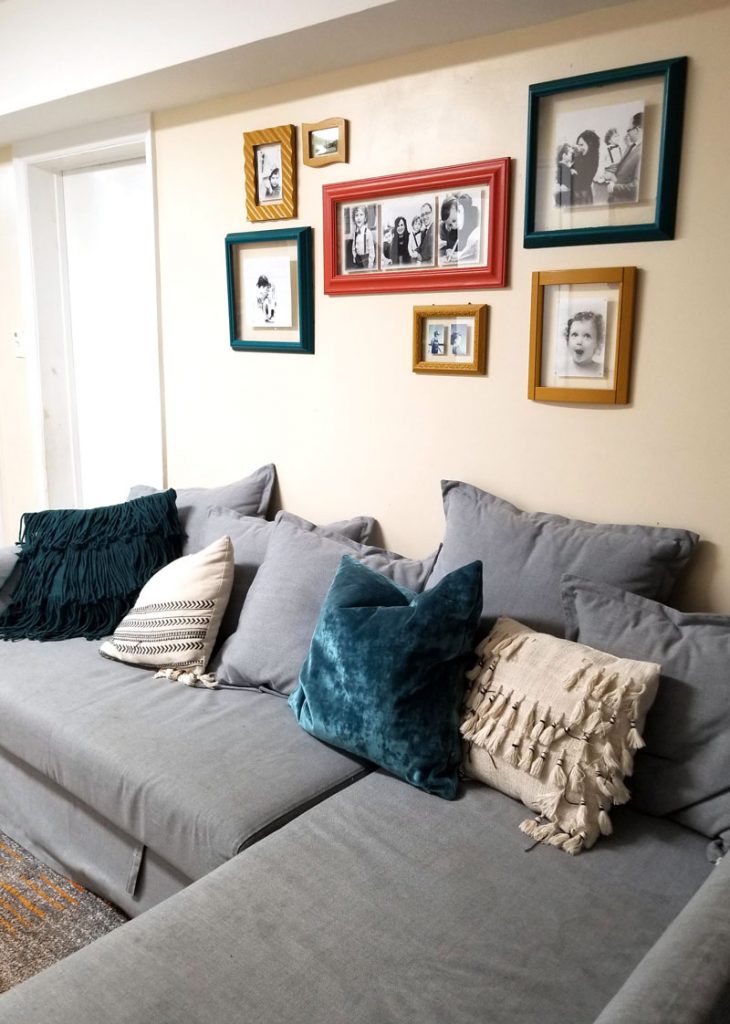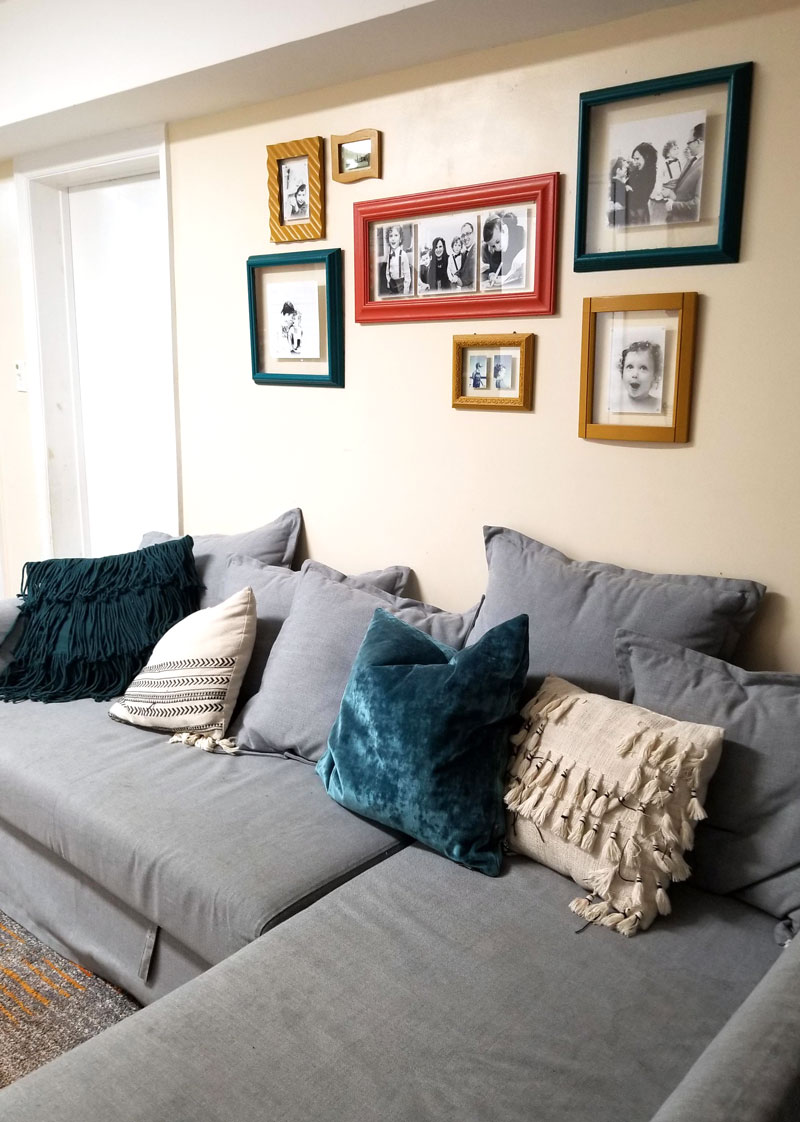 A collection of old frames can be made to look like a set by painting them. And people discard frames for cheap a LOT! Mine is an assortment of curbside finds, local group giveaways, and a couple of thrift store items to fill in sizes I needed. Acrylic paint that goes with the style of my family room gave it a colorful but sophisticated look that's homogeneous. And the fact that the frames already had some texture made it even more interesting.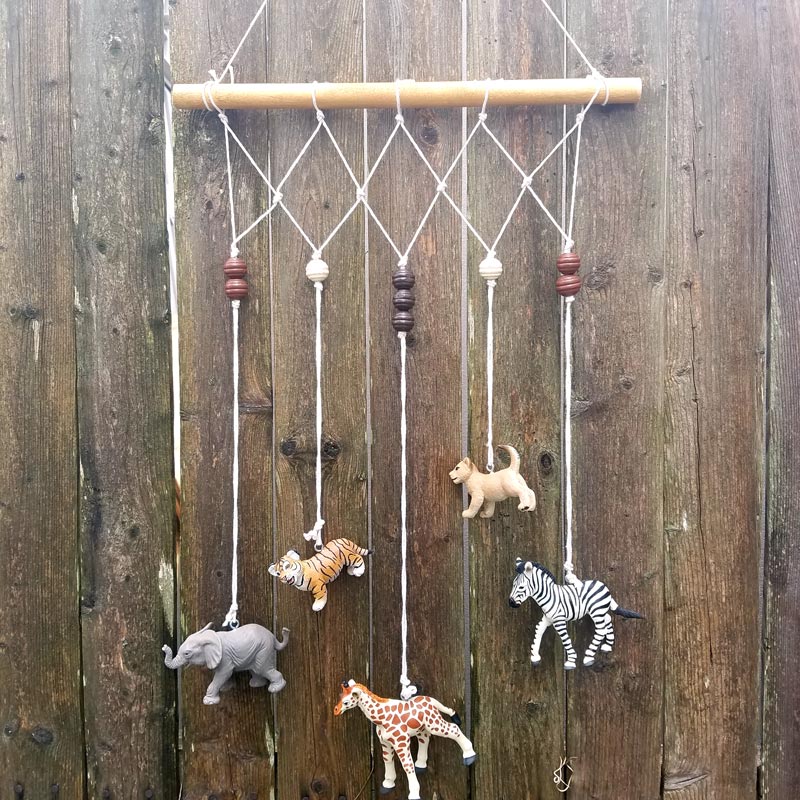 Old toy animals make the perfect wall hanging for a nursery or playroom! This started out as a project for my boys' room, and eventually moved to the basement playroom in our new house. You do NOT need to know macrame to make this, and you don't need cool tools either. A little cotton baker's twine has a neutral, organic look.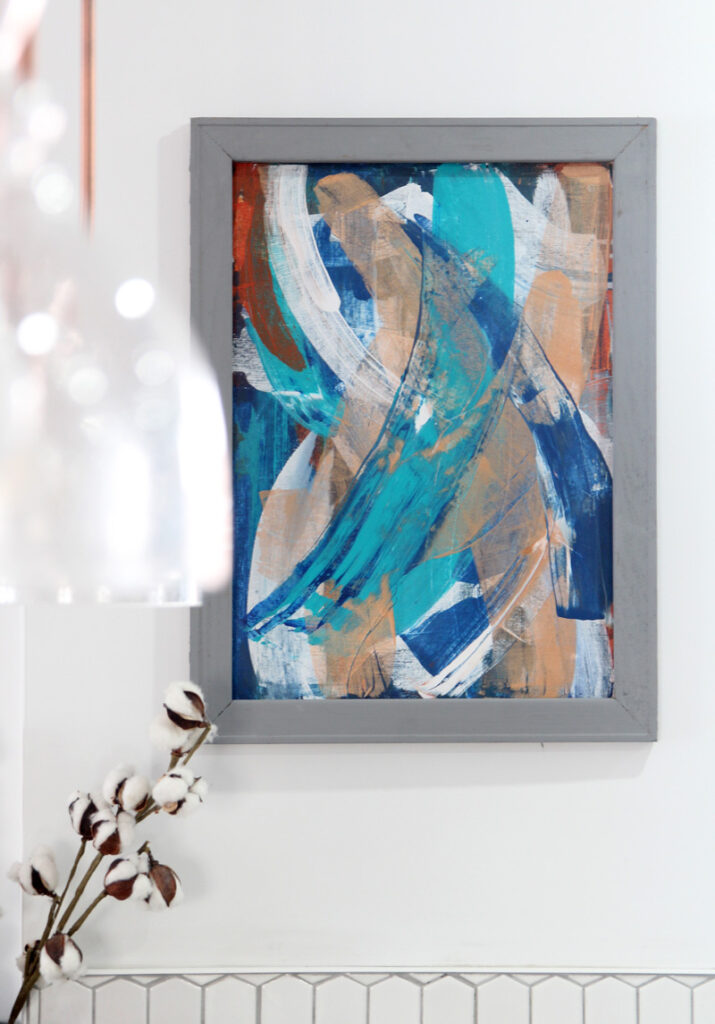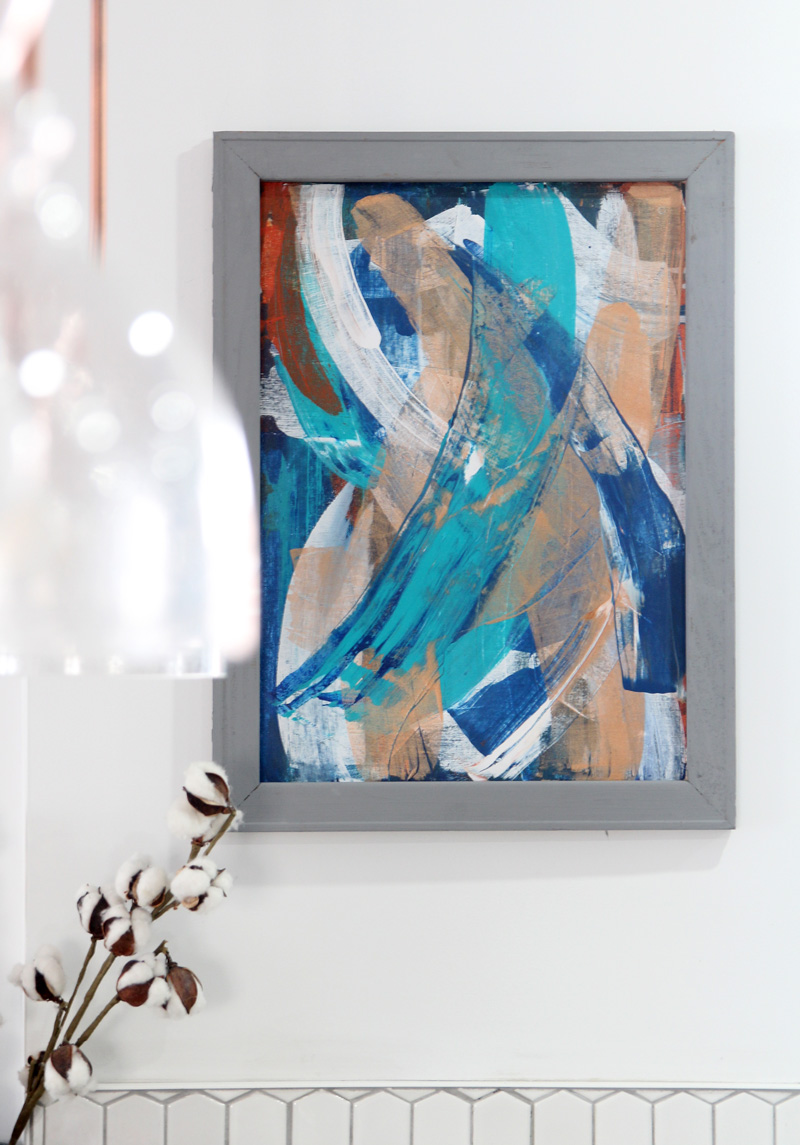 First, learn how to make a reverse canvas, then go ahead and try a beautiful scrape painting! This was made from an old "art fail" – a failed painting that was never completed. The canvas was painted and reversed to turn it into this statement piece that really completes my kitchen. You can also use thrift store or other old cheap art prints for this. First, verify that it doesn't have value otherwise. Then, just flip it over and make sure there are no cross-bar supports or other things you can't work out. Finally, pull out your paint pour medium and paints and get painting!
Upcycle Old CDs with DIY Doodle Discs: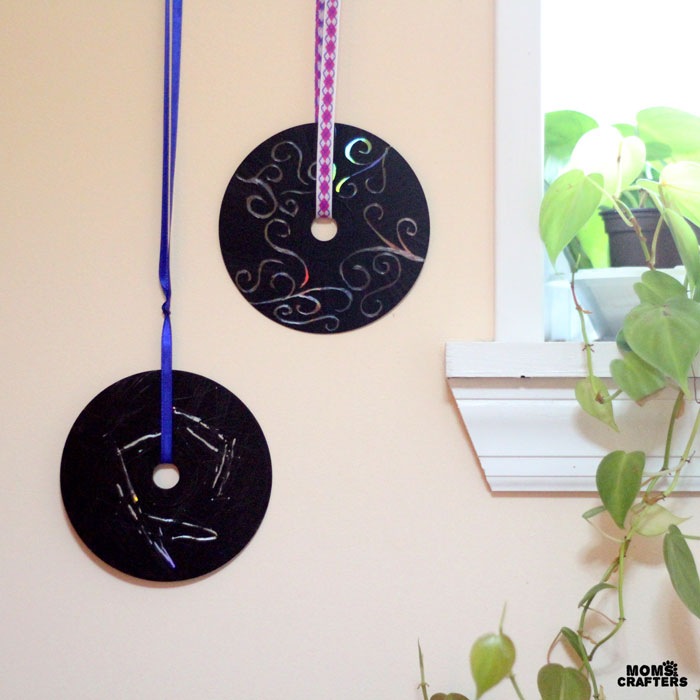 Got a stash of old albums that you already digitized? Or maybe it's the leftovers from those old mixes you used to make? Turn them into scratch art with a gorgeous iridescent base surface.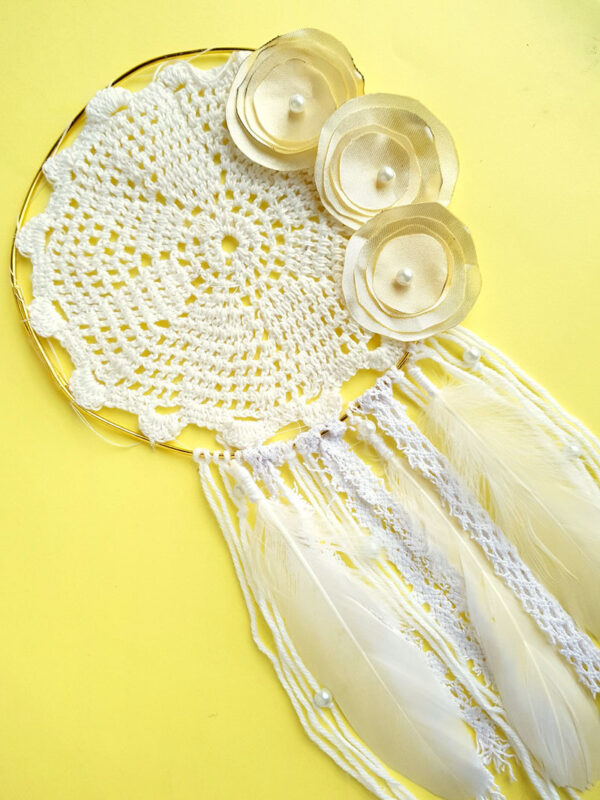 Turn old doilies into "cheat" dreamcatchers. This sweet DIY is perfect for a little girl's bedroom or nursery. You can even skip the hanging ribbons, though they do add character.
If you're purging a nightstand or smaller dresser, don't ditch those drawers! They make fantastic shadow boxes for your nursery or playroom – and it's not even that complicated!
If you've got books that are too torn to use, missing pages, or that no one seems to want, you can upcycle the pages! This one is a double-upcycle: check out the tutorial to see what else Organized 31 used to make a cool book page wreath.
Functional Home Decor and Accents
"Decorative" and "Functional" are not contradictory statements! I love a pretty home, but when you're short on space, you need to make sure your decor is also serving a functional purpose in your home. These cool upcycled home decor ideas are spot on!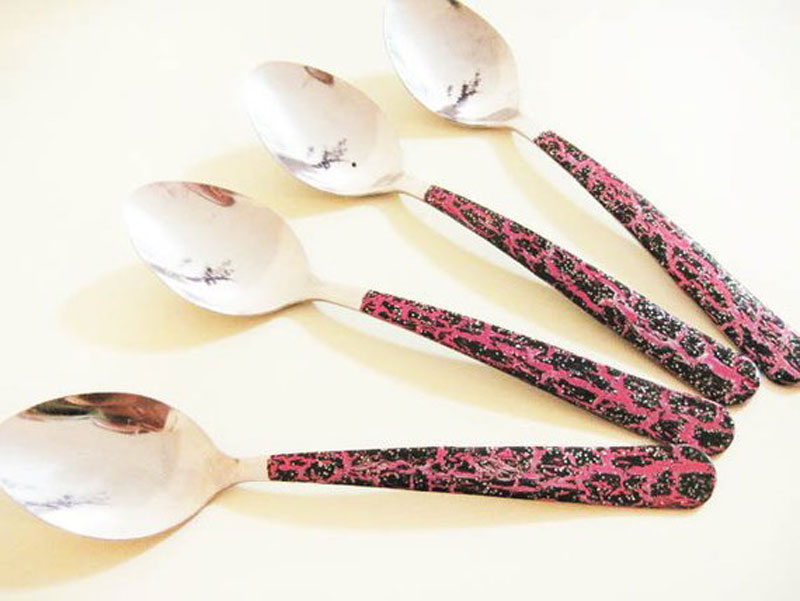 One of my first nail polish crafts, these enameled spoons got so many compliments! Gather then in a jar, or use it on larger spoons with holes and hang them. While nail polish is not food safe, you can use it in a spot that doesn't touch the food.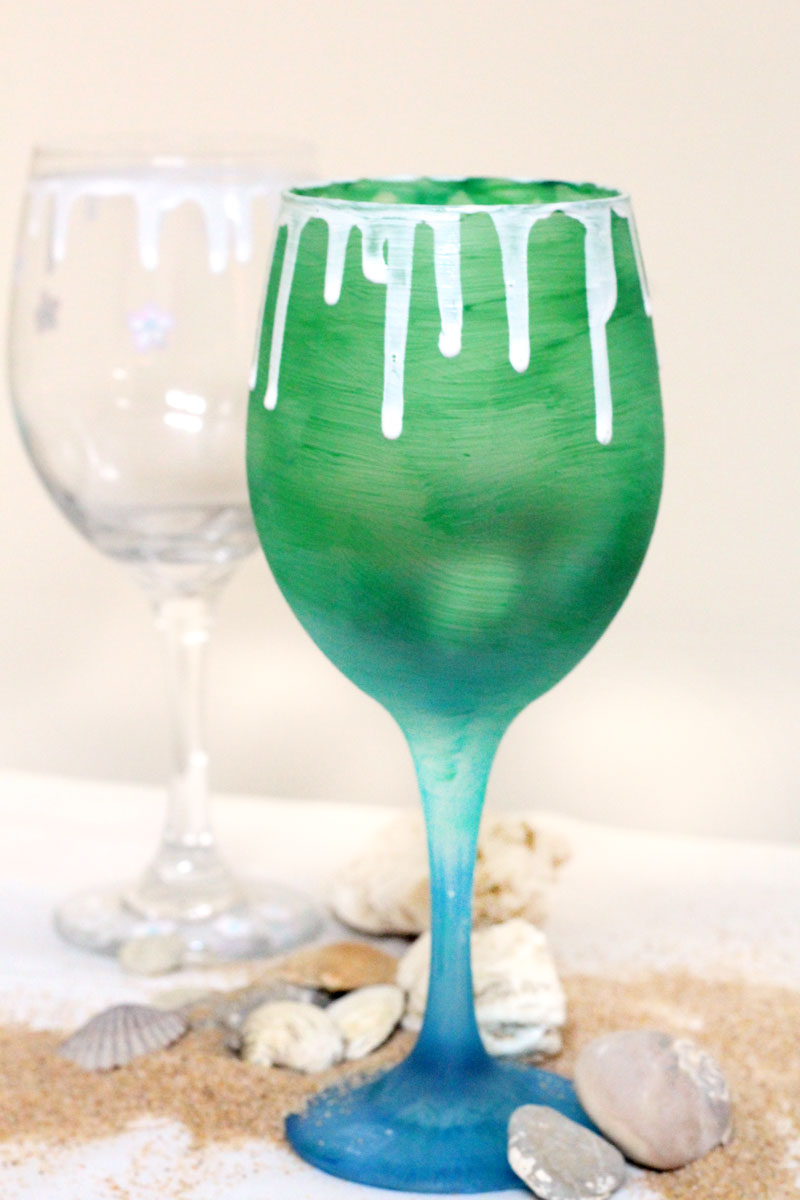 If you love the look of sea glass, why not give old stemware a makeover? If you're planning on using it as drinking glasses, you'll want to fade the sea glass paint out before the rim. Otherwise, it's great for gathering trinkets and catching clutter.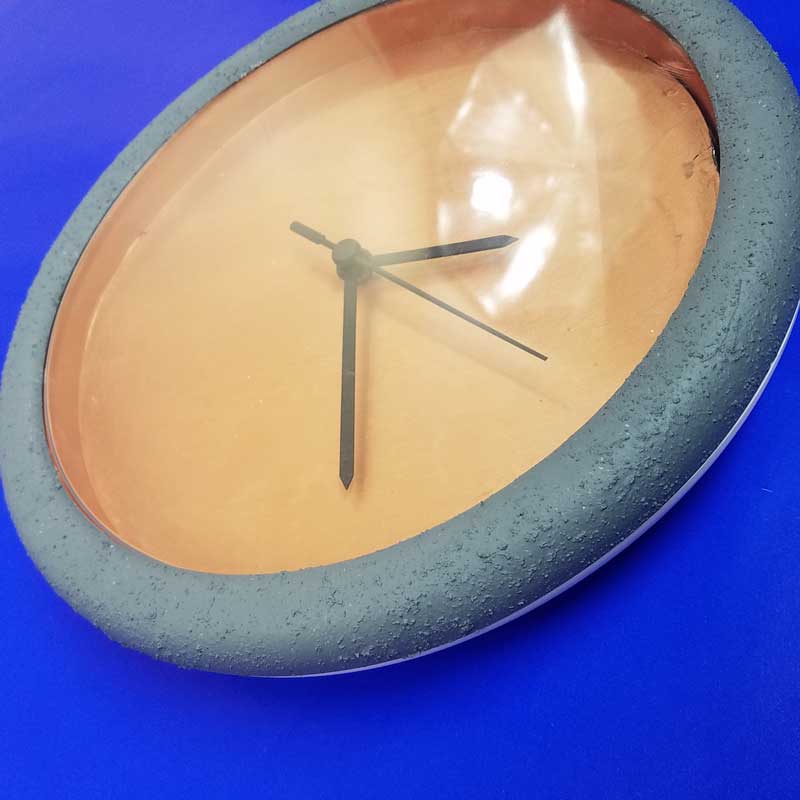 I absolutely love the texture on this clock makeover, and you'll see later in this post how I repeated it on a vase. However, the clock wasn't properly tested before I worked on it. It didn't work, even with a fresh battery. I'm not even sure it was right twice a day as the hand moved, just not at the right pace!! Oh well. It's still pretty enough to share, right?
Thrift store easel art is a fantastic base for a mini chalkboard that makes a great outlet for you to practice your chalk lettering skills! Bring it out as a party sign, or place it on a decorative shelf and update it with seasonal chalk art. While this is a common dollar store item, it's so much nicer to turn around a thrift store piece, as the quality, size, and overall look is so much more substantial.
Vintage Pottery From Upcycled Vase:
If you love having displays in your home of beautiful, vintage pottery, but are having trouble completing the look, turn simple glass vases into "vintage pottery". You might just get addicted to this transformation, considering the different silhouettes you can find at thrift stores and the dollar tree (and possibly your basement!)
Upcycled Lamp Shades Cake Stand:
Lamp shades can collect plenty of dust and look quite tired. But the frame makes for a fantastic home deocor upcycle with this DIY cake stand! It'll definitely stand out at your next party, and it makes a great shelf-top plant stand between uses.
Skirts can have quite a bit of fabric on them, so if you have one you love that's too torn to wear, why not turn the intact portion into an easy throw pillow? This is also a great upcycle for old seasonal outfits that you're no longer using. Turn them into seasonal throw pillows on a dime!
DIY Upcycled Home Organizers that are decorative too!
I am a huge fan of decorative organization – whether it's baskets, caddys, or whatever the home stores have! But they can rack up a TON of $$$ and who's got that to spare? These DIY's take the ordinary, or the toss-outs, and turn them into gorgeous upcycled home decor that'll help you get organized.
You've got tons of boxes that you recycle every week, right? Why buy if you literally have a free storage caddy in your home? This tutorial also upcycles old jeans, making it a great all-around upcycle. I plan to repeat it for my Cricut storage in my craft room too!
Because a cork board sits on the wall, why not turn it into wall art? I tried this tutorial both with an old cork board and with one that I purchased for my family room. It ended up being moved to my craft room – because it's so crafty, so why not? Mod Podge makes a special fabric version that was perfect for this project. Combined with a little stencil work, it's quite a simple DIY that anyone can do. You can also skip the fabric and simply stencil a design on a new cork board.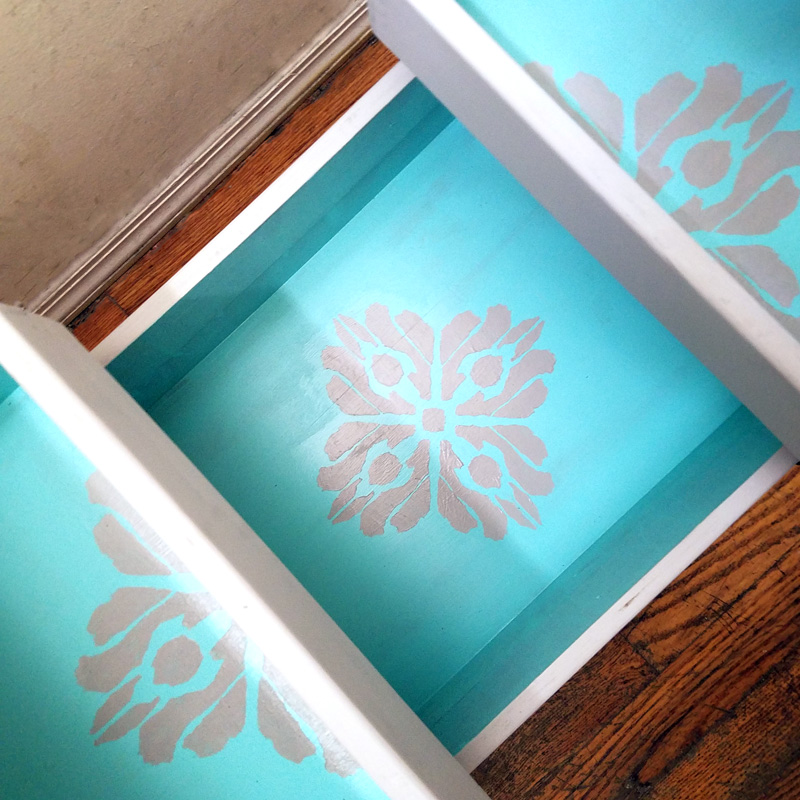 I got this sewing box that reminded me so much of my Grandma's at a flea market, but it was tired and broken. I refurbished it with some paint, a bit of stencil work and a screwdriver to preserve the wood on some parts. I then used it to store my huge assortment of craft paints – or at least some of it…
DIY Repurposed Picture Frame Wall Shelves:
Turn picture frames into wall shelves with this simple hack. It's a great way to "frame" and showcase better those tchachkes your love so much.
Forget million dollar jewelry boxes – this one shows just what a custom look you can get with upcycled home decor! A little Mod Podge goes a long way as Mod Podge Rocks demonstrates.
Upcycled Shelf From a Cabinet Door:
Cabinetry is often made from good, solid wood, even if it's tired-looking 90's oak. Here, the Kingston Home shows how to turn a cabinet door into a cool shelf for storing and displaying craft supplies. I actually have a stash of cabinet shelves from when we replaced our pantry shelves with pull-out ones that I plan to use for something cool. It's worth saving those solid wood bits, with the price of lumber skyrocketing, especially if you know you have some DIYs coming up down the road.
Garden , vases, and planters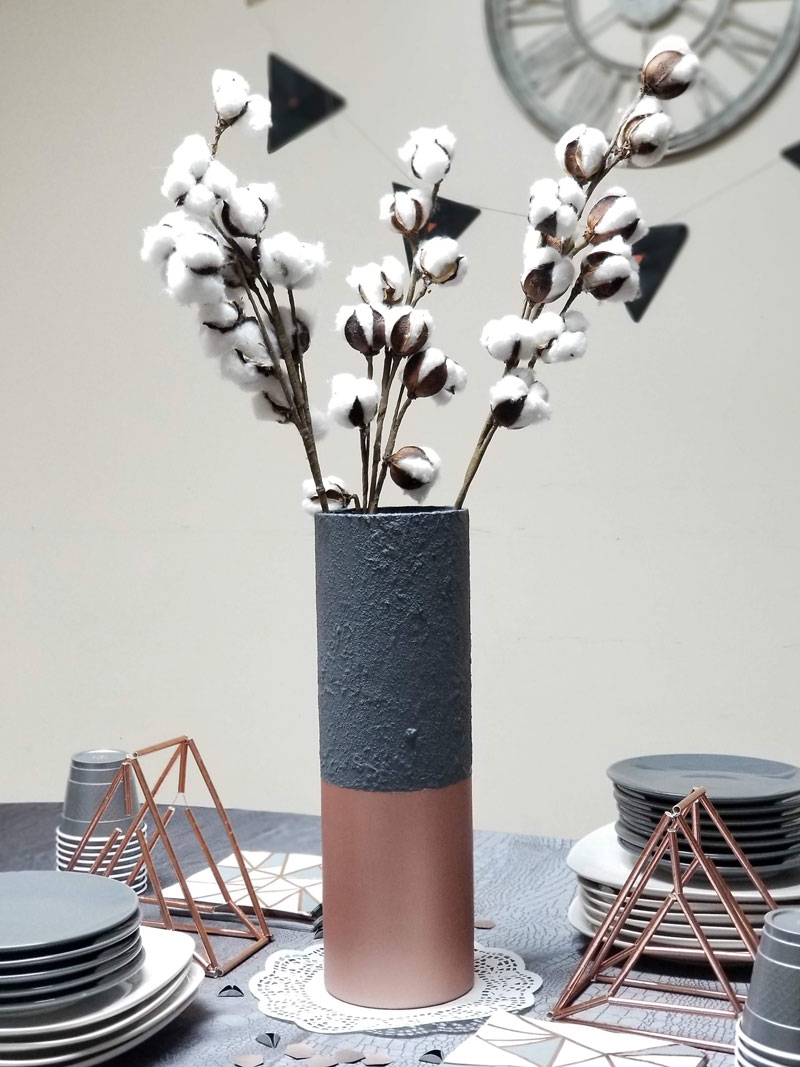 Acrylic is a durable material… that gets super scratched and dirty and scratched way too easily. It also gets surface cracks, and other breaks that still leave it functional. It's pricey too. So it made for the perfect upcycle in this painted vase makeover! I used texture paints (concrete and brushed metal) to get it a look that's so upscale and chic. Complete with cotton stems, it's oozing with texture in neutral tones. The base is a huge acrylic vase, and it's a gorgeous statement in my kitchen.
Outdoor Chandelier from a hula hoop: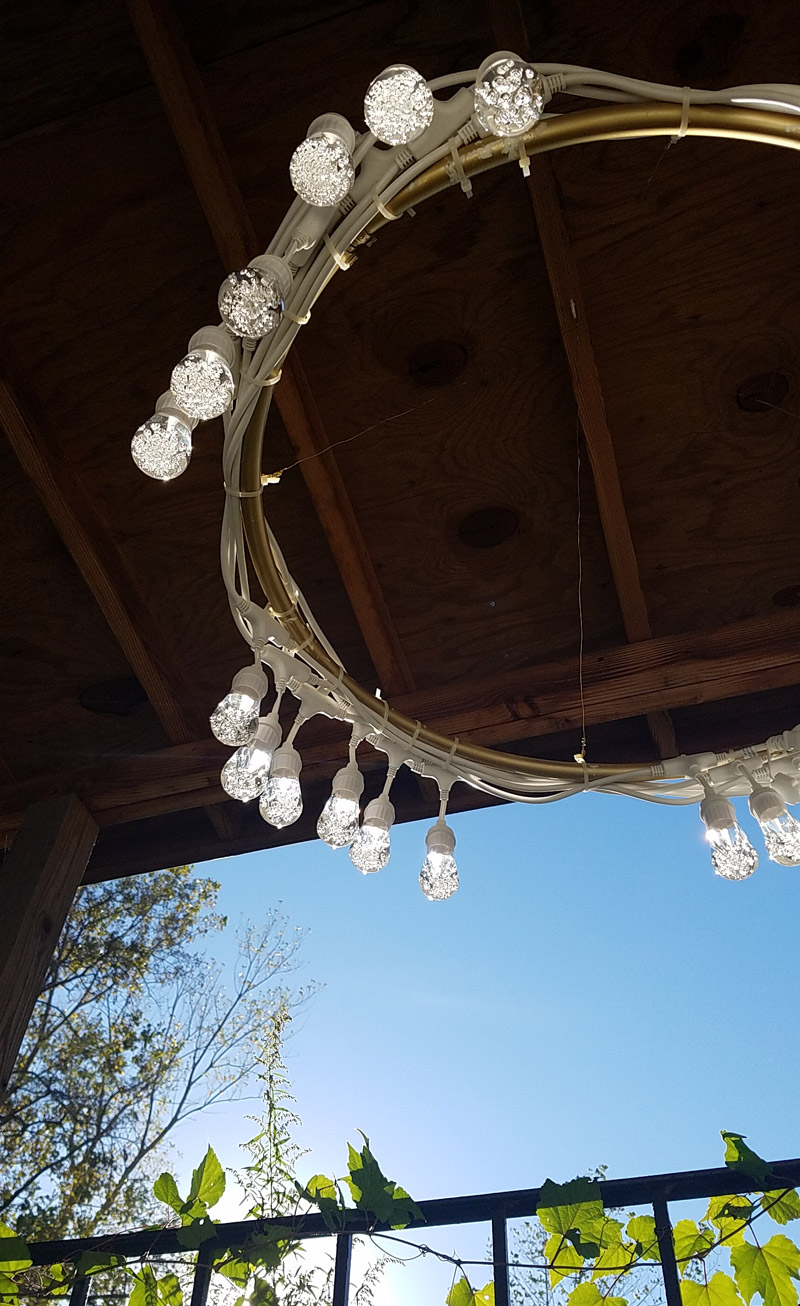 We made this outdoor chandelier using a hula hoop and LED string lights – and it makes for the perfect outdoor lighting solution for your garden pergola or porch! It's also beginner friendly and was a hit in our home.
Buffalo Check Painted Flower Pots:
Give your old Spring flower pots a new seasonal look with this simple Buffalo Check tutorial by Soccer Mom Blog. You can keep painting it over for every season – just sand off some of it before each new application.
DIY Wooden Spoon Garden Markers:
If you like to plant your own veggies, you'll want to know what's what! Turn dollar store, thrift store, or your own overused wooden spoons into garden markers with an adorable touch.
If you're – looking for something for a smaller wall in your home, check out this galvanized bucket-turned-wall planter. This gorgeous play on contrasting texture in neutral tones shows that you do NOT need color to have a rich look to your home.
How to Make Upcycled Shirt Flower Pots:
If you've got piles of stretch-knit tops that are destined for the bin, try using them in this cool planter DIY! This is ideal for those pretty printed "t-shirts" that possibly have holes and aren't donate-able.
Repurposed Furniture
There's nothing like old furniture – they just don't make it like they used to! Not only that, but when you repurpose furniture, you can get a custom piece like no other, not a familiar piece that everyone can identify where you bought it. These furniture makeovers are all fantastic but before you start, a word of advice: furniture makeovers are usually more involved cost and labor-wise. Make sure the piece you're making over is worth the labor you're putting into it.
While the Rast nightstand doesn't seem to exist anymore, any simple wood nightstand can be used in this color accent nightstand makeover. And even though many IKEA pieces aren't worth getting all involved in making over, some of them are solid wood and well-built (if you did a good job with them.) Those are definitely worth customizing. Not only that, you'll find that it's super easy to customize these wood pieces before you assemble them – and they'll look like they came that way!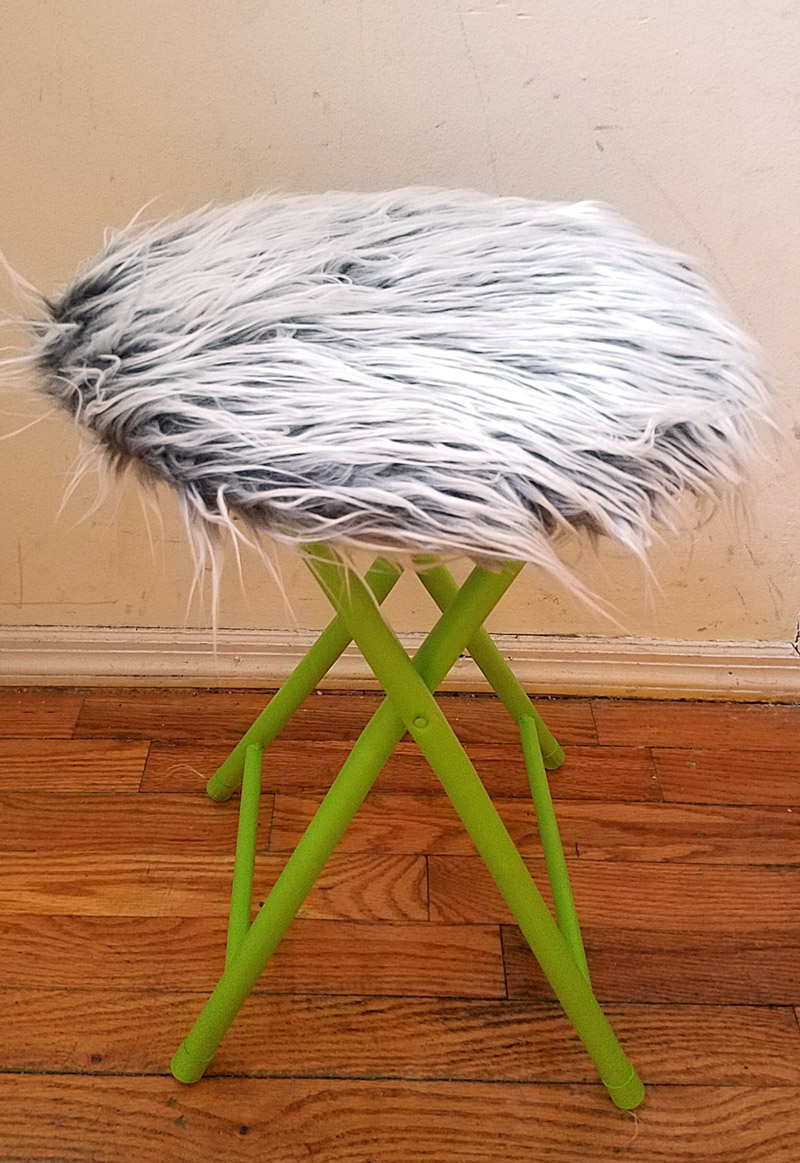 As I mentioned above, always make sure your project isn't more energy than the end result is worth. This super cheap stool was made over in a super quick project, making it worth it. I made this quirky stool using faux fur and spray paint. It sat in my craft room for a few years, until we moved and I had enough room for an actual chair. Now it sits at the kids' craft desk.
Thrifted Desk Makeover Using General Finishes:
Many people like to replace their old, heavy wooden furniture for more modern pieces that have a smaller visual footprint. However, simply painting them a lighter and brighter shade can make them feel less dark and heavy. This desk makeover shows that effect with a simple paint transformation.
Stunning 2-Color Chalk Paint Bedroom Furniture Makeover:
Then there's the case of odd colored and patterned furniture from another era. Chalk paint is your saving grace! See how Dana Vento transformed a dresser and nightstand into a current, upscale, neutral set.
How to Make a DIY Rolling Work Bench From a Table:
You can actually transform the functionality of a piece of furniture you no longer need into one that you do. And it's not even that complicated! Turn an old table into a work bench in this cool upcycle.
French Vintage Inspired Table:
Turn an old table into an incredibly custom piece with this cool upcycled home decor idea! This one gets a French Vintage look, but this trick can be implemented in so many other ways too.
What are your favorite upcycled home decor projects? Got anything cool you made? Comment below!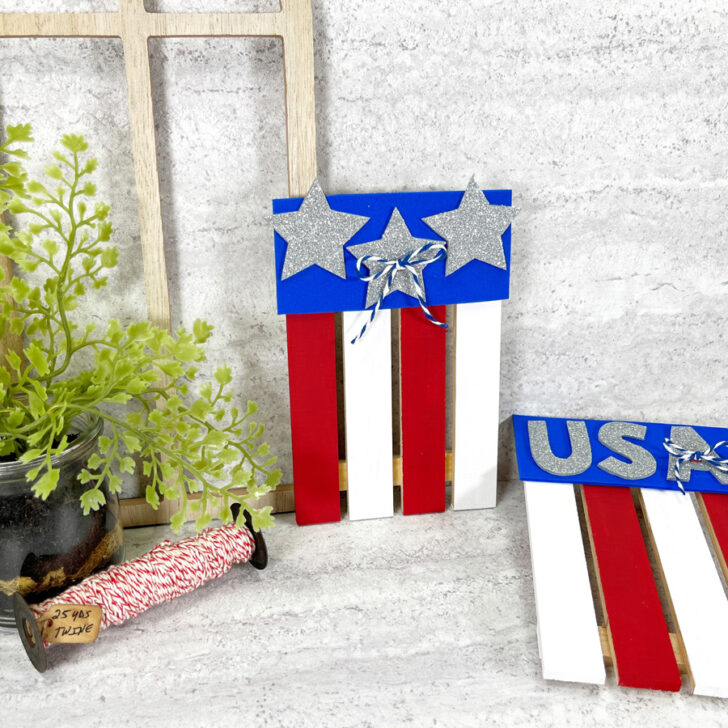 Create this adorable 4th of July Tiered Tray Decor from a mini pallet to get into the holiday spirit! When you're done, check out these …