Make your own LEGO cap that has REAL bricks on it – something you simply can't purchase in the store! A bit over a month ago, I shared this amazing LEGOs T-shirt that I made for M and mentioned that I need to order more bricks to create a cap. As with many of the ideas I have, it would have taken forever for me to get to and share. But then ZURU stepped in to sponsor this post and since it was paid for, it got expedited – so now you've got it in time for Summer 2018! Disclosure: this post contains commissioned links.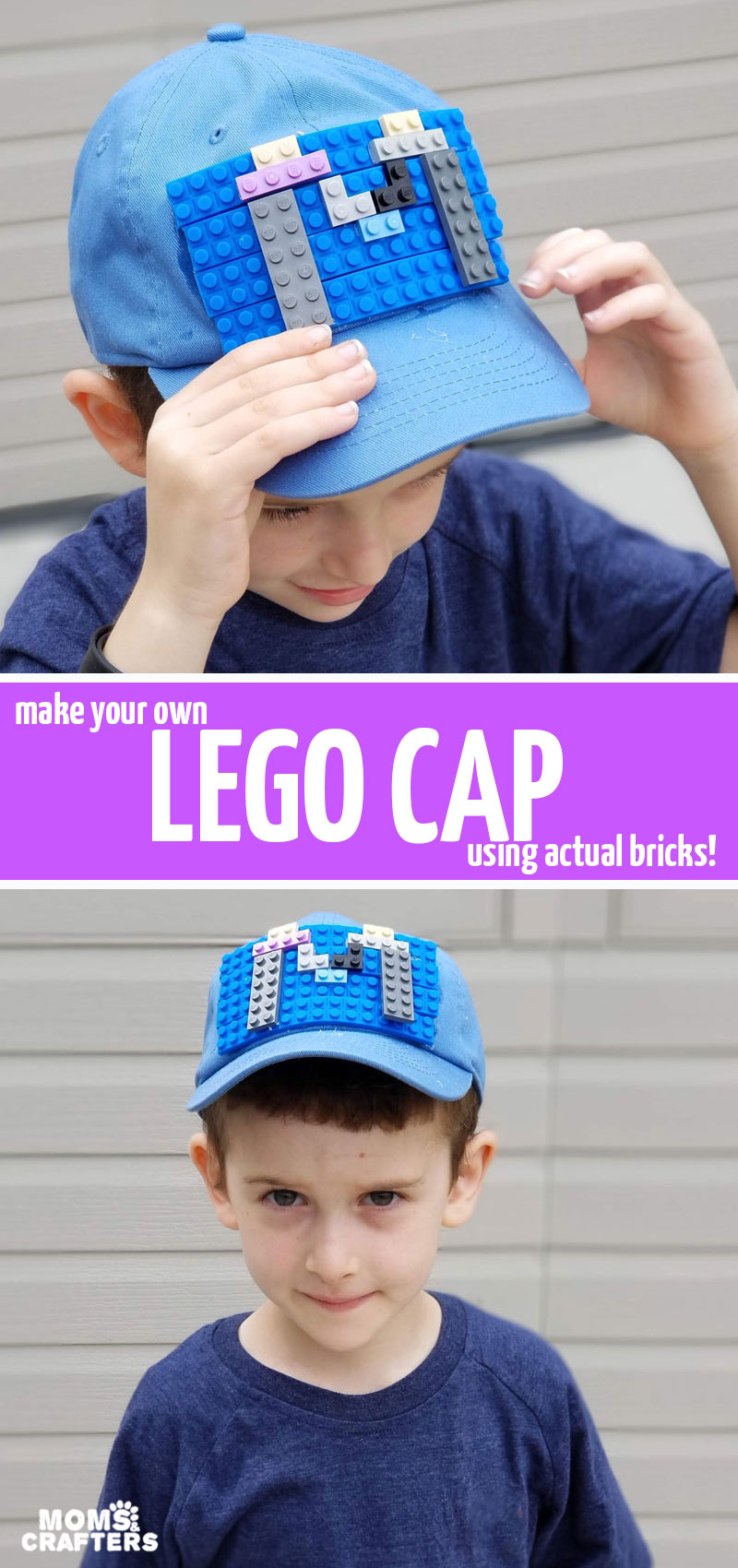 If you have a kid who is obsessed with LEGO, you'll understand the excitement of having something with actual bricks on them – not just pictures!
Both M and Y are obsessed with this LEGO cap, but only M gets to wear it (Baby Y is still too little…)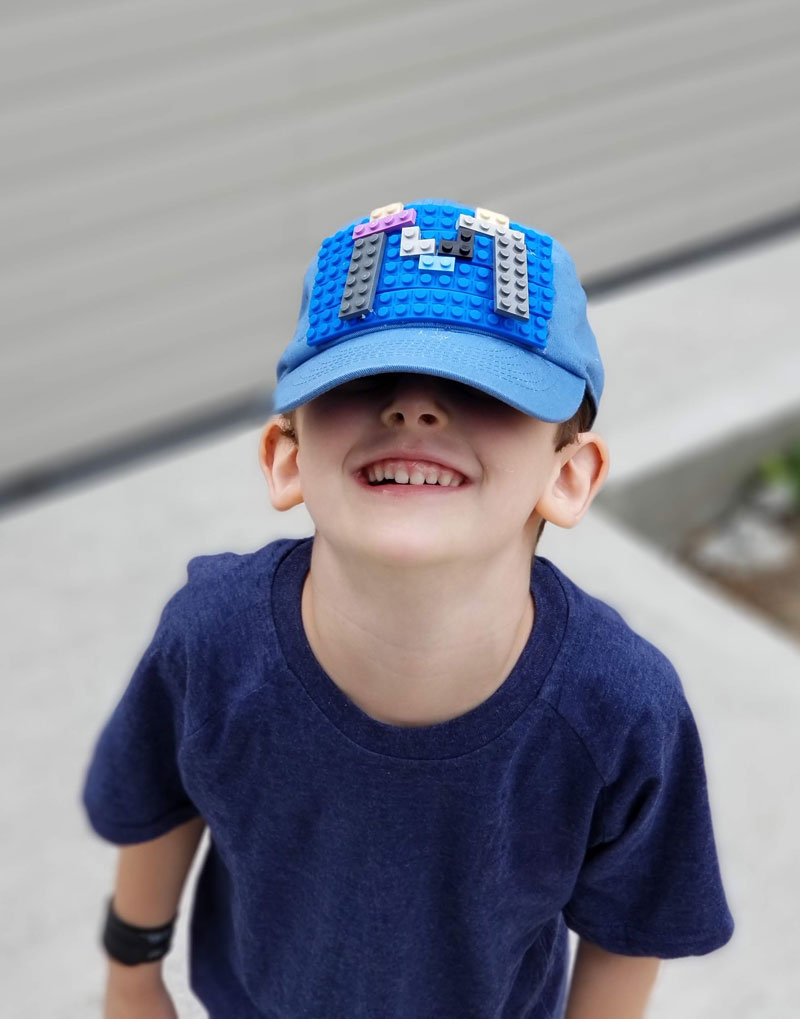 Creating this LEGO cap is simple. All you need is some Mayka brick tape by Zuru to turn almost any surface into a play surface compatible with all leading building bricks! We dug into M's LEGO stash to turn this plain baseball cap into the coolest one ever.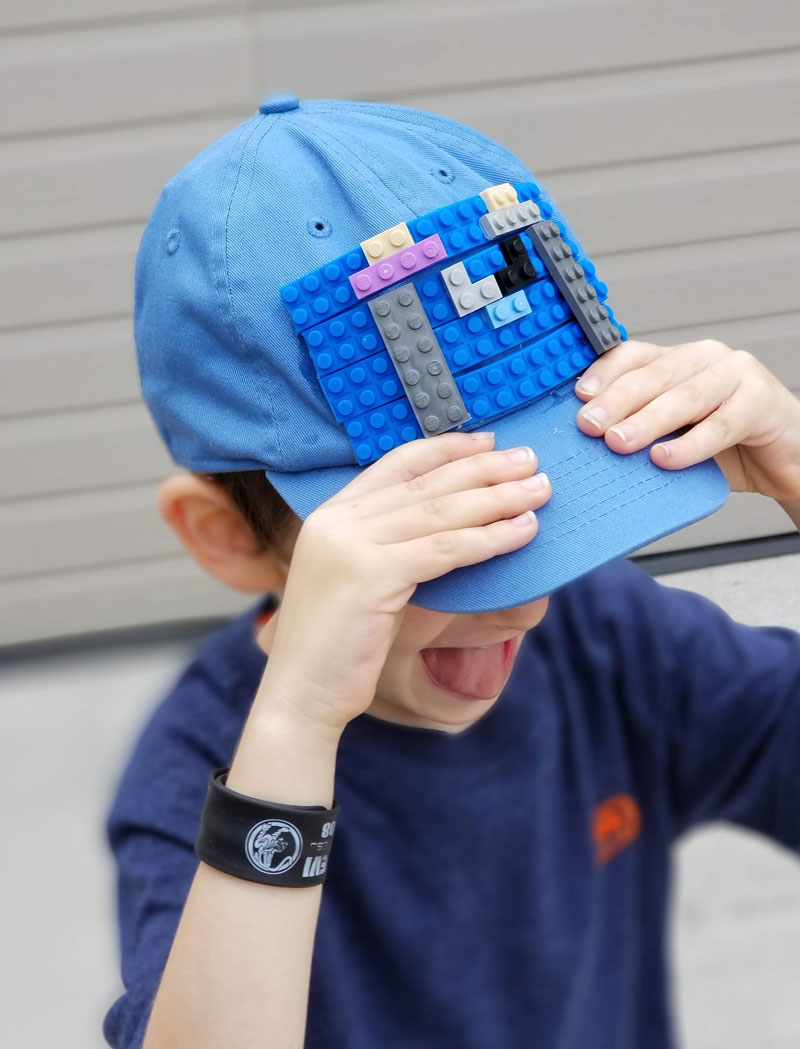 To make this LEGO cap secure, be mindful of the following tips:
The wider the brick surface you have, the harder it'll be to get it to hold, because the cap seems to resist the tape. I used a very wide section – if you struggle with it, use a narrower piece.
Originally, I tried making my M with as few pieces as possible, using larger bricks. I later swapped it out for smaller bricks . This is once again due to the heavy movement the cap gets. keep in mind that even though the tape is flexible, the building bricks aren't. So while I LOVE the tape's flexible property when using it for brick play, and it needs to be flexible to curve it on the cap, it still needs to be used with small bricks. Go for bricks that fit the width of the tape – those no larger than 2×2 worked best.
The smaller bricks stayed in place MUCH better, even without gluing them. I did choose to glue them down since it's a wearable item, M is very active, and Baby Y likes to annoy him and remove the bricks from the cap.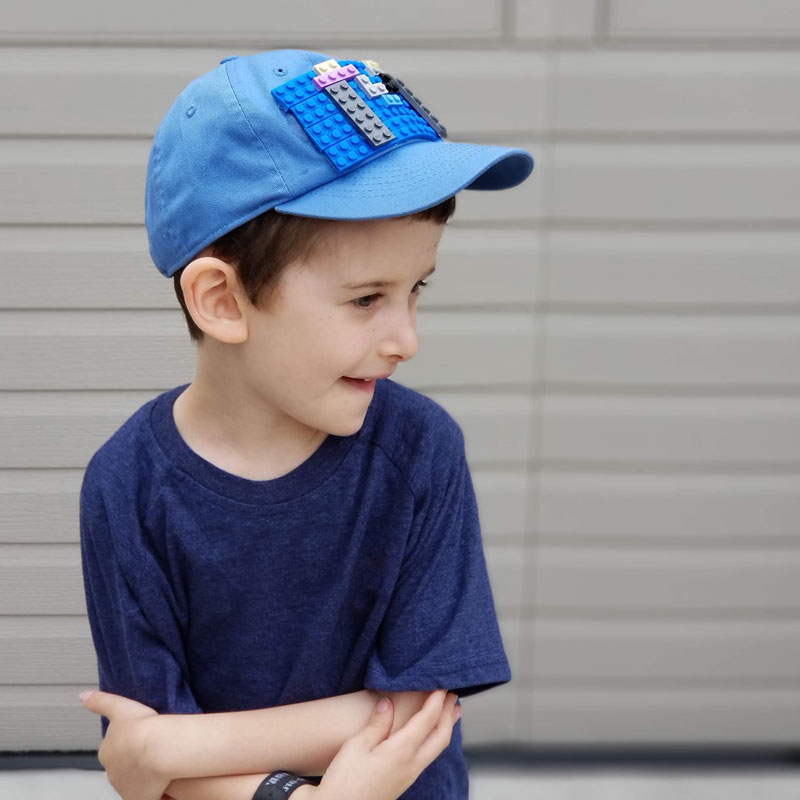 As you can see, I've already done all the "trial and error" with this craft so that now you can get it right the first time!
I loved using ZURU Mayka brick tape to make this LEGO cap!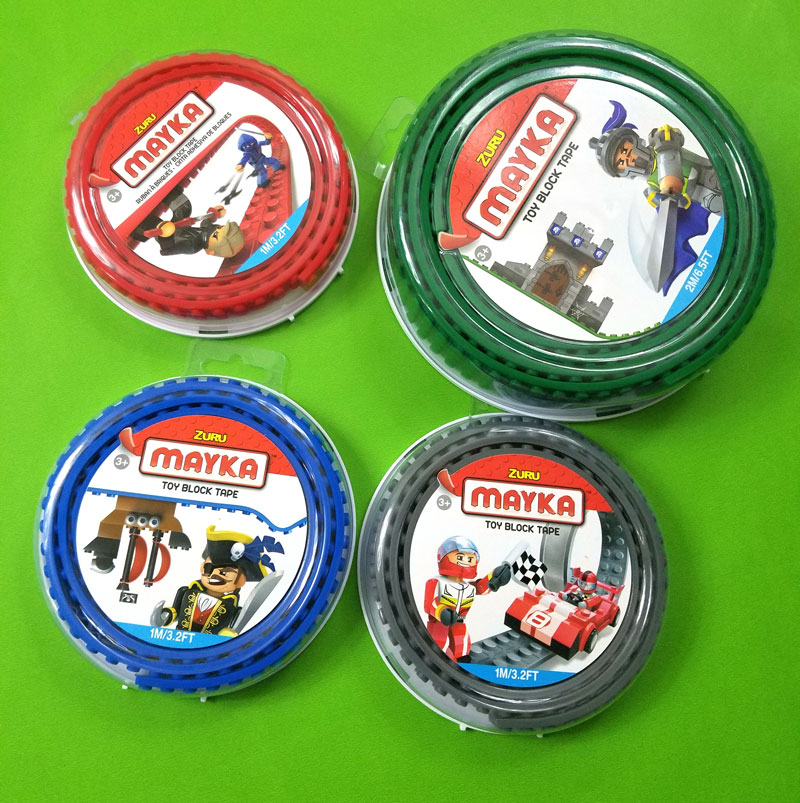 It is made from a flexible premium, non-toxic silicon that cuts easily with regular scissors.
It has grid markings, so when you're cutting a few pieces to line up in a row like I did with this LEGO cap, it's easier to cut it evenly and align it.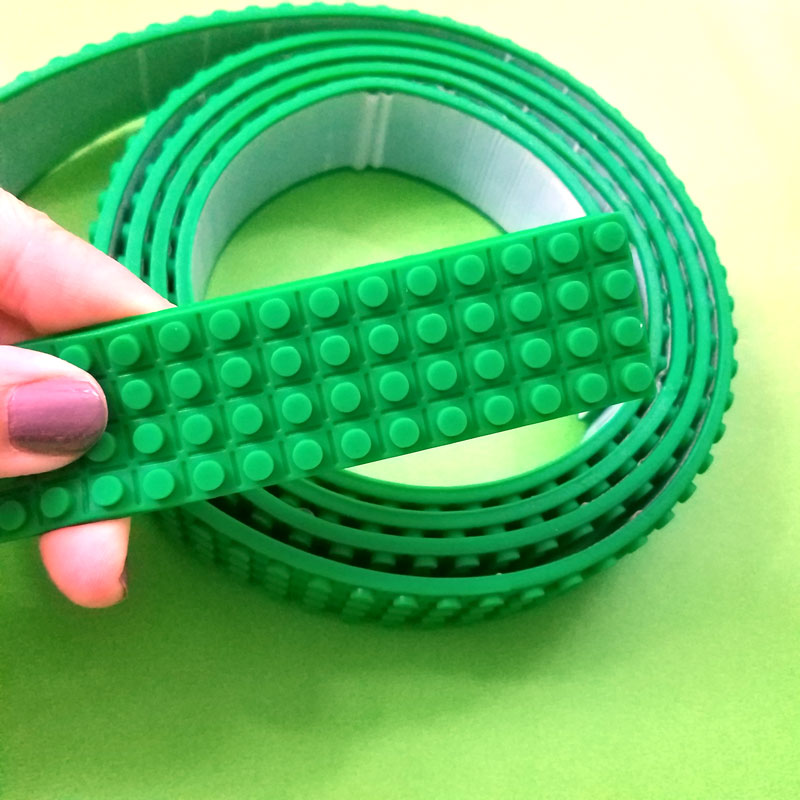 It's removable. While that meant that I DID have to glue this in place, it also allowed me to play with the positioning. It held it somewhat in place while I arranged, without accidentally attaching it permanently.
You can get it in 2 pegs wide or four pegs wide and in different colors.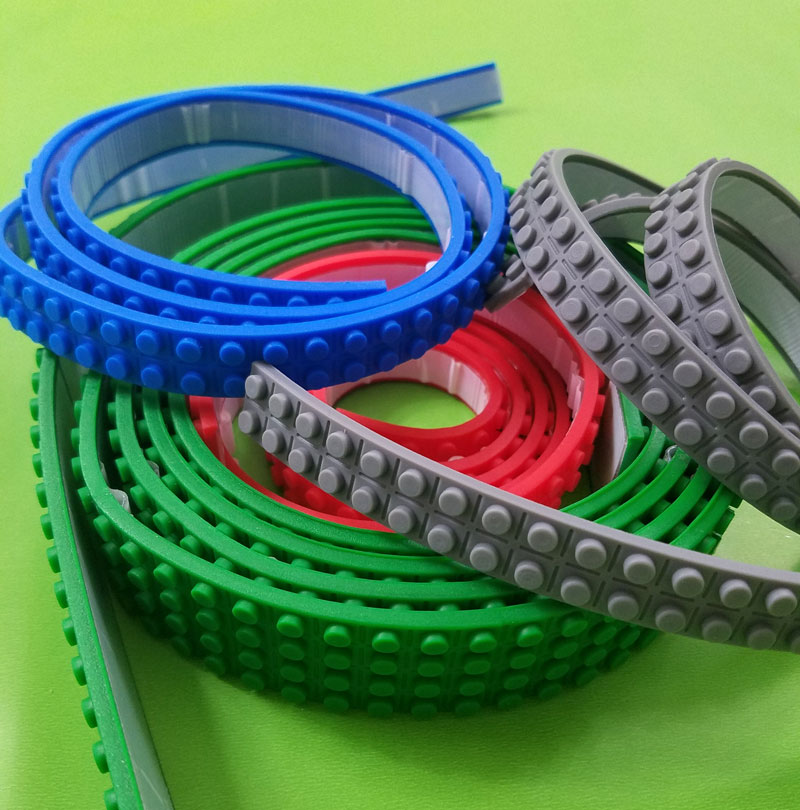 It's compatible with all leading brick brands including LEGO (which we used to make this cap).
It's great to create new play surfaces for building bricks, as well as cool LEGO themed crafts like this one!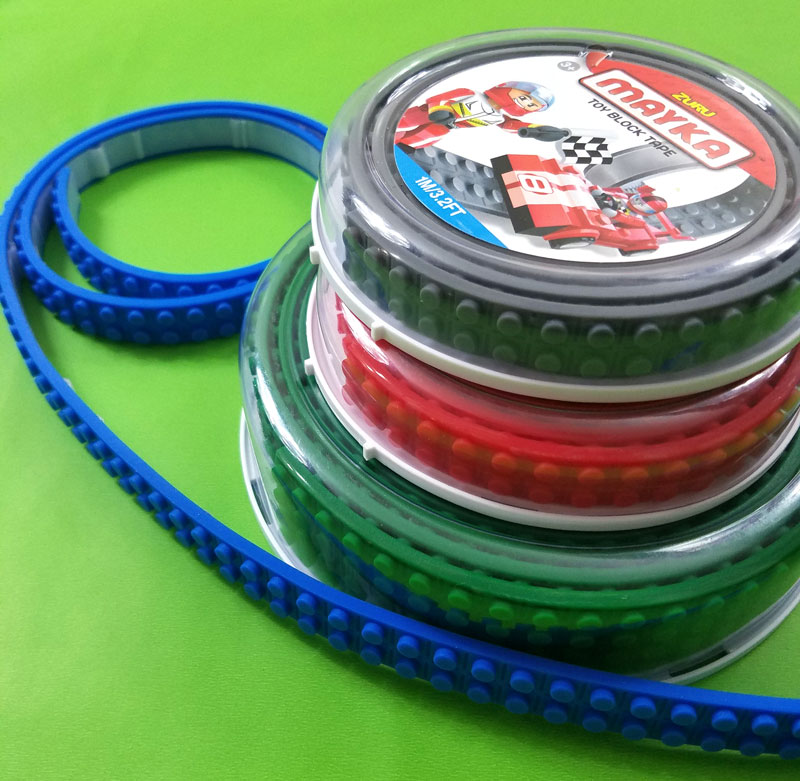 What you need to make a LEGO cap:
Building bricks in the standard size
Scissors
How to make a LEGO cap:
Watch the video below to see it in action! Or, scroll down for step-by-step instructions:
1. Measure and cut your Mayka tape to size. Remember: a narrower area will be easier to handle.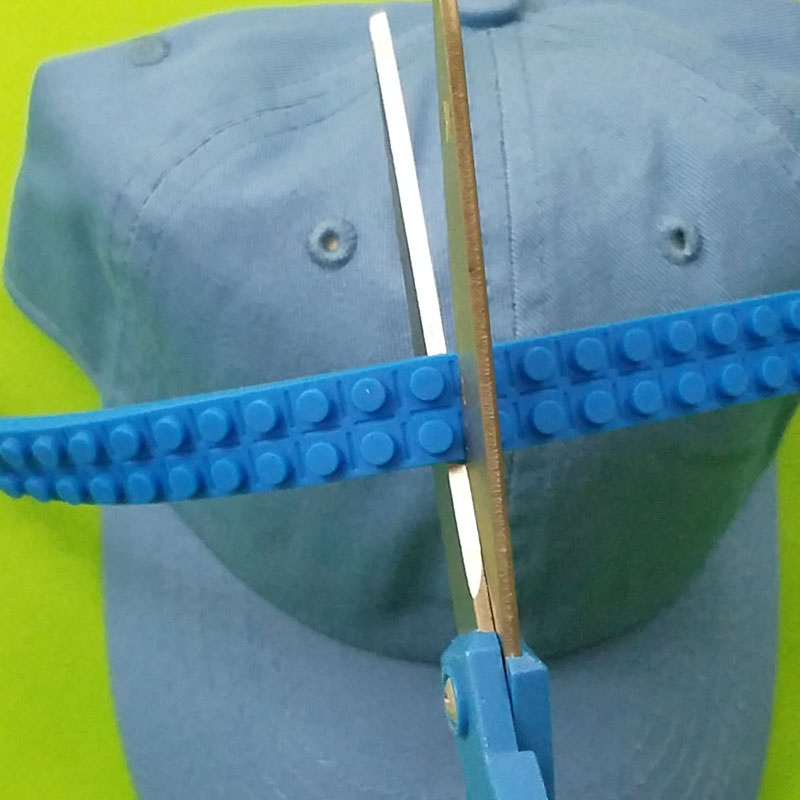 2. Measure more rows so that your brick section is as large as you'd like it to be.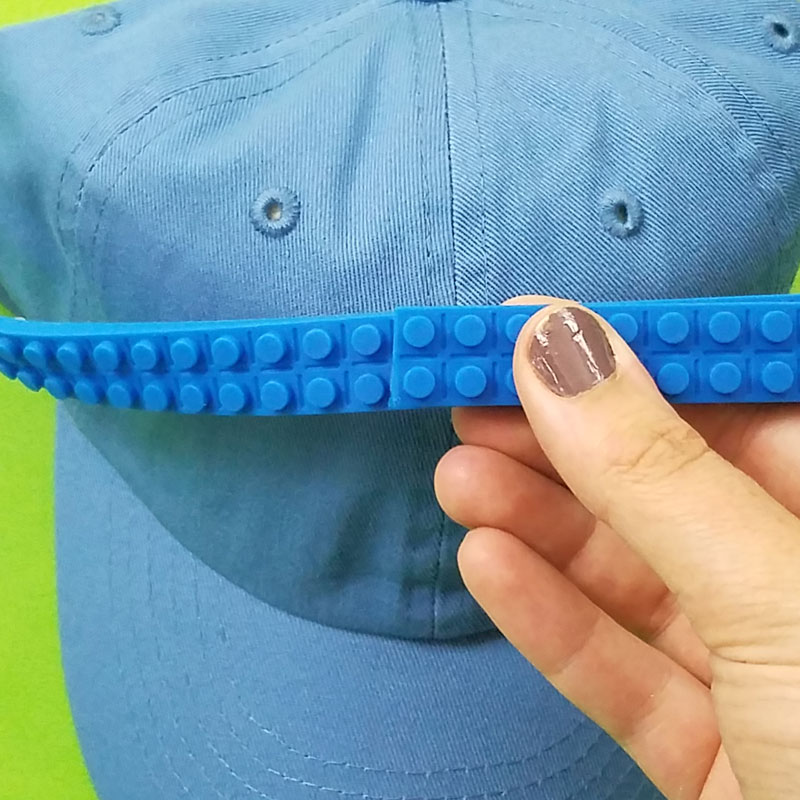 3. Remove the backing to practice your placement. Since it's removable, it won't be stuck in place, but it'll hold just enough so that you can see what you're doing!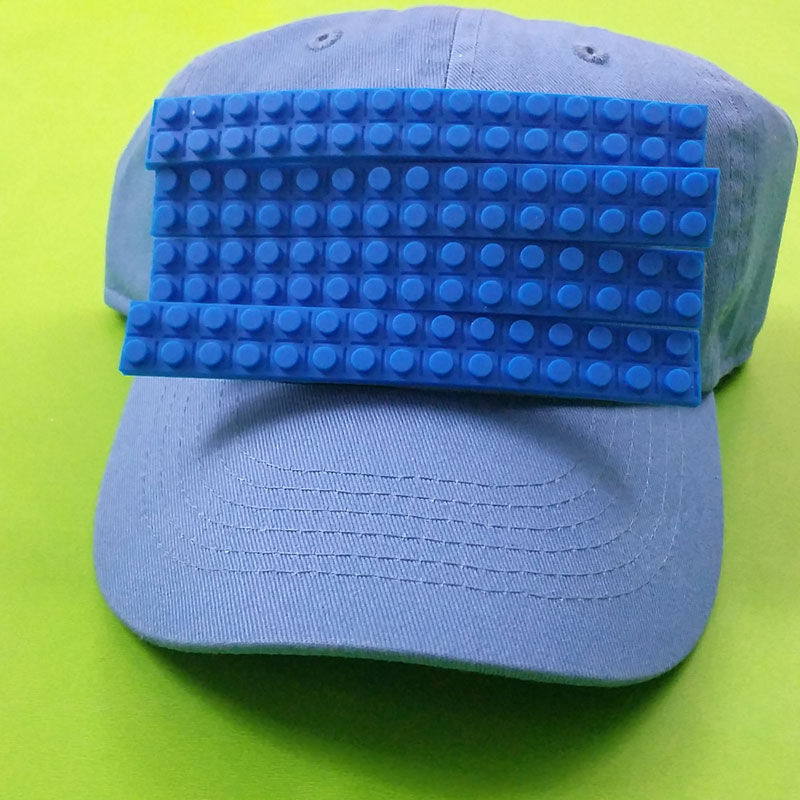 4. Secure the ends with glue.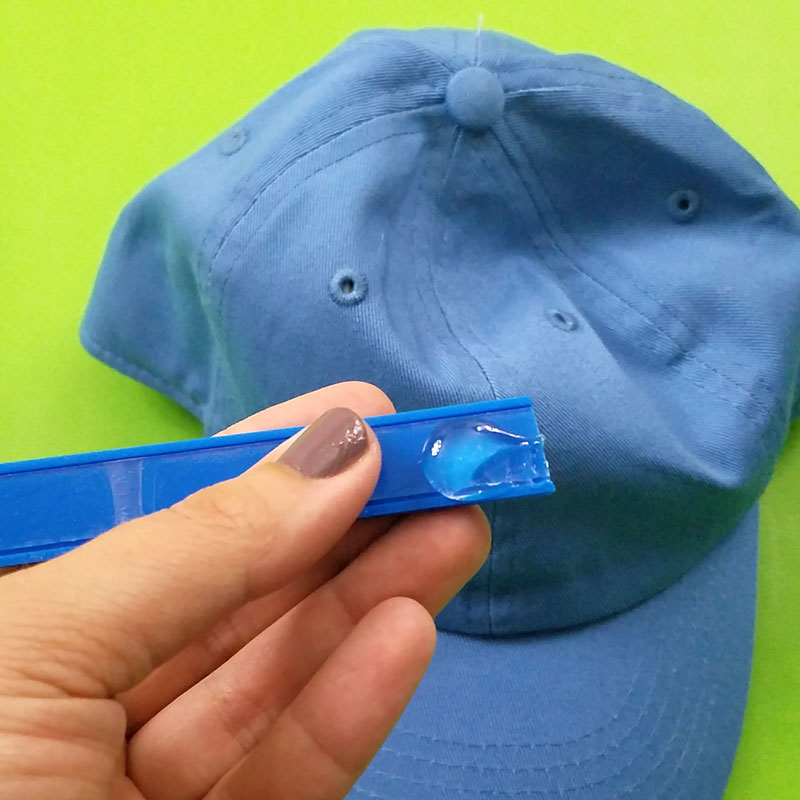 Tip: let it dry with a weight on top (squash the hat so that the Mayka tape section is flat under the cap.)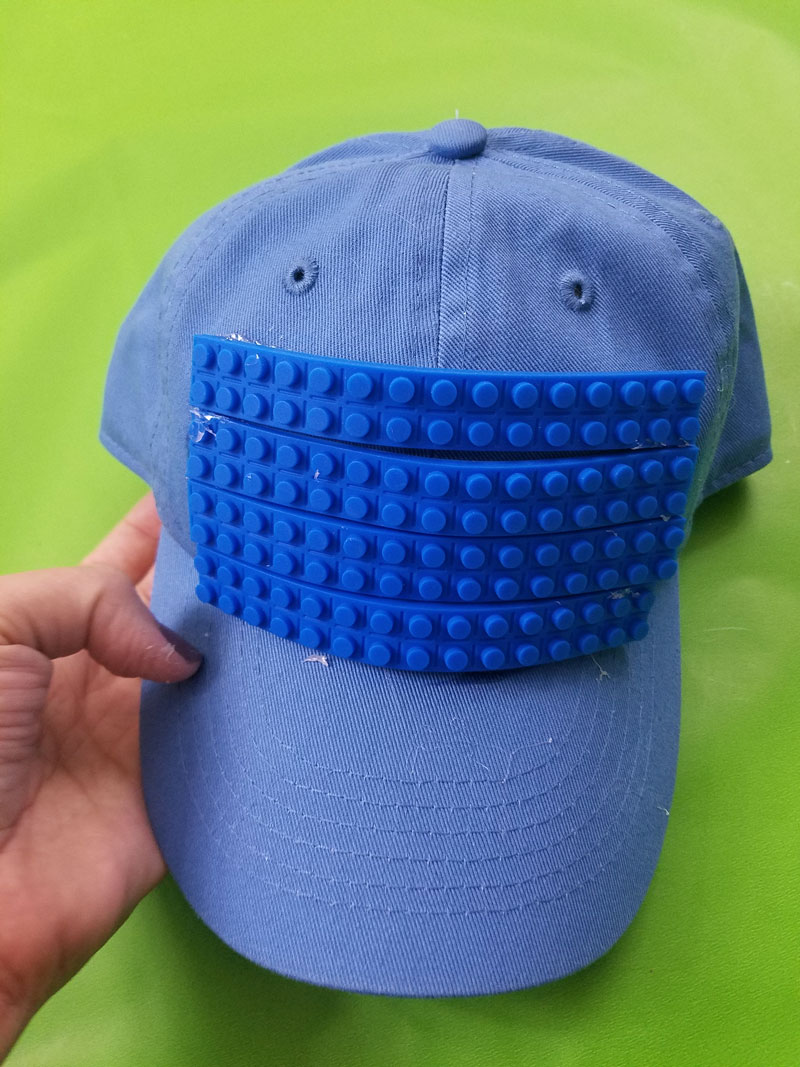 5. Plan your brick layout! I decided to create an M because my adorable preschooler is obsessed with his initial. Remember: smaller bricks work better. This layout shows my original layout – not the final one that works best.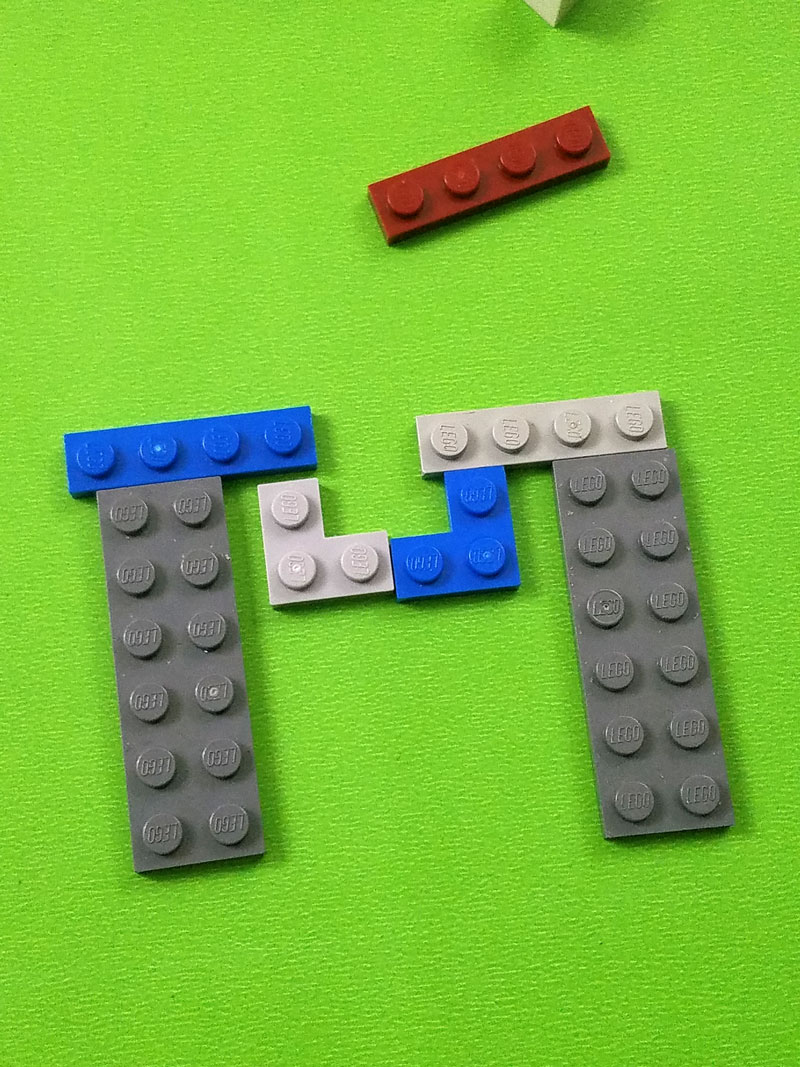 6. Place your bricks as you'd like them on your cap.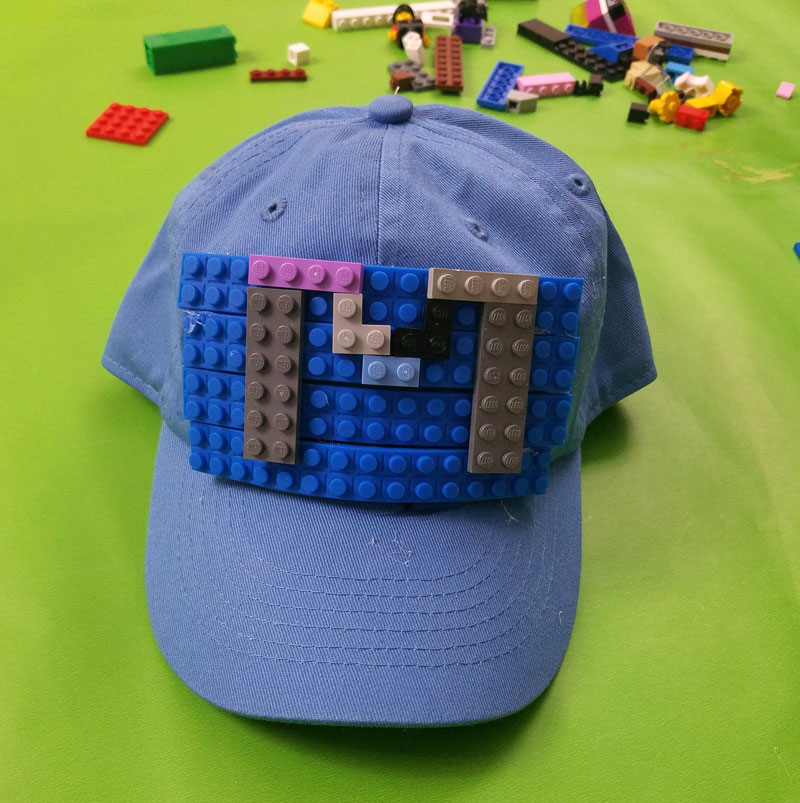 And then reshuffle as needed! I decided to tweak my M design after I first put it together.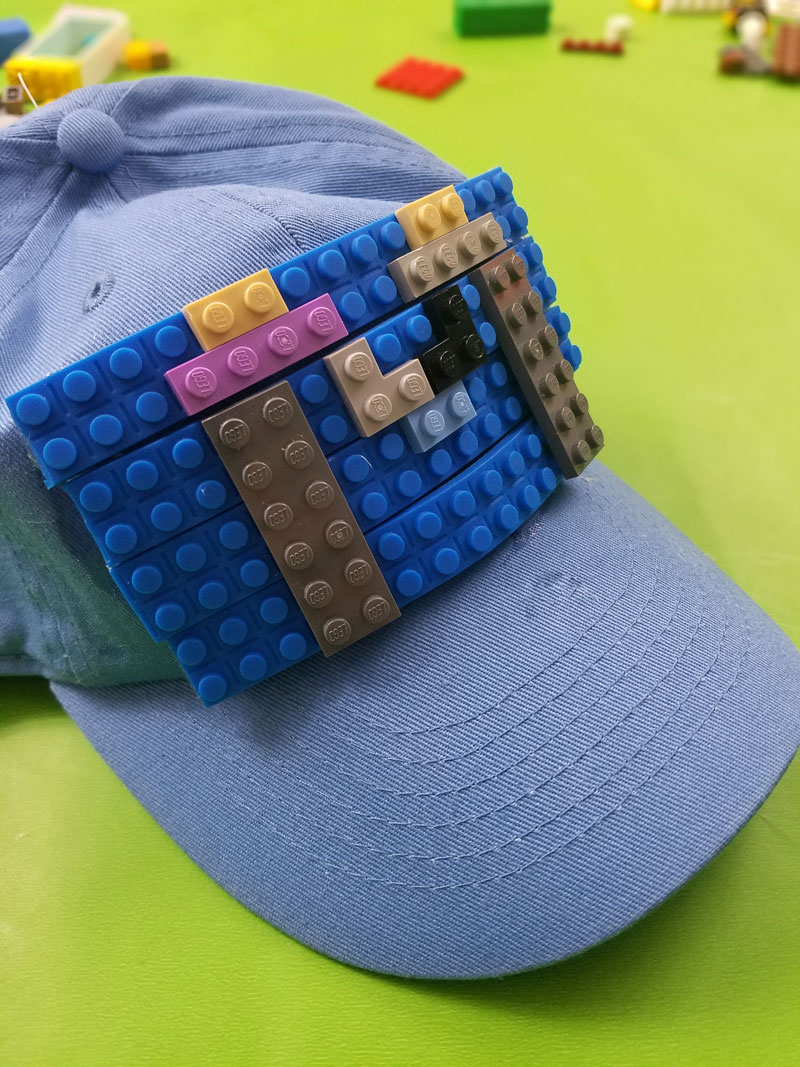 7. When you are totally satisfied with your design, glue your bricks down to make it permanent – if you want to do that. For older children and teens you don't need to do that, as long as you used bricks no larger than 2×2 that'll flex with the movement of the cap and the Mayka tape.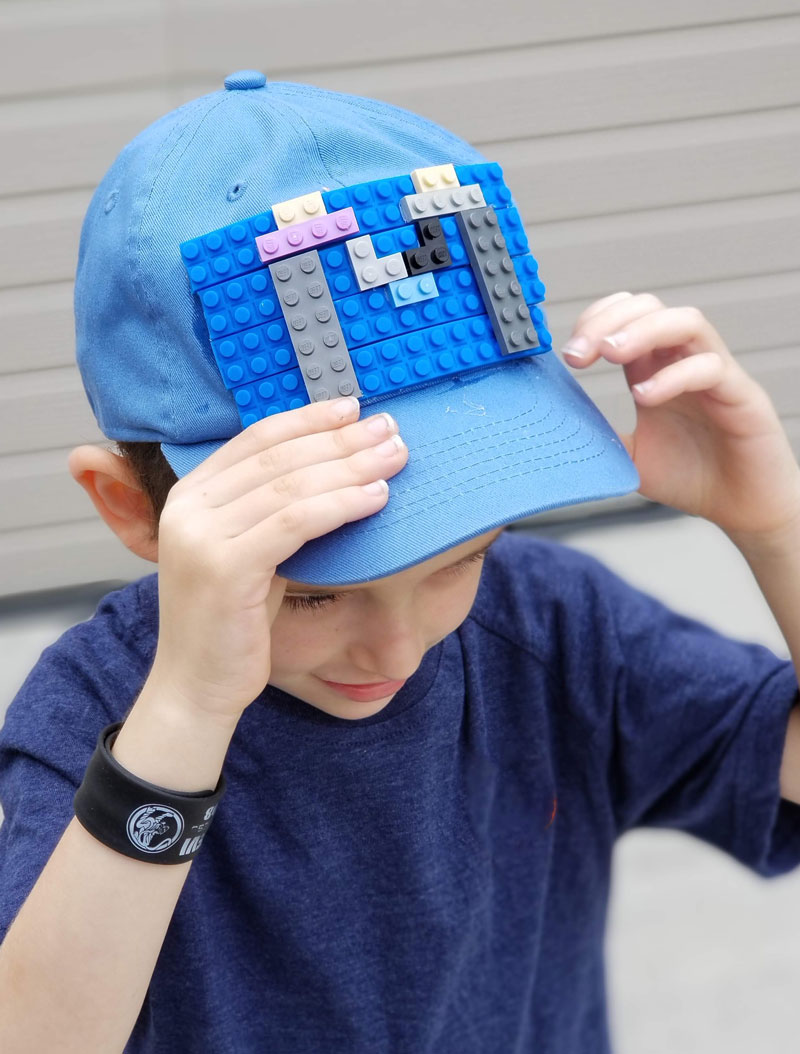 Your LEGO cap is ready to wear and be loved!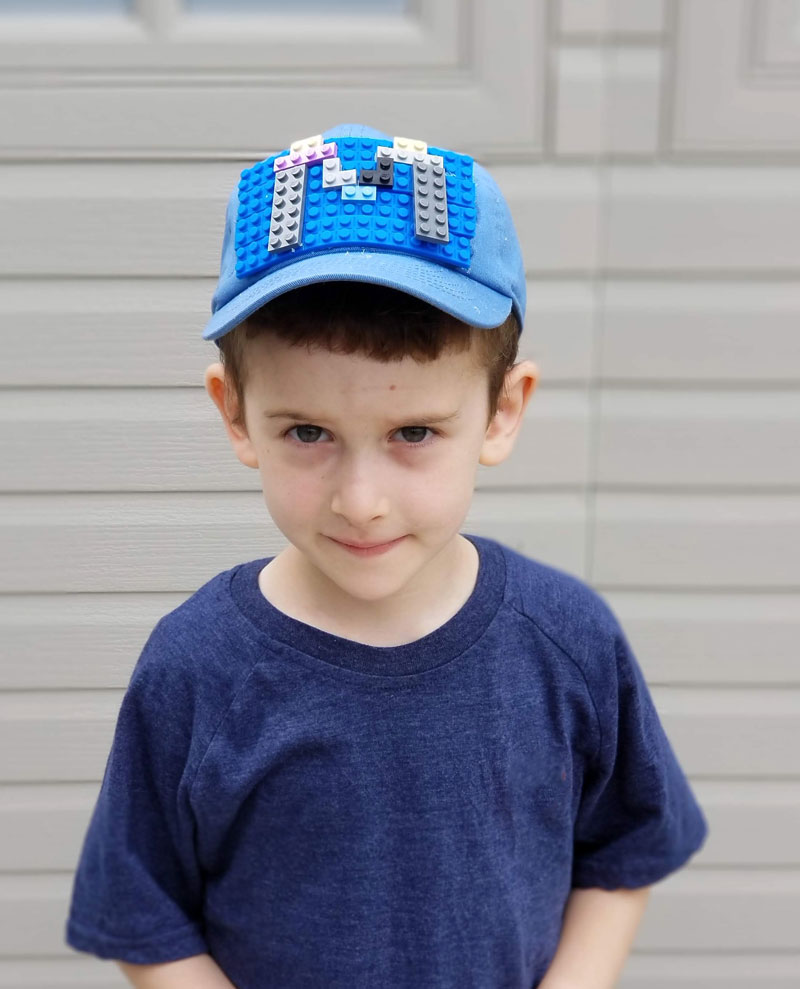 Who will you be making this LEGO cap for? What will you do with your leftover Mayka building brick tape? Comment below!
Loved this LEGO cap tutorial? Check out the crafts below: