This heavenly two-minute Mochaccino recipe is not quite a low-calorie dish, but occasionally it's totally cool to splurge on calories… If you're looking for something less sweet and more grown-up, try this smoked butterscotch latte recipe; otherwise, continue on for coffee heaven… Disclosure: this post contains commissioned images and links.

I confess, I'm not an "authentic" foodie.
I don't sit and refine recipes, try them a dozen ways, figure out the exact balance of flavors. I never went to culinary school and I had to research extensively, a.k.a. ask a foodie friend, to figure out what the proper name would be for this mochaccino recipe (I still hope we got it right…)
But I'm a mama who needs her caffeine – and plenty of it – and I know how to do it right.
One day, after Monin surprised me by sending me their delicious Vanilla Bean Sauce in the mail, I was in a very self-indulgent mood and I created the mochaccino.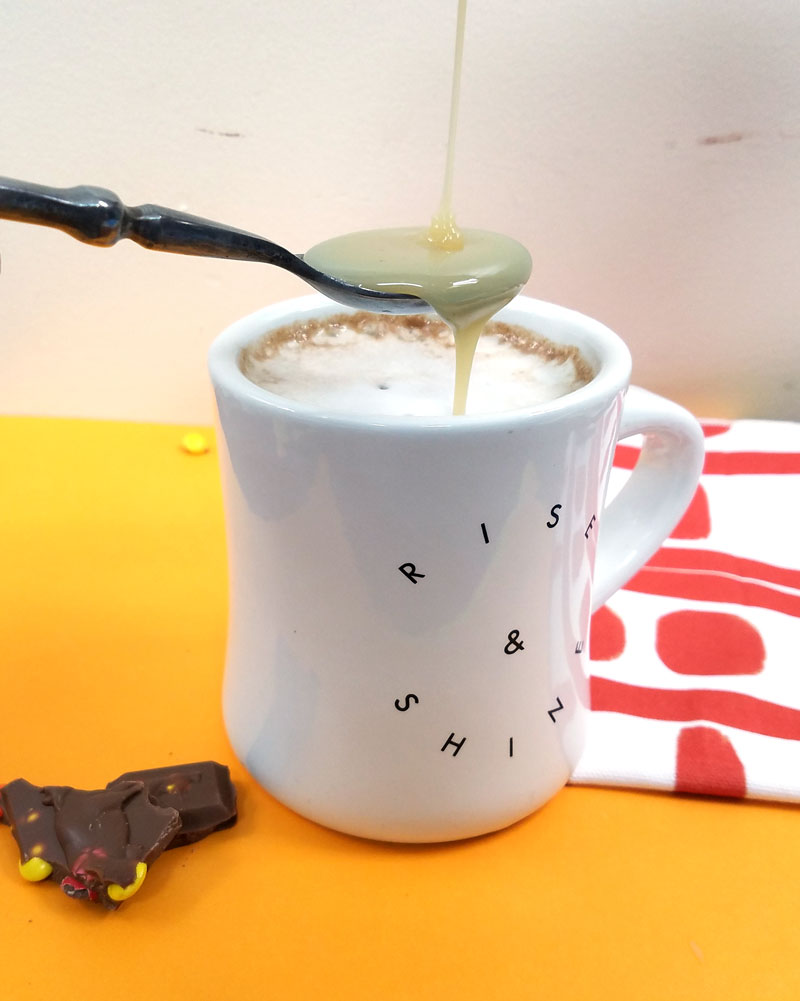 First of all, I knew I wanted real chocolate with my coffee. I love hot chocolate – the stuff that's made with chocolate, not cocoa – and I figured that would be a cool way to do coffee too. I stole a couple of squares of the M&M filled chocolate that M's grandmother gave him for Hanukkah.
I also thought it would taste good with a vanilla twist, so I added some of the syrup.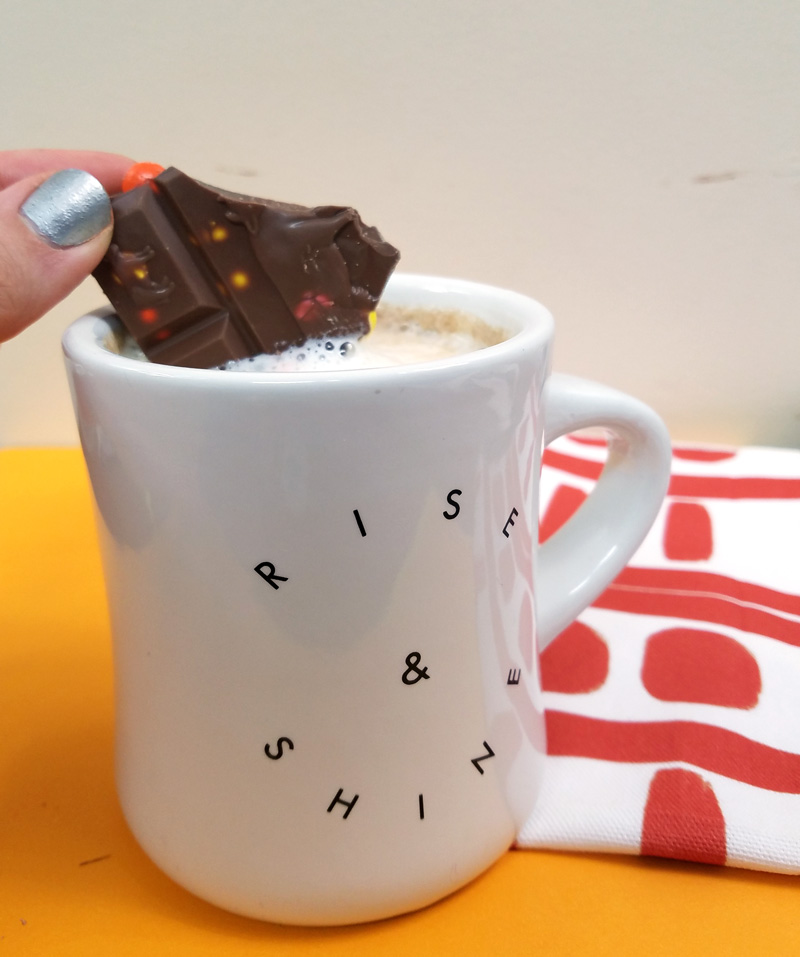 I don't have time, energy, or patience to begin with steaming milk (if you do, you can call it a mochaccino latte recipe too… fancy stuff!)
But I knew I wanted froth.
To create a yummy, steamed froth, you can use this milk frother (my sister-in-law swears by it!) If you just want froth, you have two choices:
Use a frother that just froths and is also much easier to deal with and clean
Or, do what I did and shake your milk bottle vigorously. It helps if you only have a few ounces left in there .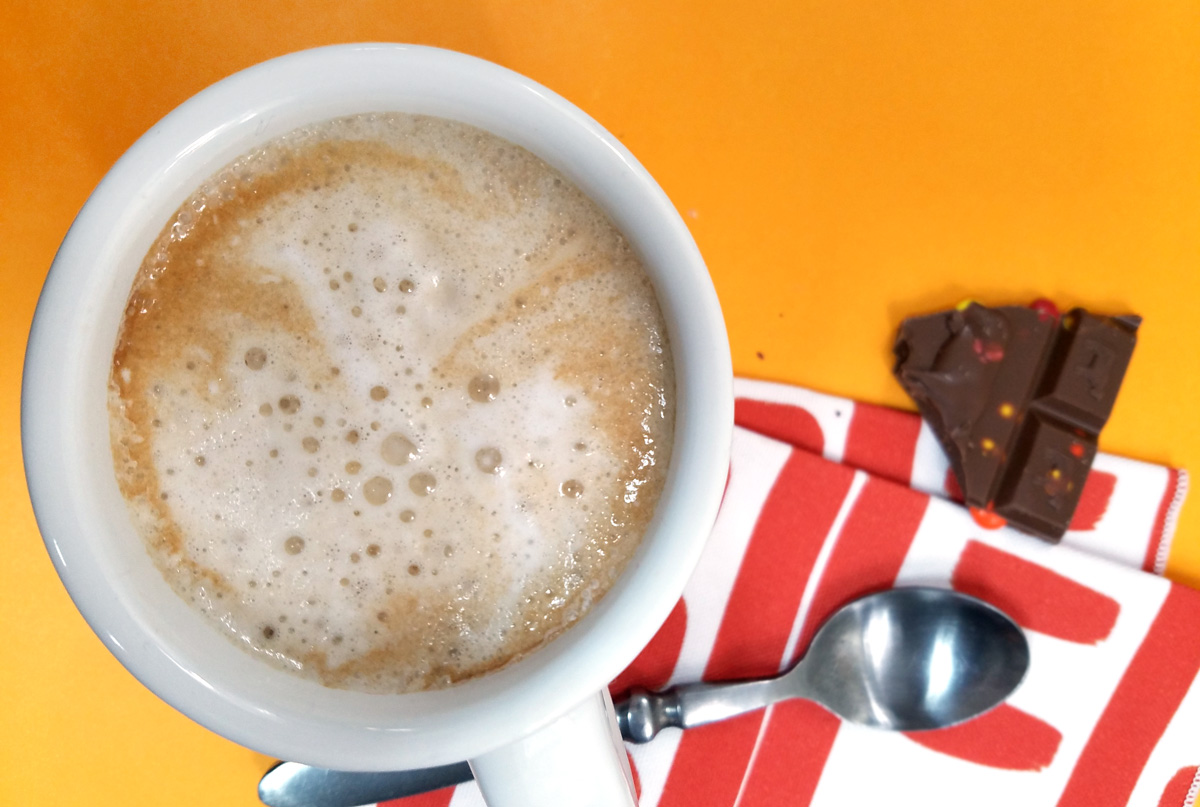 Considering that if you're reading this, you probably haven't had your coffee yet, I'll move on quickly to the recipe and your salvation:
Ingredients needed to make this heavenly mochaccino:
Scroll to the end of this post for the printable recipe card.
1 c freshly brewed coffee
3 packets Truvia sweetener (if you want it even sweeter) or the equivalent in sugar
2 squares milk chocolate (M&M's optional)
Foamy milk
Easy Moccachino Step-by-Step Recipe:
1. Add 7-8 oz freshly brewed coffee to your mug. Add your chocolate and stir until it's totally melted and blended in.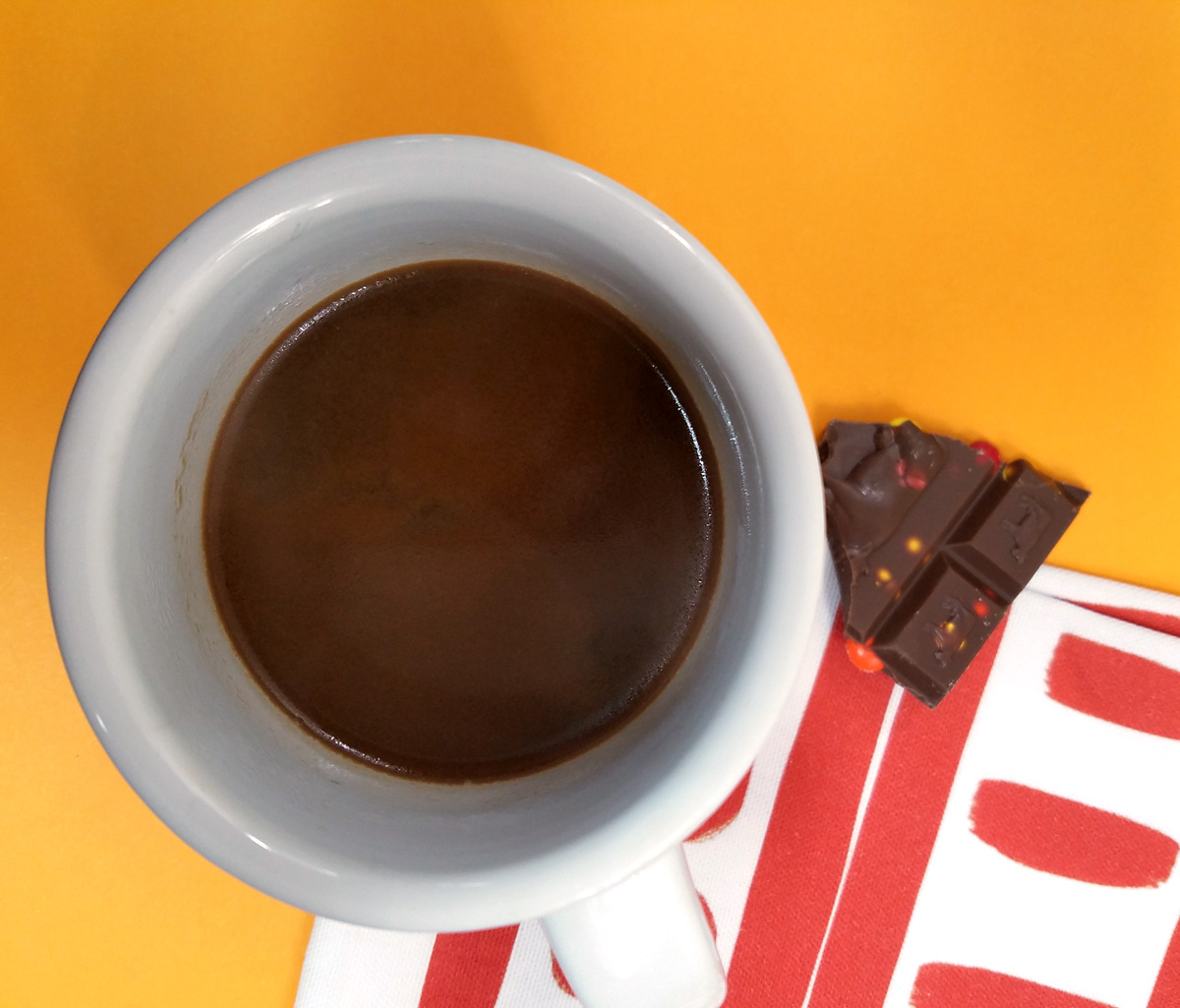 2. Add your foamy milk – until it meets your desired ratio.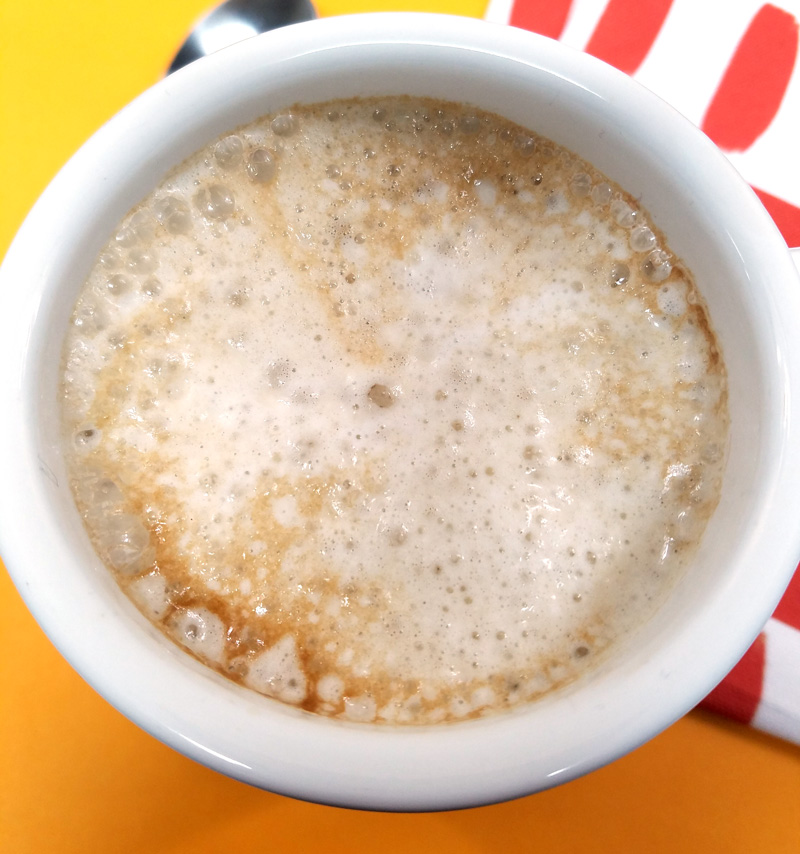 3. Add your vanilla syrup. I like mine SWEET so I ended up with about 2 tablespoons, but I recommend starting with 2 teaspoons, and adding another teaspoon at a time until you're happy with the flavor.
If you find that you're still adding more syrup once you hit 2 tablespoons (6 teaspoons), I'd recommend sweetening it as you like with sugar or Truvia.
Note: The sweetness of different brands of chocolate and syrup will vary. You'll probably need to figure out what the best ratio is for the brand you use, but once you do, you can easily repeat it without having to remeasure everything!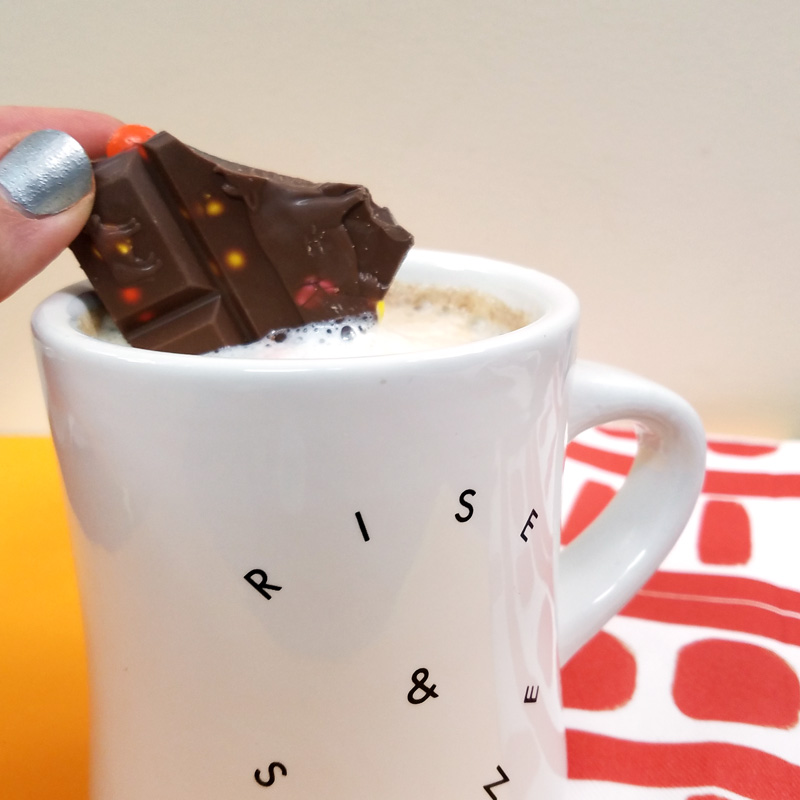 If you really want to indulge, you can add chocolate chunks afterward and eat them before they melt in – yum!
And of course, make sure to try this mochaccino recipe with no kids around so that you can drink it hot, with the milk still frothed!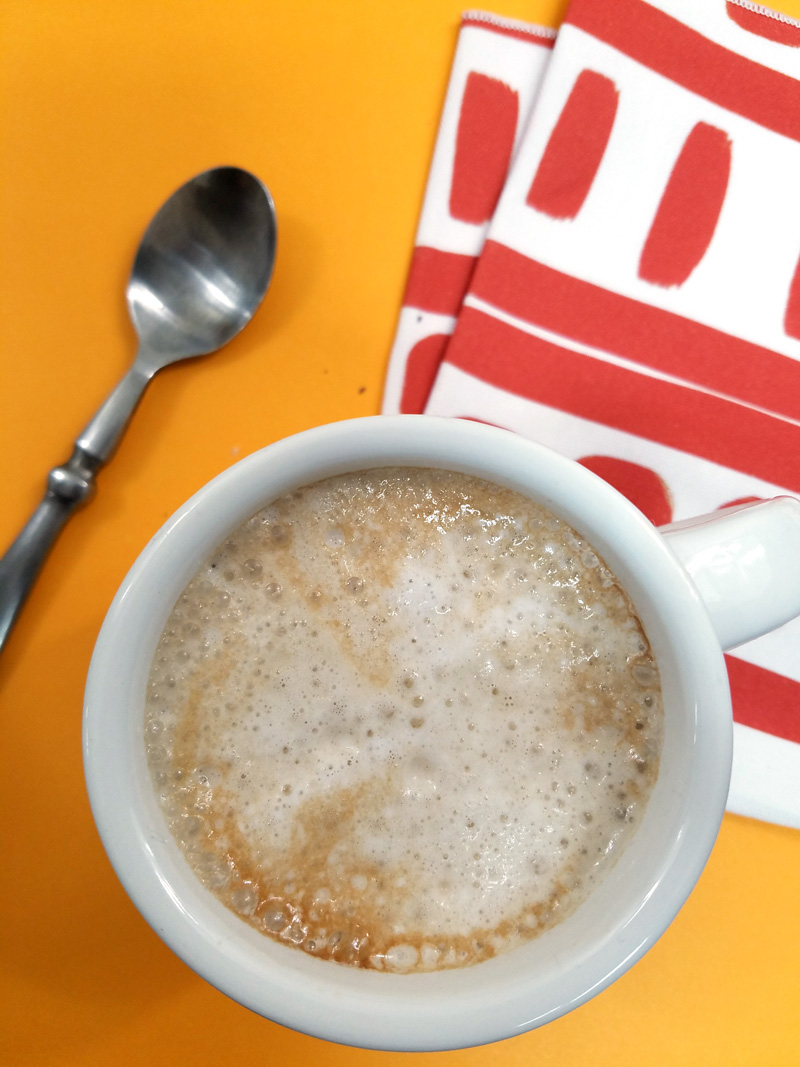 Have you ever tried a mochaccino latte recipe that you loved? What's your favorite way to drink your caffeine? Comment below!
[yumprint-recipe id='20']
Loved this Mochaccino Recipe? Check these out!