I absolutely love crafting paper flowers – they're inexpensive, and with the right templates they're super simple too. This DIY paper heliconia will totally charm you and it's perfect for beginners. It's one of my favorite crafts for teens to make and sell too – the result is totally professional, it doesn't take forever, and the markup is good too! If you'd rather give your hand at paper quilling first, check out these paper quilling flower pendants. Disclosure: this post contains commissioned links and images.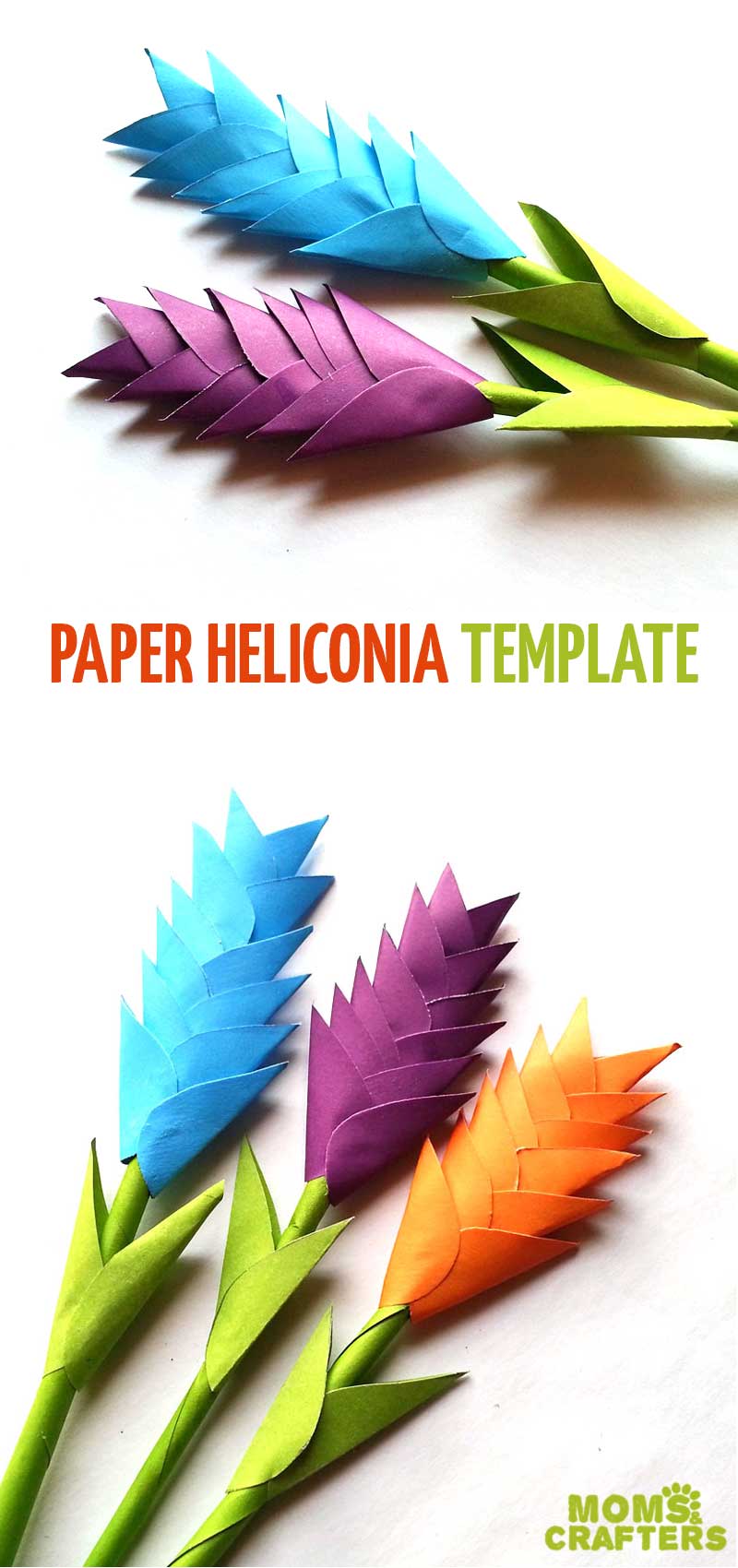 If you think about the anatomy of flowers, they are basically made up of the same shape repeating itself over and over again. That's why they're so simple to reproduce in 3D.
This DIY paper heliconia flower craft is very simple because of the simple nature of the flower. It doesn't require hundreds of petals and is a perfect paper flower craft for big kids, tweens, and teens.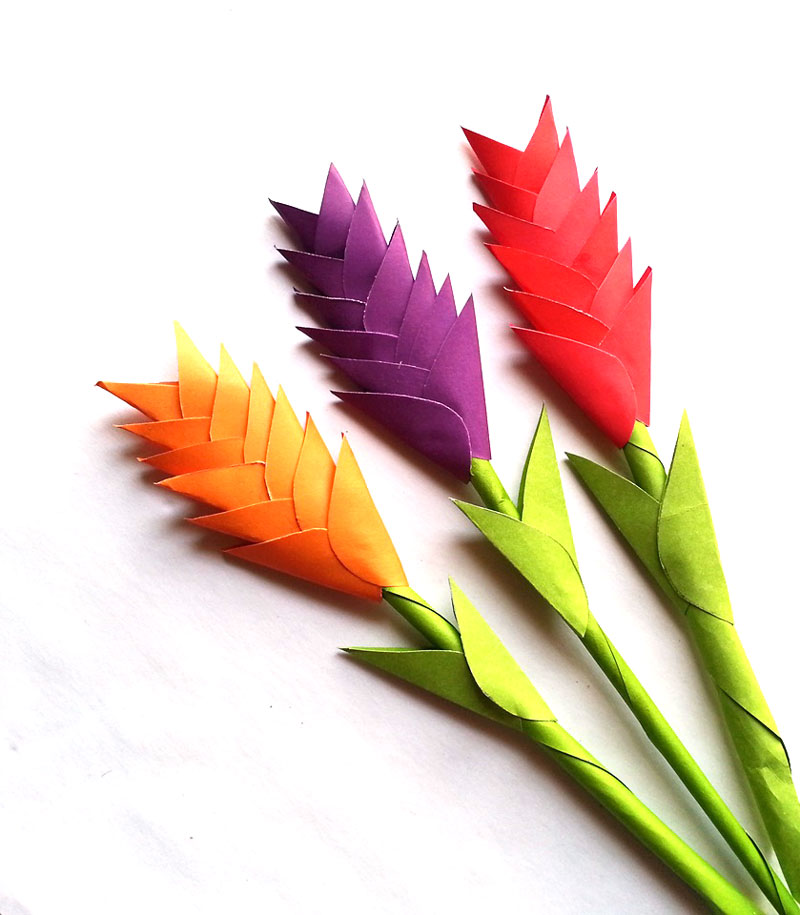 Make a bouquet or make a few, attach them to a greeting card, gather them in a vase, or sell them on Etsy. Whatever it is that you choose to do with them, you do with them, you'll take lots of pride in it!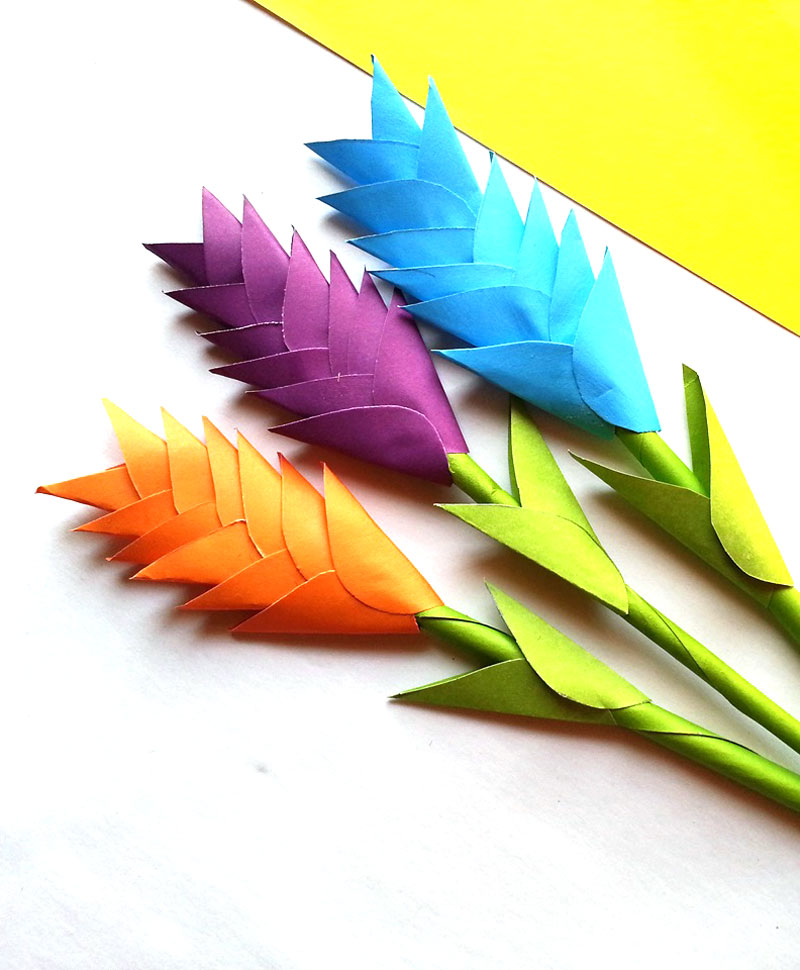 In the past I've created paper flower templates that were more open-ended (color, craft, assemble however you'd like). Those used other materials as well.
These paper heliconia are very specific and great for those who love a functional end project with exact instructions.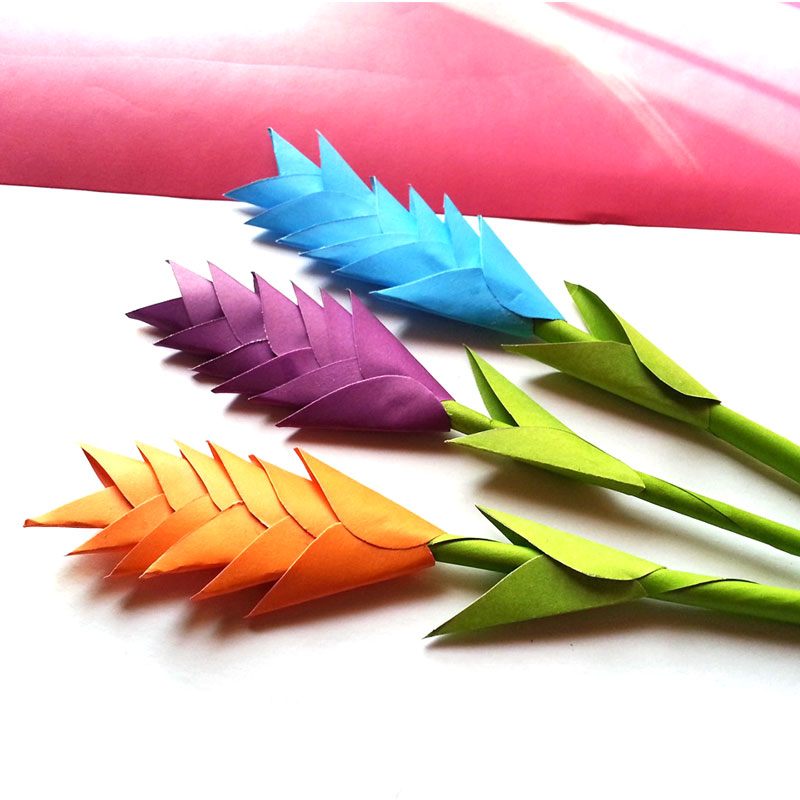 Anyway, without babbling on any more, here is your tutorial!
What you need to make a DIY paper heliconia flower:
Colored paper in green and one other color
Scissors
The template. Download the template by entering your email into the form below. Check your inbox for your download. You'll be subscribed for relevant updates on Moms & Crafters – unsubscribe easily at any time.
How to make a DIY paper heliconia flower:

1. Take a green paper and roll it into a thin roll. Secure it in place with a dab of glue.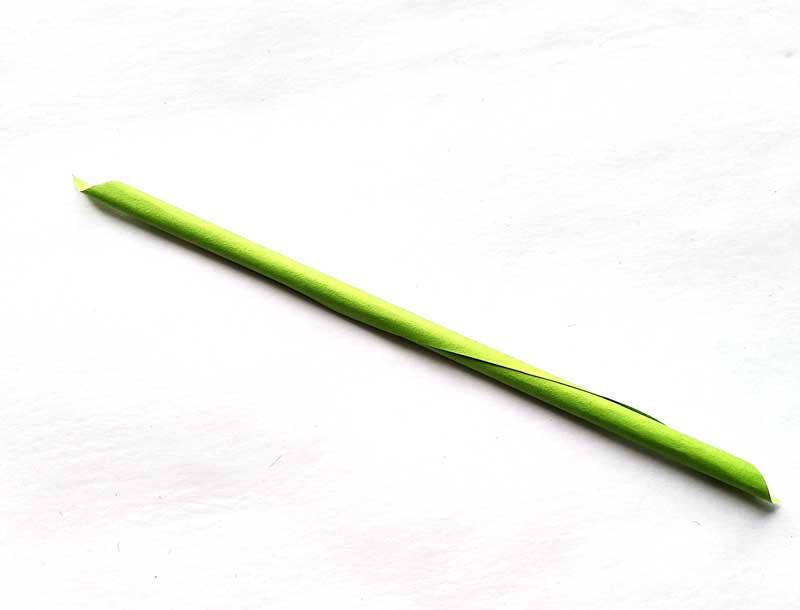 2. Cut out at least 10 – 12 petals using the templates.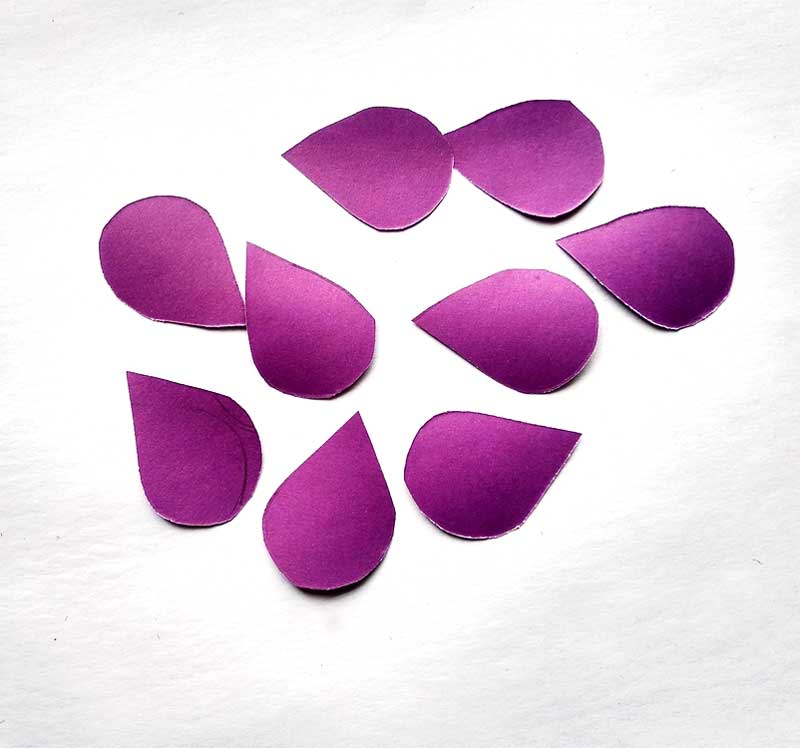 3. Take a petal fold it in half vertically.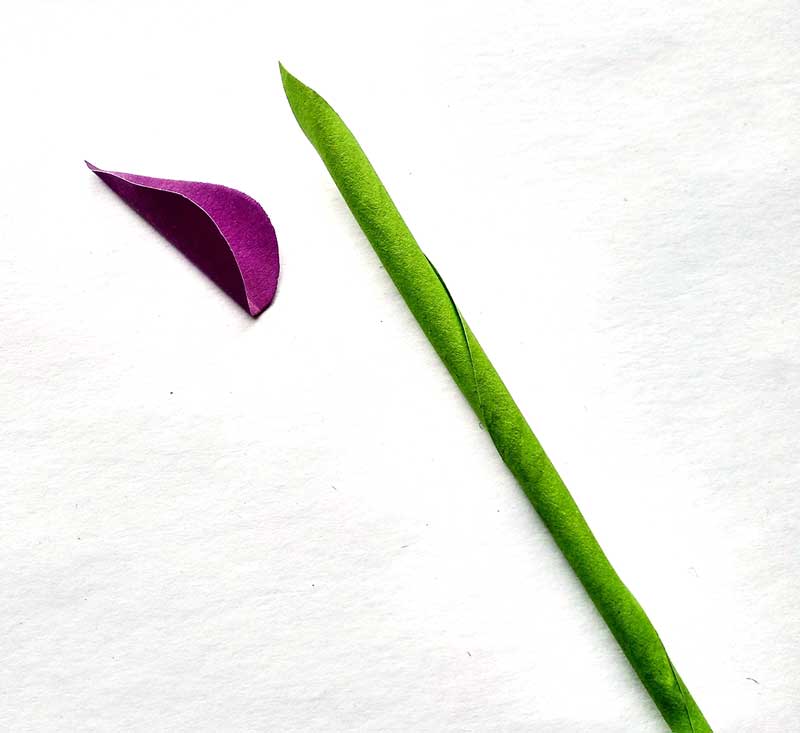 4. Apply glue in the center of the fold and place the paper roll that you created in step 1 in the middle.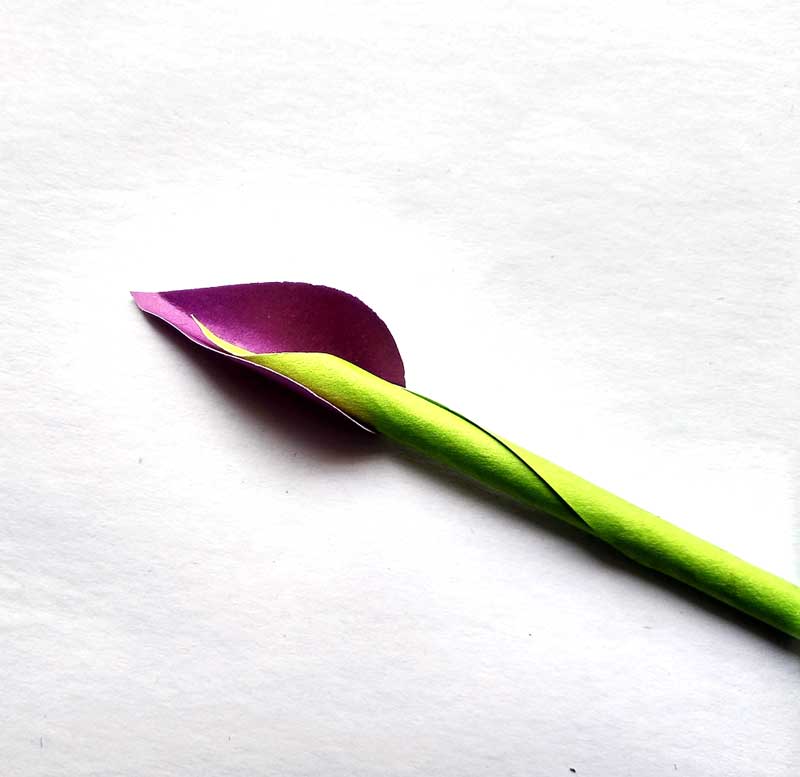 5. Crease your petal so that it's completely folded around the paper stem.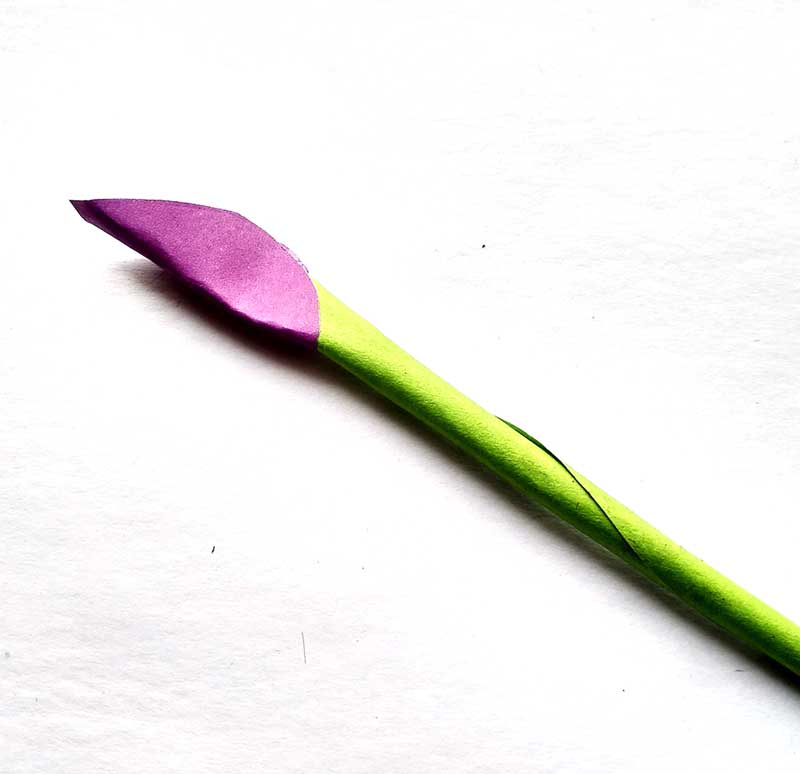 6. Glue another folded petal in the same way, with the opening facing the opposite direction of your first petal.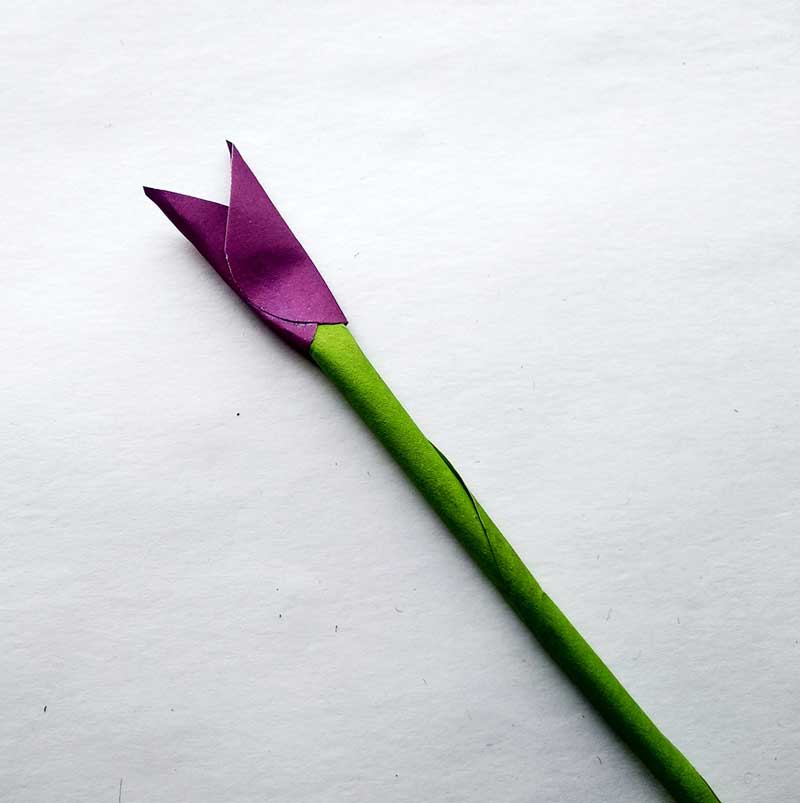 7. Continue gluing on petals folded around your stem, alternating the direction of the opening.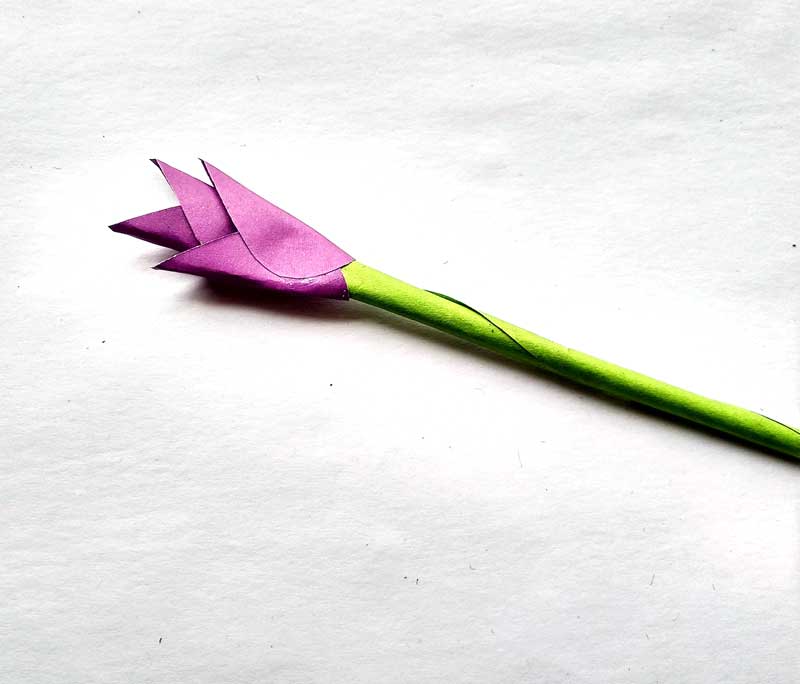 Keep adding more petals like this until you are happy with it.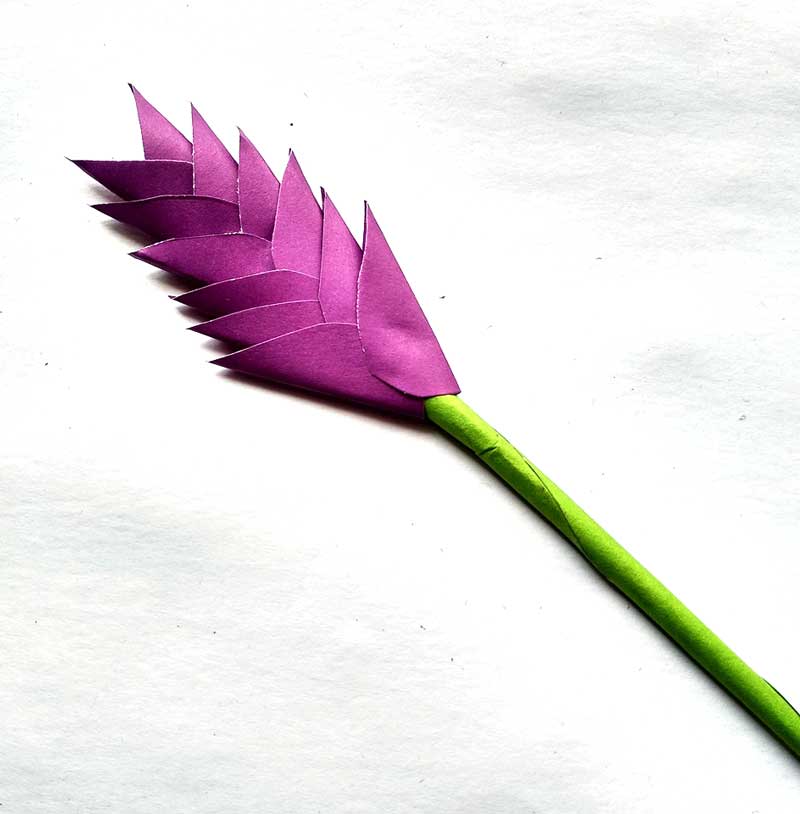 8. Cut out two leaf shapes using green paper and glue them around the stem the same way you glued the petals.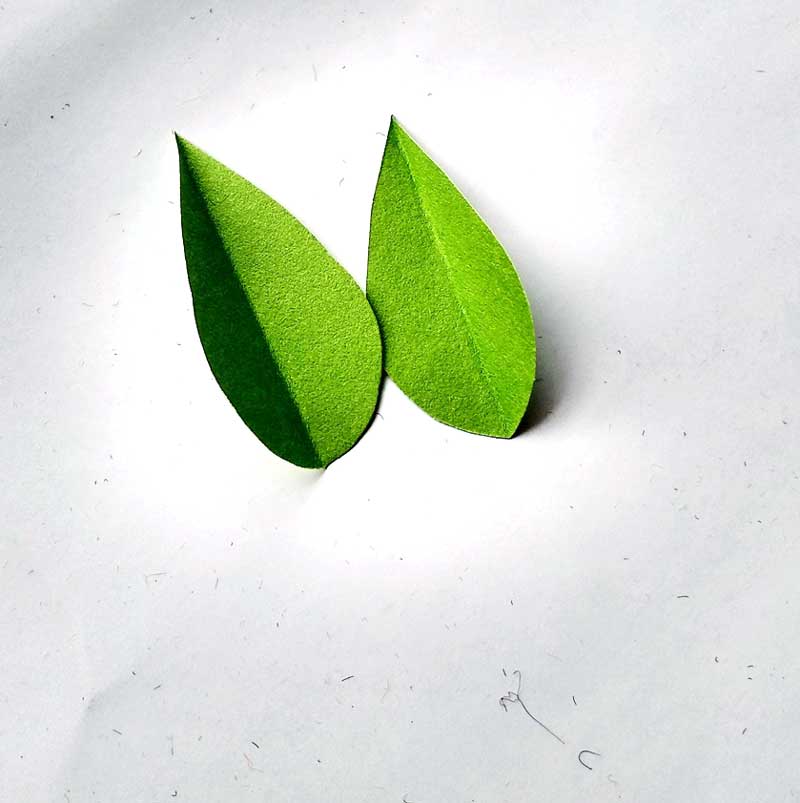 Your paper heliconia flower is complete. Comment below: what is your favorite paper flower to craft? What is your favorite paper craft to create?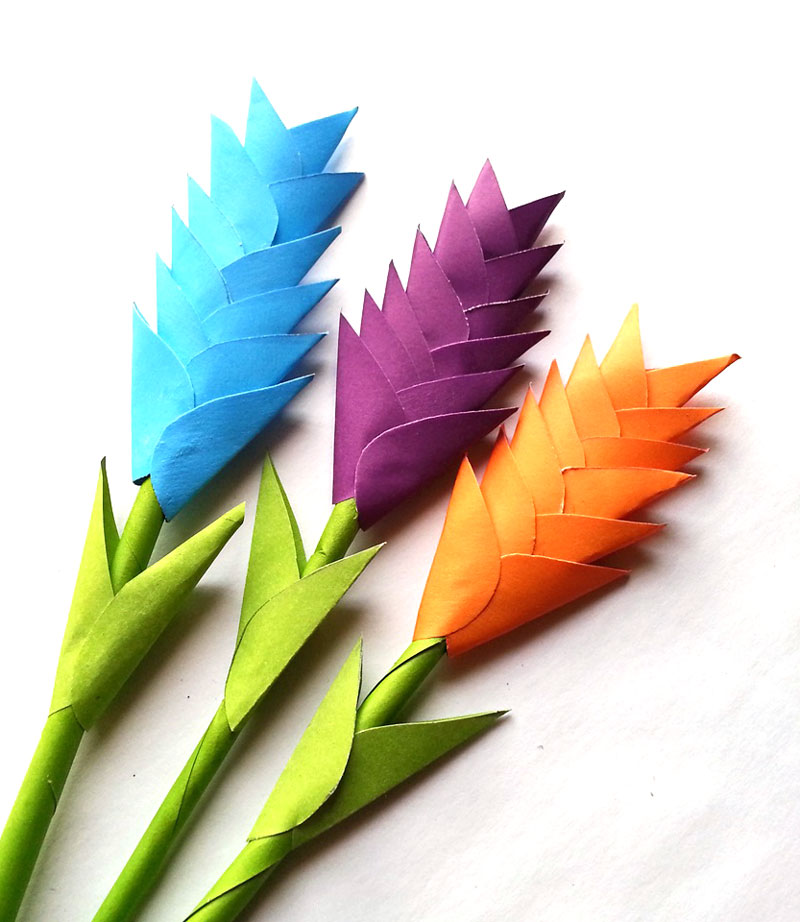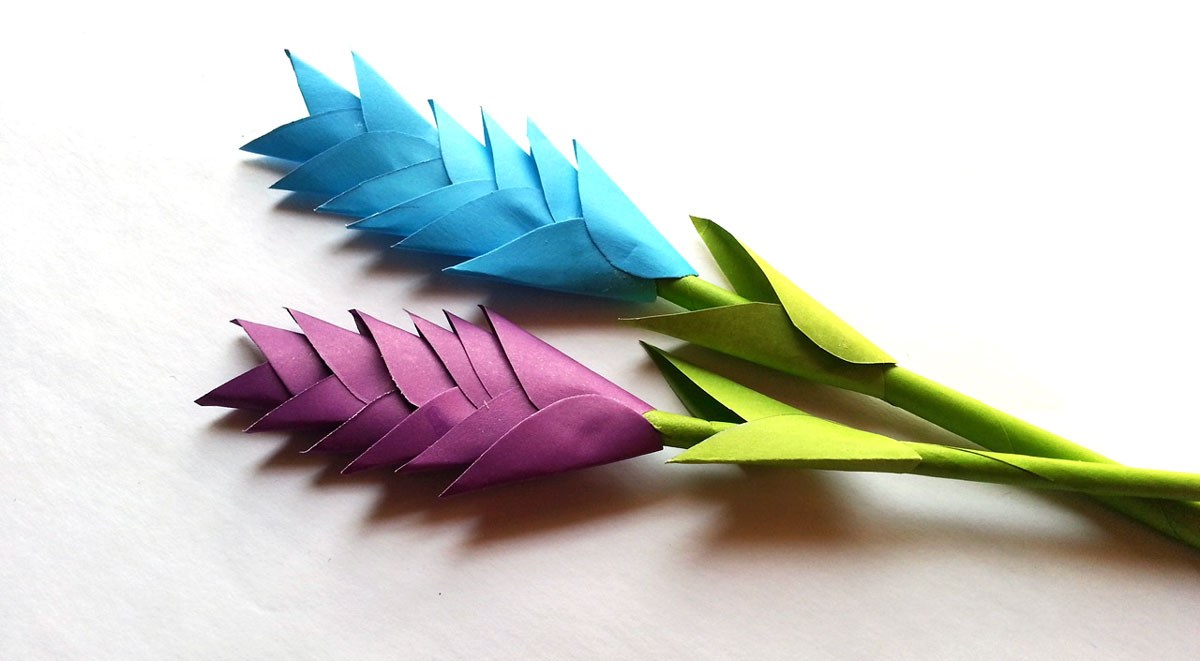 Love cool crafts and want to meet more crafters like you? Join our fun free community for inspiration, friendship, and sharing – you can share your creations too!
If you loved these DIY paper heliconia, check out the crafts below!
If you're looking for party crafts for teens and tweens, I've got lots more ideas for you. I've also created lists of every day crafts for teens and another for crafts for tweens. If you're more of a paper crafter, check out these paper toy templates – all of them free printables! And then, check out these individual projects: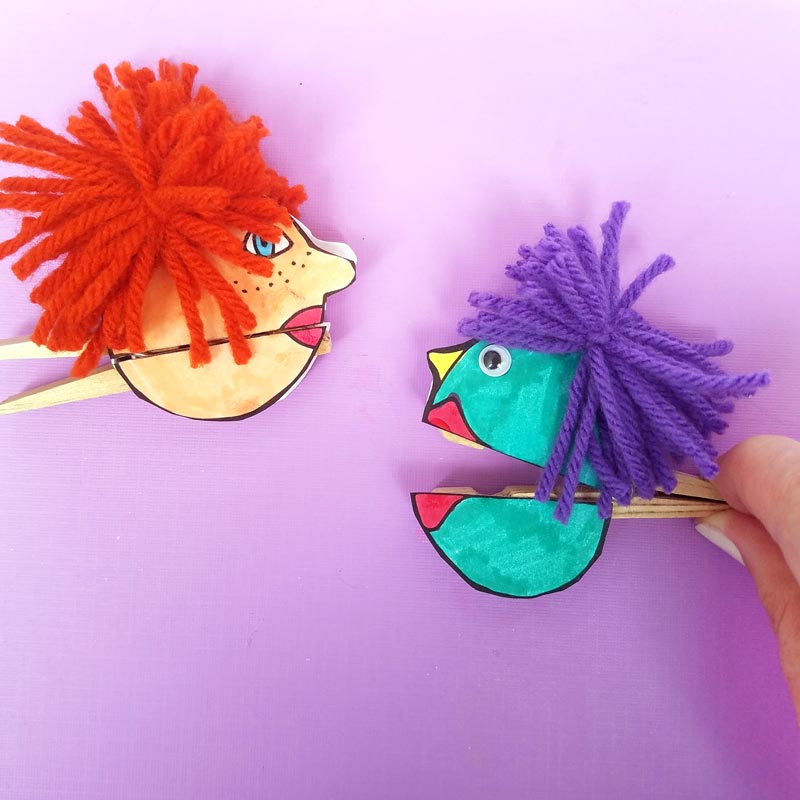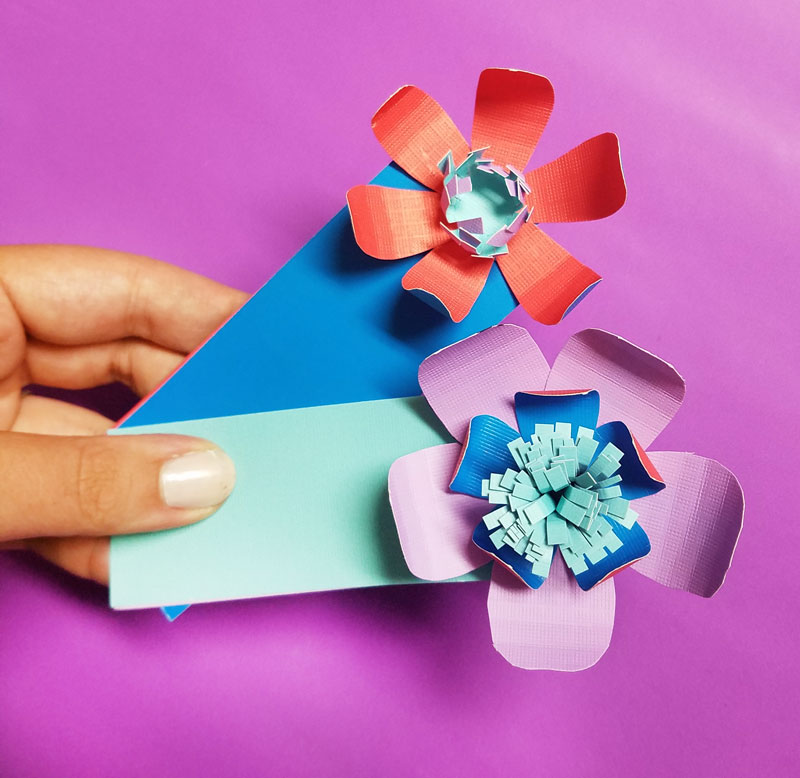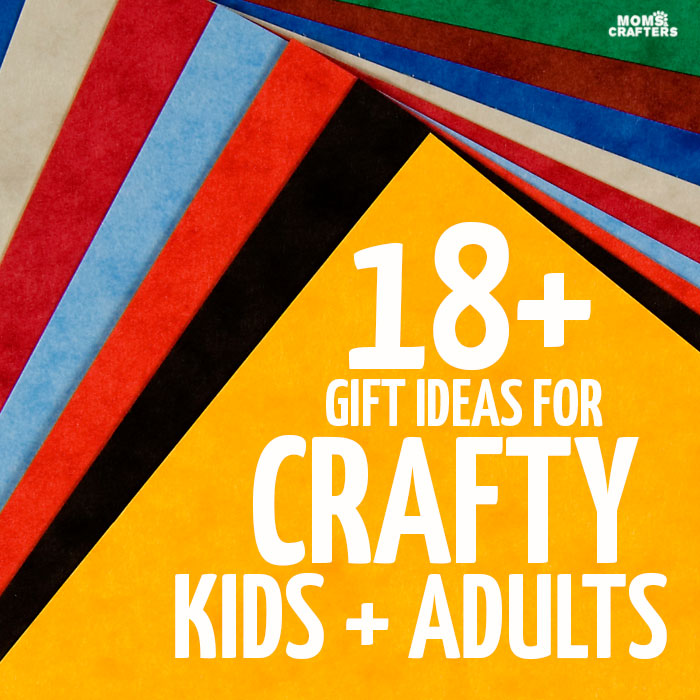 Pin these DIY Paper Heliconia:
Share the love by hovering over the image below and clicking on the orange P symbol in the center to pin this post on Pinterest!