Use these easy templates to make your own stained glass Hanukkah window clings templates! Decorate your home or give them as gifts – find more Hanukkah craft and activities ideas here! Disclosure: this post contains commissioned links.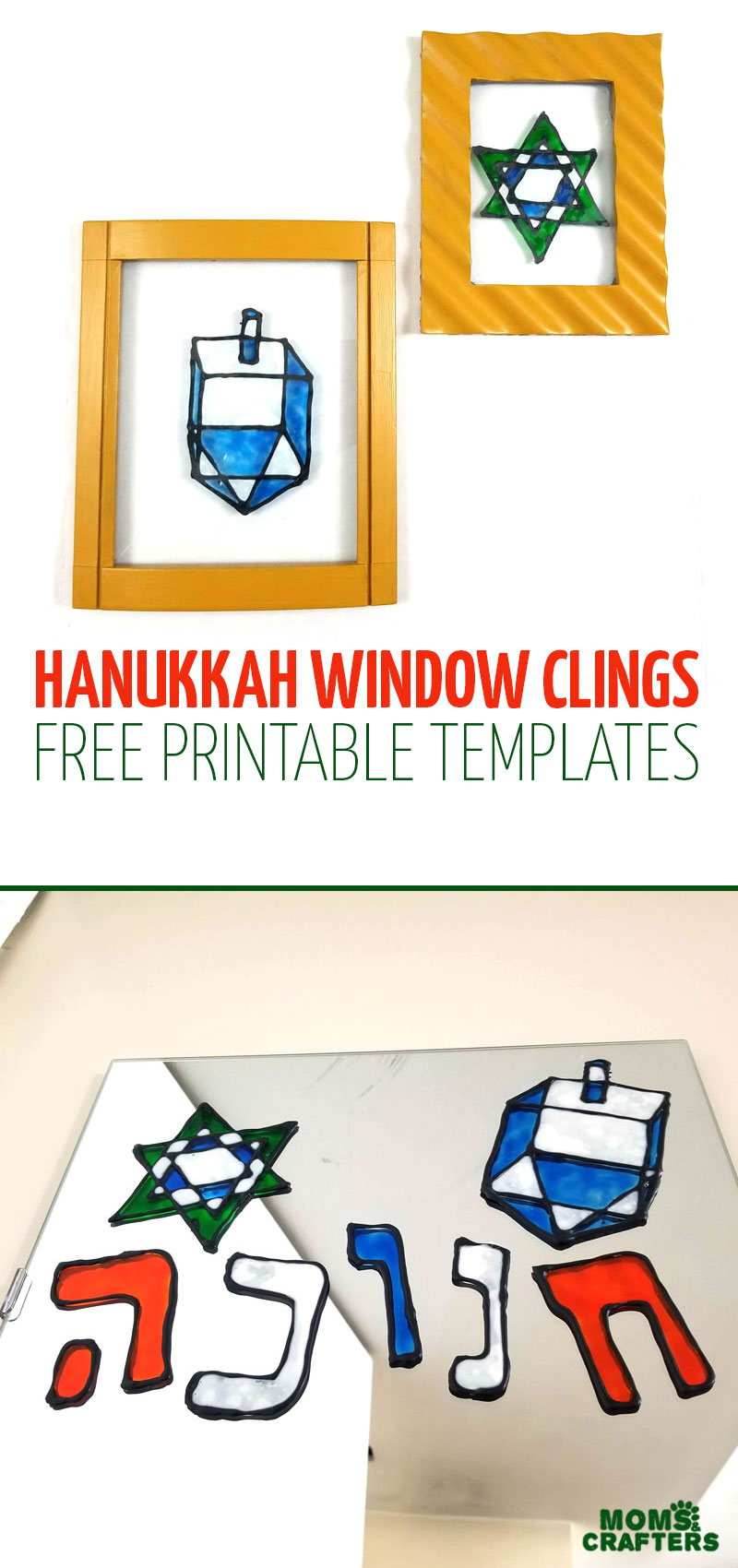 Contrary to what you might think when looking for Hanukkah crafts and activities, and finding the abundance of ideas out there, Hanukkah is NOT a major Jewish holiday.
On major Jewish holidays, Orthodox Jews totally unplug. We celebrate family meals, go to synagogue, don't work, and don't actively use any electronics.
On Hanukkah, we are permitted to work, use electronics, etc – we just have extra traditions we do, such as lighting the Menorah nightly, eating fried foods – such as these golden potato latkes, and giving the kids "Hanukkah gelt" – money or other gifts and incentives for studying Torah and living by our traditions. We also tend to throw big family get-togethers, parties, and other fun events.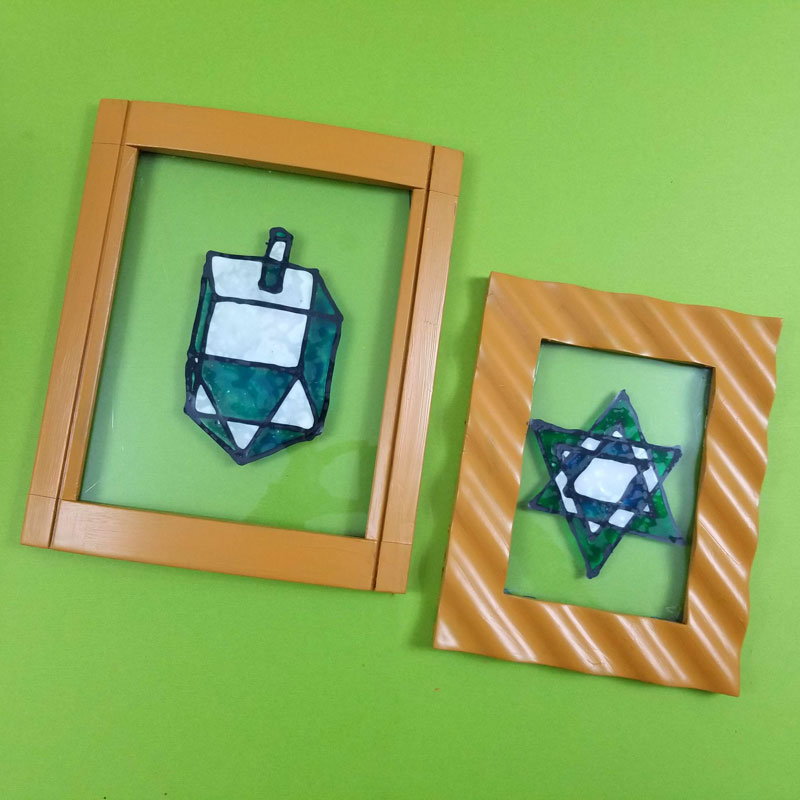 While most holidays are more dinner-focused – we'll cook huge sit-down meals twice for every day of our holiday – Hanukkah is more "casual", you can say, leaving me more room for creativity.
For this reason alone, I absolutely love Hanukkah.
While browsing through my blog, you'll find lots more ideas for Hanukkah than any other Jewish holiday because I have the time for creativity.
You can check out my full list of Hanukkah crafts and decorations as well.
Meanwhile, I hope you have fun with these DIY Hanukkah window clings!
You can use Hanukkah window clings in two ways. Either, do what I do and place them on a window or mirror where you'd like them to be.
Update! This post has moved to my Jewish blog to make it easier for browsers!
Get the Hanukkah Coloring Bundle for Adults for some nostalgic coloring fun!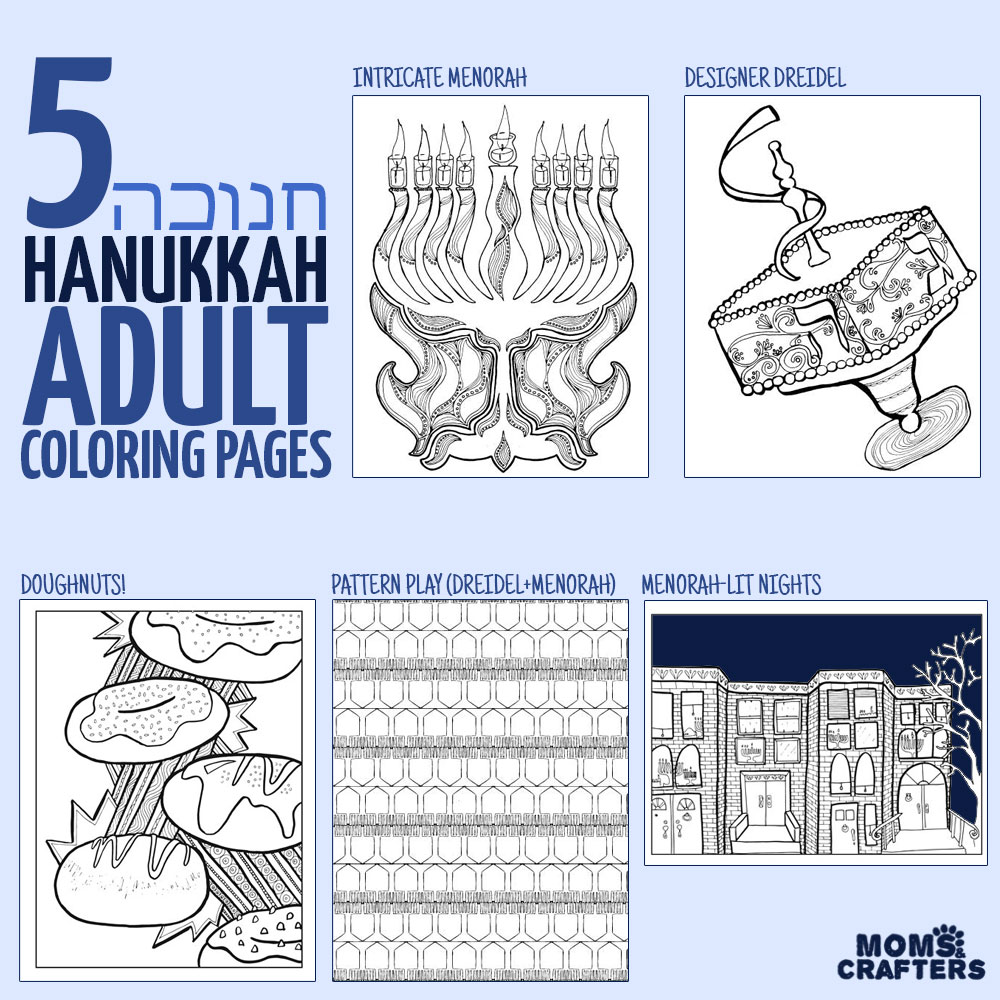 Print the instructions to make Hanukkah window clings
Make this beautiful Hanukkah window clings and stained glass gallery wall art!
Instructions
1. Place your blank over the template you plan to trace.
2. Trace your stencil outline with the liquid leading. Allow it to dry overnight. Tip: the more complex the design, the harder this stage will be.
3. Fill your spaces with an even layer of window color. Use a toothpick to make sure your color goes all the way to the simulated leading. Any holes can weaken your project and make it tear when you pull it off. Fill in all the holes on your artwork. Keep in mind that the color turns translucent and looks darker when it dries.
4. Allow your Hanukkah window clings to dry completely before removing them from the blank. Dry time will depend on your environment, so test it and remove it slowly, waiting longer if needed.
Place your Hanukkah window clings wherever you'd like them to be, and enjoy seeing them all Hanukkah long!
↵
Recommended Products
As an Amazon Associate and member of other affiliate programs, I earn from qualifying purchases.
Find More Hanukkah Crafts and Activities Below:
This craft was made as part of the Multicultural Kid Blogs Hanukkah blog hop. .
All Done Monkey on Multicultural Kid Blogs: The Ultimate List of Hanukkah Crafts for Kids
Moms & Crafters: Hanukkah Window Clings – Faux Stained Glass (you're here!)
Melibelle in Tokyo: Channukah and a Case for Light
Coffee and Carpool: 8 Days of Hanukkah Kindness Activities
Mommy Evolution: Hanukkah Books for Preschoolers
Juggling with Kids: Personalized Dreidel Gifts