Are you looking for DIY LEGO gifts for LEGO fans that you, or your kids, can make? Let's be honest. Those LEGO kits come with hundreds of different LEGO pieces, many of which never get used. LEGOs aren't just for playtime anymore. You can use them to create a wide variety of different gifts that are perfect for your young LEGO enthusiast! See all my gift ideas here. Disclosure: this post contains commissioned links.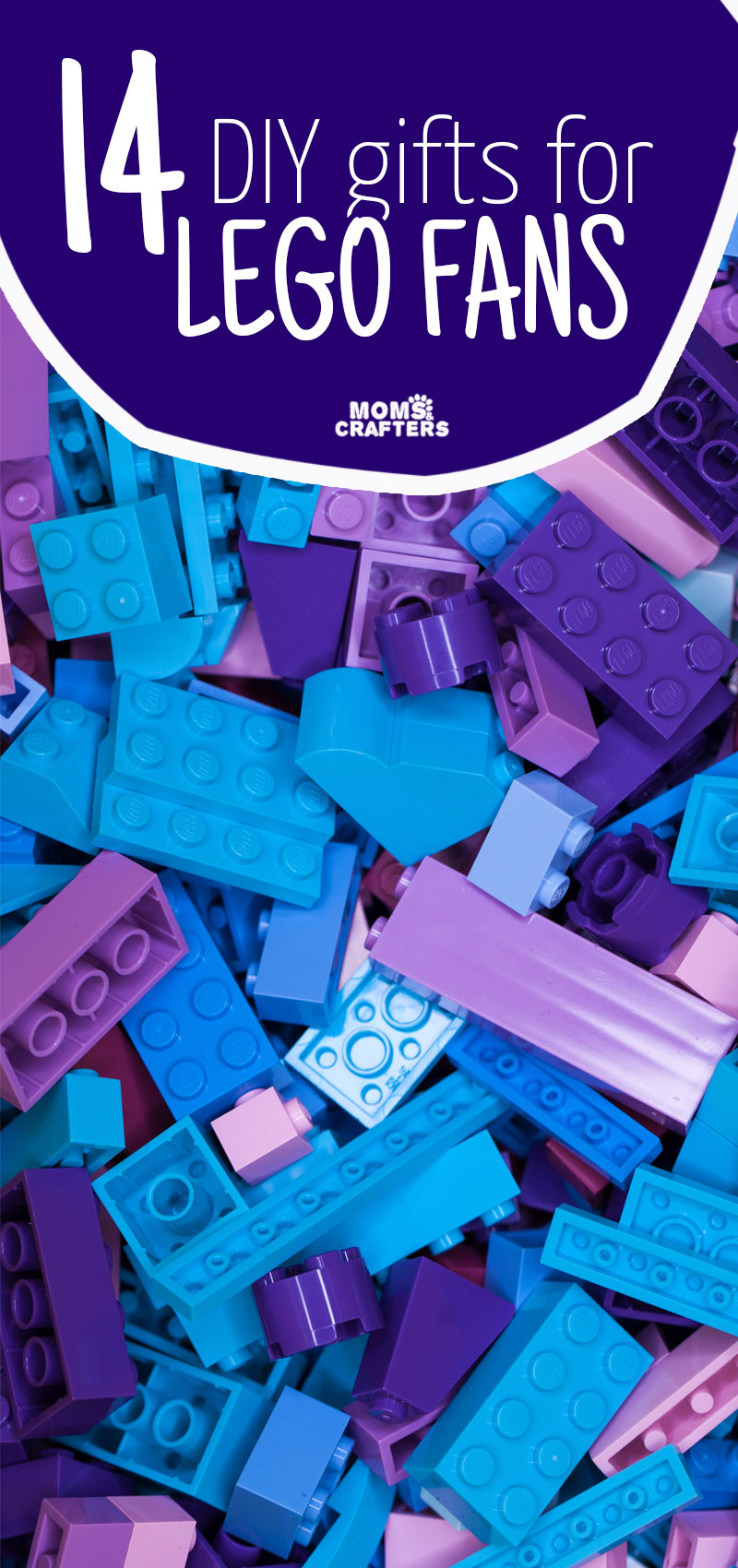 Since M has started playing with LEGO bricks – and has become obsessed with it – I've learned the value of gifting along this theme.
It's an interest with lots of educational value – more than for example Paw Patrol gifts that I've focused on in the past. Playing with LEGO offers lots of learning opportunities: following instructions, STEM, creativity, cooperation (when playing with a friend). It also helps us avoid screen time on days when I need a sanity break because of how entertaining it is.
While these gifts don't necessarily all encourage that kind of play, they encourage the hobby. And since you make 'em yourself, you can get much more value of it, and it has that extra personal touch.
You can find my Amazon list of gifts for LEGO fans here!
Below, you'll find a great list full of DIY LEGO gift ideas that all use LEGOs! It's subdivided into 4 categories:
LEGO gifts using actual bricks – gift ideas that use actual LEGO bricks.
DIY LEGO-inspired gifts – these gifts aren't made from actual bricks but are inspired by LEGO.
LEGO-themed crafts – LEGO crafts that use LEGOs within the craft.
LEGO Minifigure gifts – gifts that involve LEGO characters or figures.
What are you waiting for? Grab your stack of unused LEGOs and see what you can create!
LEGO Gifts Using Actual Bricks
These LEGO gifts are perfect for using up those extra LEGO pieces that come in big sets! You'll see a common theme here: you can make almost anything using brick tape!
1. LEGOs T-Shirt by Moms and Crafters:
This awesome LEGO shirt can be customized to be whatever your child likes! You can do a monogram, or allow your child to customize it! This shirt is so easy to make and your kids will have so much fun wearing it. Everything is glued on nice 'n tight so it'll last at least a dozen washes.
2. LEGO Candy Dispenser by Frugal Fun 4 Boys:
LEGO and candy, a match made in every kid's dreams! The building is just as fun as dispensing the free candy at the end!
3. LEGO Cap by Moms and Crafters:
This fun LEGO cap isn't just for show! It has real LEGO bricks on it to create a unique and custom cap for your kids.
4. LEGO Picture Frames by LalyMom:
These LEGO picture frames are so cute, and you can customize them to hold any picture you'd like! You can even get a little bit creative with the frame to customize it to your liking.
5. LEGO Backpack by Moms and Crafters:
Your kid can have a new backpack every day with this awesome LEGO backpack! Let them show off their style!
6. LEGO Fidget Cube by Lemon Lime Adventures: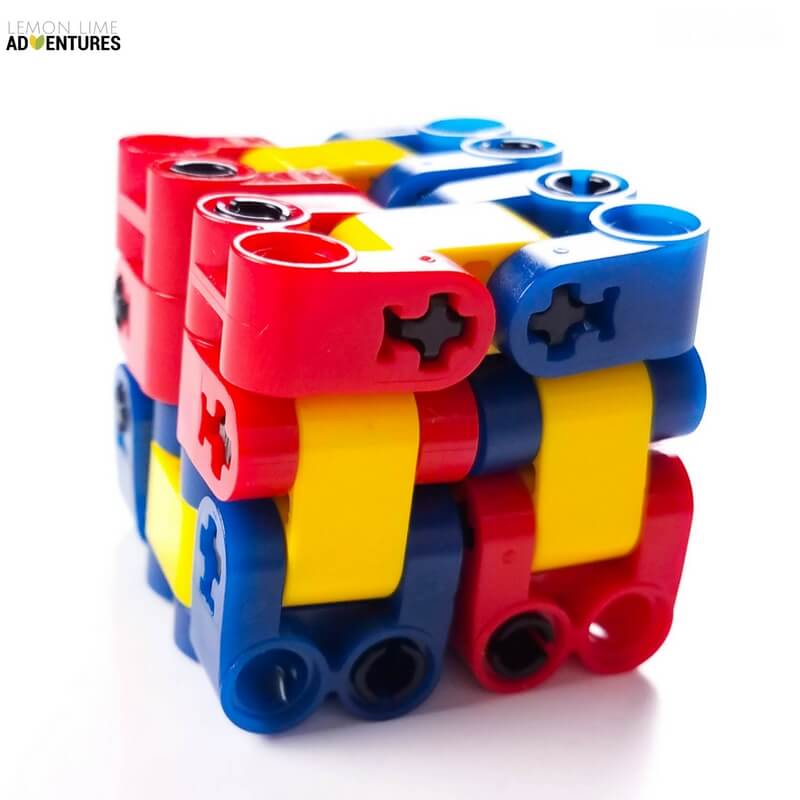 Do you have a fidgety child? Why waste money when you can build your own LEGO fidget cube at home!

DIY LEGO Accessory Gifts
These DIY LEGO accessory gifts don't necessarily require any bricks to make but are perfect accessories for LEGO play.
7. LEGO Table by Sunny Day Family: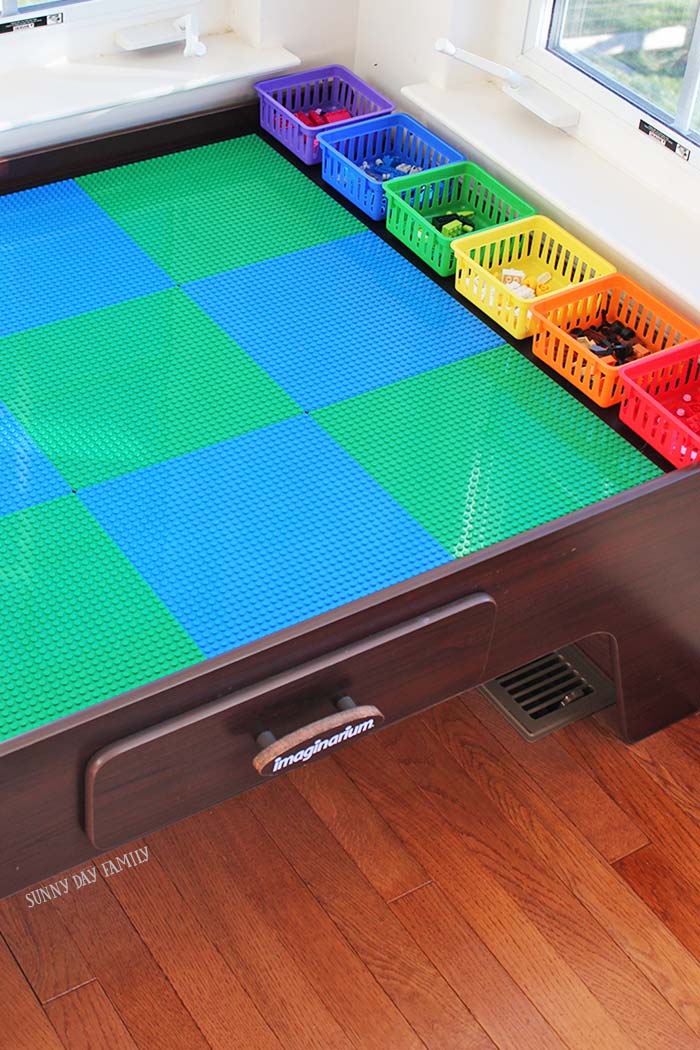 Forget the pain of LEGO all over the floor! This custom LEGO play table even has it's own storage area!
8. DIY Reward Chart by Moms and Crafters:
Help your kid "stick" to their goals by sticking LEGO on the wall! No more boring gold stars, let the creativity flow! This is a great gift for younger kids for whom a reward chart can still make a cool gift.
LEGO-themed Crafts
Want some LEGO-themed crafts? These include craft ideas that all incorporate that cool LEGO look… without any actual LEGOs involved!
9. LEGO Crayons by The Best Ideas for Kids: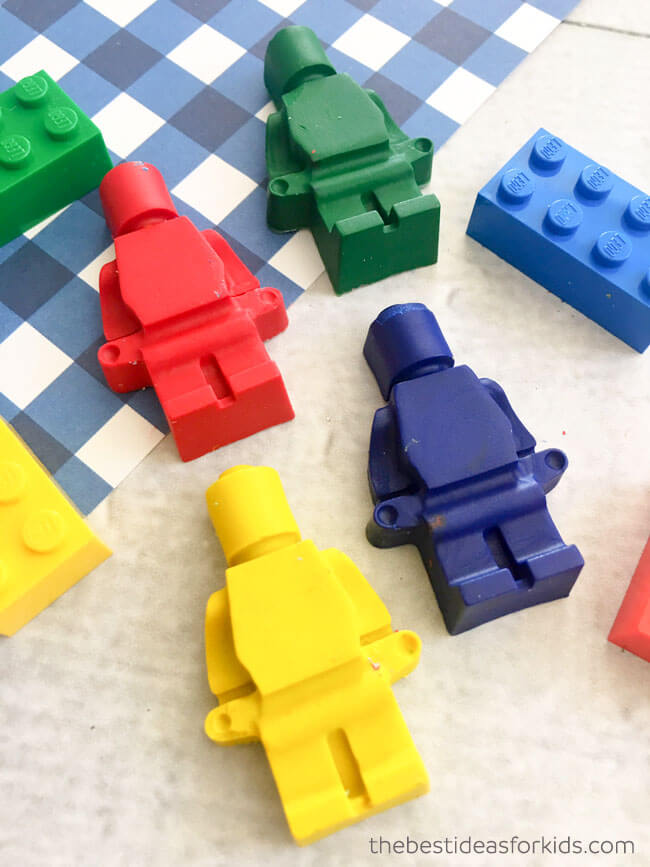 Why stop at just building? Create art with these LEGO shaped crayons you can make at home!
10. LEGO Blanket by Mama in the Now: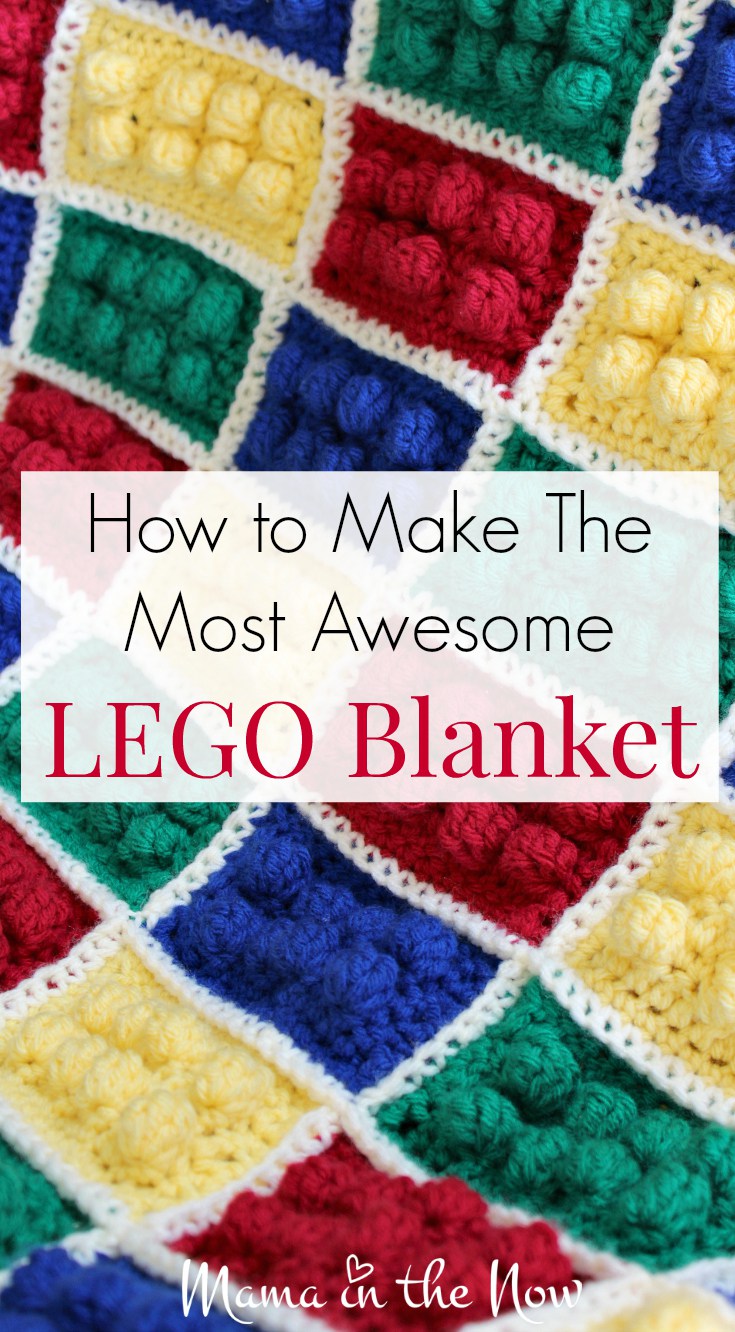 This LEGO blanket is the best way for your kid to stay warm this winter! They can drift off to sleep, dreaming of bricks while wrapped in this!
11. LEGO themed hat and scarf by DAC Crochet:
If you're after a smaller crochet project, try this LEGO hat and/or scarf. You can make it in the primary colors like this set was made from, or you can go for a subtler color scheme.
LEGO Minifigure Gifts
Don't let those old LEGO characters hit the donation bin! Instead, use one of these great gift ideas to give them new life!
12. LEGO Man Snow Globes by Lemon Lime Adventures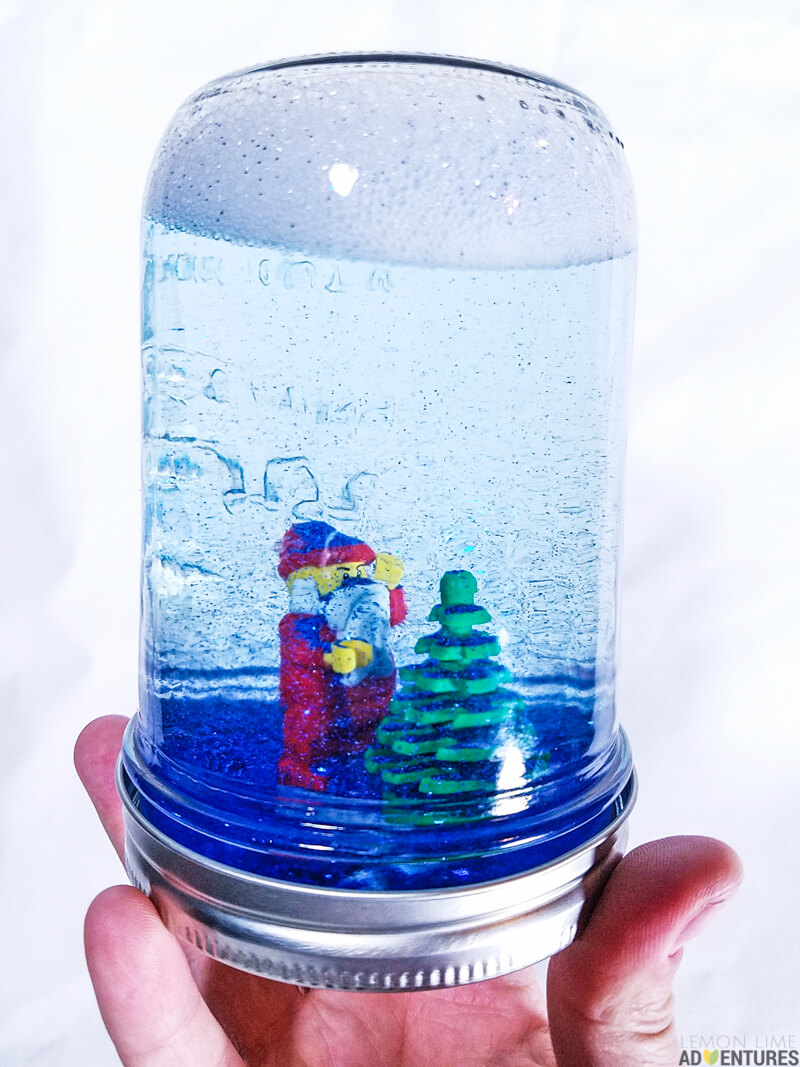 This super simple LEGO snow globe makes for a perfect wintertime gift! You can also make them in other themes: fall, evergreen, etc.
13. LEGO Rescue Soap by Fireflies and Mudpies: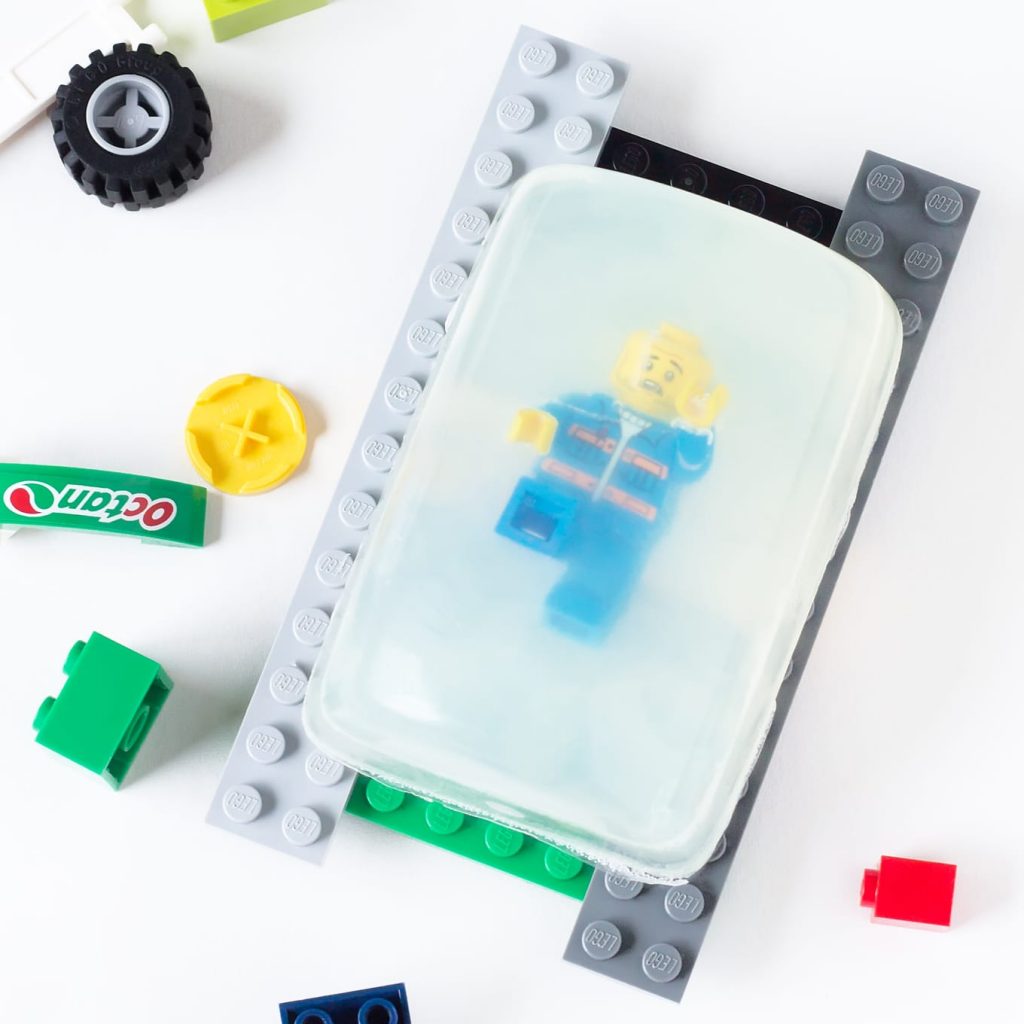 Trap your kid's favorite LEGO in soap, and challenge them to wash it out! Their hands will never be cleaner!
14. LEGO Treasure Slime by Little Bins for Little Hands:

Build fine motor skills with this gooey LEGO treasure slime! Go on a treasure hunt and save the minifigures!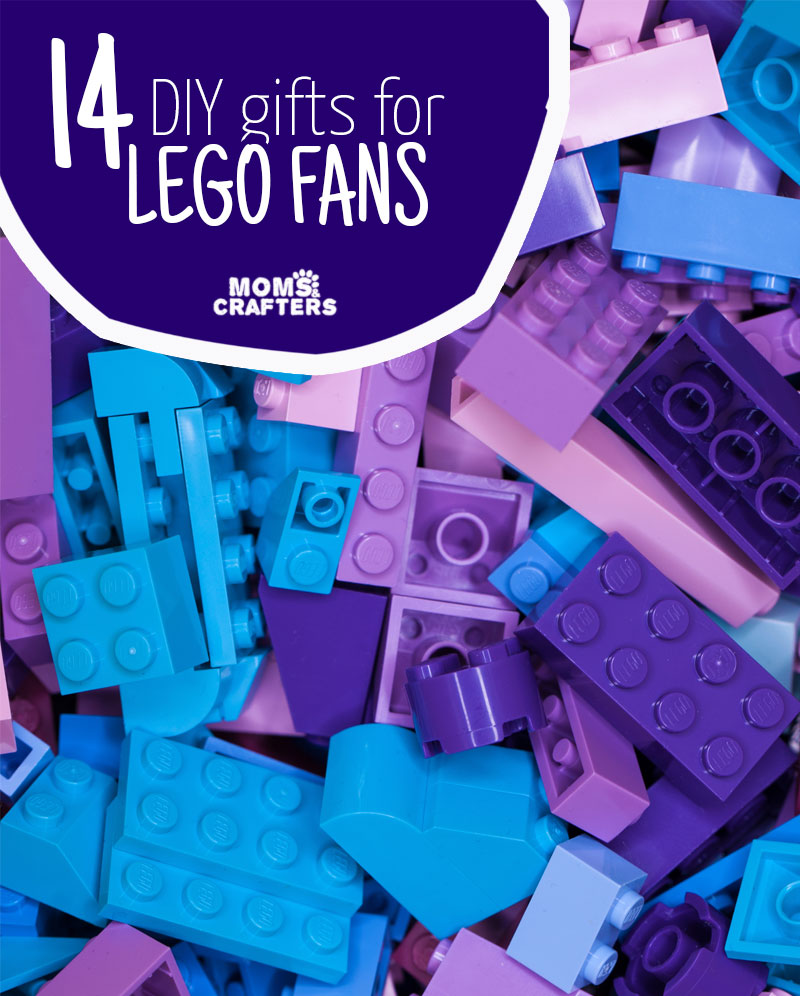 What are your favorite DIY LEGO gifts? Do you also have a LEGO fan at home? Comment below!