There's nothing quite like puppets to bring a holiday to life, and these Hanukkah puppets do just that! A few days ago, I published some Hanukkah window clings templates, and now here's a Hanukkah craft even the youngest family members can enjoy. Disclosure: this post contains commissioned links.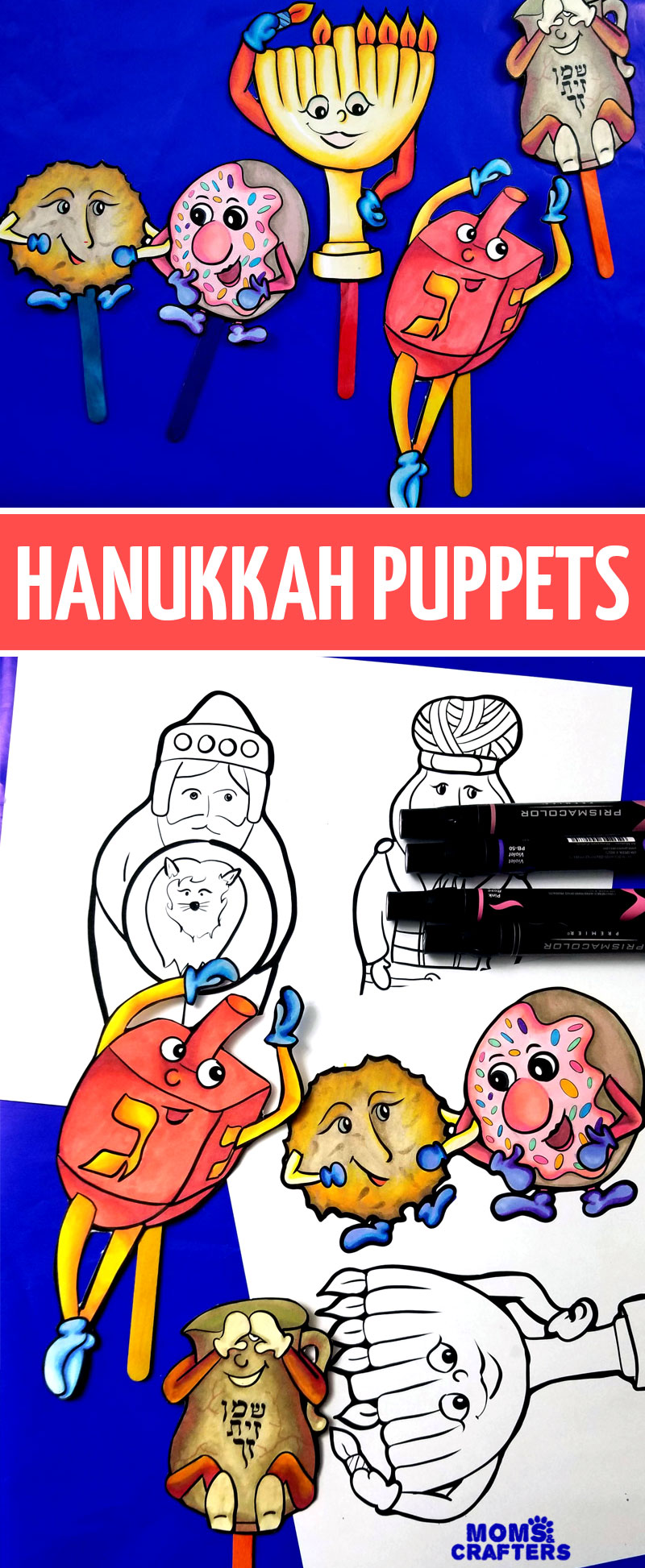 If you brows Moms & Crafters, you'll find many, many puppet crafts. In particular, when it comes to the Jewish holiday crafts, I like to create cheerful, relatable characters like I did with my Purim puppets and Ten Plagues puppets.
There are a few reasons I love them so much:
They are so inexpensive and easy to assemble.
They can be colored by kids, or more professionally by parents who want to make paper toys for their kids.
Because they are inexpensive, they make a great group activity.
They present an easy way to bring the holidays to life.
I created these Hanukkah puppets with a slight agenda in mind.
At this time of year, most of the world is celebrating Christmas, and while I don't expect – or even necessarily want – the commercialization of Hanukkah, it's so often done wrong.
What I mean is, I'll see a leading magazine, who should have the resources to do proper research, create the Hebrew letters upside down, or just plain wrong.
This bothers me because it not only shows disrespect, but even more importantly, it spreads misinformation.
So instead of sitting around and complaining, I made some puppets, that have on them Hebrew letters, and I made those letters correctly. And I made that set of puppets free… For those of you who are looking for more ideas, you can find a full list of Hanukkah crafts and coloring pages, as well as other printables.
Which leads me to – I have a few versions of these Hanukkah puppets for you:
The free printable traditions set in a coloring-page format
The full set that includes the characters of the Hanukkah story in a coloring page format. This one comes with bonus information/educational pages as well.
The full-color version of the traditions set, for those who want to use the Hanukkah puppets as a teaching tool, or as an easy DIY Hanukkah gift, without putting in the work and time that coloring it professionally requires.
Get my Little Red Riding Hood puppets to print for a fun literacy activity!
I created a "sampler set" that you can download for free from Beyond the Balagan, the Jewish blog I run with my friend. You can find the free printable Chanukah puppets here.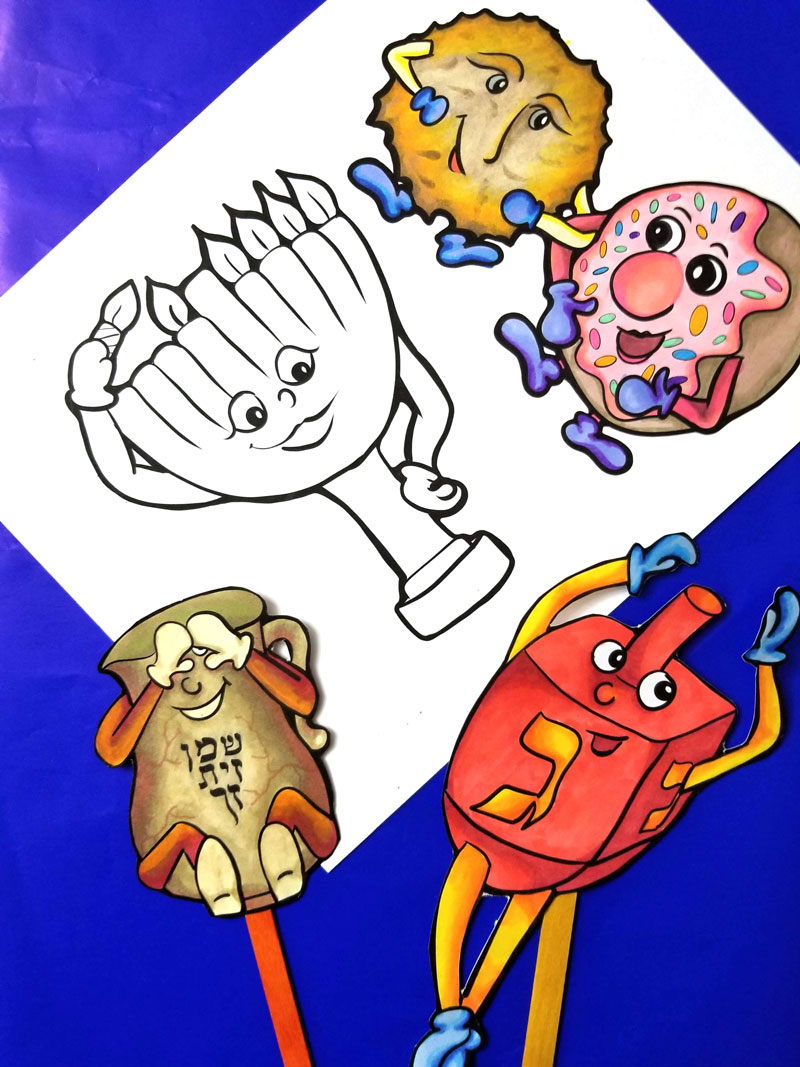 The full printable Hanukkah Puppets Color-in Bundle with the story characters, the traditions and educational guides:
For those who are looking for puppets to bring the actual story to life, I created a larger set, featuring four characters of the Hanukkah story.
Antiochus – the king who outlawed Jewish practice, under penalty of death
Yochanan Kohen Gadol – the high priest (John Hyrcanus) for whom the miracle of the candles occurred.
Maccabee – This can either be Yehudah (Judah) Maccabee, the son of Matityahu and the leader (with the lion of Judah on his shield). Or, it can be his father Matityahu – or any of the Maccabees. That's the beauty of a printable – you can recreate this puppet as many times as you'd like!
Yehudit (Judith) – the young widow who cleverly rescued her city from siege.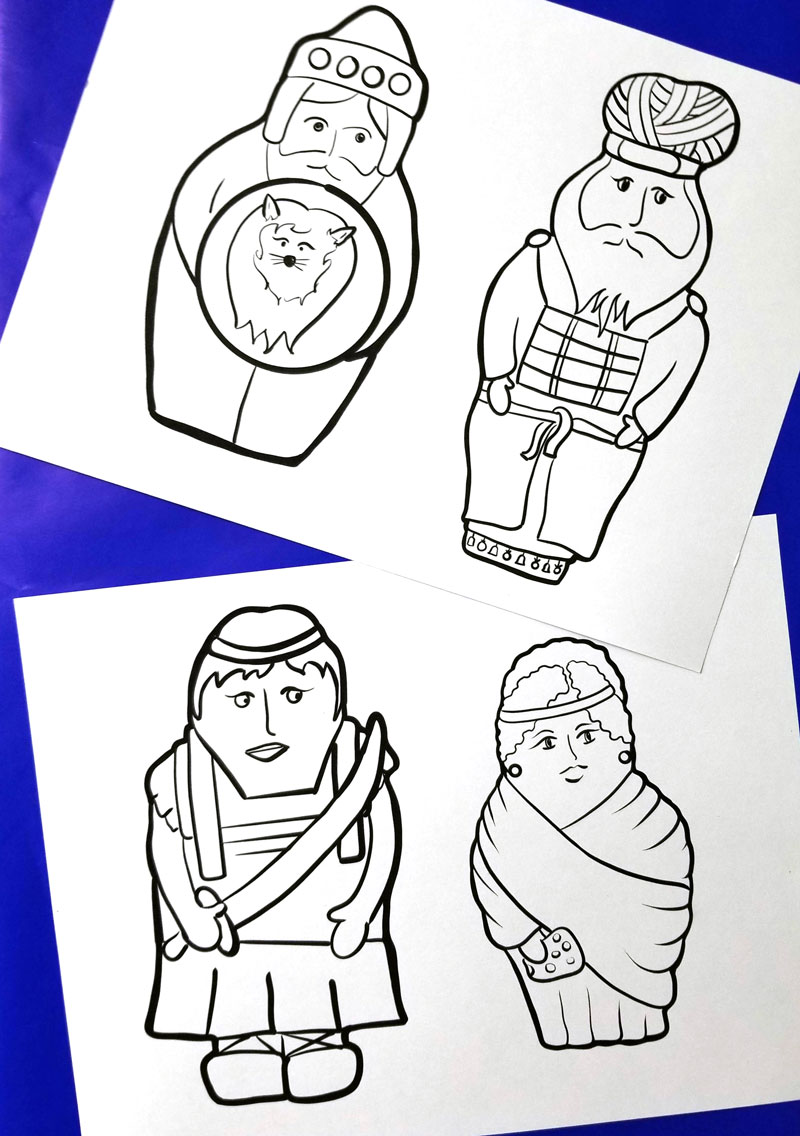 You also get the first package listed with the Hanukkah tradition puppets – a dancing dreidel, a self-igniting menorah, a hiding flask of oil, and a potato latke and donut dancing. You can find my recipe for delicious golden potato latkes here.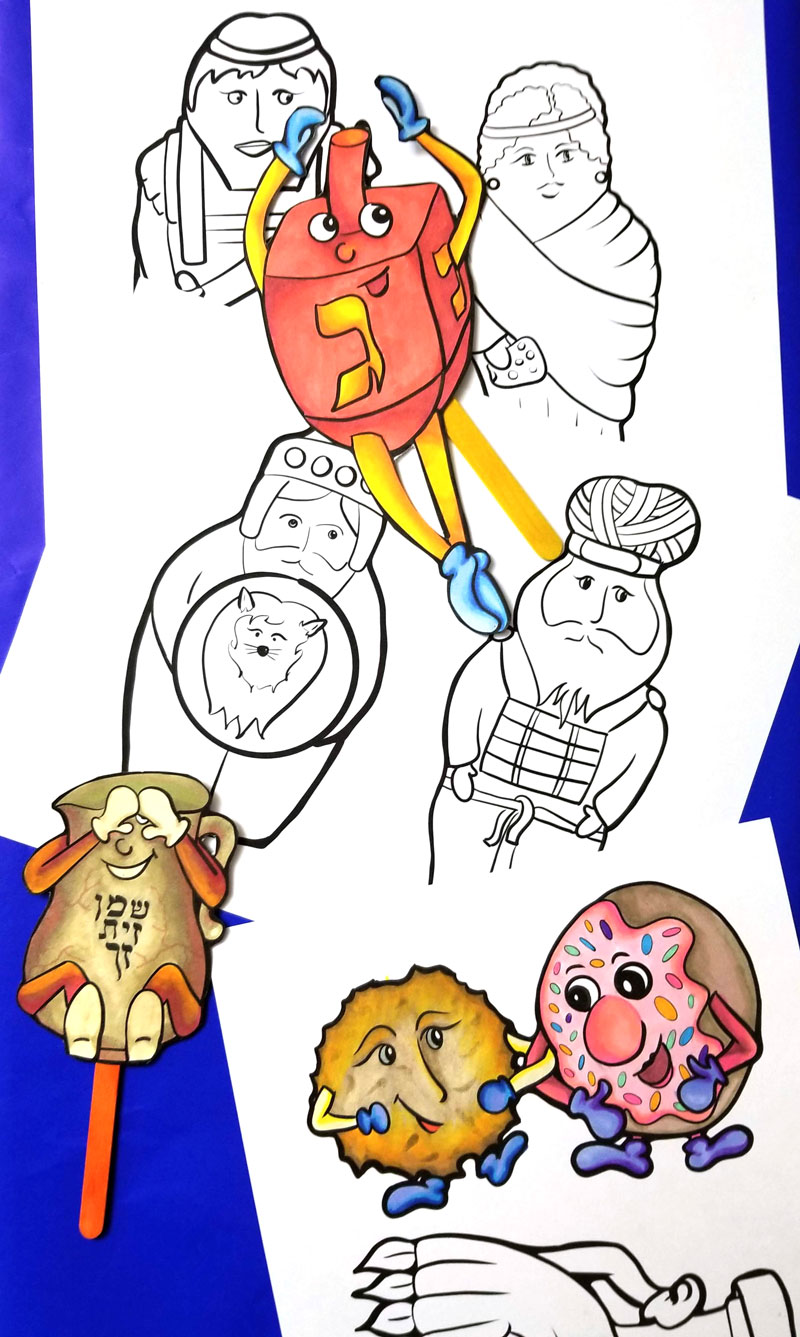 And, as a bonus, you also get two pages with explanations and history behind all the puppets. These pages are also black and white, and colorable. You can either use it as your own resource if you need factual information (as accurate as I could manage!) Or, you can use them as a coloring page in their own right.
Because they're quick and easy to assemble, these Hanukkah puppets make amazing gifts. Grab the full-color version, and you can print and gift them to a few people (as long as they are gifts coming from you personally – you may not sell it or anything like that, or redistribute it to others to give as gifts).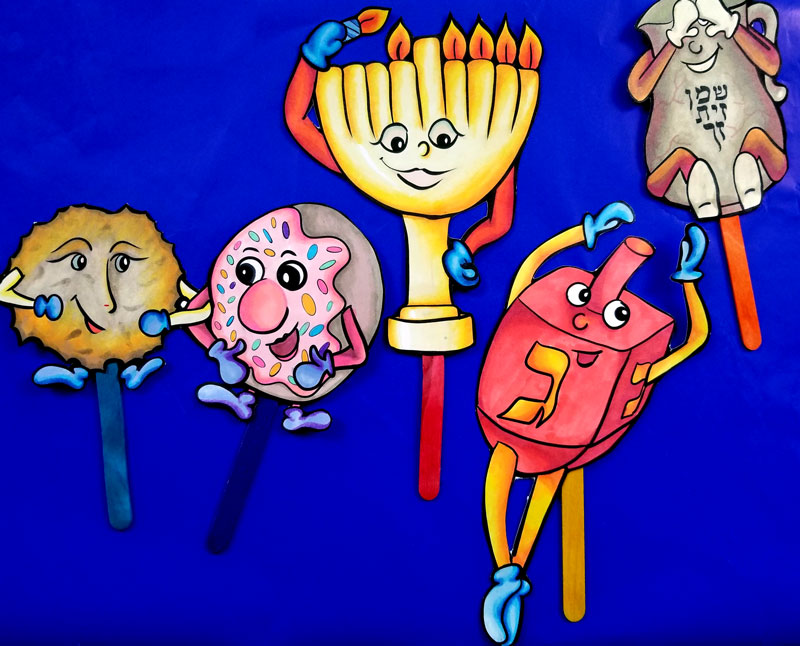 I colored these using Prismacolor Premier markers (the classic and the Portrait sets), scanned them, and turned them into a printable for you.
Which of these Hanukkah puppets will you be creating? Comment below!
Love these Hanukkah puppets? Try the Hanukkah crafts below: