He's about to be a father – which is an amazing milestone and not one to be skipped! These Dad-to-be gifts are the perfect way to ease those nerves and surprise him. I've already discussed Gifts for Mom – now it's dad's turn! Disclosure: this post c0ntains commissioned links.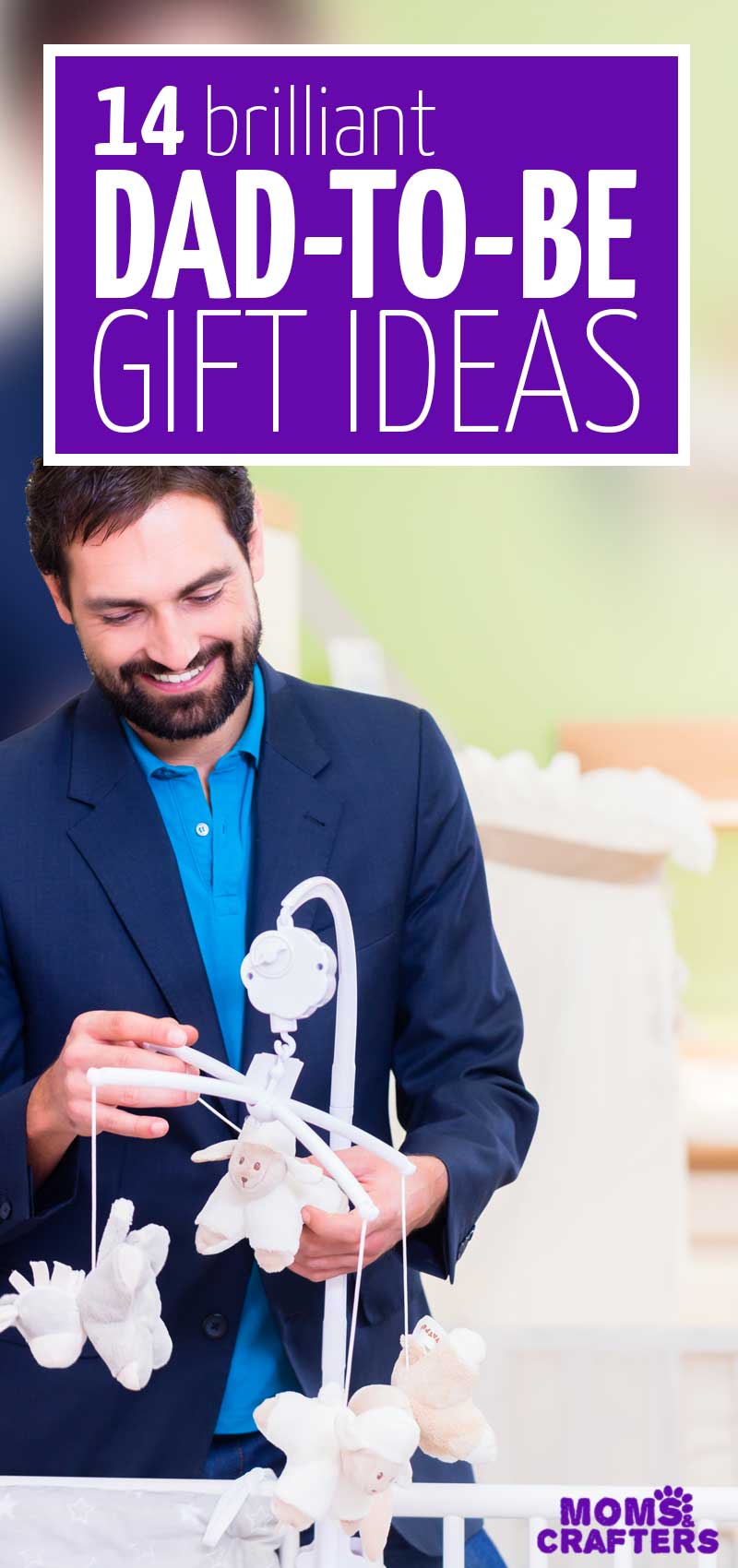 If a man in your life is about to be a new father, you may want to surprise him with some Dad-to-be gifts – whether it's to help in the hospital, to ease those nerves, or to help him feel involved.
When I was pregnant with M, I remember my husband feeling a little out of it. While he wasn't about to complain about it, considering how difficult he saw I was having him, I could tell that he felt disconnected from the whole experience.
Whether it's a larger gift to celebrate fatherhood, or a small token – the equivalent of buying a coffee or some flowers, these Dad-to-be gifts are the perfect choice.
These gifts are focused on items that are perfect for buying Dad BEFORE the baby is born – although some can work soon after as well.
4 Book Dad-to-be gifts:
1. Dad's Playbook: Wisdom for Fathers from the Greatest Coaches of All Time by Tom Limbert
Coaches are a lot like Dads. They motivate, love, act tough when need be, discipline and more. This book is a beautiful gift for a Dad-to-be with one hundred inspiring quotes from some of the greatest coaches of all time. There are beautiful photographs accompanying the quotes, and the book makes a lovely conversation piece.
2. Your Baby's First Word Will Be DADA by Jimmy Fallon
Jimmy Fallon is one of my favorite talk show hosts, and this book is no exception to his exceptional talent. This is a wonderful book to share with your child, and a great way to ensure that his or her first word will definitely be "Dada"! If you want it to be kid-proof, the book also comes in a board book option.
This memory books makes for a beautiful keepsake that Dad can hold onto for years before passing it on to his children, grandchildren and, one day, great grandchildren. The pages have interesting questions meant to be thought-provoking and inspiring, for Dad to write down things he wants his offspring to remember.
4. Be Prepared by Gary Greenberg
This is the book every new Dad needs; a survival manual! Fatherhood is exciting, but it can scary too, especially for a new father who may not know what to expect. This book dispenses invaluable, no-nonsense advice, including things like creating an emergency diaper, baby-proofing a hotel room and other things that every Dad-to-be needs to know.
[convertkit form=5126235]
4 Clothing and Accessories Dad-to-be gifts:
Get Dad in on the fun! Prepare the Dad-to-be with this fun gag gift at a baby shower, or anytime before baby arrives. The apron comes fully loaded with all the essentials; rubber gloves, clothespins, a face mask, and a baby toy! While it seems like it's all in fun, Dad is sure to get excited about caring for his new child and will definitely be more willing to pitch in with changing diapers.
Dad's going to be dressing the baby too, so why not get him something to help him out a bit? This adorable onesie is not just for the baby to wear, it's a great to "educate" Dad what all the holes are for! It's 100% cotton and comes in three colors, white, blue and pink. It also makes a great outfit for baby to wear on his or her first photo-shoot with Daddy.
7. Dad and Baby Matching T-shirts

Dad will love bonding with his new baby in these fun, matching tshirts. They make for a perfect photo op, and Dad will love the pizza motif. They work for both boys and girls, and they'll make a special gift unique to just Dad and baby.
8. Skin to Skin Dad Wrap Shirt
Skin to skin bonding is super important for both Dad and baby. It not only promotes bonding, but it's also very healthy for the baby, and provides emotional support. Mothers and babies usually have this sort of bonding more naturally, but it's equally important for Dad to bond with his new child in a similar fashion. This terrific t-shirt is comfortable and stylish while enabling Daddy to care for and bond with his newborn.
6 Baby Gear and other cool Dad-to-be gifts:
9. New Dad Hospital Comfort Gift Basket
Everyone's always making sure that the new Mom has all her stuff packed for the hospital, but what about the new Dad? Make sure the Dad-to-be has all the essentials, like snacks, caffeine, and some personal care items. There can be a lot of waiting time while Mom is in labor, or staying overnight after the baby is born, so this gift is a great way to make sure that Daddy is taken care of too.

This lovely sound wave print makes for an incredibly unique, thoughtful gift for a new father. These wave prints are custom made using any recording you wish. Record a special message for a new Dad using an ultrasound heartbeat recording, or turn it into your pregnancy announcement and gift it to your partner! It's a gift that is sure to be treasured forever.

This beautiful and thoughtful gift is a great way for a Dad-to-be to track his partner's pregnancies and count down to the arrival of his precious new baby. It can be customized to include any wording you want, and it comes with a handy piece of chalk to mark the weeks left to the exciting due date. It's a wonderful way to mark the passage of the weeks and months, and Dad will get so excited every time he sees it.
This diaper bag has got Daddy's name stamped all over it. Manly, useful and practical, Dad will love toting this diaper bag around. The diaper bag has interior dividers to keep it as organized as possible and a handy key holder clip so Daddy doesn't lose anything important. The straps are wide and padded for ultimate comfort. It even has a padded compartment for a tablet. This diaper bag makes a great gift for any Dad-to-be in your life.
13. Hiking Child Carrier Backpack
If you know a new Dad who has a passion for hiking and camping, this is the ultimate gift. Let Dad bring baby along for the fun! This child carrier was designed specifically for hiking; it will go from baby to toddler and it has a lightweight, balanced frame. It won't hold just the baby, it also has a duffel bag attached, and a special place for short-term food storage. It also comes with a sun shade and rain guard cover to protect baby from the elements. This hiking child carrier backpack makes for a practical gift that is sure to be remembered.
This unique shirt is a great gift item for a new Dad. It's a super simple baby carrier, and very easy for Dad to use to calm a newborn. There are no wraps, no tying and no adjusting. All Daddy has to do is slip the baby inside and hold him close. It's a great way for a new father to bond with his baby and give Mommy a break. Dad may just wear this shirt every single day!
What are your favorite Dad-to-be gifts? Comment below!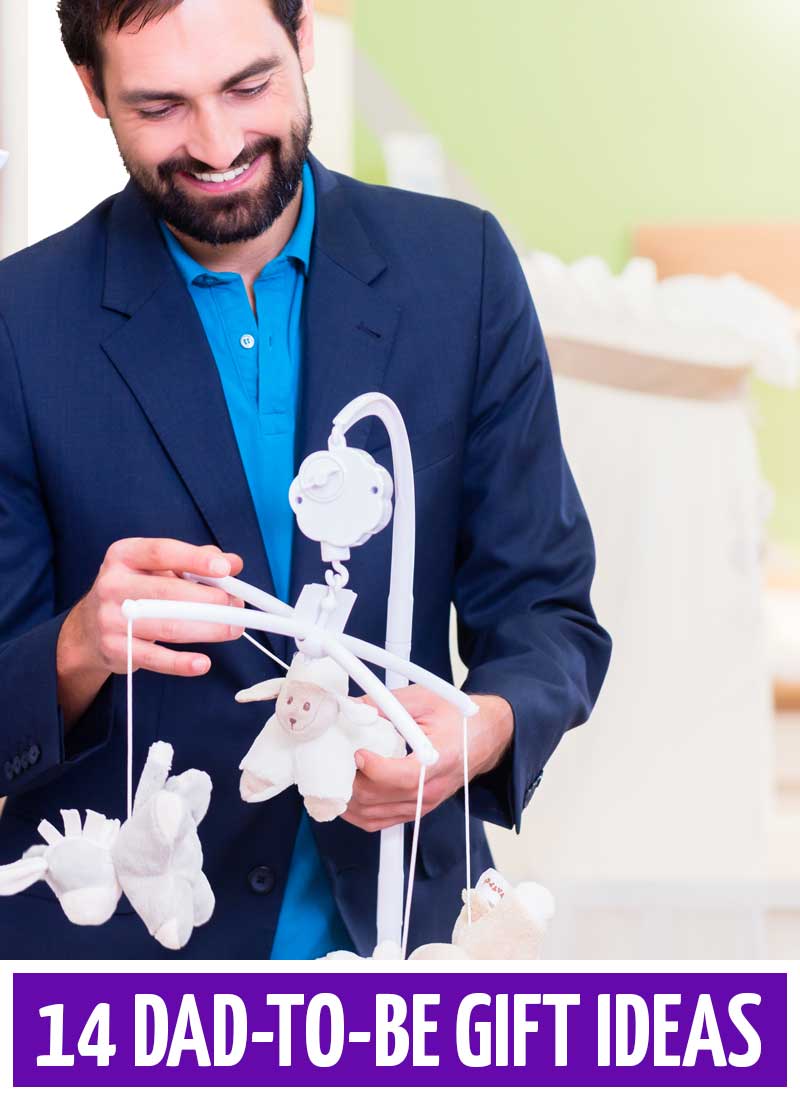 Loved this? Check out the following helpful gift lists: