These paper crafts for Christmas include some fun ideas for ornaments, gifting, decor, kids, and more! This post contains affiliate links.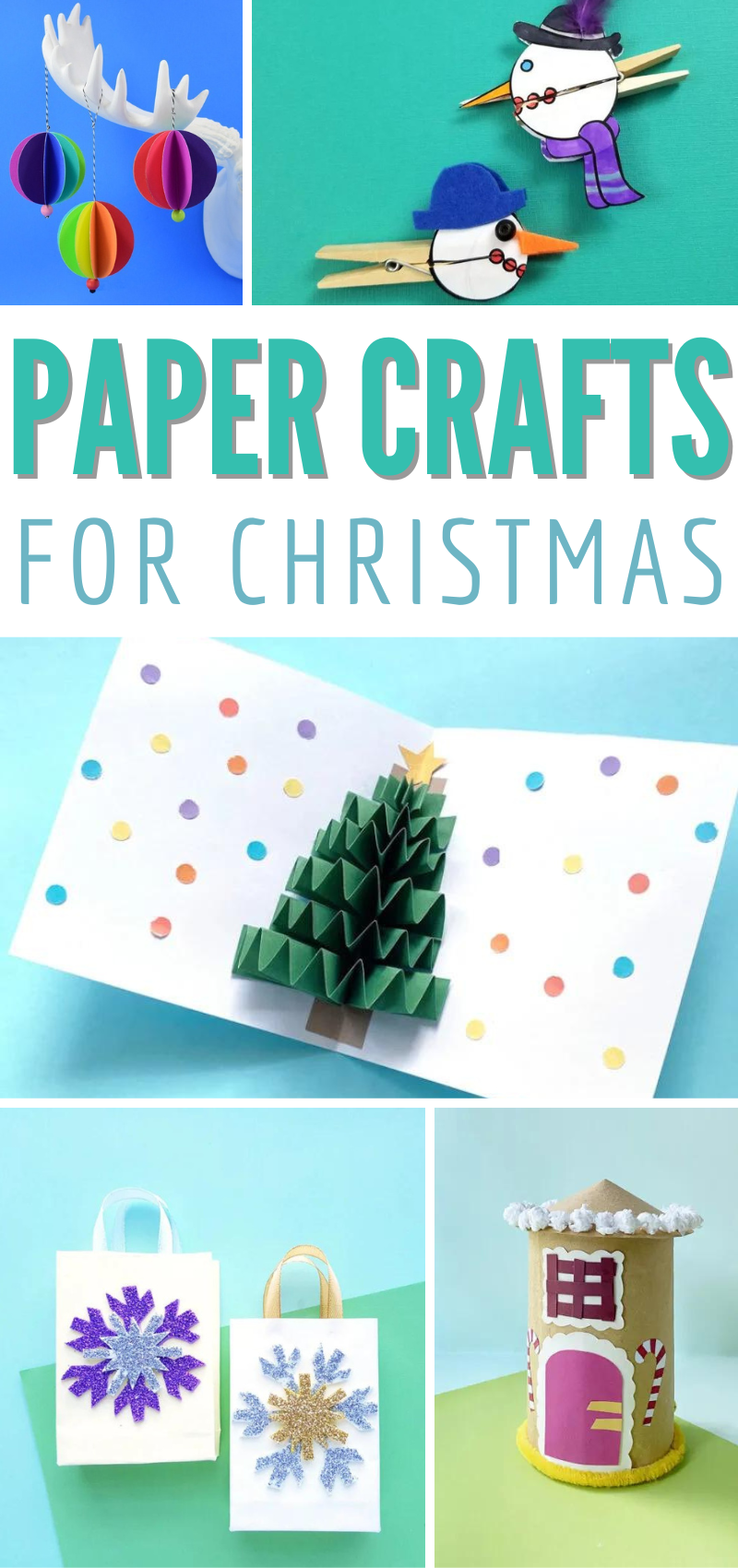 Can you believe that it's almost Christmas? For those of you who are looking for some last-minute paper crafts for Christmas, you're in luck! Instead of buying expensive Christmas decorations and cards this year, why not make your own?
There are so many great paper crafts you can make that are both fun to do and perfect decor for your home this holiday season! These are so easy to do that adults and kids love getting involved with these crafting ideas. These are also inexpensive crafts for those on a tight budget.
Paper is one of the most inexpensive, easy to stock craft materials that you can keep handy, so why not make that the focal point of your Christmas crafting?
Here are some of my favorite paper crafts for Christmas.
Paper Christmas Ornaments
Yes, you can hang beautiful paper creations from your trees! These paper crafts for Christmas include gorgeous ornaments for the whole family to get involved in crafting! They might not quite make keepsake quality, but they'll look gorgeous while they last.
Some of these can be made with better cardstock with good finishes that can last a bit longer.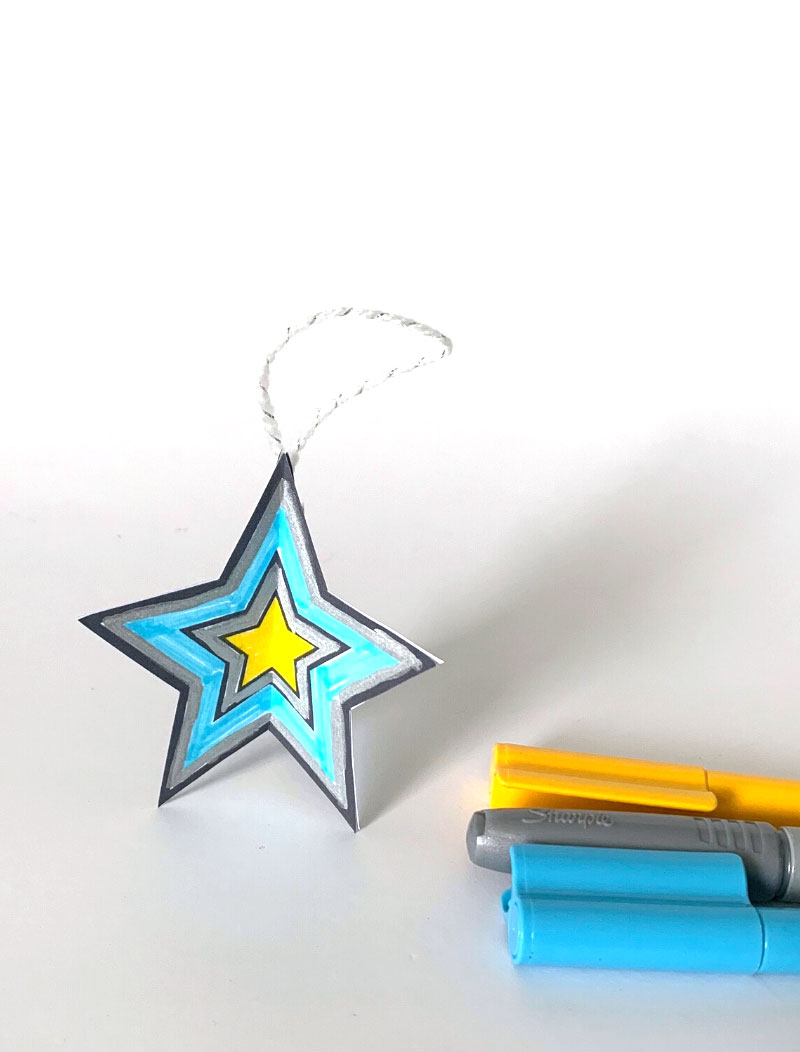 These "print, color, and craft" paper ornaments can be made by kids as young as toddlers. They'll come out as pretty as the personal touch you add to them!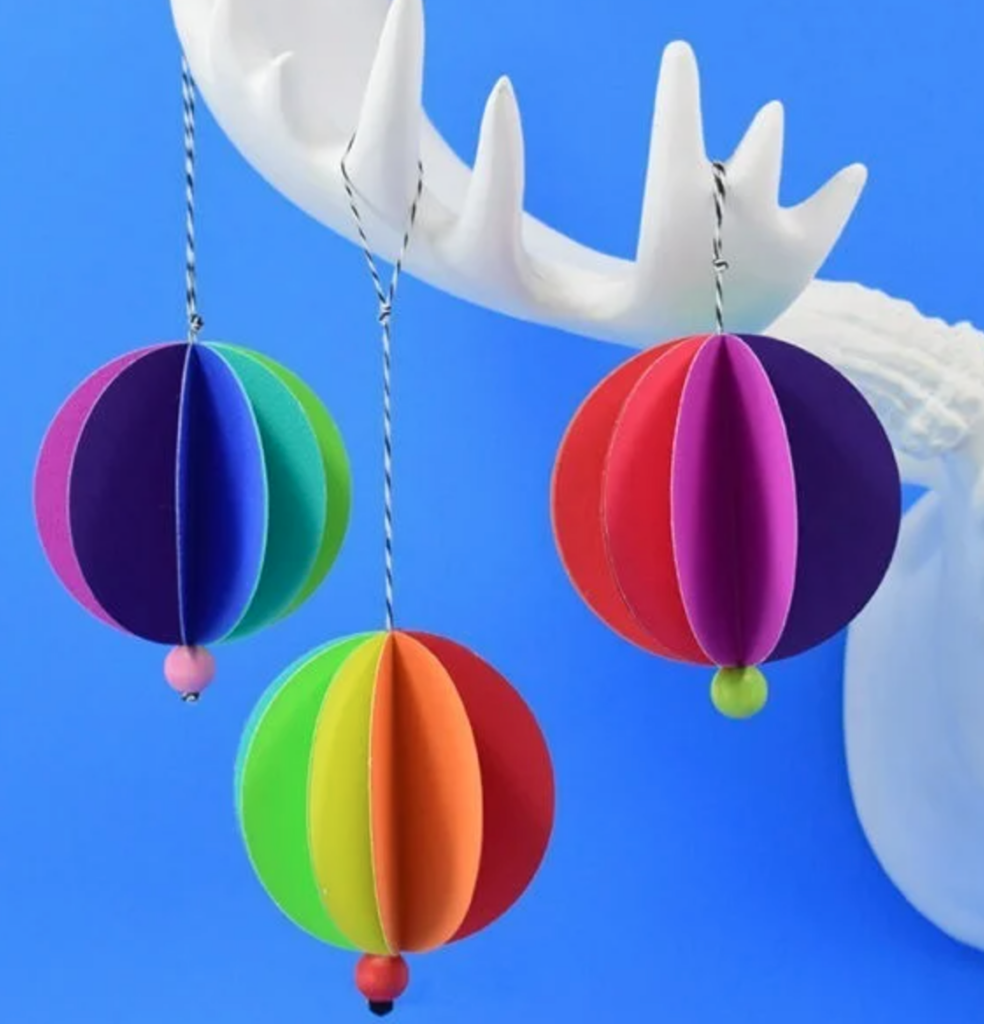 Use this classic craft to make ornaments in whichever color you'd like! You can go all-in on the color like Dream a Little Bigger did, work with red, green, and gold metallics for a more traditional feel, or opt for pearly white paper for a modern glam Christmas look.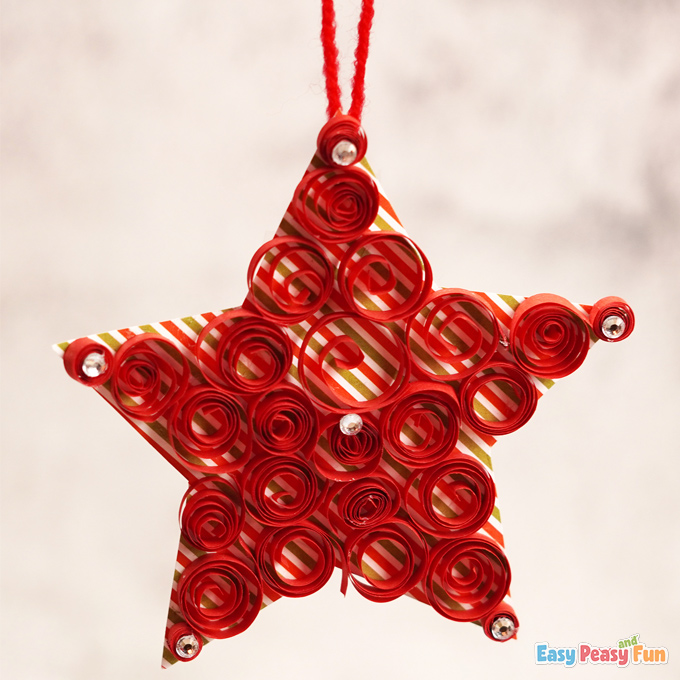 Implement some very basic paper quilling techniques to add texture to some star ornaments! KIds and tweens can have fun crafting these too! Make it in whichever color suits your decor.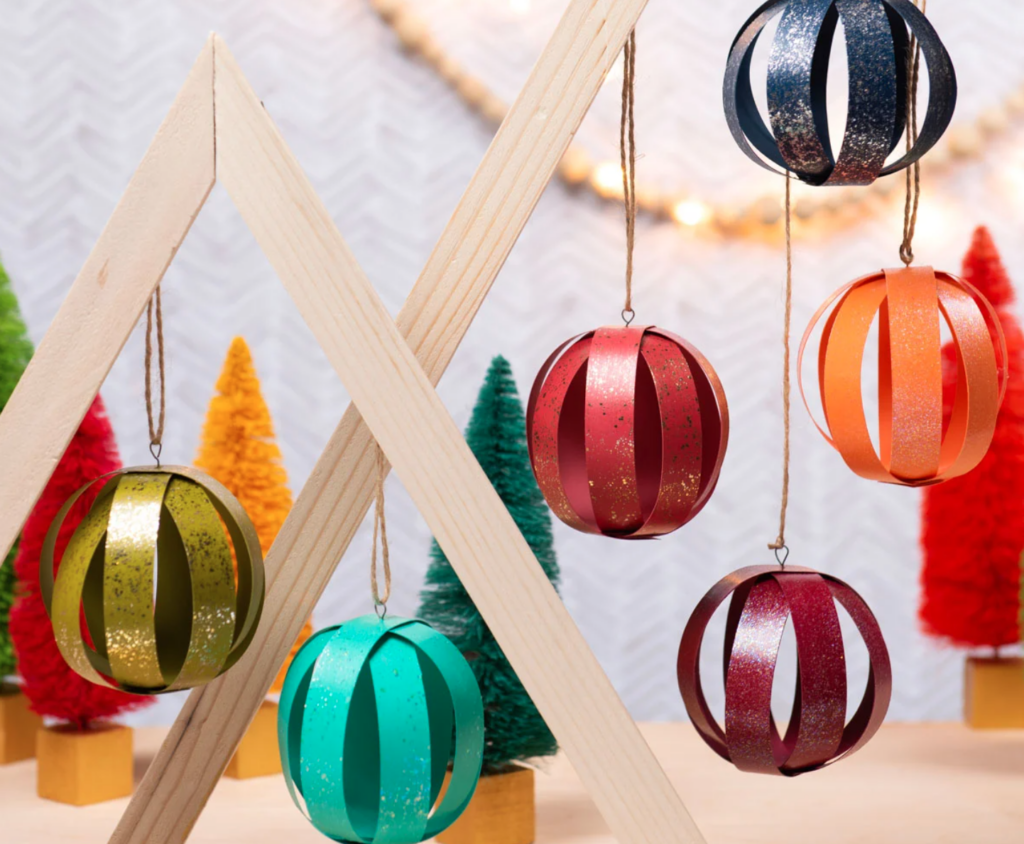 Mod Podge Rocks teaches how to make paper ornaments using a different technique: balls made from strips of paper. This tutorial is even less fussy, and you can work with thick, gorgeously textured cardstock papers. You can take the time to embellish, paint, and make it really customized to your style. And it's a kid-freindly tutorial too!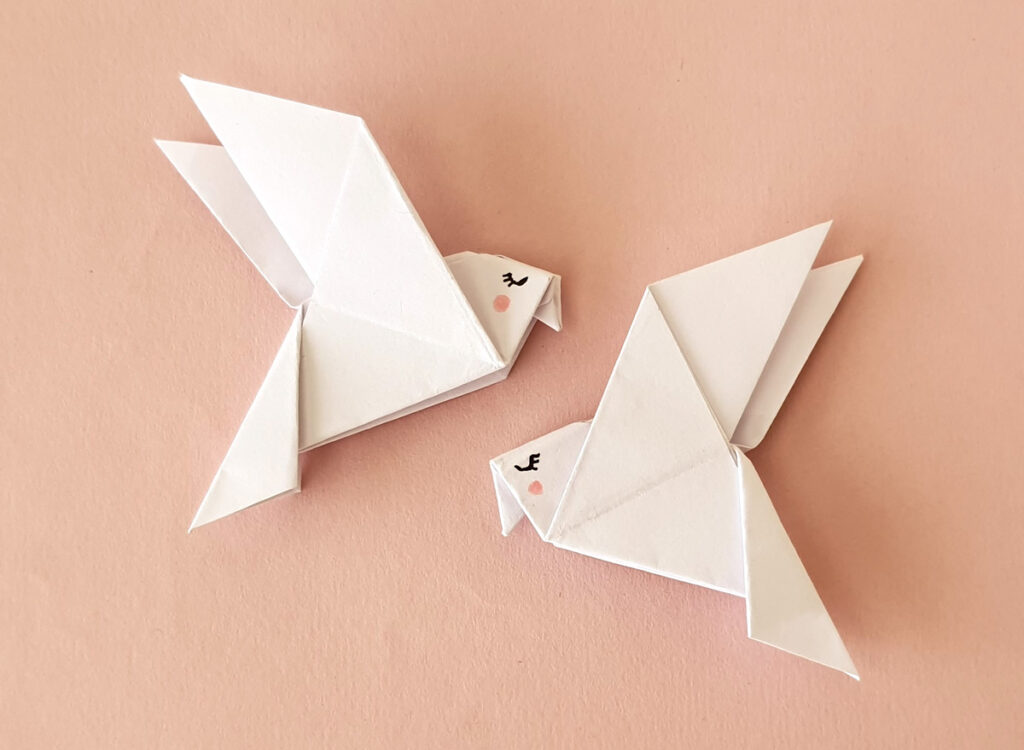 A little origami can be strung up into an ornament for a gorgeous, textured paper decor. Origami does require thinner paper. You'll want to stick to copy or origami paper for this, or your folds won't work out well. But still, since it can be stored flat, if you glue and seal it with Mod Podge or some other sealer, you should be able to get a few years out of your hard work!
Paper Crafts for Christmas Gifting
One of my favorite ways to use paper in crafts for Christmas is for gifting. It's easy to seriously upgrade an otherwise commercial gift with a handmade touch, and since paper is affordable, you'll find that you're often even saving on fancy wrapping materials.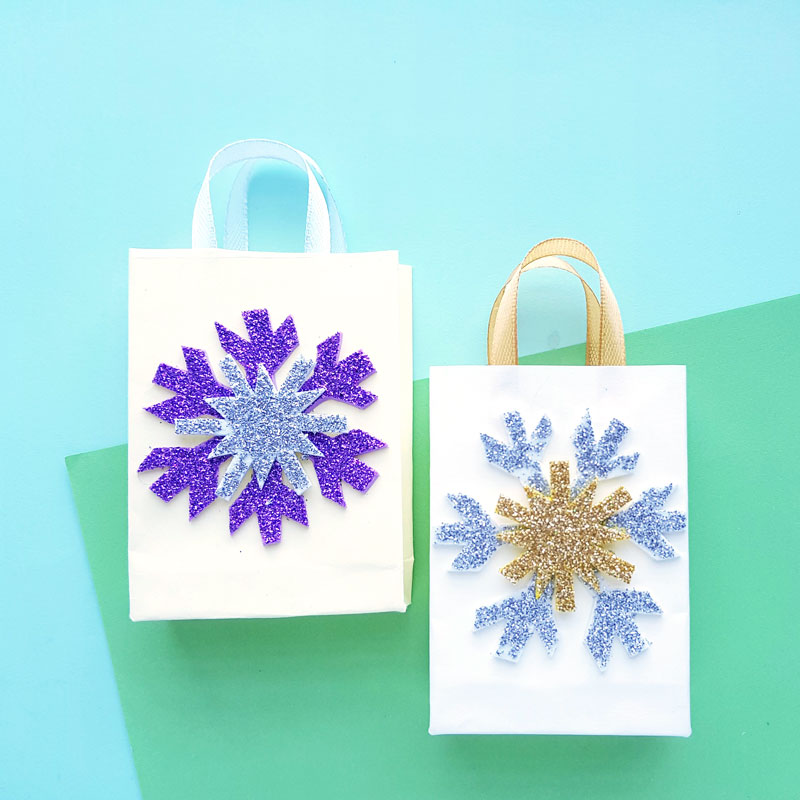 Did you know that it's not that hard to make a gift bag out of wrapping paper? You can even use copy paper if your gift is small! This tutorial shows you how to do that with an optional Frozen touch in the form of glitter foam snowflakes. Gift bags can be quite pricey, but make wrapping odd shaped gifts so much easier. You can craft up a batch of gift bags in advance and then wrap things in minutes at the last minute! If using wrapping paper, do finish it off as if it's a wrapped gift, by folding over the top and taping it, or tying a bow. Handles will just tear apart the wrapping paper.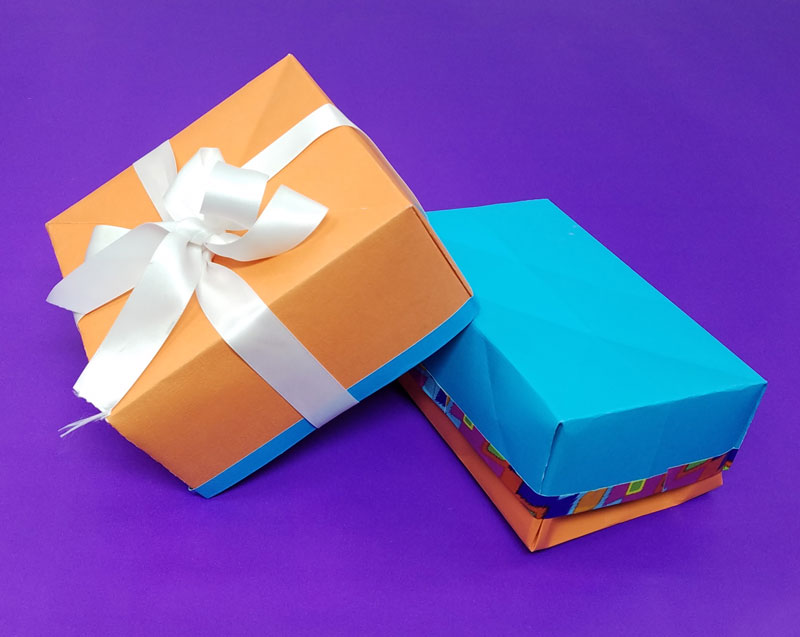 Pull out that scrapbook paper (cardstock is even better) and craft a surprisingly affordable gift box! This is another fabulous way to wrap more oddly shaped small to medium sized gifts in an affordable way. It's perfect for clothing gifts, such as pajamas, winter accessories, and more. And the selection of cardstock to use is endless!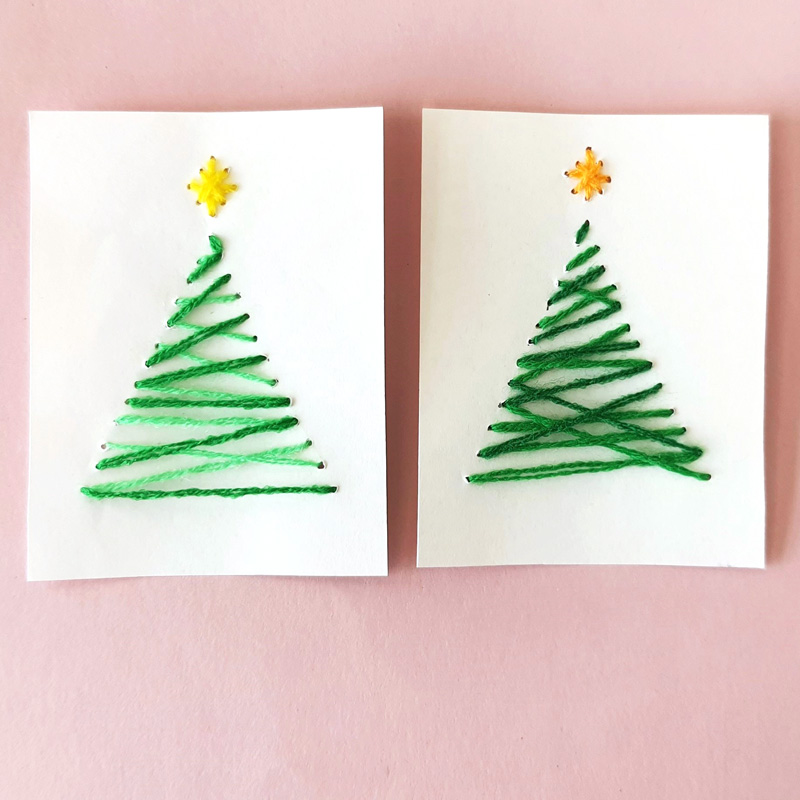 It's amazing how much texture a very simple embroidery floss design adds to a card! This stitched card is one of my favorite paper crafts for Christmas. It shows how you can add a little bit of a complementary craft material to seriously upgrade things.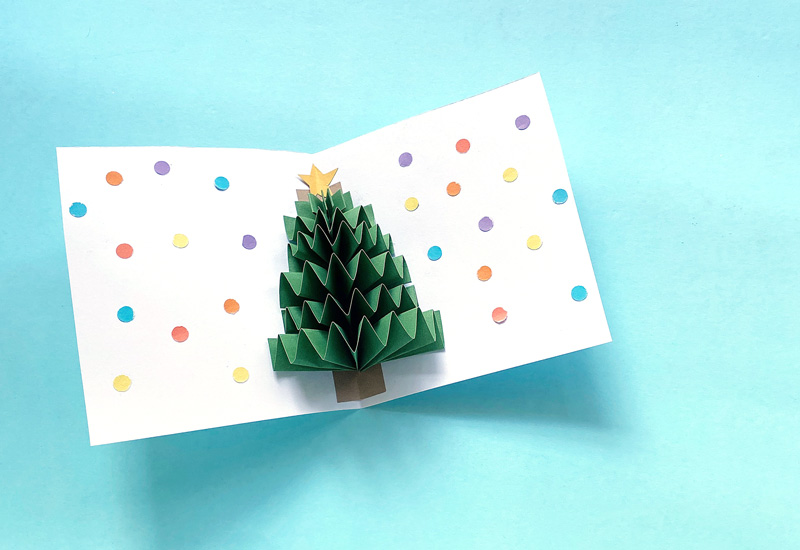 The concept of this pop up card is so simple, even younger kids can make it! They'll be so proud with how this comes together!
I created these as a way to figure out Cricut's (then) new foil tips, and share some fun ideas for Hanukkah AND Christmas, as well as generic holiday ideas. You can also use your Cricut with compatible gel pens on cardstock to make the same designs.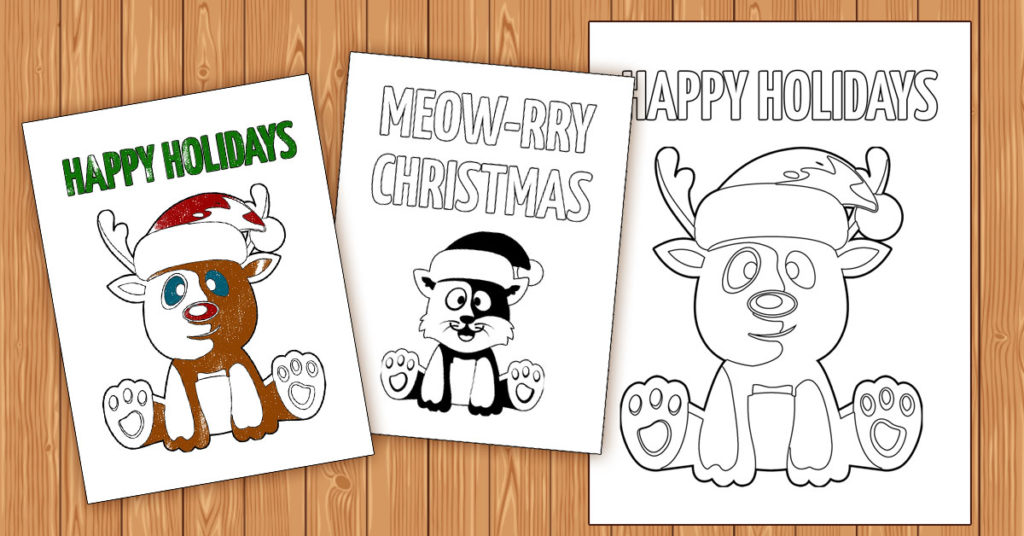 Sometimes it's the simplest things that go the furthest, and these free printable color-in Christmas cards will make your kids smile! Just print them on regular white printer cardstock and have the kids do the rest!
Paper Christmas Decor
Yes, you can decorate with paper crafts for Christmas! Make them as standalone crafts, or coordinate the colors and assemble a few of these into one cool display!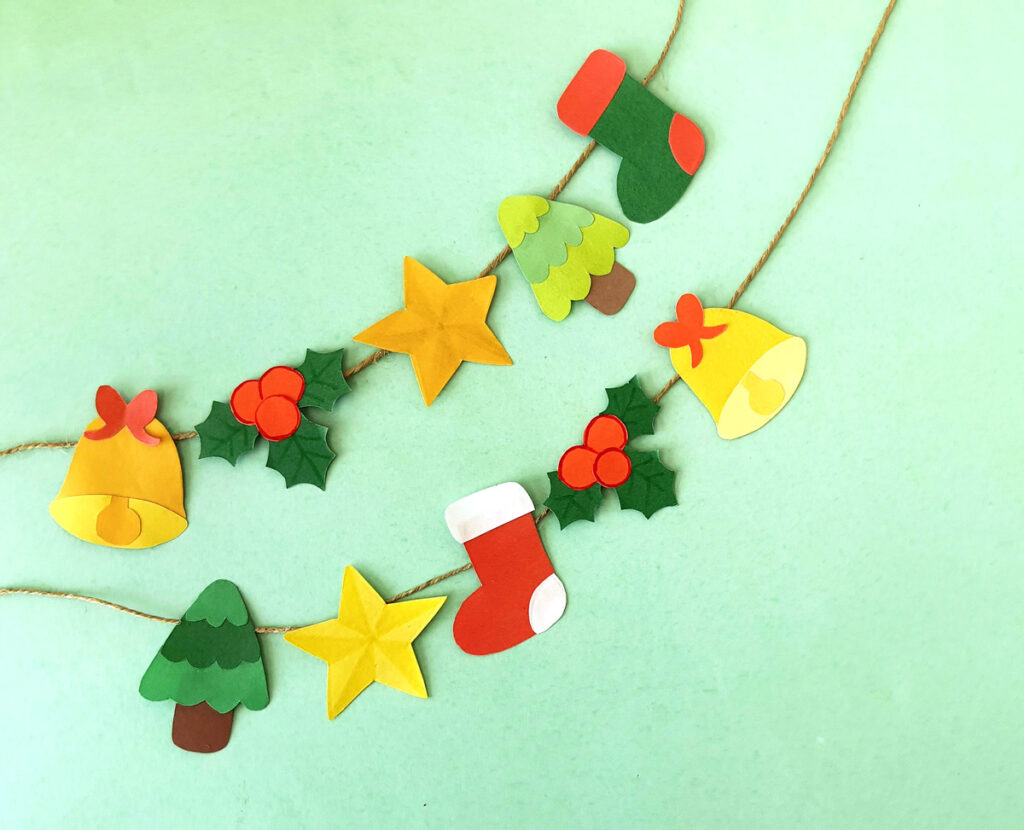 A few shapes combine to create a Christmas themed paper garland! You can hang this, but you can also use it to drape around a Christmas display.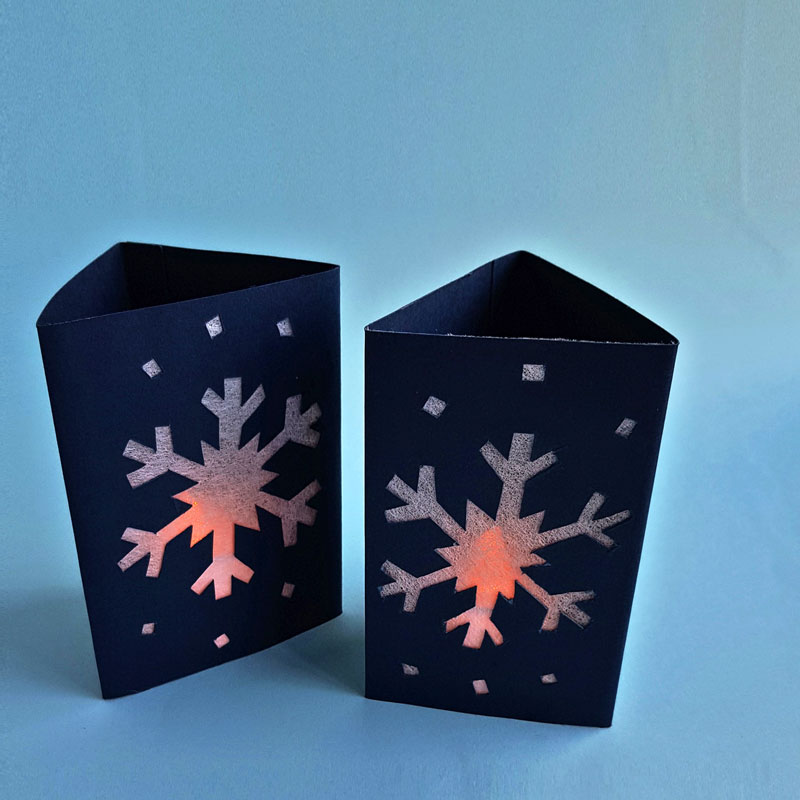 Textured white Mulberry paper lends this gorgeous snowflake lantern an incredible, sophisticated finish. You can also use vellum for a similar translucent effect that's easier to find.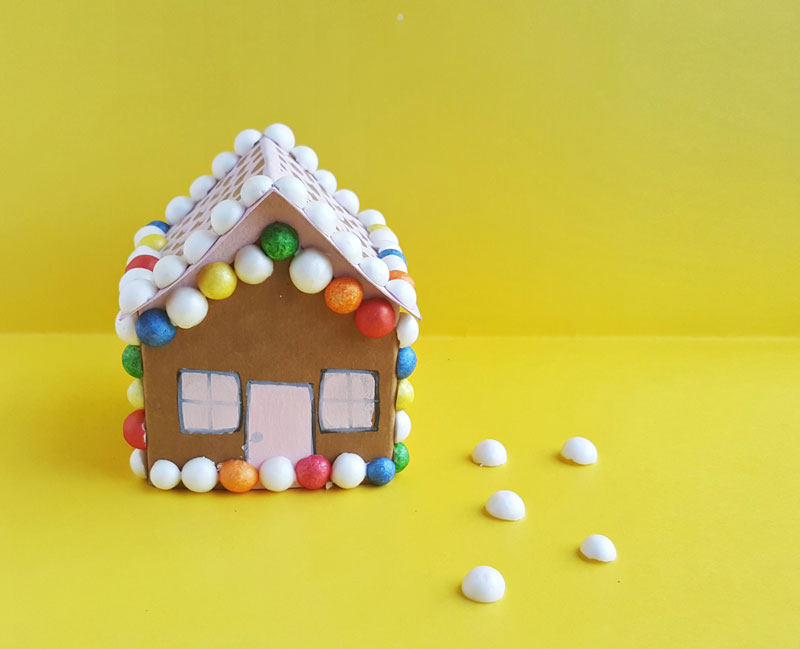 Why bother with candy when you can craft with paper? Kraft board and painted foam half-balls combine to make the perfect gingerbread house effect. White paint or paint markers double as your frosting and you have a perfect little Gingerbread house. If you have little ones, just make sure that the foam balls aren't left where toddlers can get them as they present a choking hazard.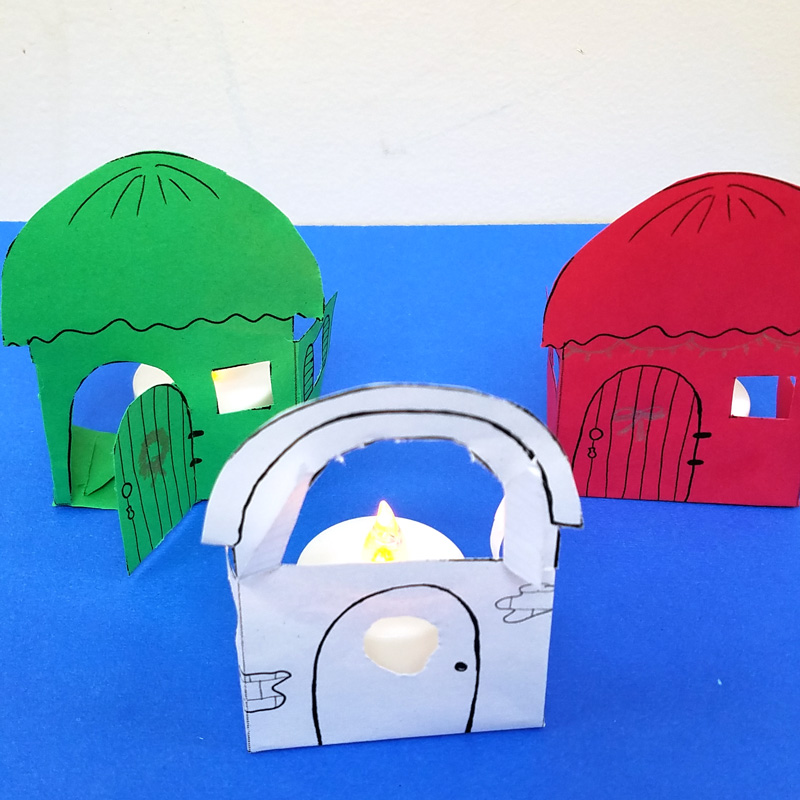 I shared these paper houses ages ago as a year-round coloring craft, but then realized it's perfect for mini Christmas cities. You can print them on red and green papers, or just add holiday details like wreaths, lights, and trees in the windows. If you'd like, light it up with LED tea lights.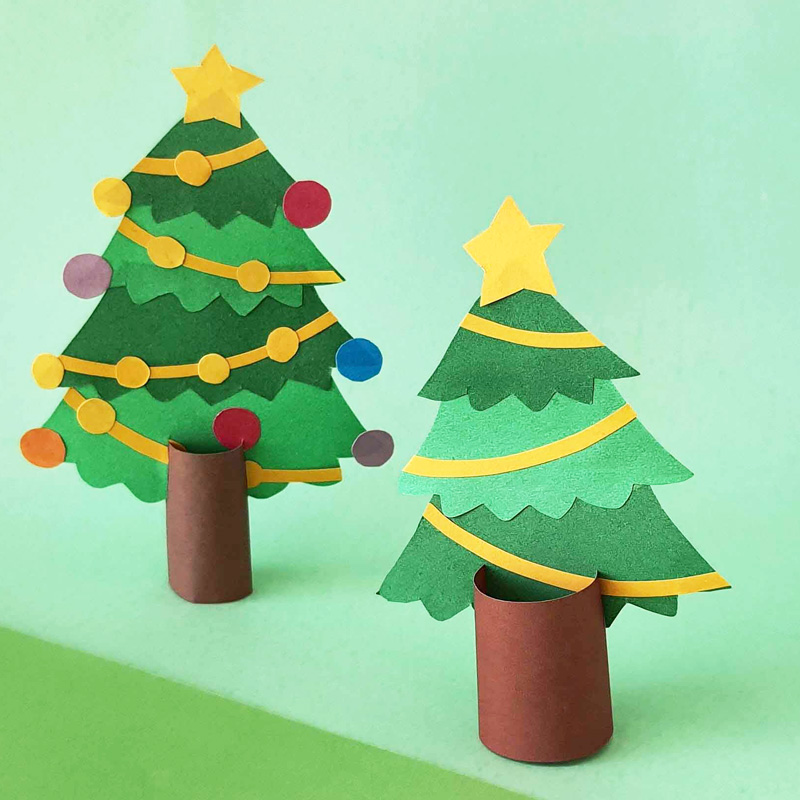 Finally, craft a few of these paper trees to intersperse in a city! They stand up quite easily, making them perfect for mini village displays.
Kids' Paper Crafts for Christmas
Paper is the go to material for crafting with kids, and Christmas is no different! These fun ideas will have the kids entertained for hours.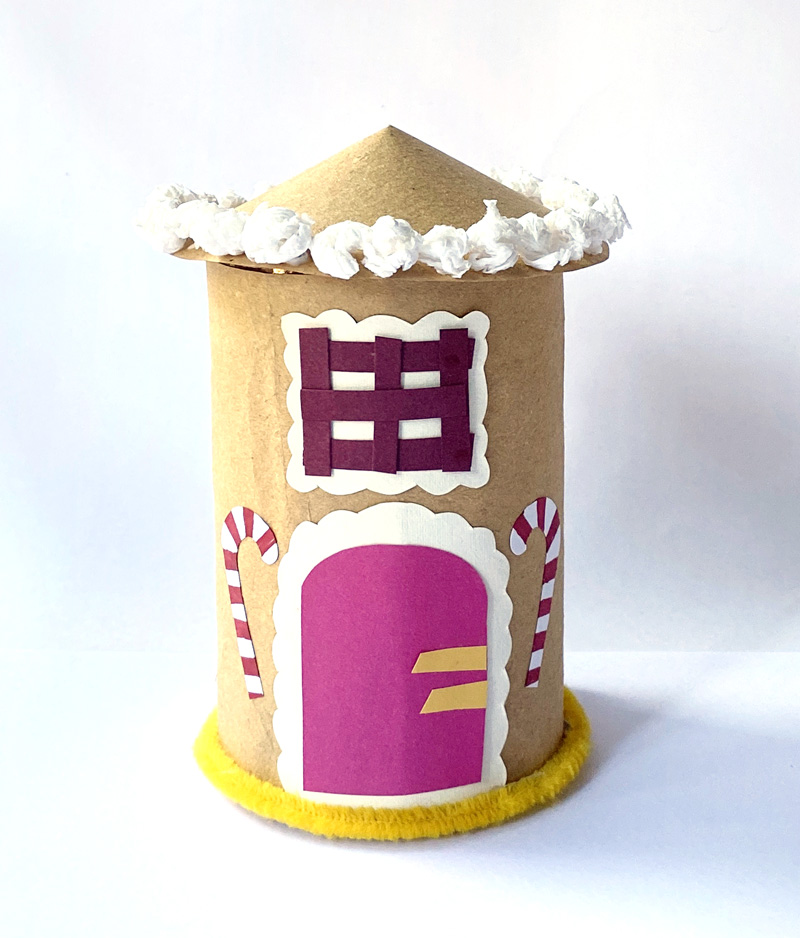 Loved the mock gingerbread house above but want one that's more kid-friendly? This one uses cardboard tubes – repurposed or purchased.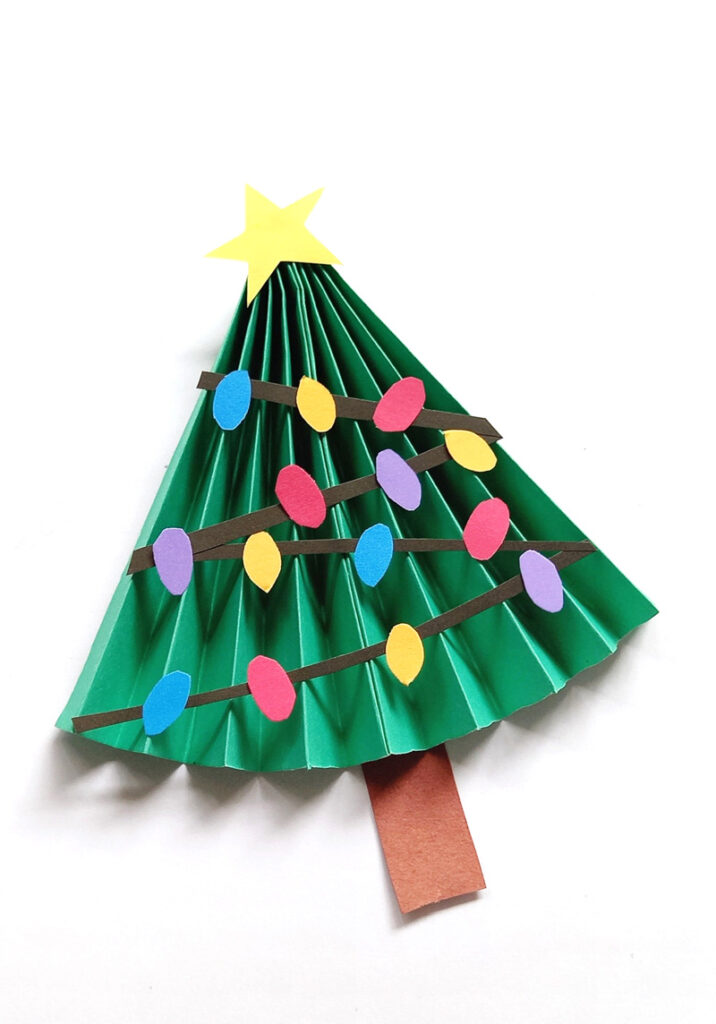 Accordion folding is an elementary crafting skill and kids can have fun crafting these trees! If they won't have patience to cut the lights from paper, you can embellish with black embroidery floss and sequins or beads instead.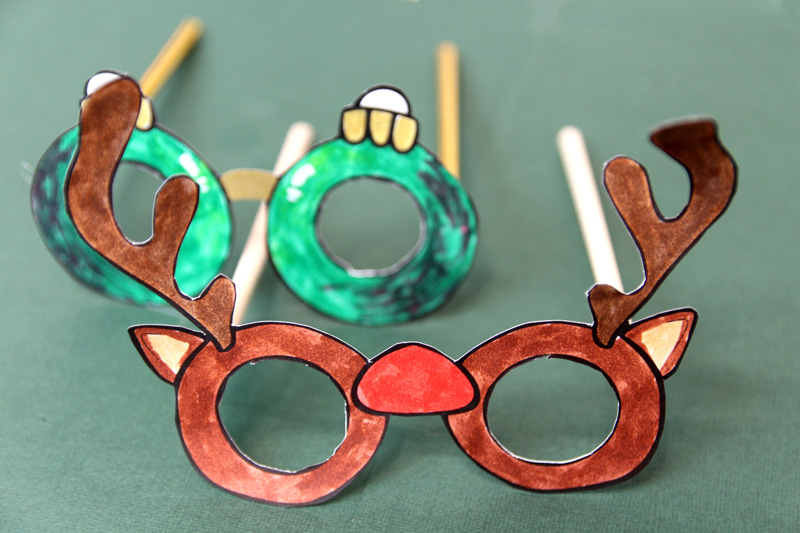 Which preschooler doesn't love playing pretend with play glasses? This set comes in a Christmas theme and can be crafted as masks too! The Rudolph is my favorite!
While not exclusive to Christmas, this sweet paper craft is fun for Christmas too! And you can add your own details if you'd like. Or, just celebrate the season while hoping for snow on one of the only days of the year that it won't interfere with the schedule!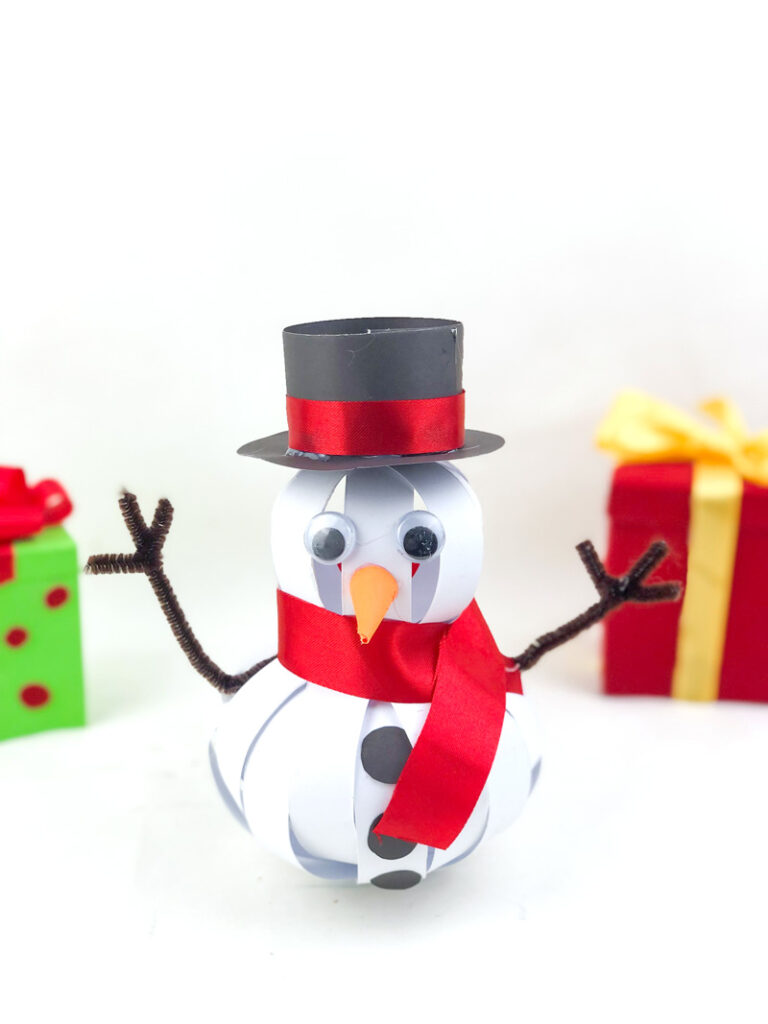 Another winter craft, this one would also make a fabulous part of a Christmas display – and one that the kids can get involved in too! You can literally use copy paper for the main parts, making it super available and frugal. It uses a similar technique to the ornaments earlier in this post.
Paper Puppets for Christmas
Some of my favorite paper crafts for Christmas are puppets. Kids can not only get involved in crafting them, but they can play with them afterward too!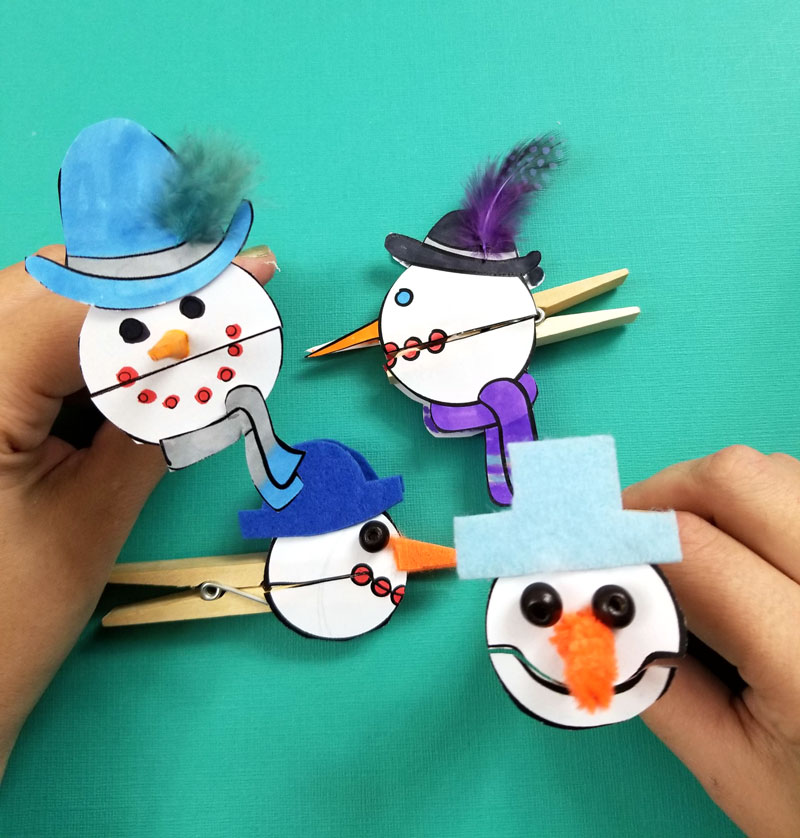 Clothespin puppets are always a hit and are a fabulous fine motor skill builder. So why not craft some snowman ones for Christmas?
Tell the (rather morbid) story of the Gingerbread Man using these story puppets – and then have fun baking some at home! Or not. Either way, they're fun!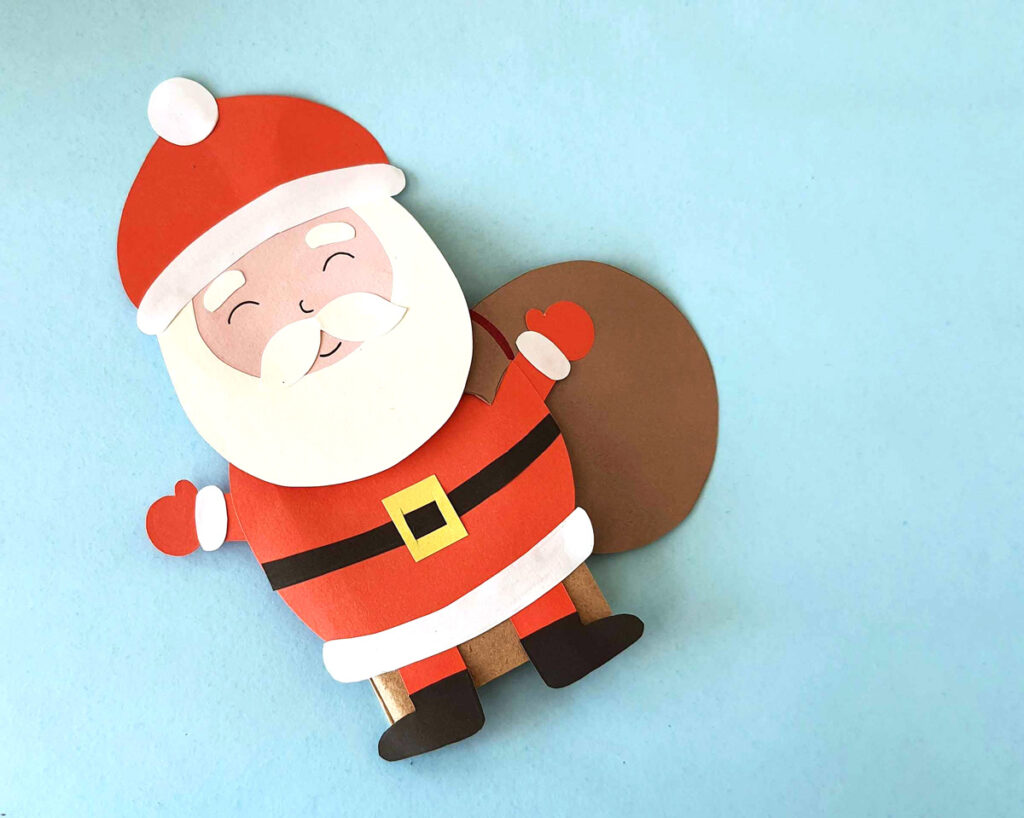 Santa comes bearing gifts! Paper bag puppets are a favorite because they are so easily "animated" with the head bobbing up and down. This Santa puppet is so cute, the kids'll love it.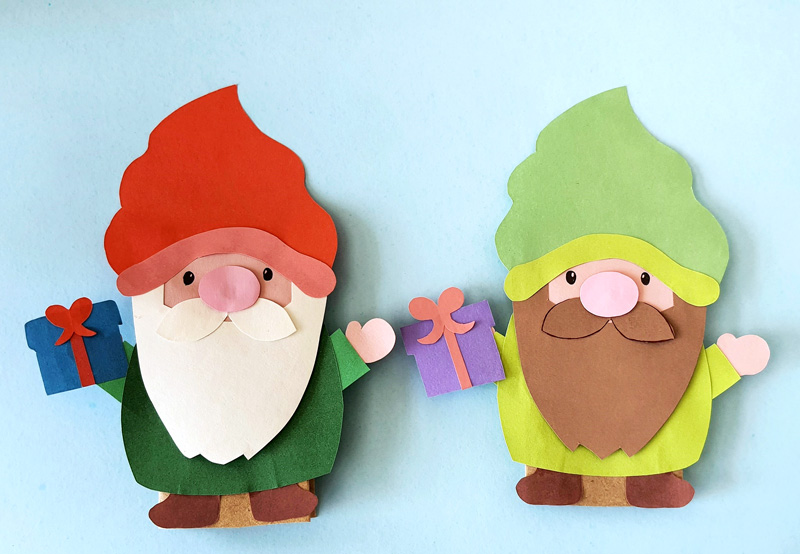 Or, craft a fun Christmas gnome puppet – because gnomes are simply awesome!
Got any favorite paper crafts for Christmas to add to the list? Comment below!