I hope you'll find these tips for packing a toddler carry on helpful and productive! I've included affiliate links for some favorite products that we packed too.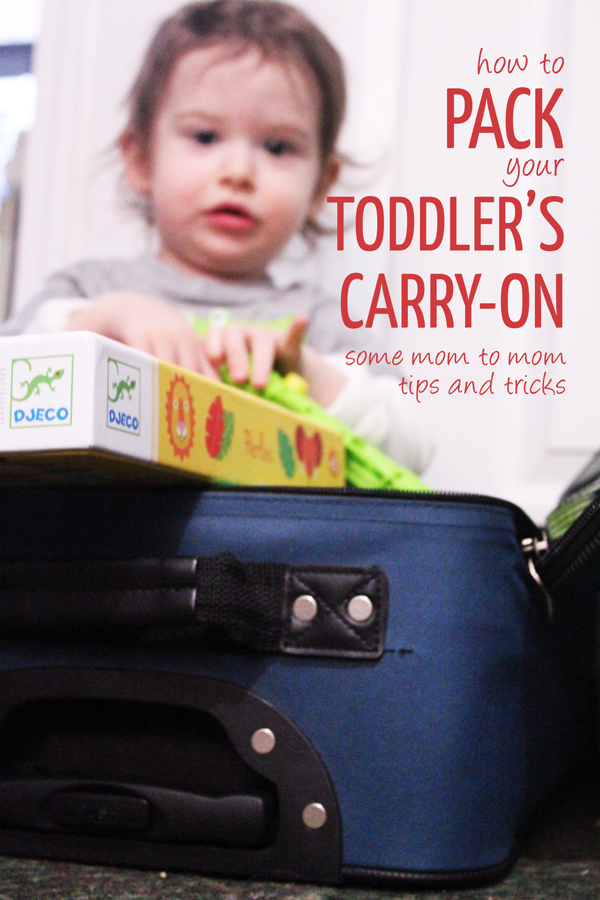 Our journey is about twenty four hours, and I've packed a ton. I thought I'd share with you what we packed in my toddler's carry on, including some tips and tricks. If your journey is shorter (which I hope for your sake that it is), fix it up accordingly.
One of my main focuses here is entertainment, as a toddler does not really have the ability to sit still very long. Our only hope is to distract him like crazy…
In our Toddler Carry On:
I've split it into two. His actual carry on is his diaper bag, that rests beneath the seat in front of us for easy access. The rest of the items went into my carry on, a rolling suitcase that is stowed overhead.
Clothing:
For 24 hours I'd normally pack two spare. However, I always pack two more than I think I'll need when traveling with M. So I packed four spare, plus some PJ's. Read more tips that will help you determine exactly which outfits to pack. I put in things that can be layered, as you can see in the photo below. For the pajamas, I packed a light, cotton long-sleeved pair, and a blanket sleeper that can go on top. One spare outfit went into the diaper bag, the rest into my carry on.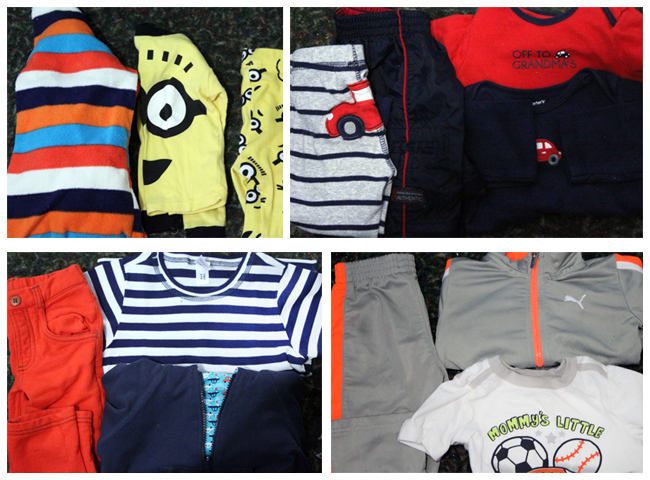 Examples:
Bottom left outfit is from Zutano and includes an extra sweatshirt that can be layered on any outfit.
Aren't our Minion pajamas adorable?
Outfits that are easy to layer, such as a Puma track suit, are a perfect choice.
Food:
Food obviously needs to be packed at the last minute. We don't rely on airline food for him at all, so we packed enough for twenty four hours. Food needs to be (mostly) non-perishables and things that last for a while.
We placed enough for the airport and the first flight in the diaper bag. In the connecting airport, we can re-load the diaper bag from the rolling carry on and have it handy for the next flight.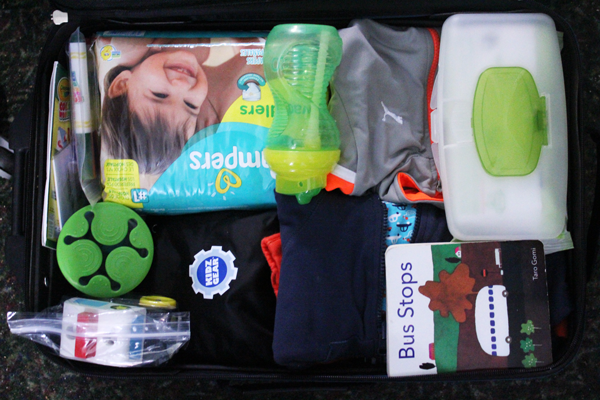 Examples:
A peanut butter sandwich for every meal.
M loves to eat plain string beans from the freezer, so we packed some of that for him too. Since it was frozen, it gave us the chance to have fresh, real food for him later on our trip.
Pretzels
Cut veggies and fruit.
Some cereal in a bag.
Dehydrated milk so that milk can be made for him at a moment's notice.
Extra snack cups.
A few straw sippy cups. Hydration is extra important when flying, so having your child's favorite cup along for the ride is important! This went in the diaper bag, of course.
Cheese sticks.
Tip: At the last minute, we decided to pack the string beans in a cooler bag with the other perishables. That way, it serves as an edible, carry-on-safe ice pack to keep the other food fresh.
Entertainment:
This is the biggest biggie of all biggies. A toddler is hard to entertain seated in the best of moods for ten minutes. Entertaining an overtired, fidgety toddler for nine straight hours – and then in the airport, and on another long flight, is a massive challenge. Our redeeming factor: a never ending stream of entertainment.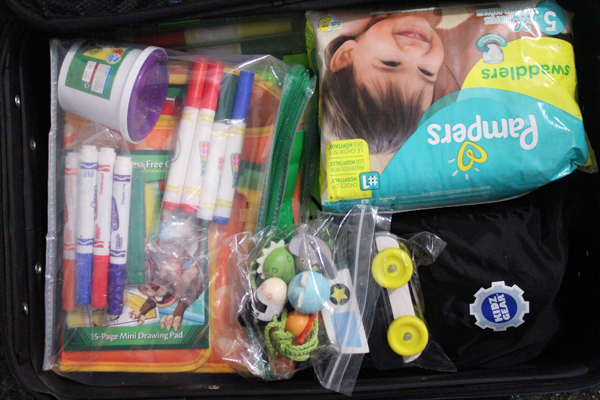 Examples:
Some tips:
Aim for a balance of high entertainment factor vs. small size.
Split up toys. Your child is unlikely to need to play with the entire set of wooden stringing beads at once, so you can take just one shoelace and a few beads, and use the extra space for a different toy.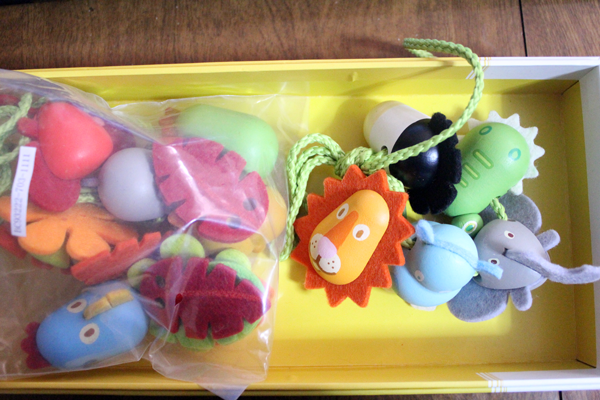 Use "junk play" and DIY toys as much as possible – so that you can ditch them as needed.
Use toys whose parts you don't mind losing. Or at least bear in mind that not all parts will come back with you.
There is so much free printable entertainment out there that you can take along.
As much as possible went into the diaper bag, after everything else was packed. The rest went into the other carry on.
More Essentials:
You'll need many, many diapers, plus diaper rash cream. I put as many as I thought I'd need until our stopover in the diaper bag and a full small package of Pampers in the suitcase carry on. For the diaper rash cream, I took a smaller 100ml travel-friendly size along.
You'll want to have lots of wipes – not just for diaper changes. One travel case went into the diaper bag, with a few more travel cases in the carry on suitcase.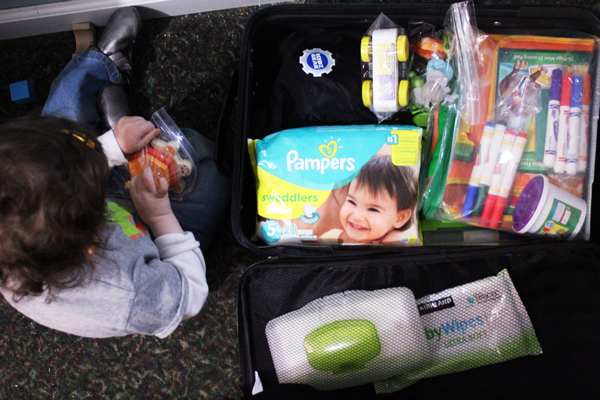 More examples:
Other gear we carried along: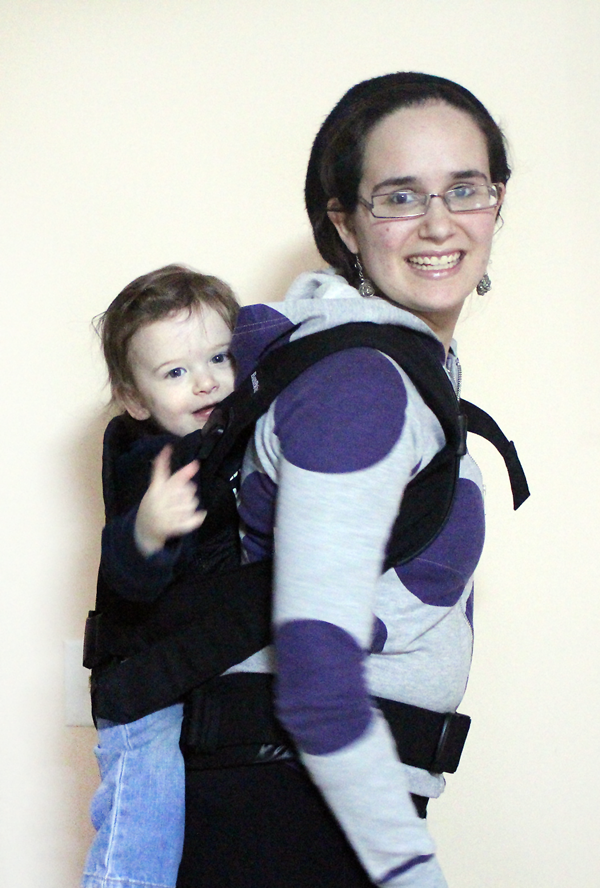 A harness/leash: If there is any time for it – the airport is the place! It allows your toddler the liberty to move around a bit before sitting still for extended periods, while you keep him or her within reach.
A CARES harness: We brought this instead of a car seat.
A baby carrier: Ask any travel-savvy mom, she'll tell you that this is a MUST for traveling with infants or toddlers!
A stroller: This was gate checked. Some airlines allow a cheap umbrella stroller to be carried on the plane as well, so find out if yours does!
What tips and advice do you have for packing a toddler carry on? Please share with us in the comments below.
Disclaimer: This post contains affiliate links.
Follow along with the rest of the traveling with toddlers series by clicking on the image below!