Whether you want to get started making jewelry crafts, or just want more ideas, this ultimate guide to jewelry making is the only resource you'll need! This post contains affiliate links.
---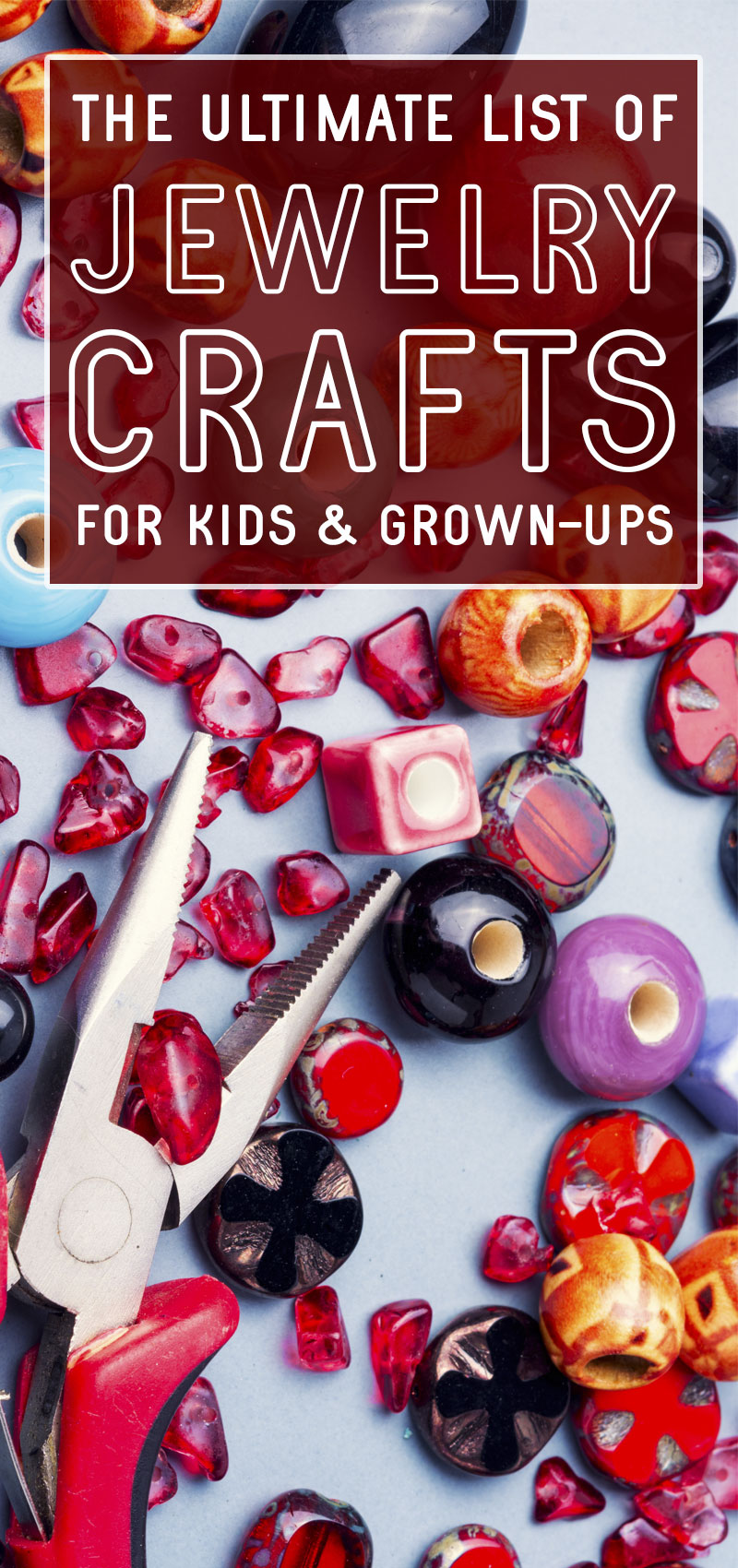 Starting from when I was a tween and desperate for a productive outlet (before we were hooked on our smartphones…) jewelry crafts were my vice.
I started with friendship bracelets, making up my own patterns, and using unusual materials.
I went on to beading and then wire wrapping, and today, I love making jewelry crafts with a huge variety of materials and techniques – but even more so, I love sharing them!
This list of jewelry crafts includes everything – I mean EVERYTHING you might want to know about jewelry making. You'll find resources for beginners, ideas for pros, and everything in the middle.
If you'd like, use the table of contents below to skip around to the parts you want.
Why you might want to make jewelry:
There's a reason that jewelry making stuck as my favorite category of craft for twenty years!
Create an end-product that's functional and fun.
End up with an endless stash of jewelry to wear and accessorize with.
Own cool fashion statements that would cost you a fortune to buy.
And finally, it's a really therapeutic outlet (especially if you get into hammering jewelry, if y'know what I mean.)
How to get started making jewelry:
Many people get intimidated by the cost of jewelry making supplies and tools. The truth is, you don't need that much to get started, and while overall it may seem expensive, you get quantity for what you pay.
My best tip: start with the basics and add to your stash as you need things, on a project-by-project basis.
I started with a set of pliers, and later added wire working tools, leather crafting tools, and more to the mix.
A few years ago I shared some of my top tools and beads for jewelry making beginners. These are great resources to learn basic terminology regarding beads and other supplies. You'll need to know the lingo to know the craft!
A few more basic tools and supplies for jewelry crafts:
Pliers: the classic three are the round nose, chain nose (I recommend one with a serrated/jagged jaw for beginners), and round nose.
Stringing materials: if you plan to make beaded necklaces and bracelets, you'll need tiger tail wire (my personal favorite for strength and ease of use), as well as crimp tubes,jump rings and clasps.
Basic findings: For many projects you'll need head pins, eye pins, and jump rings. You can make your own jump rings and eye pins easily out of 20 gauge wire.
To make earrings: you'll need primarily earring findings and head pins for the basics.
Not sure where to get your supplies for jewelry crafts?
One of my favorite places for stocking up is Jewelry & Findings. For one-off, fast-shipping, I use Amazon.
I put together a dedicated list to help you find the best places to buy beads online – and yes, it includes findings too!
Basic techniques for making jewelry:
How to make a basic loop:
The basic loop – as opposed to a wrapped loop – is one of the very building blocks of jewelry making.
1. Bend your wire back at about a 90 degree angle, 1 cm from the top.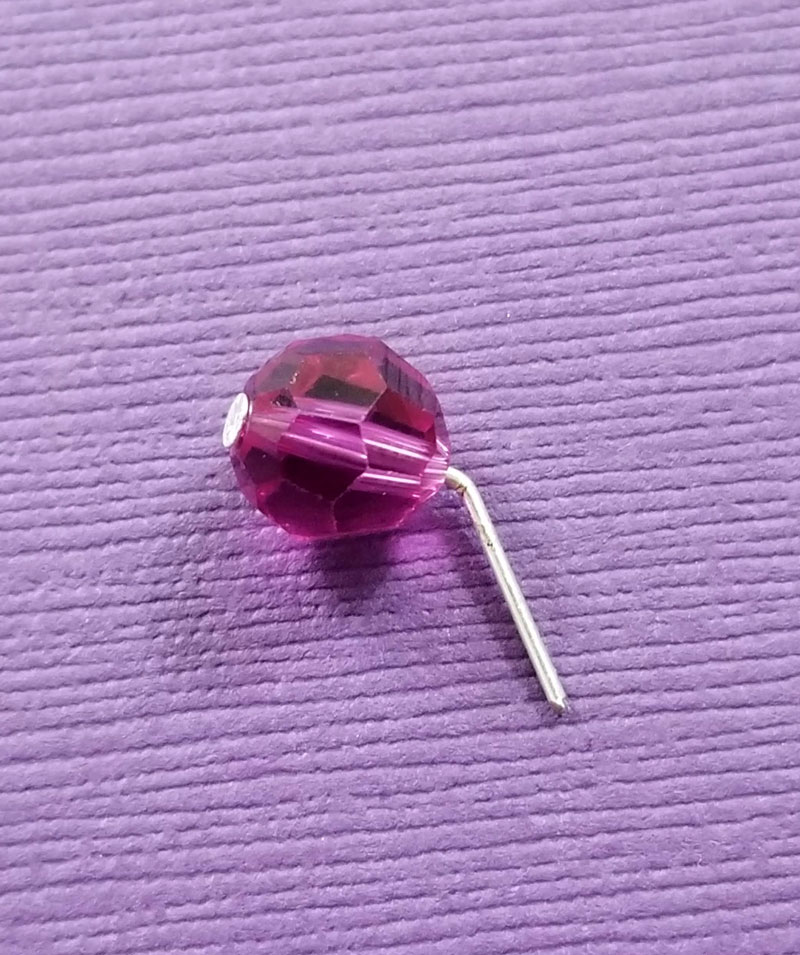 2. Use your round nose pliers to curl it from the tip until it almost connects to the other side.
3. Use a chain nose pliers to squish it shut once it's connected to what you want it to be.
How to open and close a jump ring or any open loop on findings:
To do this properly, take two pairs of pliers and grip the jumpring on each side of the opening.
Move it in a backwards/forward motion so that you are not stretching and weakening your jumpring.
Use this technique for connecting ear wires, clasps, and anything really.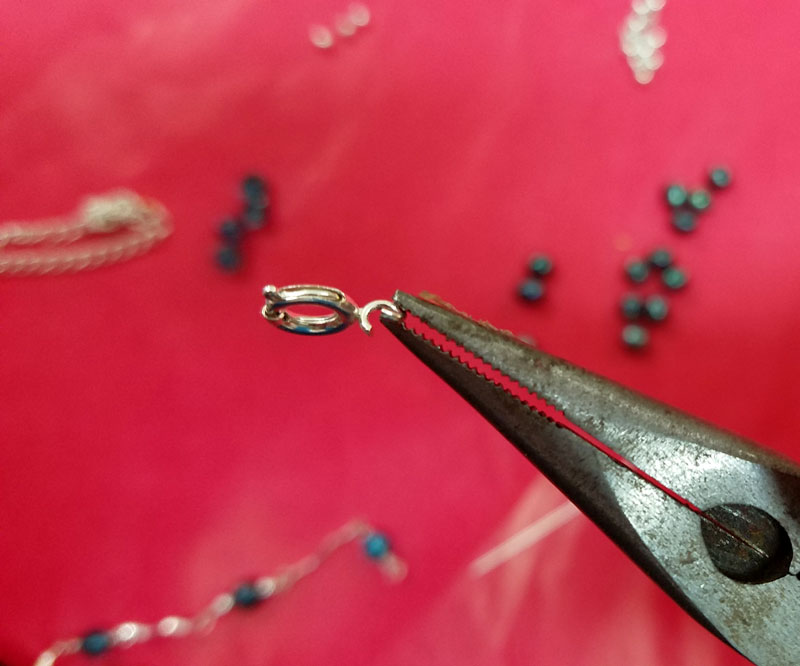 You'll definitely want to learn how to make jump rings too!
How to crimp shut the end of a necklace or bracelet:
1. Thread your crimp bead and then the clasp. Leave a few inches to work with.
2. Loop the wire back through the crimp bead from the side it came out of, to the side where it started.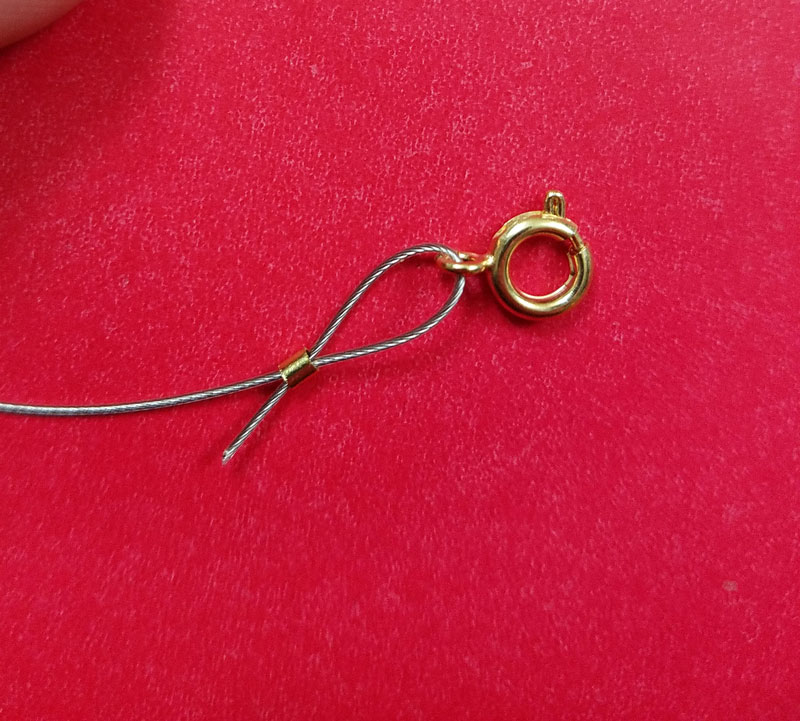 3. Loop it through your last bead (or thread your first bead on) so that it overlaps the wire "tail".
4. To crimp: use crimping pliers, or use chain nose pliers. How to do it with chain nose pliers: flatten your crimp tube or bead (tubes are easier to work with). Then fold it in half so that each side of the wire sits in one half.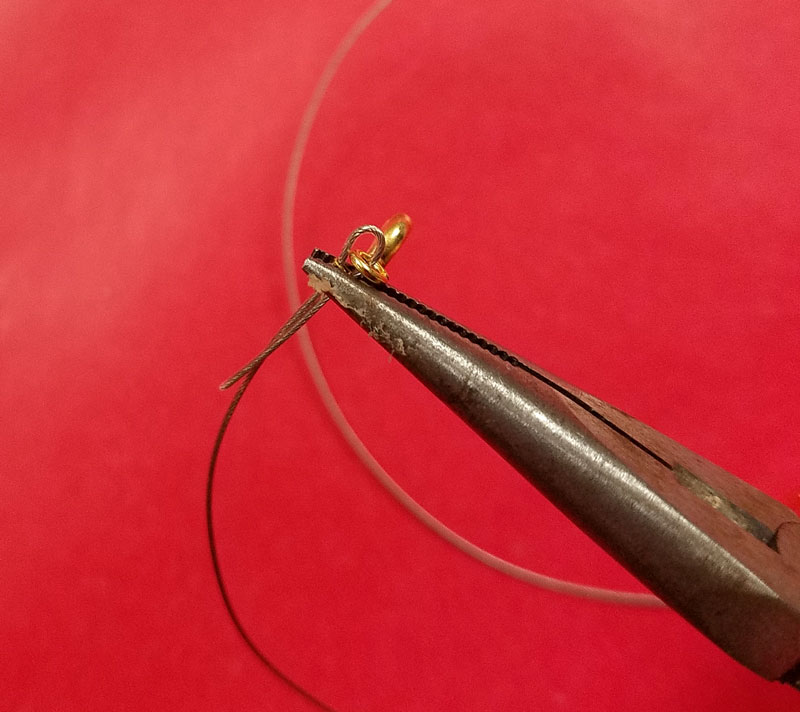 5. Finally, test for strength and trim your tail.
Jewelry crafts by category – earrings, necklaces, bracelets (and loads of ideas):
"Jewelry making" used to mean beaded and dangly stuff to me back in the day. But the truth is, even those childish friendship bracelets I made back in the day are legit "macrame" jewelry, and can be made so much more sophisticated as is the case with this zig zag advanced friendship bracelet pattern.
Here are a few of my favorite techniques and styles of jewelry, along with some jewelry craft ideas to get you started:
Macrame/friendship bracelets are a great place to start. If you want to close them more professionally for grown-ups, simply use ribbon crimps with clasps at the ends. There are loads of beginner through advanced DIY friendship bracelet patterns out there, so even if you're a pro, you can give it a go!
Learn how to make a friendship bracelet and then make your own friendship bracelets from scratch.
Leather jewelry is a popular choice for jewelry crafts because it's surprisingly affordable if you use scraps, and quite simple too. Many leather jewelry crafters start with simple SVG files and a Cricut cutting machine. Learn more about making Cricut jewelry – how to do it and with which machines – with these woven leather bracelets. Or, make DIY leather earrings by hand or machine.
Alternatively, you can make all sorts of braided bracelets using leather cording, or scraps. Find ideas for braid bracelets you can make that are unisex, easy, and fun to wear! I hope to share a full guide on leather jewelry soon, so watch this space – I'll update when I do!
Beaded Jewelry is once again the given when people think of jewelry. Simply string your jewelry with beautiful patterns and finish it off as I did above. Cluster jewelry is a fun style of beading – and these bauble rings are a great starter project (you can cluster earrings, pendants, and bracelets too!)
Wire Jewelry crafts – more commonly wire wrapping – is very intimidating at first, but is quite simple when you start with the basics. Try learning how to wire wrap a pendant with 14 different techniques! You can also learn how to make rings with this wire wrapped ring tutorial.
To help you navigate these jewelry making crafts, I put together individual lists.
These lists are organized by the type of jewelry crafts you're making.
Learn how to make DIY bracelets from scratch using over 25 different techniques.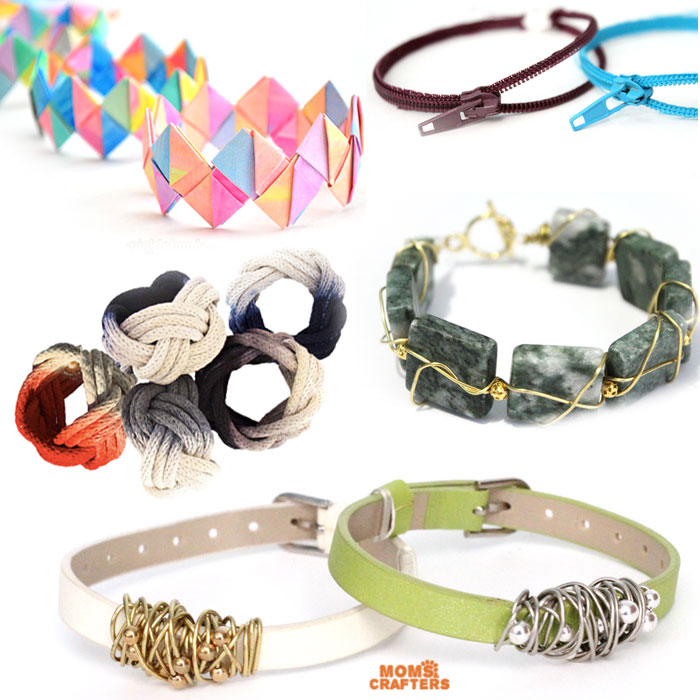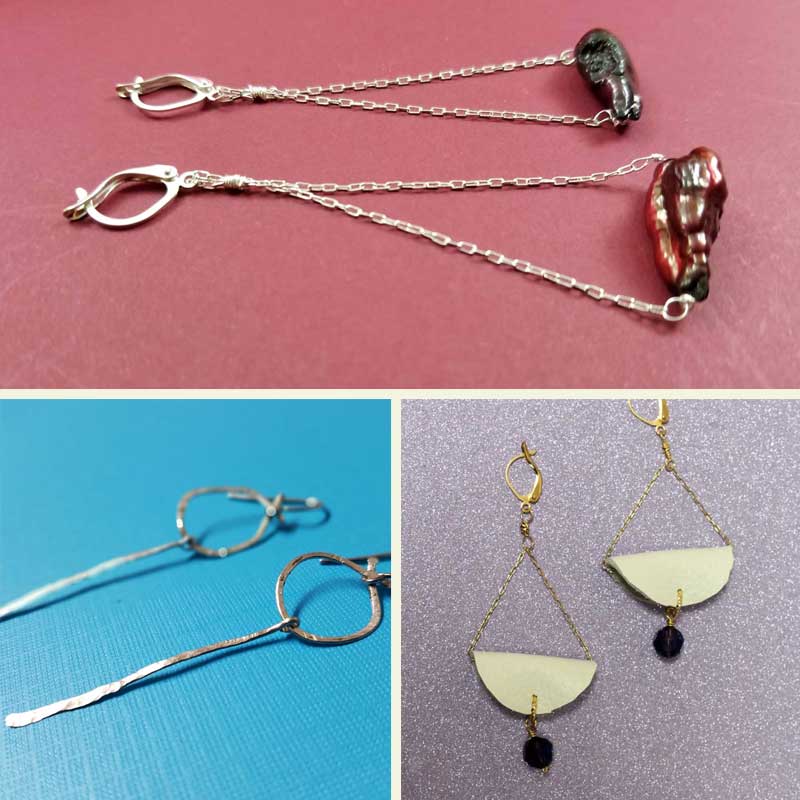 And finally you'll want to try these necklace ideas, with some pendants thrown in too! From wire wrapping to beading, there's something for everyone!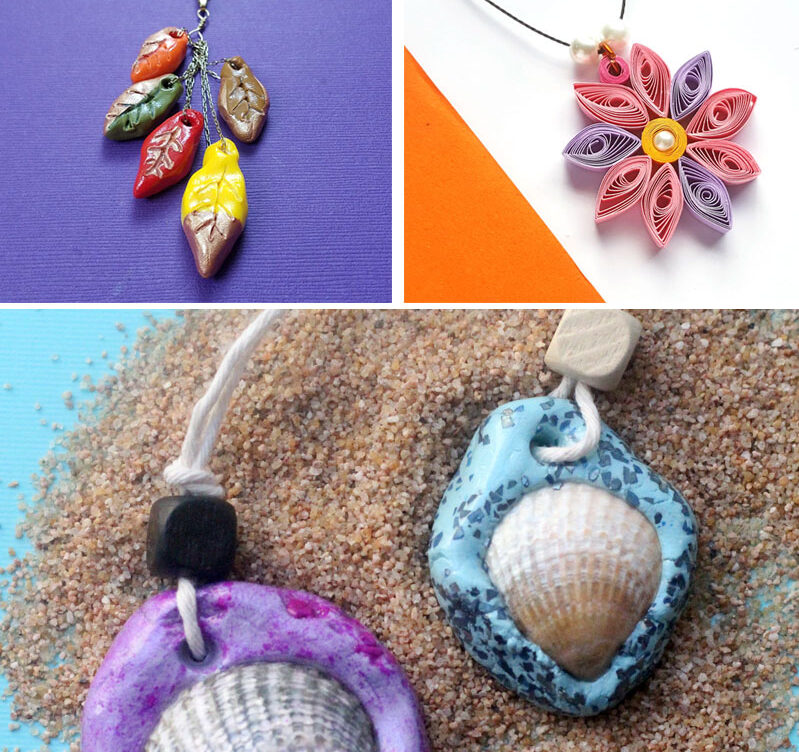 ---
First Jewelry Crafts for beginners to make:
Feeling overwhelmed and not sure where to start?
These jewelry crafts for kids cover different age groups, but if you have older kids, you may want to look more into those catering directly to teens.
---
Learn how to make jewelry out of anything – made for tweens and teens, but perfect for any beginners! It's full of jewelry crafts using unusual materials and things you already have.
---
Make an easy friendship bracelet pattern, but finish it off like a "real" bracelet – not just knotting.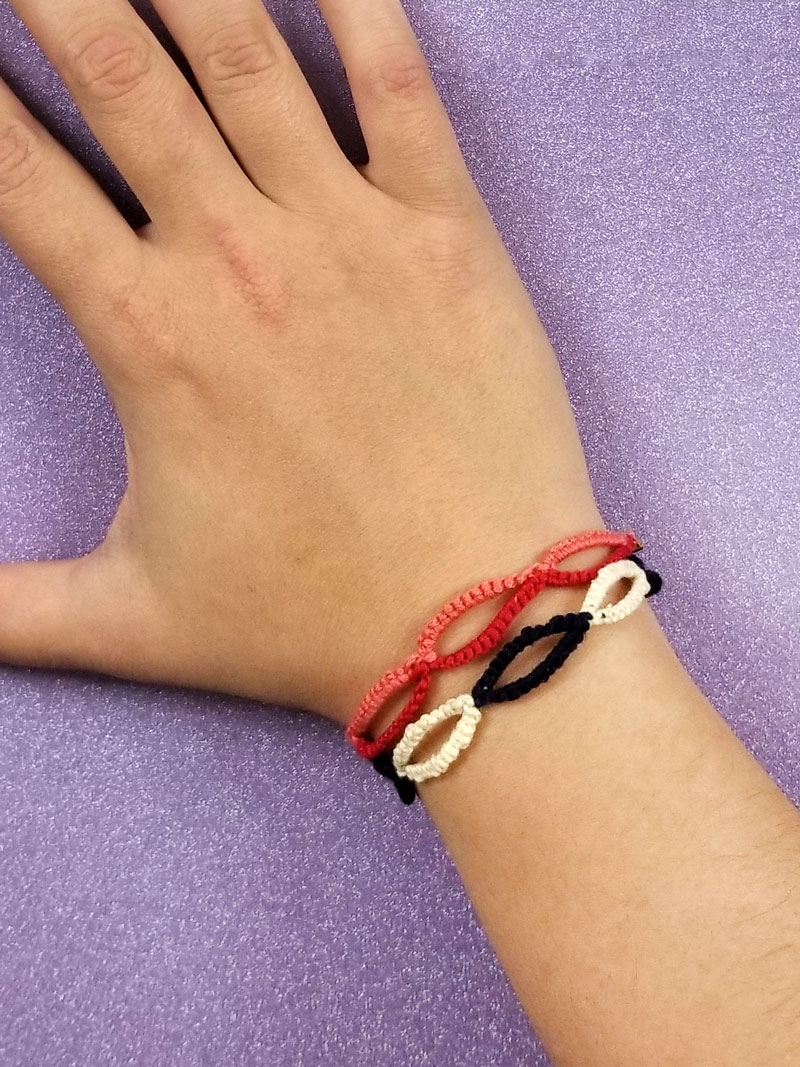 Start with a bracelet or bangle base and make a freeform wire wrapped design.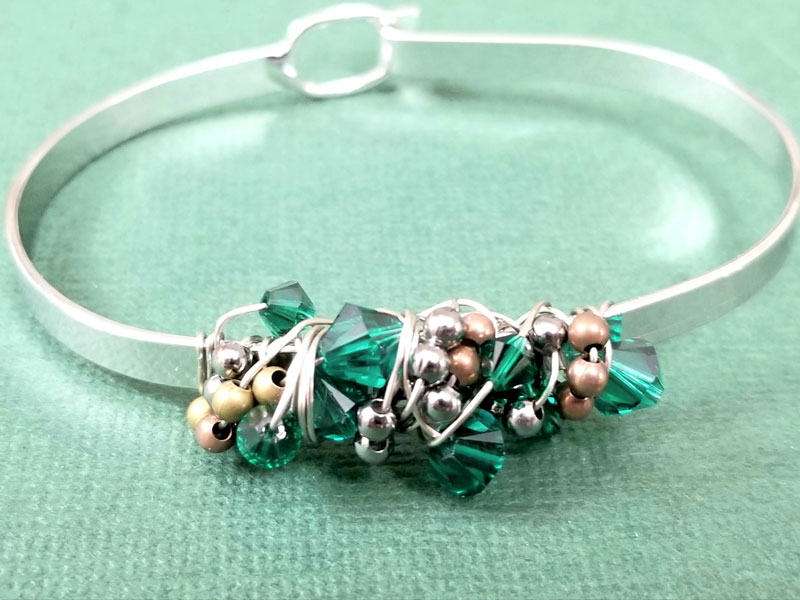 Make a quirky shape from polymer clay to turn into a necklace, such as this bonfire craft.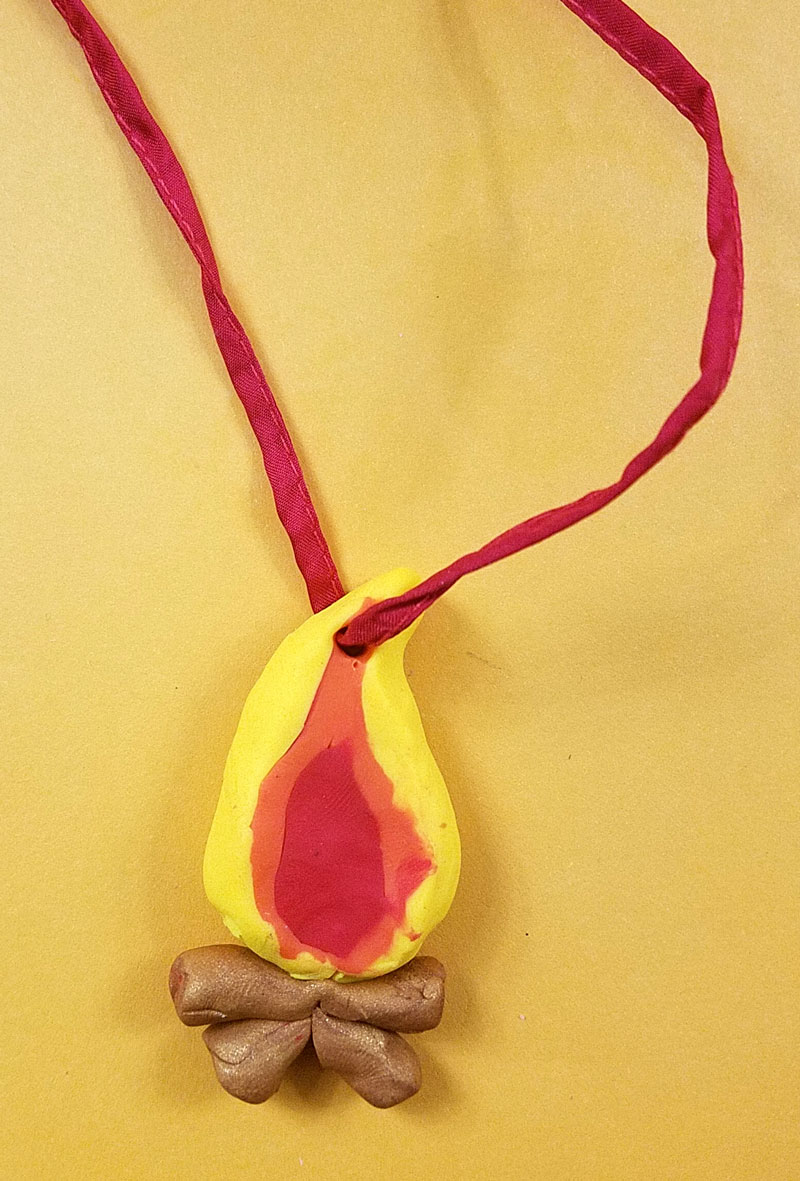 Wire wrap a very simple beaded pendant to string onto a chain you already have.
Cut out a simple round shape from leather to add serious style to some plain hoops.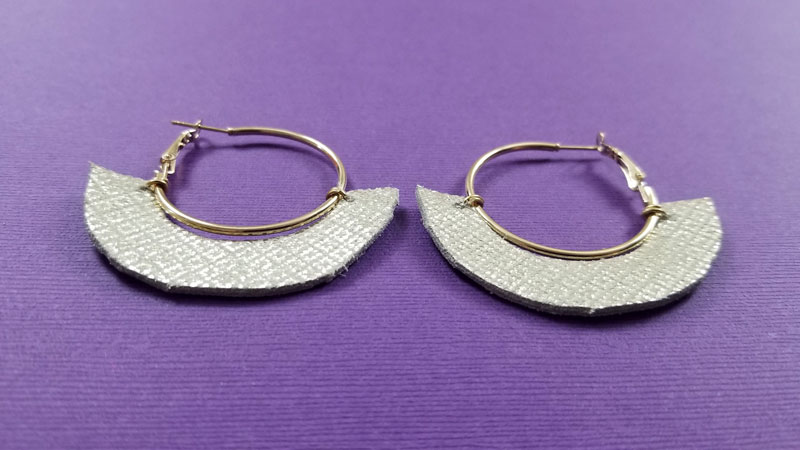 Make trapeze style beaded earrings – a great style to start with, that can really highlight some beautiful beads!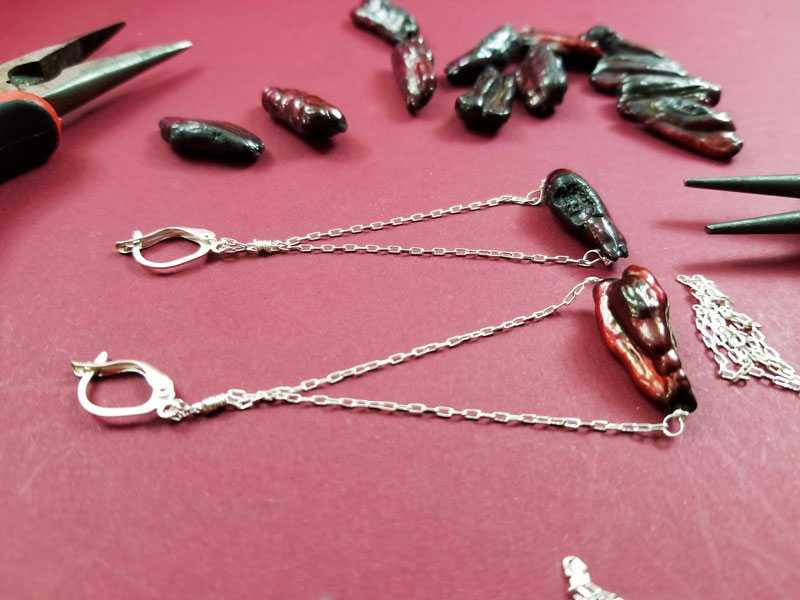 For intermediate crafters – learn a new jewelry making skill:
Take your jewelry making skills to the next level by trying some new crafts!
Learn how to wire wrap an undrilled stone.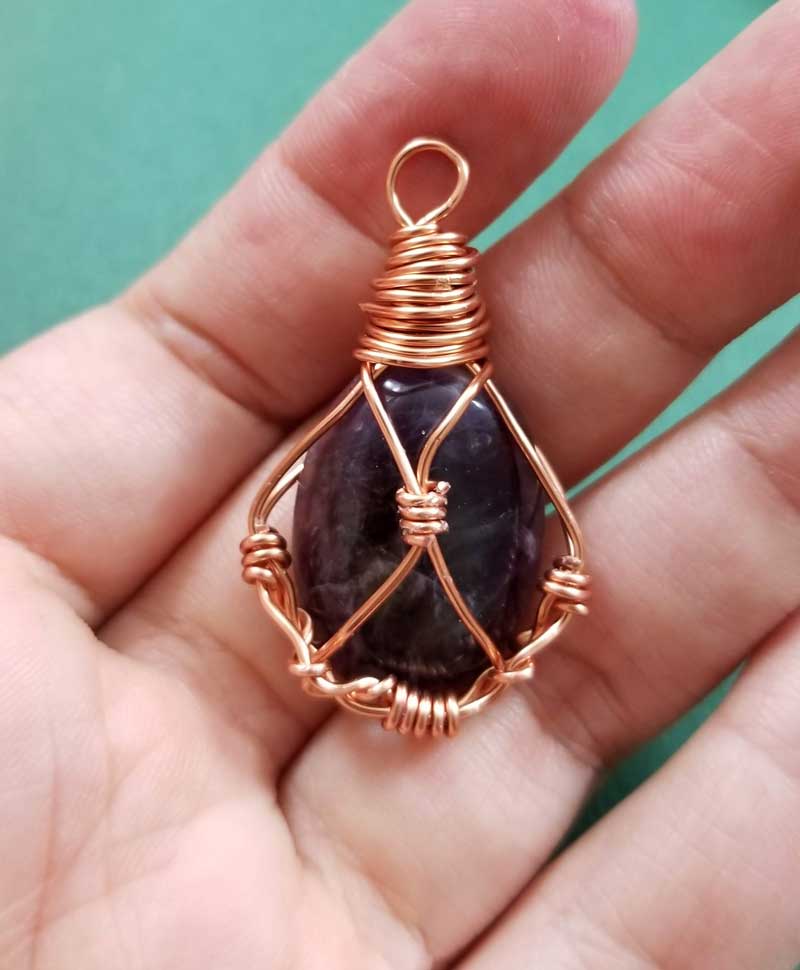 Make a hammered heart pendant – a fantastic gift for someone you love (even if that someone you love is you)
You can make these neat wire wrapped hoops using old hoops that need a referesh or cheap fashion hoops.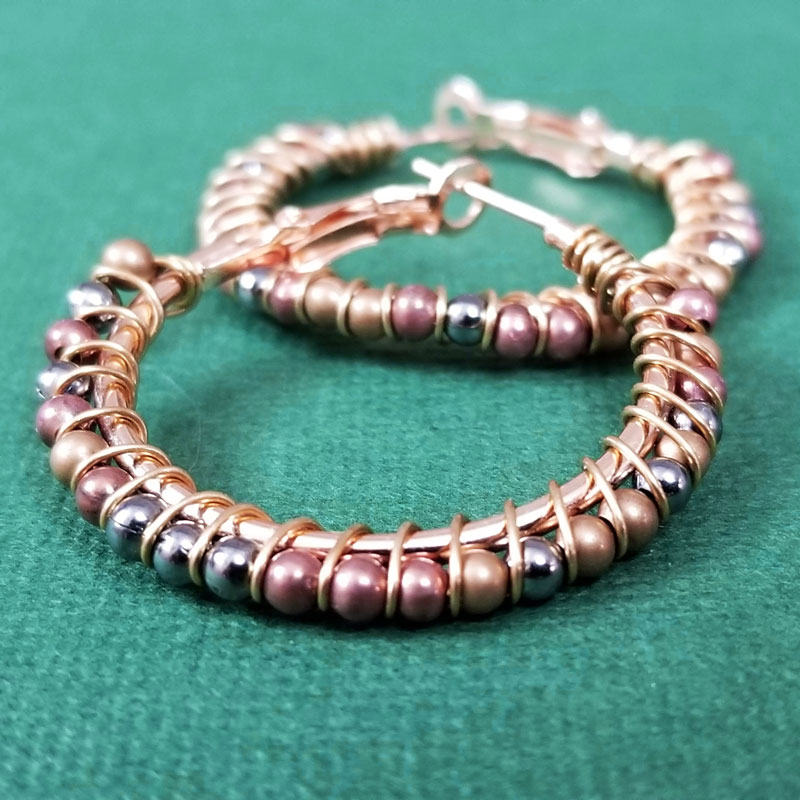 Or go for chic thread earrings that use an elegant knot to make a tassel.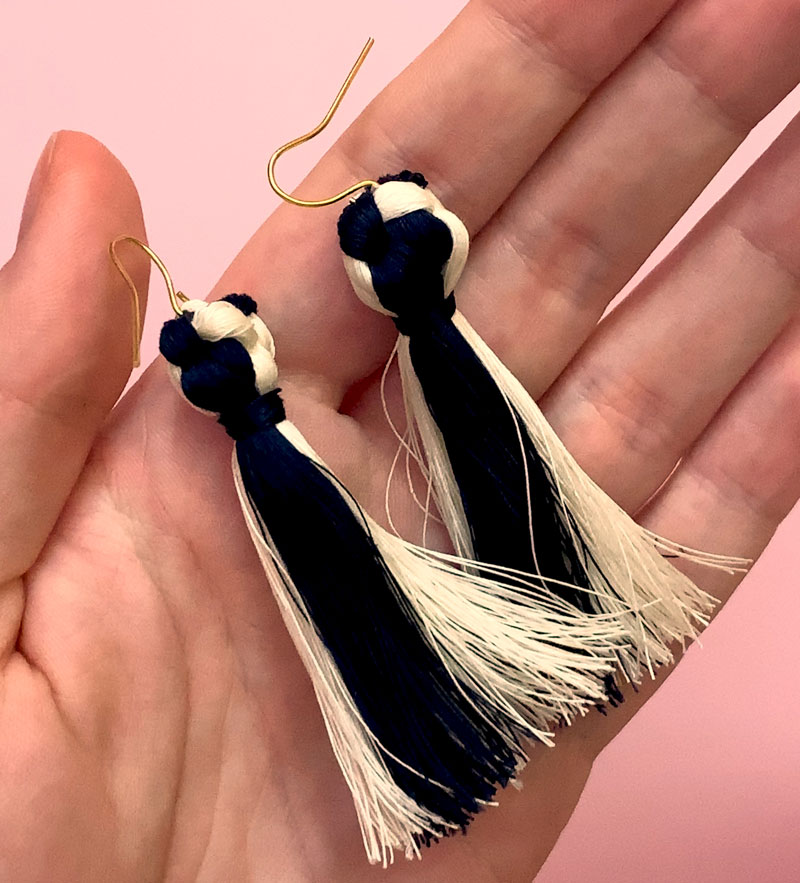 Take friendship bracelet making to the next level with this gorgeous pattern for an ombre zig zag bracelet.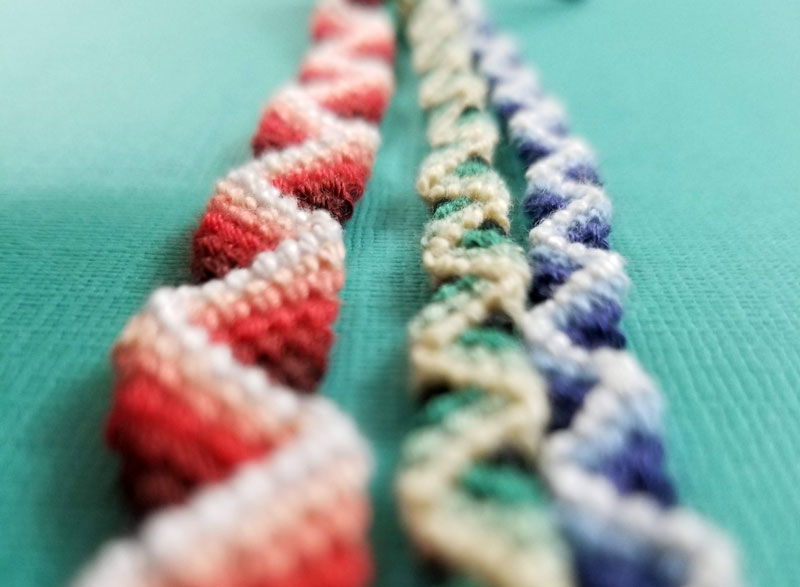 Advanced jewelry making and beading projects:
While there are so many advanced jewelry crafts out there, I'd recommend looking at jewelry making books in your specific area of interest.
You can go pretty far with advanced jewelry crafts, without breaking the bank on individual projects. I don't usually blog my more advanced projects as I feel like to keep the crafts I share doable, however a favorite of mine is this wire wrap necklace I made for my sister's wedding.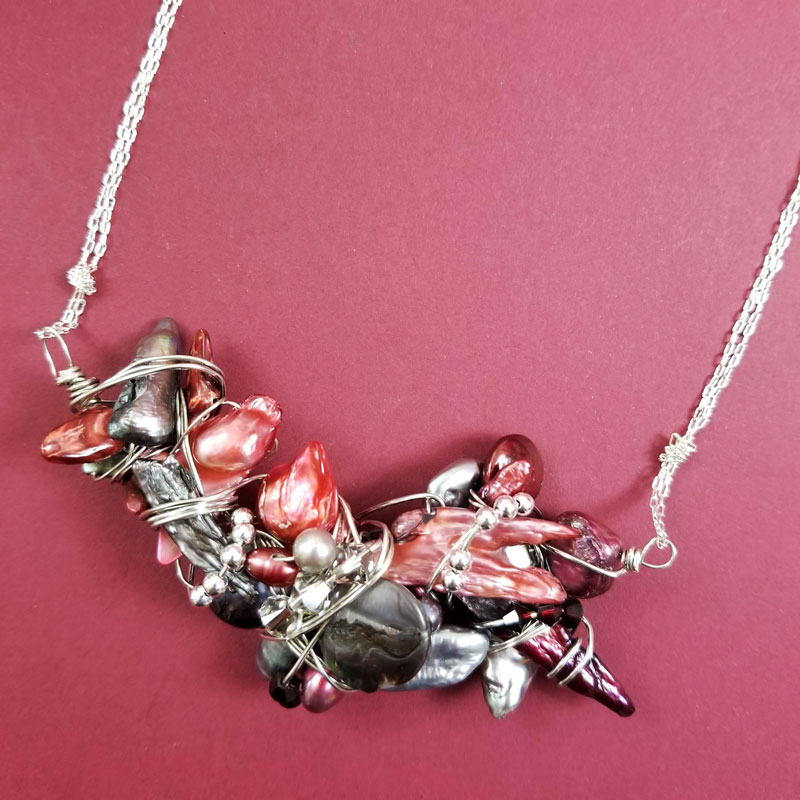 Jewelry crafts that use unusual materials:
Think outside the box when you make jewelry crafts! For example, seashell jewelry is a super popular jewelry making style.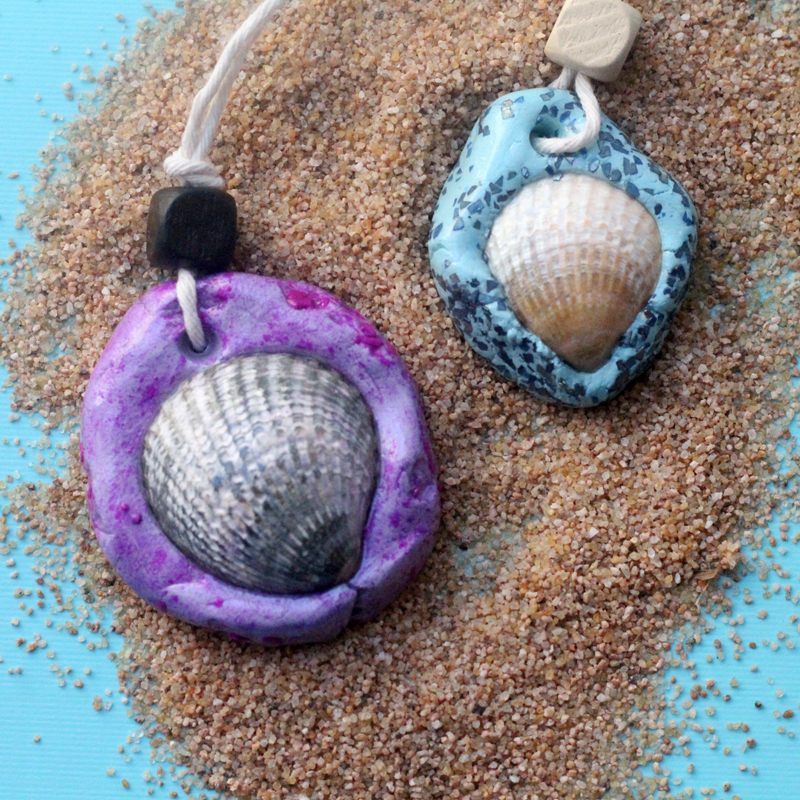 Other materials you can make jewelry with include bottle caps, wine corks, and more!
The latest Jewelry Crafts you'll want to try: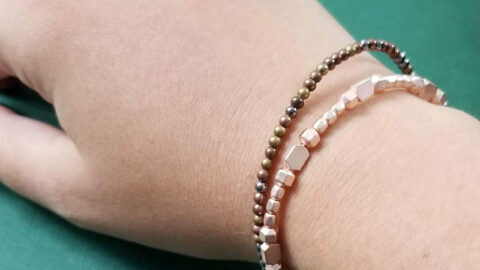 Sometimes the simplest things are the prettiest. Learn how to make beaded bangles that are absolutely beautiful – elegant, charming, classic. They are also ridiculously …
What are your favorite jewelry crafts? Comment below!